UK and Europe daily weather forecast latest, March 11: Showery, windy weather to start in eastern England
Showery and windy, very windy are forecasted to start in eastern England with some more widespread rain over northern England at first. Meanwhile, fair conditions set to cover Spain and Portugal, rain and showers for southern Italy and Greece.
UK's weather forecast
Met Office warnings for wind are in place across Wednesday and Thursday, with up to 70mph gales expected to hit some areas of the UK. This is due to an Atlantic system, bringing the strong winds and blustery showers to England and Wales by midweek, Express reported.
Temperatures will also dive, with conditions expected to plunge in some areas. Rain could turn to snow in some areas, especially over coasts and hills.
Chief Meteorologist Andy Page, said: "After the recent settled spell the weather will turn more unsettled this week with strong winds and rain. Yellow weather warnings for wind are in force."
"The second of two areas of low pressure is likely to bring the most widespread strong winds, with gusts of 55mph widely across England and Wales later on Wednesday and Thursday, with gusts up to 70mph in exposed western locations."
Heavy rain is also forecast to soak large parts of the country this week. The Environment Agency has issued several flood alerts, with one flood warning in place as well as 17 flood alerts in England. The warnings are in place from 9pm on Wednesday until 3pm on Thursday, with all of England and Wales covered.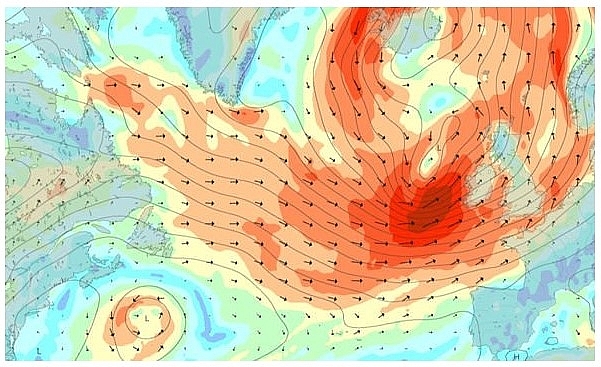 UK weather warning: An Atlantic system is bringing fierce winds and heavy rain this week (Image: MAGIC SEAWEED)
The Met Office warns: "Gusts of 50 to 55 mph are possible inland, especially close to showers. Gusts may reach 60 to 70 mph on coasts and hills, especially in the west, before gradually easing on Thursday afternoon."
Jim Dale, meteorologist for British Weather Services, said of the stormy weather: "This is a fairly major system which we expect to affect the UK from Tuesday into Wednesday, it may be something we issue a warning for. We are expecting severe gale-force gusts in exposed regions later on Tuesday and into Wednesday."
"This system, which is a double-barrelled low-pressure organisation, has got some venom and is going to keep people on their toes."
Now the RLNI has issued an urgent warning for anyone near the coast as the dangerous winds hit.
The lifesaving charity are encouraging people to exercise extreme caution if visiting the shoreline, especially along exposed cliffs, seafronts and piers, if local government guidelines allow them to visit the coast.
Gareth Morrison, RNLI Head of Water Safety, said: "During lockdown, RNLI lifeboats and stations remain operational and will launch around the clock where there is risk to life.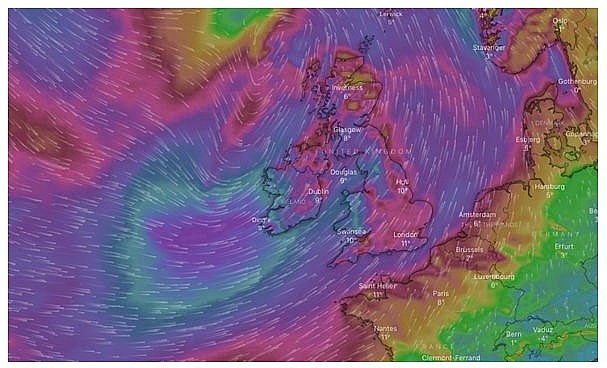 UK weather warning: Up to 70mph winds are forecast to hit the UK (Image: WINDY)
On March 11
According to Weather Online, low pressure is to the north of Scotland on Thursday. This is going to be bringing a strong to gale force westerly flow through the UK and Ireland. There will be frequent heavy showers passing through all areas, most in the west. A risk of hail and thunder at times, the showers falling as snow over the hills of Scotland, northern England, Wales and Ireland. The best of any bright or sunny spells tending to be in the east. Highs at 7 to 10C and feeling increasingly cool in the wind.
Showery and windy, very windy to start in eastern England with some more widespread rain over northern England at first, Met Office reported.
Outlook for Friday to Sunday
Sunny spells and blustery showers. The showers heaviest and most frequent in the west with hail, thunder and perhaps snow over high ground. Showers easing on Sunday. Windy.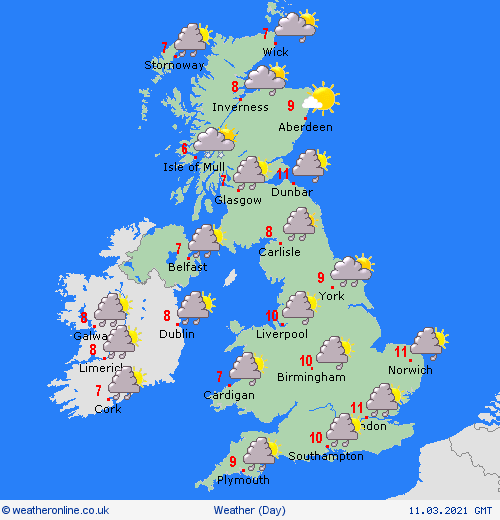 Photo: Weather Online
Europe's weather forecast
Fair weather across Spain and Portugal on Wednesday, plenty of sunshine and dry too. It stays sunny through the central Mediterranean and will be fair for most of Italy. A few showers affecting the far south of Italy. Greece will have showers in the west but should be fine in the east. Turkey will be largely dry with plenty of sunshine, although some sleet and rain affects the north.
Windy and wet in the northern half of France, with heavy showers arriving in the north-west later. Southern areas of France should be dry with plenty of sunshine. Windy and wet across the Netherlands, this rain reaching the western half of Germany later on. The eastern half of Germany and Poland should be dry with sunny spells, and it should remain dry and bright through Hungary, Austria and Switzerland.
Windy in Denmark with some drizzle and patchy rain in the afternoon. Much of Sweden should be dry with sunny spells. Some snow flurries in the Baltic states, while Finland stays dry and cold. Gale force wins over much of Norway with heavy rain in the south.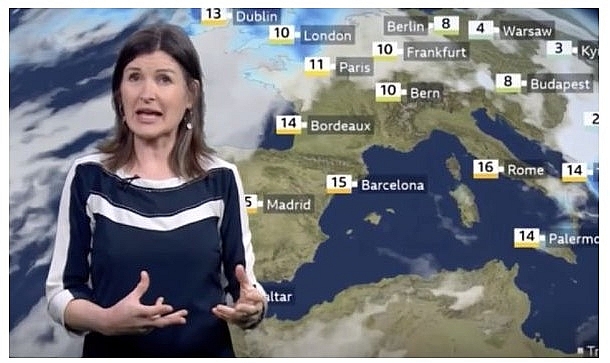 BBC Weather: Temperatures across Europe will vary while most remain in the mid teens (Image: BBC)
BBC Weather forecaster Helen Willetts warned of severe weather across Europe over the coming days. She noted that the continent would see flooding, snow, severe gales, and heavy rain. Orange warnings have been issued for Italy as they experience thunderstorms and heavy rain.
Ms Willetts said: "Stormy weather is powering its way towards north-western Europe. We are expecting a spell of gales or severe gale force winds in the coming few days. The first wave is coming in on Tuesday night, the second one is coming in as a deeper area of low pressure with even stronger winds."
The BBC Weather forecaster noted that throughout the rest of Europe there would also be stormy weather. She noted that parts of western Europe would experience flooding while central parts can expect heavy rain and thunderstorms. She continued: "This low-pressure further south is giving a lot of wet weather through the central Mediterranean. There will be some flash flooding across southern Spain. There will be orange warnings issue out from Tuesday through parts of Italy and the Balkans."
"This will be persisting through the Balkans down towards Greece on Wednesday, spiralling further southwards. What is interesting about this is it is pulling down much colder air having been quite mild last week. It turns much colder through Finland, Scandinavia and the Balkans."
"We can expect some fairly significant mountain snow here and heavy rains at lower levels. We can also expect some more flash flooding on Thursday, the same system that has been impacting southern Spain. So by Thursday, we have got some of the strongest winds barreling in across the UK and then into Scandinavia. This will be accompanied by heavy rain and snow, certainly over the hills."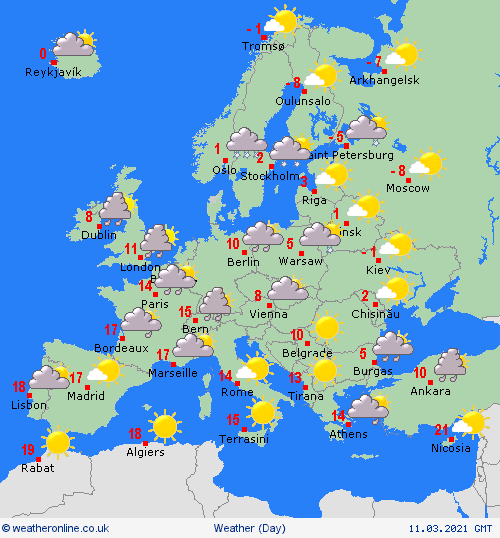 Photo: Weather Online
On March 11
According to Weather Online, rain in the far northwest of Spain and northern Portugal today. The rest of Iberia will be dry with good spells of sunshine. The sun will remain over the Balearics as well as through most of Italy, although a few showers are likely in northwest Italy. Some showers in eastern reece but generally fair here. More unsettled in Turkey with rain, sleet and snow in the north and east, windy here as well.
A band of rain moves south through central parts of France, some of the rain heavy. Windy and brighter in northern France and also across the far south too. Windy and unsettled for the Low Countries, frequent and heavy showers here. Windy for Germany with more showers, and heavier periods of rain to come for Poland. Hungary will have some rain later, and it will be turning wetter in Austria and Switzerland too.
Windy and bright with sunny spells and showers for Denmark. Gales, sleet and rain in Sweden. Windy but dry until evening for the Baltic States and Finland. Heavy showers and strong winds afecting Norway.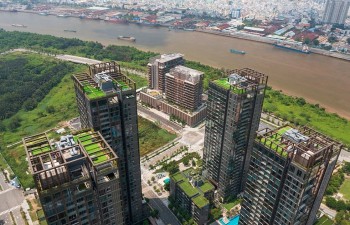 Economy
Vietnam Business & Weather Briefing (August 11): Vietnam to increase coal imports in 2025-2035 period, ten tonnes of Vietnamese longan exported to Australia.