UK and Europe daily weather forecast latest, March 16: Milder weather with prolonged rain over eastern England and a few showers elsewhere
The UK is forecasted to have milder weather on Tuesday with prolonged rain over eastern England for a time and a few showers elsewhere. Meanwhile, mixed weather set to cover through Europe and chilly still to the north and into central areas.
UK's weather forecast
According to Sky News, Tuesday will be milder with prolonged rain over eastern England for a time and a few showers elsewhere.
BBC Weather forecaster Matt Taylor said conditions will remain settled until the middle of the week, when colder air moves in from the northern Atlantic. Winds are expected to become less prominent through Monday, leaving temperatures between 9C and 13C in most of the UK. Mr Taylor said: "High pressure trying to build from the southwest, not quite with us - all weather fronts still tangled in across parts of the Midlands, East Anglia, the southeast this morning.
"Patchy, light rain, a drizzle, they'll depart by mid-morning. Blue skies, sunshine develop, cloud though increases from the west to go into the afternoon, bringing the odd spot of light rain and drizzle."
"Maybe some heavier bursts through the west and Northern Ireland and western Scotland. A gentle breeze in, overall the winds lighter than they were through the weekend. And temperatures up at around 10C to 13C for the vast majority so a couple of degrees above where we should be for the time of year."
Mr Taylor noted weather will grow more unsettled toward Monday evening, with rain and drizzle becoming more likely across Northern Ireland and western Scotland.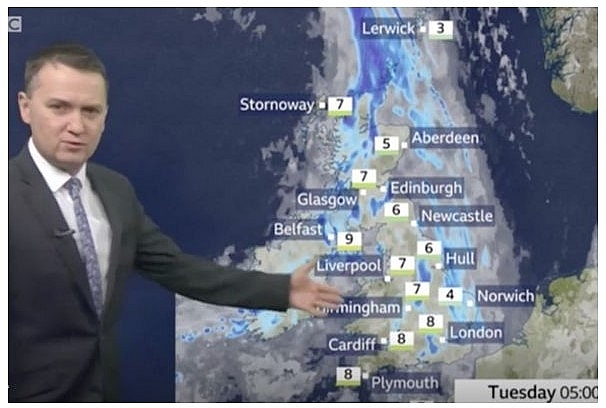 BBC Weather: Temperatures will slowly fall away after a mild start to the week (Image: BBC WEATHER)
The BBC Weather meteorologist continued: "It's nighttime which will be wettest rather than by day. Two batches of rain, one pushing towards the southeast, another one pushing into Scotland, Northern Ireland later but it keeps temperatures up."
"A mild enough start to Tuesday morning. Tuesday though, with these weather fronts around, is expected to be pretty cloudy and a bit damp and drizzly across England and Wales but things starting to brighten up for the north as you go through the day. Some breezy conditions with it but the pay off is Scotland and Northern Ireland see much more sunshine. That sunshine arrives in northern England, north Wales after a bit of a cloudy and damp morning."
"It's going to stay cloudy through southern areas into East Anglia and the southeast, further rain at times. Temperatures around 12C to 14C."
Mr Taylor added: "Mid-week we see high pressure generally build, just a little bit to the west of us, we want it a little bit further east to be fair because it does mean we've got a bit of a breeze blowing across some northern and eastern areas."
"Some cloud in East Anglia, southeast, breaking into sunshine but around that area of high pressure we tend to bring in a bit more cloud across Scotland and Northern Ireland later on Wednesday, some light rain."
"Even though temperatures down on Tuesday, with light winds, sunshine in the back it should feel quite pleasant but during the second half of the week, we see one batch of rain work across the country and as that goes and high pressure builds in, there will be a change to the way things feel."
"Especially the southern half of the UK, notice this is where the blue colours, the colder air pushes in, with it some strong and gusty winds."
The Met Office also forecast a significant weather change from Wednesday onwards, noting conditions will turn cloudier in the north and colder in the south. The Met Office also noted chances of rain, potentially wintry in some areas, will also increase as the week develops.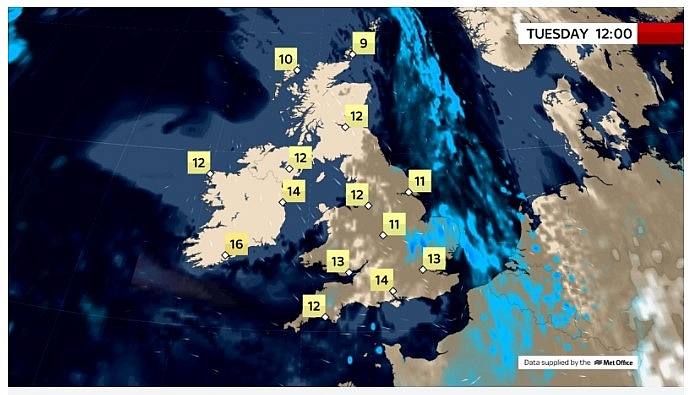 Photo: Sky News
On March 16
According to Weather Online, Tuesday will start off largely cloudy with rain in the north and east. It will be an improving day for most with drier and brighter conditions moving in. Temperatures becoming rather spring like in the sunshine too. The exception will be to central southern and southeastern areas of England where cloudier skies and patchy rain could linger througout the day. Highs range from 8 to 15C.
Low cloud with some rain and drizzle affecting many areas, though some brightness in the south. Sunnier skies in the northwest extending to many parts later. Feeling warm in sunshine, Met Office reported.
Outlook for Wednesday to Friday
Initially settled and mild, although some showers possible in the south-east. Turning cloudier in the north, and colder in the south where chance of rain and showers, possibly even wintry.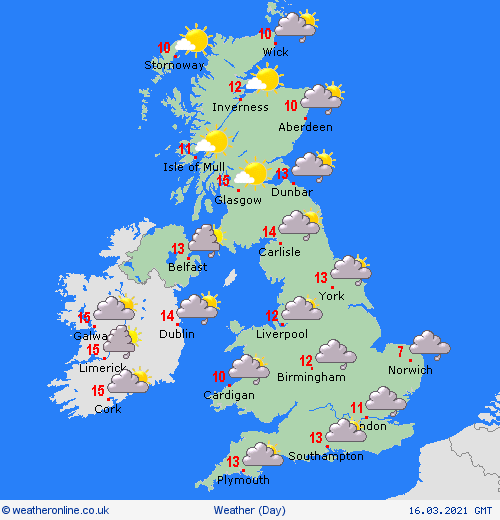 Photo: Weather Online
Europe's weather forecast
A largely dry and fine day for Spain and Portugal. Mostly dry for the Balearics but the odd shower cannot be ruled out here. Windy but mainly dry across Corsica and Sardinia. Some rain for northern parts of Siciliy, breezy too. Rain clearing to the south of Italy through the day. Breezy across coastal areas of Greece with outbreaks of rain here. Rain, heavy at times, too for Turkey.
Rain pushing down across France, eastern regions seeing heavy spells at times, but also through the Low Countries and Germany. A mix of rain, sleet and snow for Switzerland and Austria, snow to higher ground. Outbreaks of rain pushing into northern and western Poland too. Drier towards the southeast. Heavy rain clearing to the south across the Balkan States allowing for a drier day here.
Cool with rain passing through Denmark but clearing from the north with brighter conditions to follow. The Baltic States look to be largely cloudy with some patchy rain, sleet and snow about but dry periods too. Feeling chilly. Some rain, sleet and snow for coastal areas of Norway as well as across the far south of Sweden. Largely dry elsewhere. Cloudy across Finland with some light rain, sleet and snow circulating around southern areas mainly.
Heavy snow will bring disruption across several countries in Europe, according to the latest BBC weather forecast. BBC metereologist Susan Powell suggested that the UK, France and Germany could be hit by a return to wintry weather. However, Portugal look set to be the outlier in Europe, as Lisbon bakes in 23C temperatures across the coming week.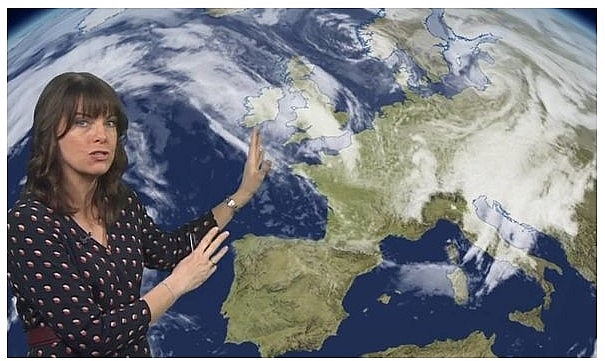 Susan Powell warned that the wintry weather could return to much of Europe by Tuesday (Image: BBC)
BBC's Susan Powell said: "The weather picture for Europe across the next few days is going to be a fairly complicated one, for sure. We have a big area of high pressure here, out towards the west, over the Iberian peninsula, that will do a very good job at settling things down across Iberia and eventually the west of France."
"But this area of low pressure will dive down across the Low Countries, into the east of France, affecting Germany and particularly the Alps on Monday, dropping some heavy snowfall here. So Monday will see cold northwesterly winds and another area of low pressure brings heavy rain into Greece and Turkey."
She continued: "There will be strong winds across the Aegean and Adriatic Sea on Monday and a difficult mix of wet and windy weather getting into Hungary and Romania. Contrast that to the clear blue skies and sunshine for Spain and Portugal. It is clear in the west of France as well, but to the east we will see further outbreaks of rain."
She warned that the wintry weather could return to much of Europe by Tuesday.
The BBC weather presenter explained: "From Monday into Tuesday, that high pressure gradually starts to progress in from the west. But we are left with a northernly air stream down from the North Sea, so across eastern England, France and even Switzerland we could see outbreaks of wintry weather."
This comes as Storm Klaus struck Germany, the Low Countries and Switzerland this week, reaching hurricane-like winds of 100km per hour. Earlier this week, heavy snowfall caused several accidents in Finland, even leading to a pile-up of dozens of vehicles on one national road near Helsinki.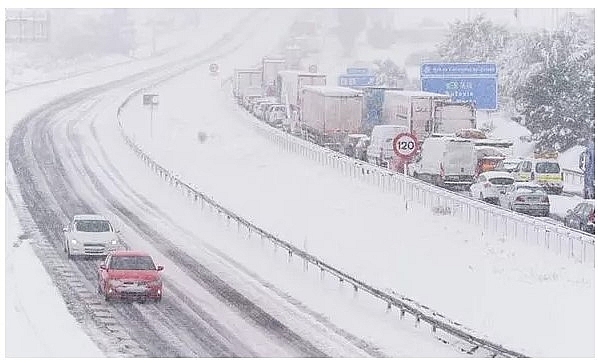 Heavy snow will bring disruption across several countries in Europe (Image: GETTY)
On March 16
According to Weather Online, another largely dry and fine day for Spain and Portugal although do expect one or two scattered showers over the Pyrenees region. Dry and sunny through the Balearics although breezy in the far east here. Showers or longer spells of rain across Italy and the surrounding islands with brisk winds along western coasts of the islands. Staying unsettled across Greece and Turkey with cloudy skies and outbreaks of rain.
Variable cloud amounts across France with some light and patchy rain but mainly dry. Largely dry across the Low Countries but chilly. Chilly yet dry across northern Germany. Showery rain affecting southern areas here as well as across Switzerland, Austria and the Czech Republic. Poland too will see patchy outbreaks of rain, sleet and snow, mainly in the west. Chilly with some wintry showers about through the Balkans.
Mostly dry yet cold across Scandinavia although a mix of rain, sleet and snow will push into coastal and northern regions of Norway. Some snow showers across parts of Finland and the Baltic States but sunny spells too. A dry but chilly day for Denmark.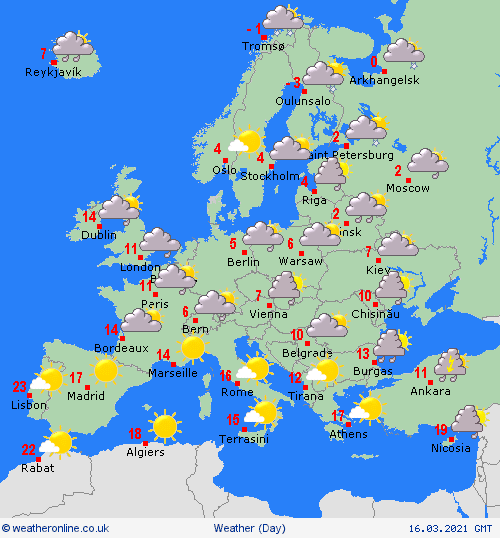 Photo: Weather Online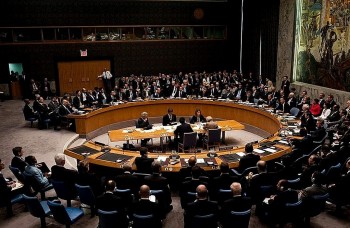 Friendship
The "International Day of Women in Diplomacy" is recently adopted by the United Nations (UN), which is to be celebrated every year on June 24. UN General Assembly Abdulla Shahid said that the resolution opened the door to discuss the challenges of women in diplomacy face, to celebrate women in diplomacy and to inspire the next generation.