UK and Europe daily weather forecast latest, March 15: Cloud to bubble up over central and eastern parts of the UK with a few showers
The UK is forecasted to have cloud bubbling up over central and eastern parts through the afternoon with a few showers developing. Meanwhile, mixed to unsettled weather set to cover through much of Europe and chilly conditions expected to the north.
UK's weather forecast
According to Sky News, there'll be another bright start for Monday morning - but it will be another morning of false promise. Cloud will bubble up over central and eastern parts through the afternoon with a few showers developing. Thicker cloud and rain will reach western Ireland and the south-west with Cornwall seeing a rather wet day.
The wet weather will take over Wales and western Scotland through the afternoon. By midday on Tuesday the rain will lie over eastern counties and East Anglia where it will stall and begin to fragment. Temperatures will be rising a little day on day, with some western areas seeing a high of 15 Celsius by Tuesday, that's 59 Fahrenheit.
High pressure building from the west in the middle of the week will bring some more settled conditions to northern and western parts. The south-east, however, is likely to be mostly cloudy with showers or rain at times; these potentially turning a little wintry on Thursday.
BBC Weather has forecast rain to batter Britain before temperatures plunge next week with cold air gripping the nation.
BBC Weather forecaster Helen Willetts noted a new weather front will be moving in from the Atlantic Ocean. This will bring rain and some wind for most of the UK although it won't be as blustery as the past few days. The weather forecaster also added there will be frosty mornings for the new week due to clear skies at night sending temperatures plunging.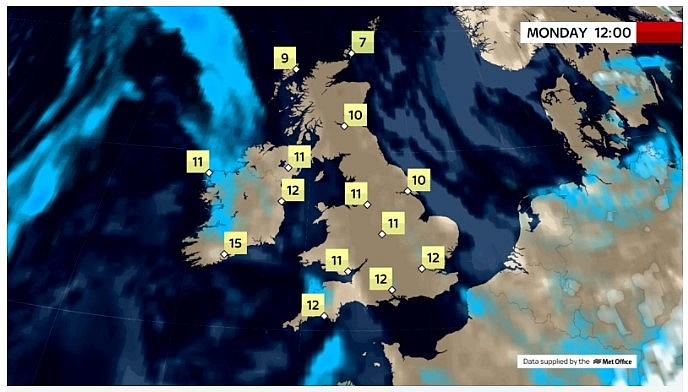 Photo: Sky News
Temperatures will reach around 10C during the day but could fall as low as 2C for the mornings which is likely to create frost. Ms Willetts said: "It is a tale of two halves today. We had yesterday's wind and rain which has cleared out of the way, we have got some dry and brighter weather this morning. But already steaming in off the Atlantic is the next weather front which will bring rain to many parts across the day."
The BBC Weather forecaster noted the rain will quickly return after the bouts of sunshine in the UK.
She said: "The best of the dry weather in central areas definitely will be in the morning, it will be on the chilly side but largely frost-free. But you can see for the southwest of Scotland and this morning for Northern Ireland the rain comes in. It will be reaching the Irish Sea shores about lunchtime. It will be a steady few hours of rain as that progresses southwards and eastwards through the day."
Ms Willetts added that temperatures will rise throughout the afternoon. Across the country, most areas will be just shy of 10C. However, these temperatures will fall away throughout the evening and give way to a frosty night and morning. The forecaster continued: "As we go through the evening and overnight there will be clear skies once again as the rain eases away.There will be more rain for Northern Ireland in the morning but during the interim, there is going to be clear skies which means it will be chilly again."
"There will be some rural frost in some areas and that is because we are quietening things down this week."
Photo: Weather Online
BBC Weather's long-range forecast also noted that next week many parts of the UK can expect frosty starts. The forecast said: "During Tuesday, rain will reach all areas and it should linger across the eastern half of the country through to the evening."
"Northern Ireland, Wales, western Scotland and southwest England will become drier with some sunshine developing through the afternoon. Wednesday onwards will be drier with some sunshine as high pressure builds. Any patchy drizzle should die away and there will be some sunshine for most also a chance of overnight frost and fog patches."
On March 15
According to Weather Online, a cloudy and damp start to the southeast of England on Monday, but this should soon clear off allowing for brighter spells to develop. Southern parts of England and possibly Wales, however, could see showers continue throughout the day. A largely dry day elsewhere although cloud will thicken across Ireland and Northern Ireland. Mainly patchy, light rain will sweep across these areas, moving into the far west of the rest of the UK by evening. Highs in the south and west between 7 and 14C, while highs further north and far east at between 5 and 9C.
A mixture of cloud and sunny spells for most. Dry for many, but scattered showers catching parts of England. Thicker cloud and patchy rain developing in the far west, Met Office reported.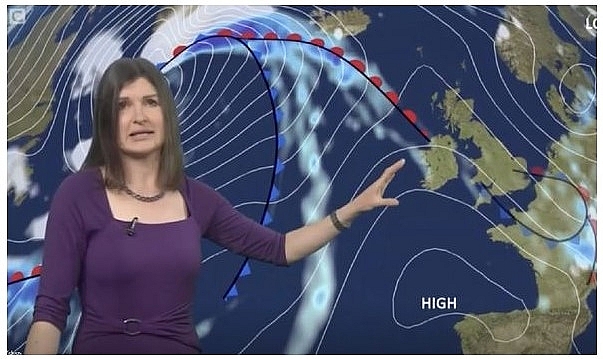 BBC Weatherhave forecast heavy rain to batter Britain as temperatures fall away. (Image: BBC)
Outlook for Tuesday to Thursday
Cloud and increasingly light, patchy rain will sink southeast during Tuesday. Many northern and western areas then becoming mainly settled, whilst some eastern areas see showers and colder weather Thursday.
Europe's weather forecast
Patchy rain fades over northern Spain to leave a dry and bright day here and for Portugal too. Early showers fade from the Balearic Islands to leave a sunny afternoon. Outbreaks of rain, sleet and snow spread south over Italy as an area of low pressure develops over the Adriatic Sea. This also brings some heavy rain to the Balkans. Rather cloudy for Greece and Turkey with locally heavy outbreaks of rain developing over southern areas.
Breezy for France, the Low Countries and Germany with blustery showers spreading in from the northwest through the day. Staying drier further southeast. Showers also spread into western parts of Poland. Some snowfall is expected over the Alps while patchy outbreaks of rain affect Slovakia and Hungary.
Continuing breezy with patchy rain for Denmark while low pressure moves over the Baltic States bringing breezy conditions and outbreaks of rain and sleet here. A band of sleet and snow spreads north over southern Finland while its a dry day for much of Sweden and Norway away from the coasts.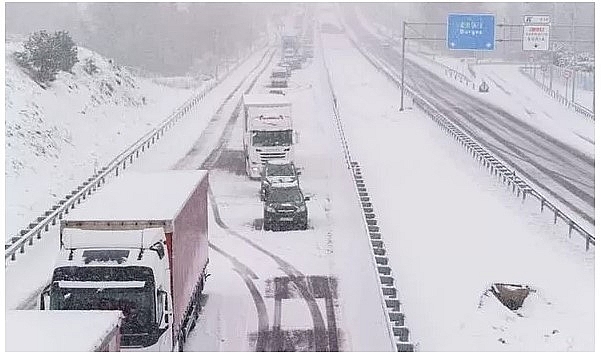 Winter weather is returning to parts of Europe (Image: GETTY)
On March 15
According to Weather Online, a largely dry and fine day for Spain and Portugal. Mostly dry for the Balearics but the odd shower cannot be ruled out here. Windy but mainly dry across Corsica and Sardinia. Some rain for northern parts of Siciliy, breezy too. Rain clearing to the south of Italy through the day. Breezy across coastal areas of Greece with outbreaks of rain here. Rain, heavy at times, too for Turkey.
Rain pushing down across France, eastern regions seeing heavy spells at times, but also through the Low Countries and Germany. A mix of rain, sleet and snow for Switzerland and Austria, snow to higher ground. Outbreaks of rain pushing into northern and western Poland too. Drier towards the southeast. Heavy rain clearing to the south across the Balkan States allowing for a drier day here.
Cool with rain passing through Denmark but clearing from the north with brighter conditions to follow. The Baltic States look to be largely cloudy with some patchy rain, sleet and snow about but dry periods too. Feeling chilly. Some rain, sleet and snow for coastal areas of Norway as well as across the far south of Sweden. Largely dry elsewhere. Cloudy across Finland with some light rain, sleet and snow circulating around southern areas mainly.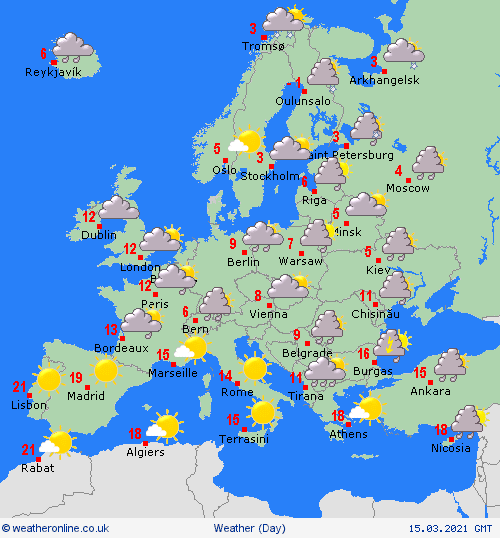 Photo: Weather Online
Make in Vietnam
Vietnam introduced potential for trade and investment to Algeria's localities