UK and Europe daily weather forecast latest, March 13: Windy weather through the weekend with further heavy showers in Britain
The UK is forecasted to have wintry conditions through the weekend. Saturday will be rather cold again, but temperatures will return to near average on Sunday. Meanwhile, low pressure brings unsettled conditions to northern Europe.
UK's weather forecast
On Friday morning, there will be a mix of sunshine and showers, but more general rain will quickly move across England and Wales. Heavy downpours will bring a risk of hail and thunder, with snow on northern hills. It will be rather cold and windy, with coastal gales possible, Sky News reported.
The afternoon will bring further heavy and blustery showers, but central and eastern England will turn drier for a time. Later, western parts will see showers merging into longer spells of rain. The wind will strengthen in the South on Friday night, with coastal gales likely.
It will stay windy through the weekend, with further heavy showers, but they should become more scattered on Sunday. Saturday will be rather cold again, but temperatures will return to near average on Sunday. There is increasing confidence that high pressure will bring drier and milder conditions next week.
According to forecasters, parts of the country could be hit by bitter conditions set to roll in from the Atlantic tonight. Due to this colossal band of weather, the Met Office has issued yellow weather warnings for snow and ice following the gales which hit most of the UK on Thursday morning. The worst of the wintry conditions will be centred around Scotland where yellow warnings are in place for today and tomorrow.
Photo: Sky News
According to the Met Office, snow could hit the north and Highlands of Scotland from 6pm this evening. Due to this band of cold weather, temperatures in Scotland are set to plummet below freezing this evening.
These conditions will intensify on Friday with some areas seeing temperatures drop close to -5C (23F) in Scotland on Saturday morning, according to WXCharts.
According to BBC Weather, the wintry conditions should continue on higher ground this evening while some areas will continue to see high winds.
Tonight, they reported: "Blustery showers will continue in northern and western areas, continuing wintry on higher ground. It will stay dry over central and eastern England and northeast Scotland, with clear spells."
Looking ahead to tomorrow, BBC Weather said: "Showers will continue to push in from the west, some wintry over high ground. Showers will be widespread in the morning with central and eastern areas drier in the afternoon."
While the rest of England will see temperatures remain in low figures, heavy rain is expected in multiple areas on Saturday morning.
After winds of up to 86mph (138kph) battered the UK, the South and North West of England and Wales will see rain levels approaching 30mm (1.1") on Saturday. Indeed, on March 14 rain levels are expected to accumulate to 40mm (1.5") for much of Wales, the South-West and North West of England, weather charts suggest.
According to WXCharts, these showers will intensify as the week progresses with forecasters predicting levels reaching 45mm (1.7") of rain in Wales on March 17.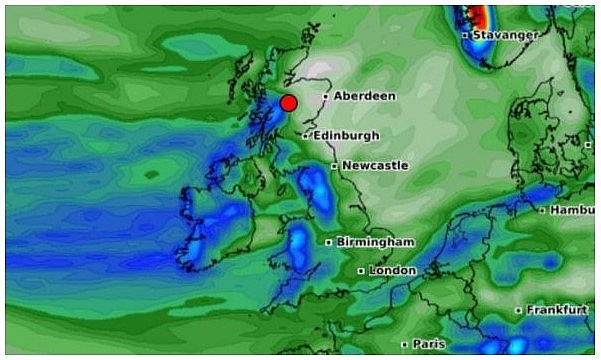 UK weather: The rain will intesify from Sunday (Image: WX Charts )
Commenting on the weather between March 16-25, the Met Office said: "At the start of this period, the weather is likely to begin settling down with high pressure building from the southwest. Temperatures will likely be near or a little above average at first, but chilly at night with rural frost."
"Southern and western areas are likely to see primarily settled conditions, with a good deal of dry weather, though some rain remains possible at times."
"However, there is more uncertainty across northern and eastern areas, where spells of rain, showers and stronger winds are more likely, though still with some reasonable drier interludes."
"Some morning fog patches are likely to develop in the settled regime, most likely in the southwest. There is much uncertainty in temperatures for this period, but likely to see above-average temperatures for a time."
These conditions come after the majority of the UK suffered gale-force winds overnight on Wednesday evening. A separate yellow weather warning was issued for both England and Scotland due to the high-speed winds, which were particularly strong on the coast.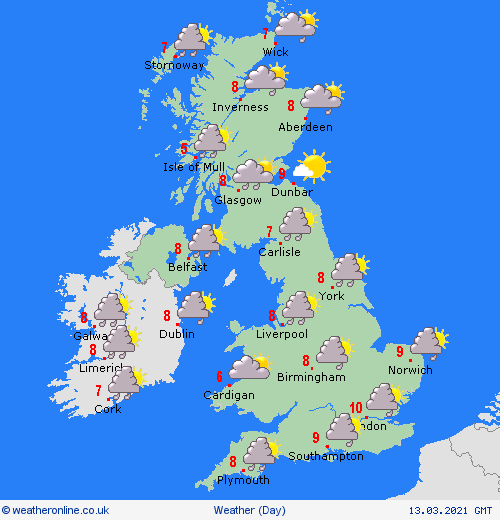 Photo: Weather Online
On March 13
According to Weather Online, low pressure is north of Scotland again on Saturday. Rain for all overnight and breezy too. These should clear eastern coasts on Saturday morning to be followed by a mix of sunshine and showers. The showers will be heaviest in the west with a risk of hail and thunder. The showers could turn wintry over hills too. Highs at 6 to 10C.
Early rain and hill snow over northern England soon clearing, then a rather cold and breezy day with sunny spells and scattered showers, wintry over some hills.
Outlook for Sunday to Tuesday
Continuing changeable with rain or showers for many, but also some dry weather with sunny spells. Strong winds will ease and it will gradually become milder.
Europe's weather forecast
A fine day to come across southern parts of Spain and Portugal, plenty of sunshine and dry throughout. Cloudier further north with patchy outbreaks of showery rain. There will be more sunshine in the central parts of the Mediterranean including Corsica and Sardinia. Some rain in northern Italy but dry to the south. Turkey should be fair with more sunshine to come here.
Windy in the north of France with a risk of some heavy showers and outbreaks of rain. More scattered showers in central France and dry to the south. Wind and rain or showers in northern Germany, fair in more central and southern areas. Early rain clears Austria, Switzerland and Poland to leave a dry and fine but breezy end to the day.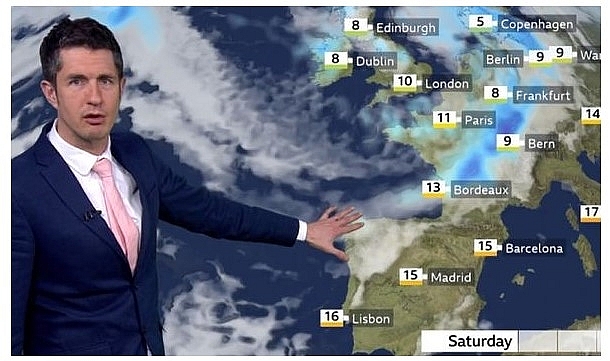 BBC Weather: Much of North west Europe can expect gusts and rain over the weekend (Image: BBC)
Windy in Denmark with some rain towards evening. Staying windy in the Baltic States as morning showery rain clears east. Showery periods of rain in Finland too, whilst central and northern Sweden stay dry. Norway will have some rain in the west and south but should be dry to the north.
BBC Weather forecaster Chris Fawkes warned of heavy rain and powerful gusts over the weekend for Europe. He noted that this wet weather will be moving eastwards and could cause disruption. Gusts could get to speeds of around 80mph according to the forecaster.
Mr Fawkes said: "We have got a weather front moving across eastern Europe at the moment. That is going to be bringing heavy snow to western parts of Russia, as you go through Friday some of that snow will be stretching southwards into portions of Ukraine."
"On Friday it is a day of sunshine and showers across northwestern areas of Europe. There will be some longer spells of rain pushing into the Netherlands and Belgium for a time. Across north-west Europe, there will be some strong gusts of wind. There will be gusts around 70 and perhaps 80mph for a time."
This wet and blustery weather is set to continue going into the weekend. Parts of northwestern Europe are expected to experience the wettest and windy weather, most notably in the UK, France and Germany.
Mr Fawkes continued: "Looking at the forecast into the weekend we have got another weather system following in across northwestern areas of Europe. They will be bringing more rain and some strong gusts as well."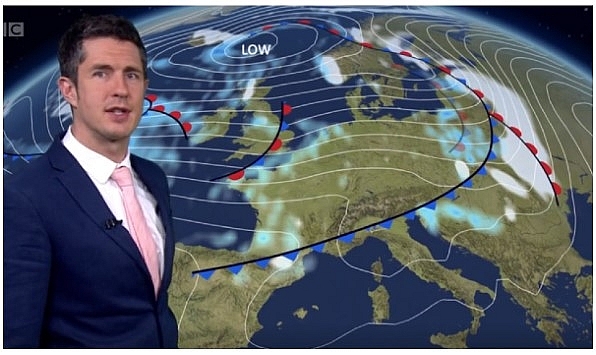 BBC Weather: In southeastern Europe, there is a chance of some showers however it is expected to remain dry throughout the weekend. (Image: BBC)
In southeastern Europe, there is a chance of some showers however it is expected to remain dry throughout the weekend. Temperatures in the region are set to be in the mid-teens with plenty of sunshine. The BBC forecast continued: "Sunny skies too for most parts of Italy and most of Spain and Portugal we are looking fine."
"Quite windy across northwestern areas with a chance of few showers. It remains very unsettled for northwest Europe. It will be days of rain followed by sunshine and showers. Some of the showers with hail and thunderstorms too, gusty showers as well."
On March 13
According to Weather Online, some patchy rain to the far northwest and north of Spain but otherwise a dry and fine day for Iberia. Dry and fine conditions extend to the Balearic Islands, Corisica, Sardinia and much of Italy too as early rain clears to the south here. Some patchy cloud for Greece and isolated showers to the northwest here. A dry and bright day for Turkey.
Wet and windy conditions extend through France, the Low Countries, Germany, Switzerland, the Czech Republic and western Poland on Saturday. Rain clears from the northwest later though showers follow here. Patchy rain clears eastern Poland to leave a fine day here. Staying dry and fine ahead of the rain for much of Austria, Slovakia and Hungary.
Photo: Weather Online
Wet and windy conditions extend into Denmark and southern Sweden too. Patchy rain and sleet for the Baltic States and southern Finland. Dry but cloudy further north and for central and northern Sweden. Some patchy rain for far southern and far northern parts of Norway. Otherwise a dry and fine day here.