UK and Europe daily weather forecast latest, March 18: Mostly dry and cloudy but rain to affect eastern England and northwest Scotland
Thursday looks mostly dry and cloudy, but rain may affect eastern England and northwest Scotland again. Meanwhile, cold weather set to hit over much of Europe, heavy showers in the east.
UK's weather forecast
According to Sky News, Thursday looks mostly dry and cloudy, but rain may affect eastern England and northwest Scotland again. Friday will be similar.
New maps show cold air moving towards the UK from a northerly direction near the Arctic region this week and lingering until the start of April, just in time for the Easter Weekend. Temperatures could plunge as low as -4C in central Scotland on Thursday, April 1, according to WXCHARTS. Sub-zero temperatures could strike further down in northern England as Cumbria and the Lake District seeing -2C on the same day, while most of Yorkshire averages 0C.
Further south, Bath, Oxford and Reading in the south-west could be hit with -1C, with London and Kent in the east seeing 0C.
Snow probability charts show swirls of different shades of blue covering eastern and northern Britain at the end of March, suggesting there is between 10 to 40 percent chance of snow.
Netweather's forecast between Monday, March 29 and Sunday, April, 4, warned of snow hitting higher ground in northern and eastern areas as wintry air hits.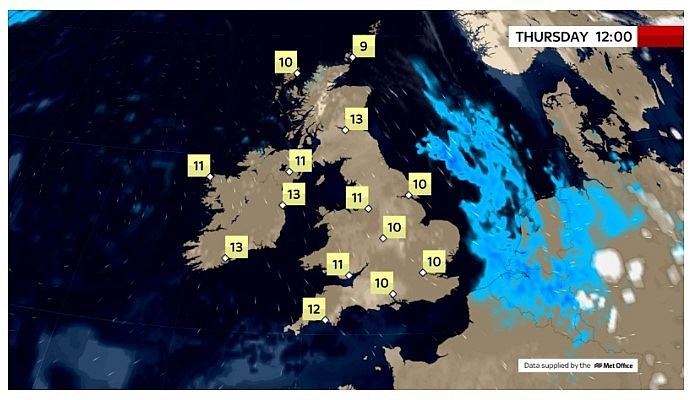 Photo: Sky News
The forecast said: "Showers locally heavy with a risk of thunder. Mild at first then turning much colder possibly even wintry from the North. Some sleet or snow possible in the North and East chiefly on hills. Perhaps turning drier and sunnier at the end of the period with milder more spring-like days. Overnight frost into April much more likely."
The BBC's long-range forecast between Monday, March 22 and Sunday, March 28, predicted temperatures to be "colder than normal" just as the Easter weekend arrives.
The forecast said: "For the end of March, an unsettled pattern is expected as high pressure recedes back to the Atlantic. This will allow the main low pressure track to shift back southwards, with weakened weather systems moving across the country from the northwest. In this sort of set-up, most rain would be expected in northern and western regions, while eastern and southern areas see lighter, patchier rain, if any."
"However, high pressure is likely to return from the middle of the week, bringing drier conditions and milder air from the southwest again. This high will keep moving eastwards in contrast with the high from this week that will be largely stationary, so the dry weather will be shorter-lived."
"Temperatures should be near normal averaged through the week but with fluctuations as frontal systems come and go, some temporary chillier northwest winds are possible early on."
"Confidence is not high on this period of weather because we are seeing some discrepancies in the medium and long-range computer models. Although we expect the weather to be unsettled with some lengthy dry spells, there is a possibility that high pressure will be much more dominant and keep things very dry, cloudy, and a bit colder than normal."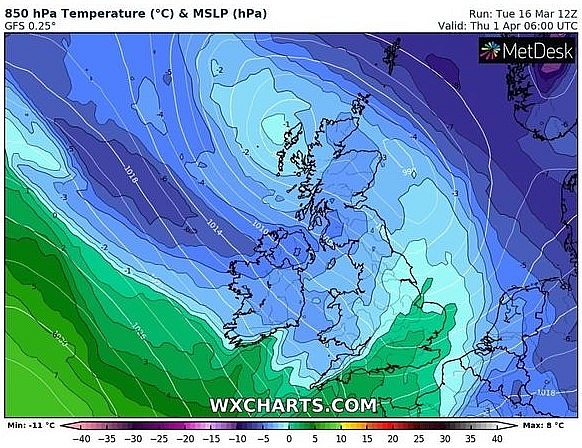 UK weather radar: Cold air is expected to linger for the rest of the month (Image: WXCHARTS)
The Met Office also suggested wintry conditions could liner until April 1, as frosts and "cooler interludes" move in.
The long-range forecast said: "High pressure is likely to remain dominant for many through this period, bringing settled, mainly dry conditions and light winds."
"Cloud cover will be varied, with sunny spells at times but also the chance of some drizzle or light showers. There is a continued risk of frosts and localised fog patches on clear nights. However, unsettled conditions will gradually move in from the northwest through this period."
"Strengthened westerly winds could bring fontal zones, rain, and thicker cloud to northern and western areas intermittently, being interspersed with drier and brighter spells. Occasionally these conditions may reach central areas, but southeastern areas will likely stay largely dry."
"Temperatures are expected to be near or milder than average, though short-lived cooler interludes could occur in the showery conditions following weather fronts."
On March 18
According to Weather Online, high-pressure stays to the west of Ireland on Thursday with lower pressure to the east of England. An increasing risk of some mostly light rain affecting Eastern counties of England, this most persistent over East Anglia and Kent. Other areas are going to be dry but with a fair amount of cloud. However some bright spells will occur with the best of these probably across south western Scotland, Northwest England and parts of central Ireland. Feeling colder in the wind in the east, but staying mild in the west. Highs at 13C in the werst but only 7 or 8C across East Anglia and the southeast.
Cloudy with light drizzle in the far north with thicker cloud likely bringing light rain to some southeastern areas. Fine with good sunny spells elsewhere and feeling warm in sunshine, Met Office reported.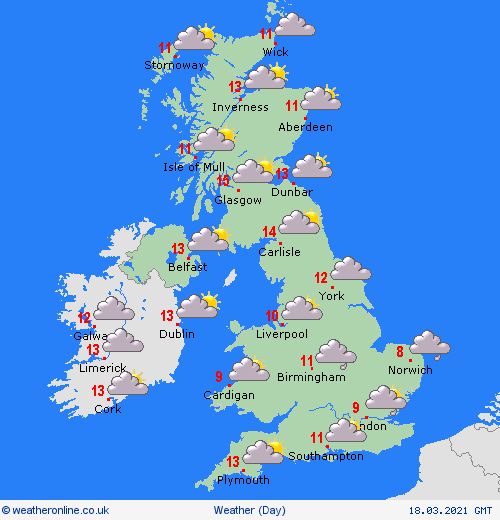 Photo: Weather Online
Outlook for Friday to Sunday
Some rain at first in the east, otherwise mostly dry but rather cloudy. Feeling warm in any sunshine, but the southeast colder with some overnight frost.
Europe's weather forecast
Fine across most of Spain and Portugal on Wednesday. There will be some showers affecting Majorca and Ibiza, and the showers troubling Corsica and Sardinia too. Heavy showers across central and southern parts of Italy as well as Greece. Much of Italy and Greece feeling cold. Fair in the far west of Turkey but heavy showers, rain and sleet in the east.
A fair day in France with plenty of sunshine, especially in the west. Cold but bright in the Netherlands. Germany will have rain and sleet across much of the country and this will be also over western Poland. Eastern Poland should be fair. Hungry will be dry with sunny spells but sleet affects northern Austria. Switzerland will be mostly fair.
Cold for Denmark with some sunny spells. Fair and cold for most of Sweden as well as the Baltic states. Finland stays cold and dry. Some snow showers in western Norway but many parts will be dry with sunny spells.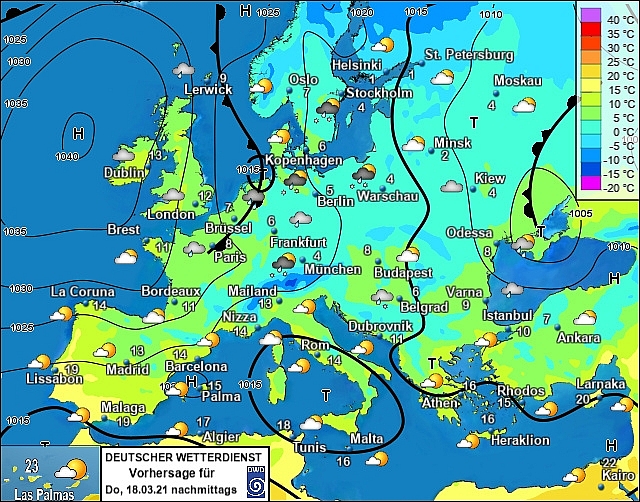 Photo: Stirimeteo
On March 18
According to Weather Online, some heavy showers in eastern parts of Spain. Fair in western Spain and breezy. Portugal will be fine too with more sunshine to come here. Showers for Corsica and Sardinia, some of them heavy. Fair in Greece with sunshine here. Heavy showers in western Turkey, fair in central and eastern areas.
France will be dry with sunny spells, a few showers in northern and eastern areas. Further heavy showers across northern and central Germany and feeling cold here. Cold in Poland with heavy showers in the west. Hungary will be bright and cold. Austria and Switzerland will have further showers and some sunny spells.
A cold day in Denmark with sunny spells. Fair and cold through the Baltic States. Staying cold across Finland with more sunshine to come here. Staying sunny and dry in Sweden. A scattering of showers over Norway.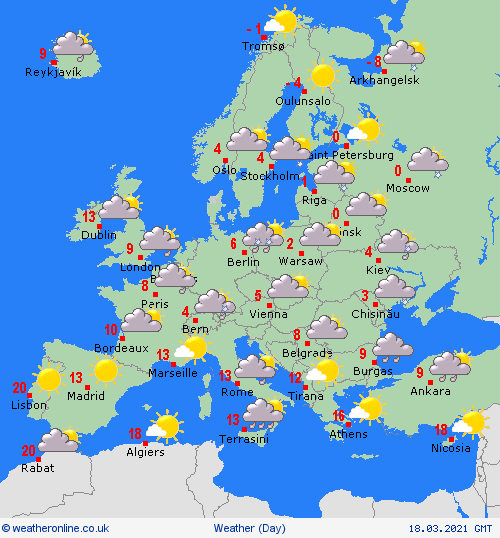 Photo: Weather Online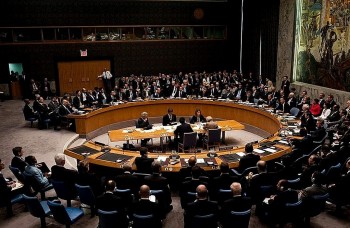 Friendship
The "International Day of Women in Diplomacy" is recently adopted by the United Nations (UN), which is to be celebrated every year on June 24. UN General Assembly Abdulla Shahid said that the resolution opened the door to discuss the challenges of women in diplomacy face, to celebrate women in diplomacy and to inspire the next generation.