UK and Europe weather forecast latest, December 26: Amber warning for wind and rain this weekend in light of Storm Bella
On this weekend, the UK is forecasted to cope with wind and rain after rare amber warning issued. Meanwhile, wintry showers set to cover in central Europe and snow showers to the east.
UK's weather forecast
The Met Office has issued yellow ice warnings for parts of the UK today on Christmas Eve. The Met Office has also issued a rare amber warning for wind this weekend in light of Storm Bella, in addition to several rain warnings.
Today an ice warning has been issued for a part of eastern Scotland between 6pm today and 10am on Friday, December 25. Another yellow ice warning has been issued for parts of northern, eastern and central England between 11pm today and 10am on Friday.
On Saturday and Sunday there are multiple warnings for rain and wind across the UK. An amber wind warning covers a stretch of southern England and Wales from 10pm on Saturday, December 26 until 9am on Sunday, December 27.
The warning reads: "Very strong southwesterly winds are expected for parts of south and southeast England and south Wales on Sunday morning. Inland gusts of 50-60mph are likely with a few spots likely to see 60-70mph for a time."
"Hills and particularly coasts exposed to the southwesterly winds will see a few gusts of 70-80mph. In addition to the strong winds, a period of heavy, squally rain is expected and may prove an additional hazard."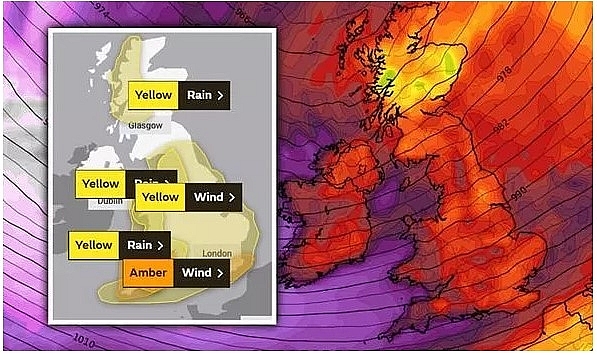 Met Office weather warning: Storm Bella unleashes rain and fierce gales- amber alert issue (Image: WXCHARTS - MET OFFICE)
A yellow rain warning has been issued for parts of Scotland between 9am and 11.59pm on Saturday. This warning covers parts of northern and western Scotland, including Central, Tayside and Fife, Highlands and Eilean Siar and Strathclyde.
The entirety of England and Wales, and parts of southern Scotland, are under a yellow wind warning from 3pm on Saturday until 12pm on Sunday.
Another yellow rain warning active between 6pm on Saturday and 9am on Sunday affects parts of the Midlands, North West, North East, Yorkshire and the Humber, Wales and the South West.
On Sunday another yellow rain warning has been issued between midnight and 9am for parts of East Sussex and Kent.
The weather is forecast to change from Saturday, with Storm Bella now officially named by the Met Office. Christmas Day is forecast to be a relatively calm and cold day in the UK.
A ridge of higher pressure will keep conditions more settled, but some showers will affect eastern England early in the day with a possibility of some snow technically making it a white Christmas, but the snow is not expected to settle.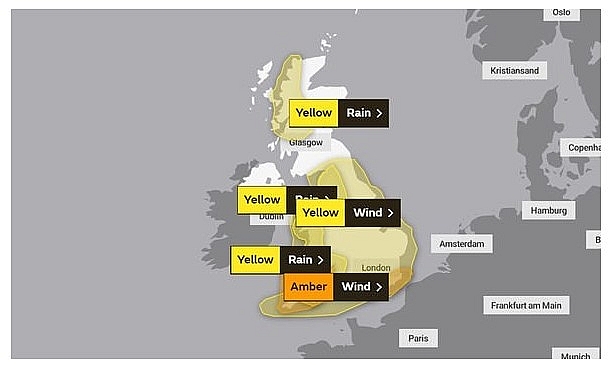 Met Office weather warnings for Saturday (Boxing Day) (Image: MET OFFICE)
The Met Office's latest report adds: "Additionally, showers moving into Scotland could fall as snow over 300m in the Grampians."
However from Boxing Day conditions will become increasingly unsettled, with the addition of strong winds and heavy rain.
Met Office Deputy Chief Meteorologist, Tony Wardle, said: "Conditions will turn very unsettled after Christmas day, with a large area of low pressure sweeping across the UK from Boxing Day. Very strong winds will impact much of England and Wales, with particularly strong gusts on south west facing coasts."
"Heavy rain will also move in from the north, with heavy downpours through the afternoon in Scotland and Northern Ireland moving south across England and Wales overnight."
"This will be a notable change from the calmer conditions over Christmas Eve and Christmas Day so take extra care and stay up to date with the latest forecast."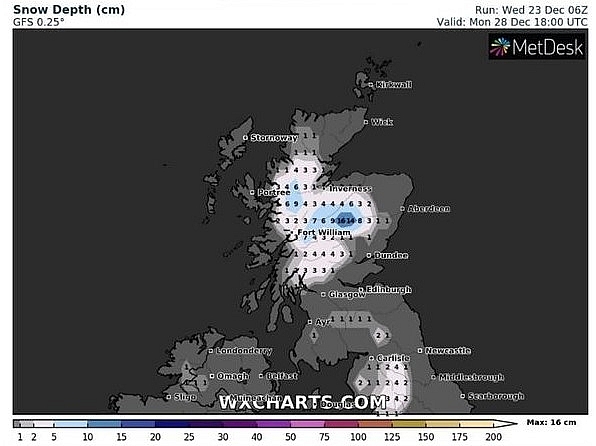 UK snow forecast: By 6pm on Monday the forecasters' snow depth chart shows up to 6.2 inches (16cm) (Image: WXCharts)
On December 26
According to Weather Online, windy for Boxing Day with low pressure northwest of Scotland and fronts passing east. Turning increasingly wet in northern and western areas during the afternoon. Snow over the Highlands and Grampians. The rain becoming heavy in the west and there is a risk of some localised flooding. Tending to be drier in southeast England. Despite slightly milder temperatures, the wind will ensure it remains feeling cold. Gales becoming widespread, severe in the west. Highs at 4 to 7C.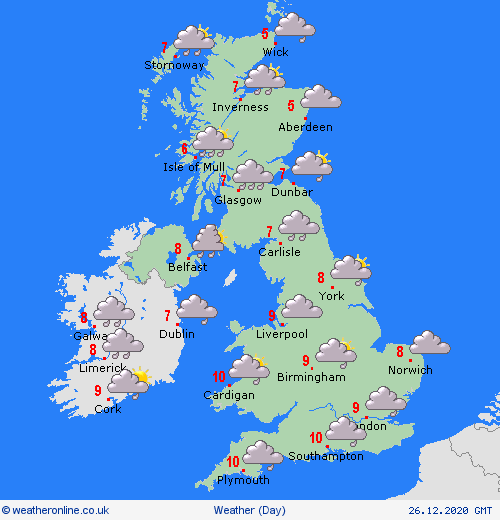 Photo: Weather Online
Europe's weather forecast
A colder day in Spain and Portugal. Showers in northern Spain. fair for other areas with lots of sunshine. Chilly in the Balearics and through Corsica and Sardinia with showers, some of them heavy. Rain and showers in Italy, these heavy and thundery in places. Greece and Turkey will be mostly dry with sunny spells.
Chilly in France with sunny spells and a few showers, mostly east and south. Windy across southern France. Sunny spells and scattered showers for the Low Countries, cold in Germany with some rain and showers to the south. Poland will be cold and bright with sunny spells, some showers and rain in the south. Austria and Hungary as well as Switzerland will be cold with sleet and snow.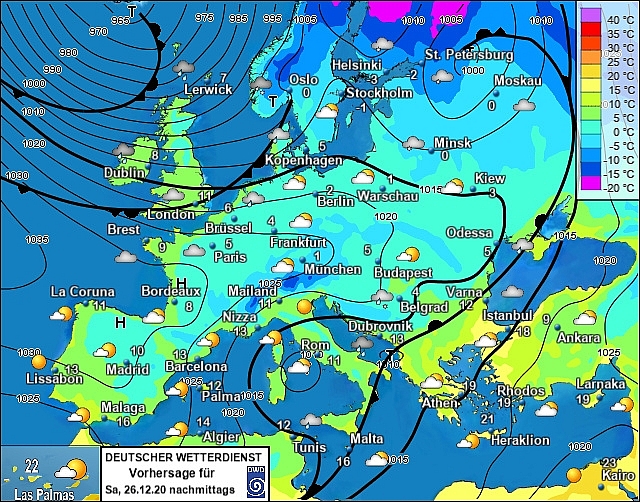 Photo: Stirimeteo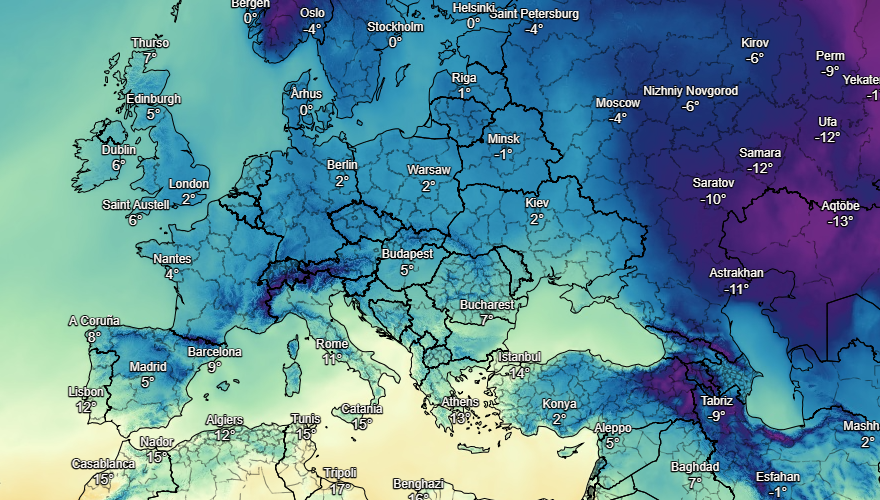 Photo: Stirimeteo
Cold for Denmark, but bright and dry. Sweden should be cold and dry too. Some snow showers for the Baltic States. Windy in Finland, a scattering of snow showers here too. Norway will be windy in the west with some sleet, drier in the east.
On December 26
Fair across Portugal and Spain with plenty of sunshine and dry weather too. Fine for the Balearics. Rain through Corsica and Sardinia with heavy periods of rain in Italy. Rain in western Greece, dry in the east. Plenty of sunshine across Turkey, a few showers in the west.
Fine across France with plenty of sunshine. Fair too in the Low Countries. Breezy in northern Germany but dry with sunshine for most of the country. Poland will be dry with more sunshine. Hungary and Austria as well as Switzerland should be dry.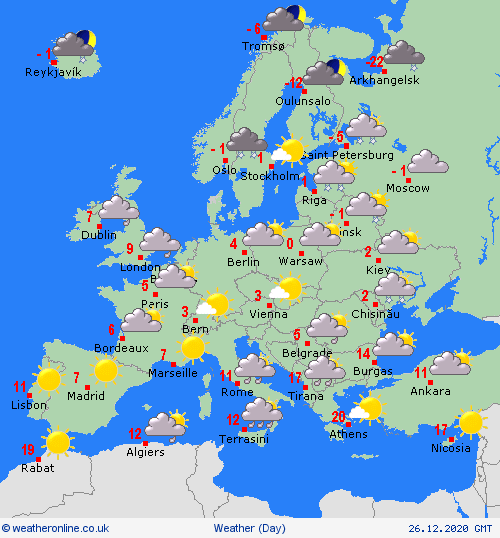 Photo: Weather Online
Breezy with sunny spells in Denmark. The Baltic States should be fair with more sunshine. Finland will be dry and cold. Mostly fair across Sweden. Unsettled for Norway with rain, sleet and snow, windy too.