UK and Europe weather forecast latest, January 2: Snow showers with bitterly cold winds to hit the UK as temperatures plummet
The UK is forecasted to cope with snow showers as polar bomb strikes. Meanwhile, Europe sets to bear heavy snow at first weekend of 2021.
UK's weather forecast
According to Express, Britons have been urged to brace for treacherous conditions as snow showers will hit the UK this weekend keeping temperatures as low as -7C for many.
BBC Weather forecaster Matt Taylor warned snow showers are set to hit parts of the country this weekend with bitterly cold winds coming from the east keeping temperatures below freezing levels. He said: "This evening and overnight, the skies will clear from the North but plenty of cloud to the south and west with showers. But with the clearer weather elsewhere, temperatures more widely below freezing tonight into tomorrow and coldest of all, parts of western Scotland, north-west England.
"The setup through the weekend, high pressure to the west and low pressure to the east and northerly winds to begin, bringing wintry showers in northern Scotland with snow across the tops of the mountains."
"Showers in west Wales and Cornwall, some of them heavy. There could be sleet over hight ground."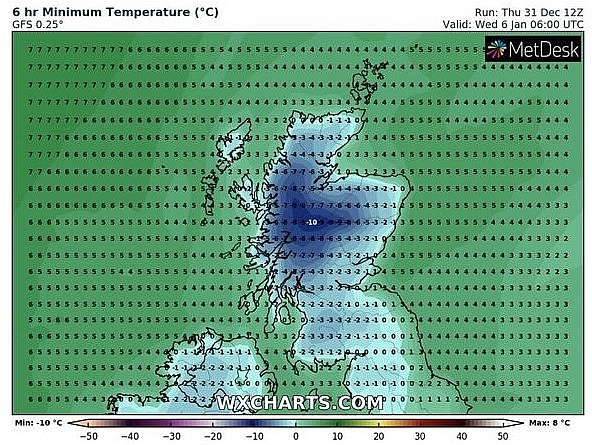 UK snow forecast: Temperatures could drop as low as -10C (Image: WXCHARTS)
He added: "As we go into the start of next week, easterly winds. Normally at this time of year they can bring bitter air but we are tapping into air from south-east Europe, so it will not be quite as cold."
"But temperatures staying below where they would be at this time of year. 3C to 6C expected. A little bit of snow over the hills. It will stay cold."
The Met Office has issued two new weather warnings for the New Year period as ice and snow is forecast to grip southern parts of the UK. The yellow warning cautioned that showers in south-west England will pose a risk of ice from 6pm on New Year's Eve until 9am on January 1.
The forecast went on to add ice could linger on Saturday as temperatures continue to plunge. The Met Office said: "Showers continue at present, with some heavy hail, as well as sleet and hill snow. With temperatures already low, and falling steadily after dusk, ice looks likely to form on many untreated surfaces."
"Early in the night further showers may wash off applied grit and salt, increasing the likelihood overall."
In a tweet urging drivers to avoid the stretch of the M5 north of Cullompton, Devon and Cornwall Police said: "A large amount of snow has fallen on the M5 between Jct 27 and 28 on both carriageways."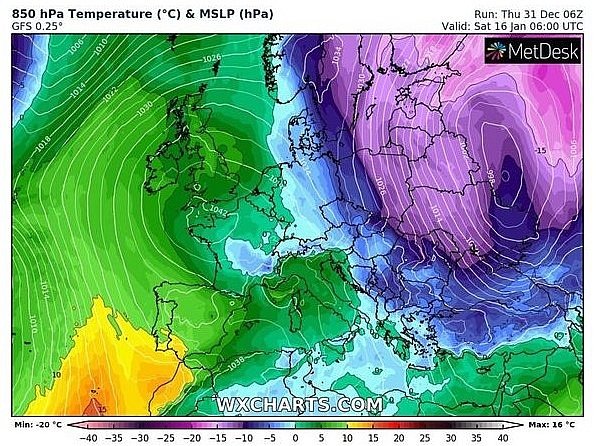 UK snow forecast: A northerly wind is expected to push across the UK (Image: WXCHARTS)
"Northbound is doing 20mph, Southbound crawling/standstill. Please avoid for the time being, consider having a hot drink at services if you can."
Earlier, the force's Roads Policing Team urged visitors to leave Dartmoor amid deteriorating visibility and falling snow.
Met Office yellow warnings for snow and ice in parts of Northern Ireland, most of Scotland and parts of North Wales and northern England had remained in place overnight into Thursday.
North Wales Police advised motorists to avoid all non-essential journeys as officers dealt with several collisions on the A55 amid dangerous conditions caused by snow and ice.
RAC Breakdown spokesman Simon Williams said: "We strongly urge drivers to exercise caution on New Year's Day with a high risk of both snow and ice on the roads."
"The message for those who have to drive is to adjust their speed according to the conditions and leave extra stopping distance so 2021 doesn't begin with an unwelcome bump and an insurance claim. Snow and ice are by far the toughest driving conditions, so if they can be avoided that's probably the best policy."
North West Motorway Police urged people to drive with care following a number of accidents.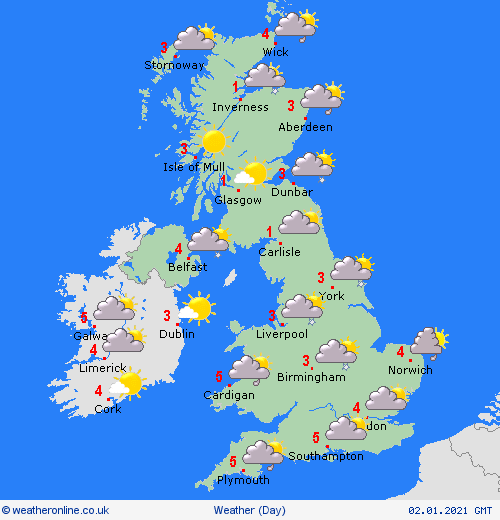 Photo: Weather Online
On January 2
According to Weather Online, a cold northeasterly wind prevails into Saturday. Light wind and some fog patches to start, particularly over southern Scotland and northern England. Ice and frost pose a great risk for many but more so across northern areas, but it should be a largely bright and dry day for many. Any local wintry showers tend to be concentrated over northern Scotland and down coastal area of the UK and Ireland. High temperatures at 0 to 4C.
Europe's weather forecast
BBC Weather meteorologist Louise Lear forecast a Mediterranean storm through New Year's Eve and into New Year's Day. She added that Eastern Europe will see much calmer weather conditions, with Greece set for sunshine while France will face heavy snow.
Ms Lear said: "Over the next 24 hours, we are going to see stormy weather develop across the Mediterranean and snow through the Alpes as well. That system is going to be pretty slow-moving at the start of the new year."
"In the east it is a little bit quieter, a small weather front is moving through Turkey and some sunshine coming through Greece. There is unsettled weather across Italy and the south of France with heavy snow in the Alpes as well."
"There might be some showery rain and even sleet snow across the north of Spain. It will be quiet and cold across Germany and Scandinavia but not as cold as it has been."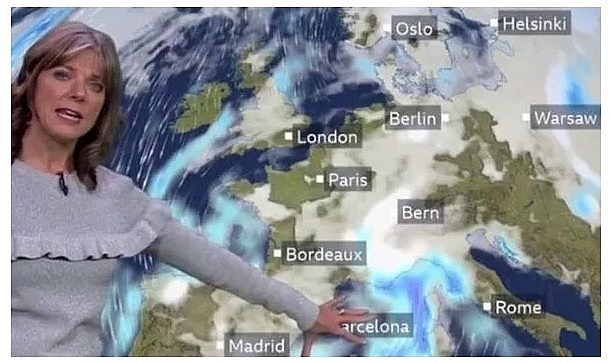 BBC Weather Europe: Louise Lear is a BBC Weather meteorologist (Image: BBC)
She added: "This will be the story for the first weekend of January 2021 as that unsettled weather drifts slowly eastwards. It will be quieter across parts of eastern Europe and not as cold."
This morning Matt Taylor told BBC Breakfast that temperatures will be "widely below freezing" for the start of 2021.
The BBC meteorologist said: "It could be an icy start to 2021 once again with temperatures widely below freezing. There are snow flurries at the moment in Northern Ireland down these western fringes of England and Wales."
Mr Taylor added: "There'll be a fair few centimetres across the tops of the Grampians though. There'll be a covering over the southern uplands too."
"Showers will turn back to rain over Northern Ireland, probably a wetter end to the day there. But still some wintry flurries in Wales and the southwest. And it's going to be another cold day, particularly for the south and east, especially where those lingering fog patches are."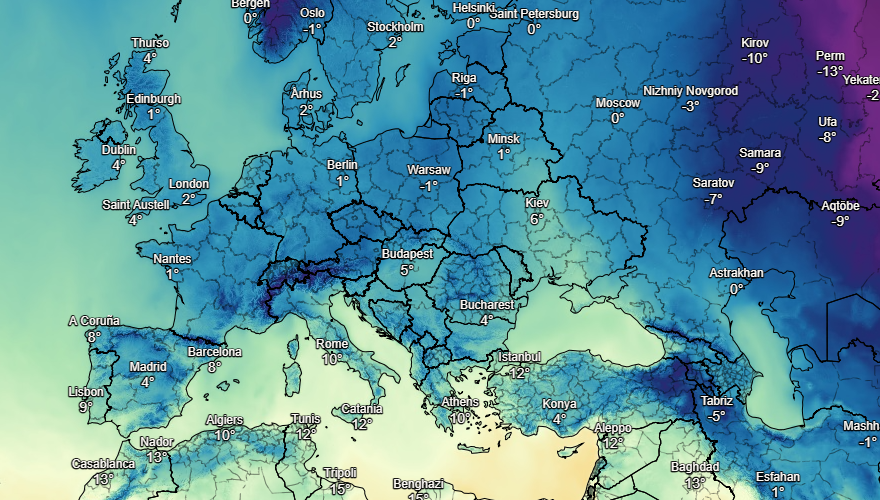 Photo: Stirimeteo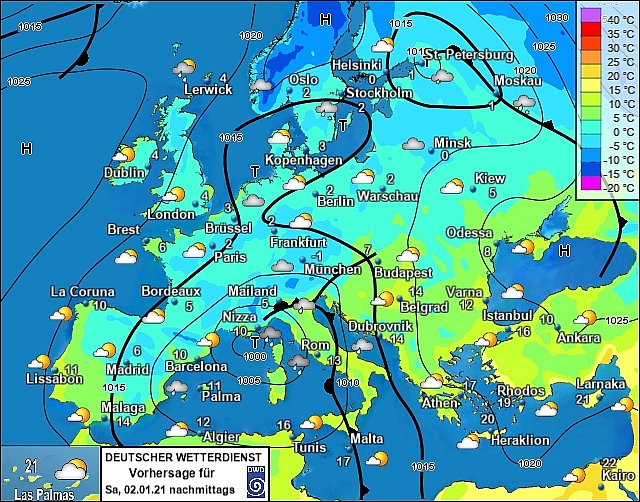 Photo: Stirimeteo
On January 2
According to Weather Online, a somewhat improving day across much of Spain and Portugal, although the far north of both countries still being affected by rain, sleet and snow. Coastal areas of Portugal will too see showers pushing in. Staying wet and generally unsettled through the Mediterranean with heavy showers or longer spells of rain across Italy and the islands, these could be wintry too over higher ground in particular. Staying dry for Turkey and much of Greece but patchy rain will push into the far west of Greece later in the day.
A mix of rain and possible sleet affecting the southeast of France throughout the day, rain could be heavy in places towards coasts. Largely dry elsewhere but with rain, sleet and snow showers affecting northern coastal areas. Rain affecting the far south of Switzerland and southern parts of Austria but largely dry elsewhere. Croatia, Slovenia and Bosnia will too be affected by heavy spells of rain. Eastern Europe staying dry.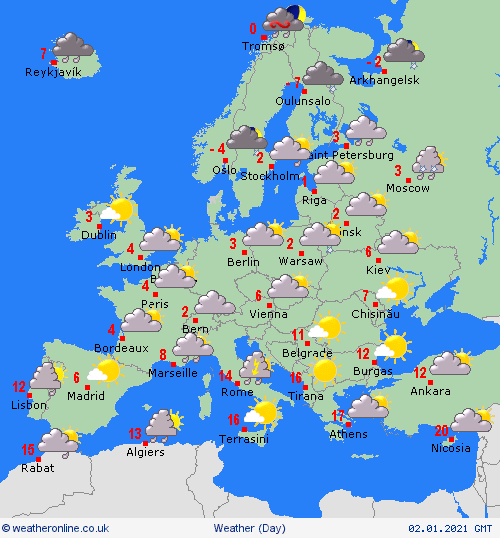 Photo: Weather Online
Snow showers continue to affect southeastern areas of Norway and southern Sweden but dry and fine further north. Rain, sleet and snow pushing into southeastern areas of Finland through the day. Snow showers affecting the Baltic States through the morning but these should fizzle away in the afternoon. Some wintry showers affecting coastal areas of Denmark but largely dry otherwise.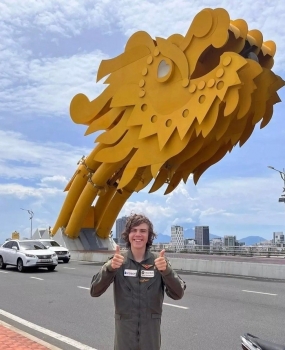 Expats in Vietnam
Mack Rutherford relished the chance to eat cuisine from the area and explore Da Nang on a motorbike. Meanwhile, Vietnamese citizens were happy to host the pilot.