UK and Europe weather forecast latest, December 27: Widespread disruption, heavy rain bear down the UK as Storm Bella sets to hit
The UK is forecasted to cope with a dangerous storm named Bella this weekend and an amber weather warning has been issued to prepare for the possibility of flooding.
UK's weather forecast
BBC Weather has forecast widespread disruption and heavy rain as Storm Bella bears down the UK forcing meteorologists to issue an amber flood warning.
BBC Weather forecaster Helen Willets said the first band of rain will be pushing southwards through Saturday before Storm Bella unleashes most of its fury from the evening onwards. The Met Office issues a series of weather warnings set to remain in place through today and Sunday, with an amber warning in place across the whole southern coast of the UK. Many locals have been forced to evacuate due to flooding and others have been advised to stay home due to the risk of flash floods.
Ms Willets said: "Slightly milder interlude today but the reason for that is not going to be welcome news to most people. It's the calm before the storm across southern areas because we do have Storm Bella starting to bear down across the UK today."
"We've already had so much rain fall in the past week, and there are still severe flood warnings, danger-to-life, in force across England this morning. And numerous flood warnings elsewhere across the UK. The warning details are on the website."
The BBC forecaster continued: "If that weren't enough, there's more rain to come. This angry area of low-pressure filling much of the North Atlantic is Storm Bella."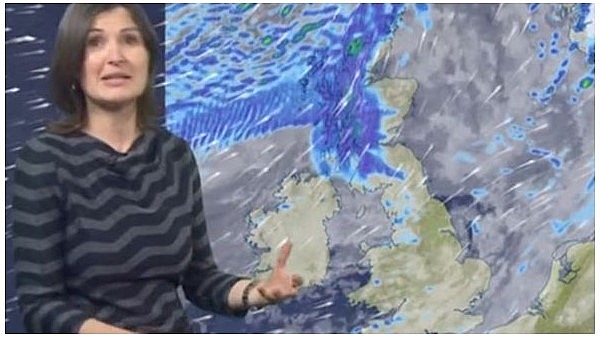 BBC Weather: Willets noted the rain will slowly move downwards in the early hours of Saturday (Image: BBC WEATHER)
"More rain but also concerns about some damaging winds. So this morning, after the early frost, temperatures are on the up because we're picking up a south-westerly wind from the Atlantic. But with it, lots of rain for Scotland, mountain snow - eventually that spreads to much of Scotland today and Northern Ireland."
England and Wales will initially escape the rain, with most areas experiencing dry and sunny conditions in the morning and afternoon.
The BBC Weather meteorologist said the weather will slowly take a turn for the worst as we head into the evening on Saturday. Mr Willets continued: "We've got strong winds and more heavy rain to come, very significant amounts of rainfall on this weather front sweeping its way south through the night."
"Tight and packed isobars in southern areas is where the Met Office have their amber warning that comes into play this evening. Damaging gusts up to 70mph could down power lines and trees. Hence the danger and the amber weather warning."
An approximate 186 communities have been issued a weather warning because of Storm Bella moving in on Boxing Day. Southern England residents have been told they are at risk of "flying debris", with the Met Office warning there could be the risk to life.
The Met Office added: "Injuries and danger to life is likely from large waves and beach material being thrown onto coastal roads, sea fronts and properties."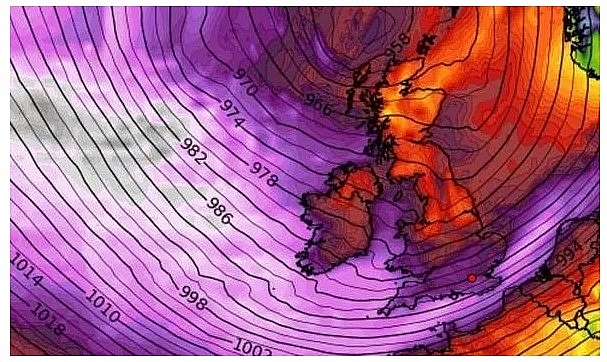 Storm to hit Britain this weekend - is there a storm coming, when will it hit and where? (Image: WXCHARTS)
When will Storm Bella hit?
Warnings are in place from 10pm on December 26 until 9am on December 27.
Deputy Chief Meteorologist Tony Wardle, said: "Conditions will turn very unsettled after Christmas day, with a large area of low pressure sweeping across the UK from Boxing Day."
"Very strong winds will impact much of England and Wales, with particularly strong gusts on south west facing coasts."
"Heavy rain will also move in from the north, with heavy downpours through the afternoon in Scotland and Northern Ireland moving south across England and Wales overnight."
"This will be a notable change from the calmer conditions over Christmas Eve and Christmas Day so take extra care and stay up to date with the latest forecast."
Where will Storm Bella hit?
Weather maps show Storm Bella will first hit the south and south west coast of England after sweeping in from the Atlantic. Ireland will also take the brunt of the barrelling winds.
Storm warning: Winds could reach up to 80mph inland, the Met Office said (Image: WXCHARTS)
These areas have been covered under the amber Met office warnings.
Regions affected include:
London & South East England
Brighton and Hove
East Sussex
Hampshire
Isle of Wight
Kent
Portsmouth
Southampton
Surrey
West Sussex
South West England
Bournemouth Christchurch and Poole
Bristol
Cornwall
Devon
Dorset
North Somerset
Plymouth
Somerset
South Gloucestershire
Torbay
Wiltshire
Wales
Bridgend
Caerphilly
Cardiff
Carmarthenshire
Monmouthshire
Neath Port Talbot
Newport
Pembrokeshire
Rhondda Cynon Taf
Swansea
Vale of Glamorgan
On December 27
According to Weather Online, a colder day for all. Low pressure will be centred over Scotland. Frequent precipitation for western regions of Britain and across Ireland, snow often falling to low levels, risk of hail. Early rain clears from southeast England, may give snow on higher ground briefly as it clears. Drier and brighter across the Midlands and eastern England with sunny spells. Staying breezy, although the strongest winds from overnight will ease. Highs at 3 to 6C.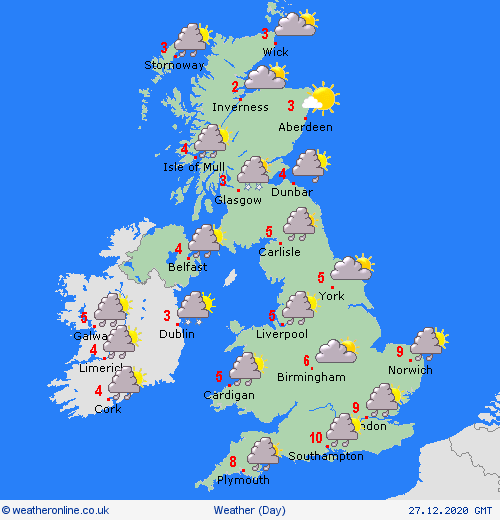 Photo: Weather Online
Europe's weather forecast
Fair across Portugal and Spain with plenty of sunshine and dry weather too. Fine for the Balearics. Rain through Corsica and Sardinia with heavy periods of rain in Italy. Rain in western Greece, dry in the east. Plenty of sunshine across Turkey, a few showers in the west.
Fine across France with plenty of sunshine. Fair too in the Low Countries. Breezy in northern Germany but dry with sunshine for most of the country. Poland will be dry with more sunshine. Hungary and Austria as well as Switzerland should be dry.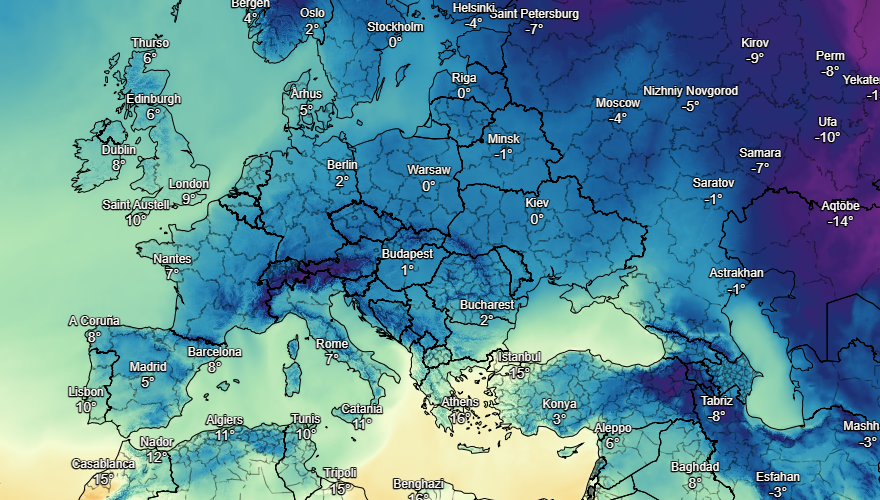 Photo: Stirimeteo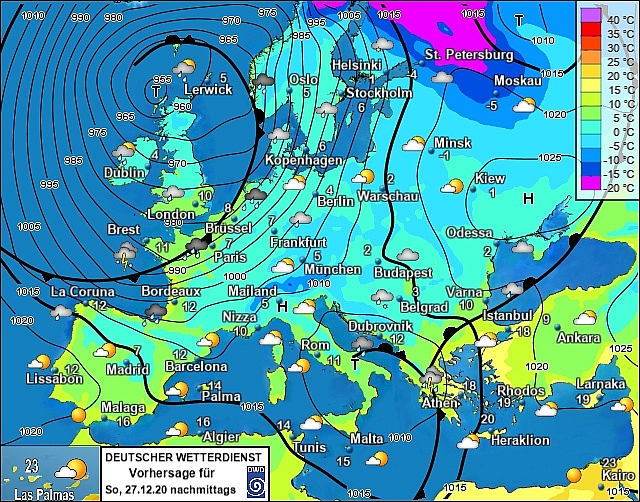 Photo: Stirimeteo
Breezy with sunny spells in Denmark. The Baltic States should be fair with more sunshine. Finland will be dry and cold. Mostly fair across Sweden. Unsettled for Norway with rain, sleet and snow, windy too.
On December 27
Low pressure dominates across northwest Europe, and cold air moves into northern France behind a cold front, which brings heavy rain for several hours. Rain spreads southeastwards through France and into northern Spain. Windy across a large part of west and northern continental Europe, gales or severe gales in places from northern Spain to central France, Germany and the Alps.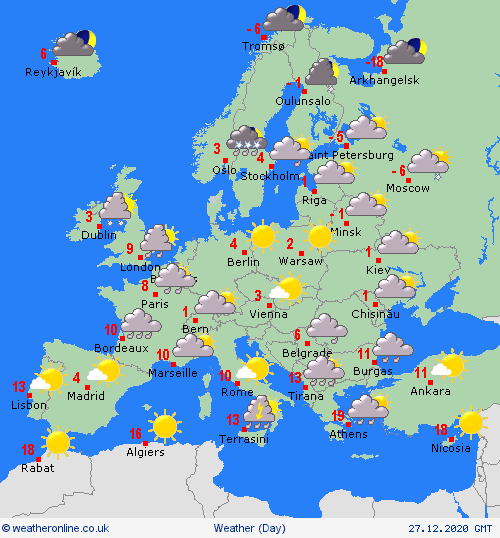 Photo: Weather Online
Low pressure over the central Mediterranean brings heavy rain to southern Italy, Greece and the southern Balkan states. Elsewhere around the Mediterranean it will be dry with some sunshine. Fairly warm in southern Spain and Portugal.
Mild southerly winds affect Scandinavia, risk of gales for Denmark and Norway, plus heavy rain and snow for southern Norway. Snow spreads across much of Sweden and southern Finland. Staying very cold toward the far north.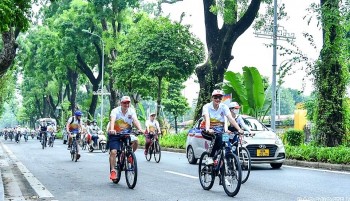 World
Staff of the embassies of ASEAN member states in Hanoi and their families joined a host of activities in Hanoi on August 13 within the framework of ASEAN Family Day 2022