UK and Europe weather forecast latest, January 9: Heavy rain, wet and snowy conditions to cover Europe as Storm Filomena batters
Europe is forecasted to cope with heavy rain, wet and snowy conditions over the next few days as Storm Filomena sets to worsen. Meanwhile, potentially 18" (45cm) of snow to bury the UK due to a heavy Scandinavian weather system.
UK's weather forecast
Long-range forecasts have warned of potentially 18" (45cm) of snow to bury the UK due to a heavy Scandinavian weather system.
Graphs from weather forecasters are also stating the possibility of temperatures dropping to -10C (14F) later this month in long-range forecasts. A colossal Scandinavian weather system is expected to pass through the North Sea later this month and could cause the mercury to plummet in the UK. Due to the cold air which could cross the nation, weather forecaster, WX Charts has predicted close to 20" (50cm) of snow on January 22.
While the worst of this weather will be seen in the north of Scotland, the north of England will also see close to 10" (25cm) of snow. Although the snow may be directly focused in the north, temperatures across the entirety of the UK will plummet to sub-zero conditions.
On January 22, the forecasters have stated parts of the South of England, Wales, and the Midlands will see the mercury range from 2C to -5C (35.6F to 23F). With heavy snowfall expected, temperatures could fall to as low as -10C (14F) in Scotland and large areas of the north.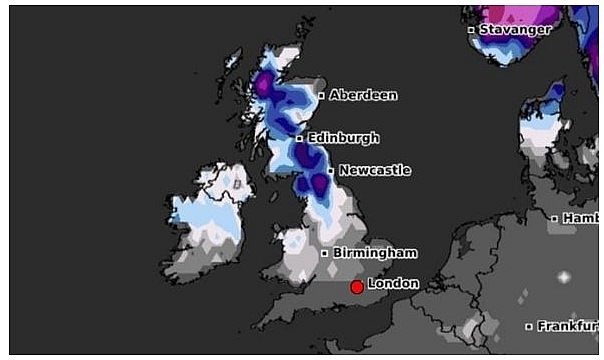 UK weather: This graphs show snow levels on January 22 (Image: WX Charts )
While it is uncertain if this Scandinavian blast will strike the UK, the Met Office has indicated if the weather combines with air over Britain, this could lead to unsettled conditions - namely snow and ice.
Forecasting the weather between Jan 20 and February 3, the Met Office said: "There is still a chance of cold air outbreaks in the north as flow across Scandinavia pushes across the North Sea. This would confine more unsettled conditions to the south, with the potential for milder than average temperatures. Further, this boundary between the cold and milder conditions could also allow for some significant snowfall where the two air masses meet."
Following the turn of the year, the UK was blanketed with snow. Many areas in the North and Midlands saw ice and snowfall towards the end of the year and may see them again. Forecasters have revealed a Stratospheric Warming is occurring in the North Pole. Although not certain, some are predicting a second 'Beast from the East' as to what was seen in 2018.
Over the next few days, the Met Office has issued yellow weather warnings for most of the UK. The weather warnings are in place for both Thursday and Friday due to a band of cold weather hitting the UK. Sky weather producer, Joanna Robinson, claimed the UK may well be set for a prolonged cold spell following this weekend.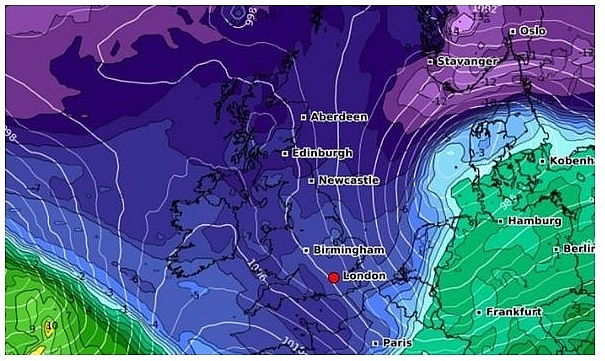 UK snow: This graphs shows temperature anomalies (Image: WX Charts )
She added: "A Sudden Stratospheric Warming (SSW) event has taken place and there are signs of another later in the month."
"The impact on the UK is uncertain, but more often than not it leads to a cold spell in the days or weeks ahead."
"If the stratospheric polar vortex breaks down completely, this can trigger a change from westerly to easterly winds at lower levels too. On average, the likelihood of a cold-weather event across the UK following a (SSW) event is about 70 percent."
"In the meantime, it will remain cold through the rest of this week, with some significant snow possible on Thursday and Friday as a weakening feature moves south. Through the weekend, temperatures are likely to pick up and it looks milder and more unsettled next week."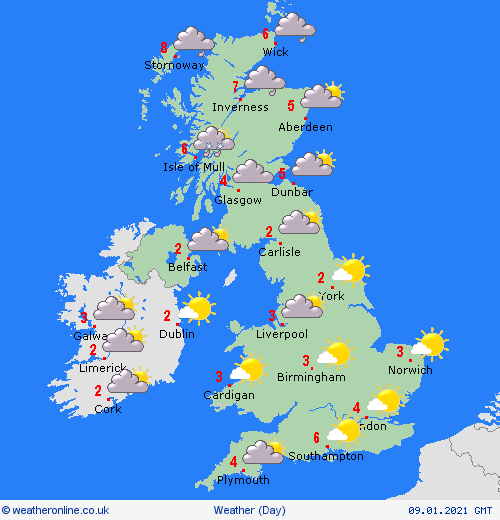 Photo: Weather Online
On January 9
According to Weather Online, a widespread frost expected to start Saturday so another cold day. With high pressure over the UK and Ireland expect a mostly dry day. Bright across much of Wales and England although watch out for some freezing fog patches across some central areas. Thicker cloud and outbreaks of rain and sleet affecting northern and northwest Scotland with snow on hills. High temperatures at 1 to 5C.
Europe's weather forecast
BBC Weather forecaster Darren Bett said Europe could expect heavy rain, wet weather and snow over the next few days. He added Storm Filomena could worsen and move further north with heavy snow. He said this snow could bring Madrid to a standstill as the wet weather spreads throughout Europe.
He said: "We have got big differences north and south across Europe. For many northern areas pressure is higher and it is drier in most places but the air is colder. To the south, we have this chain of weather fronts producing areas of heavy rain and some snow over the high ground. Of course it is storm Filomena that is bringing all that wetter weather into Spain and Portugal. In some areas, it is not just rain but also snow."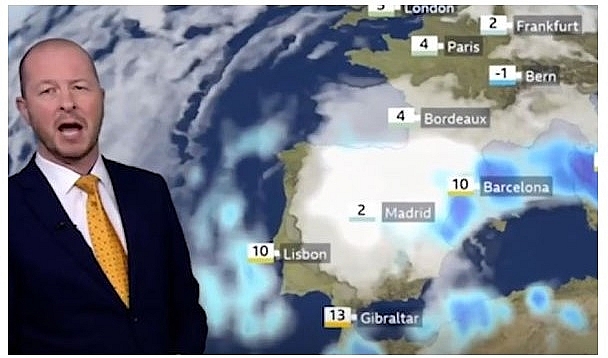 BBC Weather have warned of disruptive weather conditions as Storm Filomena set to worsen. (Image: BBC)
The BBC Weather forecaster insisted that the unsettled and wet weather would intensify as we head into the weekend. Mr Bett noted that this storm would spread further into central Europe and bring with it wet wintry conditions.
He said: "Things are probably going to get worse overnight into Saturday. This will be when that snowy weather meets that colder air and moves northwards across many parts of Spain. There is going to be a lot of disruption here. You can also see how this wetter weather extends all the way into the Black Sea."
Mr Bett noted that there would be warm air south of this wall of rain across Europe. Parts of Greece, Turkey and the islands can expect warm temperatures around 20C. However, for some, there will still be considerable rainfall.
He added: "There will be some more rain to come for Italy on Saturday and it will be turning a bit drier in the Balkans briefly. There will be a lot of snow to come here in Spain and Madrid could come to a standstill with snow in the forecast over the next day or two. There will be a cold air moving over parts of Europe and we will be getting some wetter weather moving into Norway as well."
BBC Weather: Temperatures in cities over the next few days (Image: BBC)
On January 9
According to Weather Online, the heaviest of rain will push into northern and eastern areas of Spain. Patchy rain elswhere but with driest of conditions towards the west and over Portugal. Still cloudy and wet across the Balearics with the rain band shifting north over Italy and Corsica. Rain clearing across south Sardinia. Rain also pushing in to Greece and then Turkey.
Largely dry and fine across France and the Low Countries although there is the risk of one of two showers about. Rain, sleet and snow across east Germany while western and central areas staying largely dry. Dry across the Alpine countries as well as the far north of Italy. Rain will gradually push northwards across the Balkans but it should be a mostly dry day for many countries here too. Some scattered wintry showers across Poland but plenty of dry weather to be had here.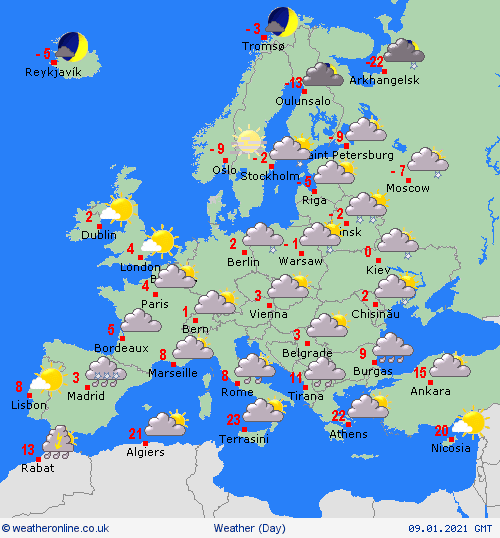 Photo: Weather Online
A largely dry day across Scandinavia, including Denmark, however, a low pressure system will push into west Norway later on increasing coastal winds and pushing snow into westernmost areas. A few scattered wintry showers through the Baltic States but largely dry and fine here.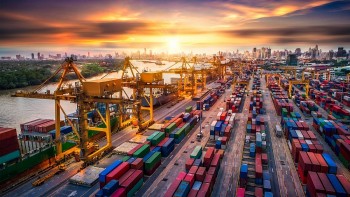 National
Vietnam, a rising star in the global supply chain, has the potential to become a new tiger in Asia, economist Brian Lee Shun Rong at Maybank - Malaysia's largest financial services group and the leading banking group in South East Asia – has reportedly said.