UK and Europe weather forecast latest, November 12: Bitter snow to sweep Britain with temperatures plummet
Britain is forecasted to cope with bitter snow system as temperatures plummet. Meanwhile, dense fog warnings are issued before Europe bears more settled weather.
UK's weather forecast
According to Express, Britain is on course for a bitterly cold snap as an Icelandic snow system heads towards the UK.
Weather charts produced by NetWeather. TV shows a band of wintery showers circulating in the North Atlantic as temperatures across the UK plummet. The weather model shows a deep blue area of low pressure building in the Nordic Island of Iceland just north of the UK.
The cold weather system, bringing wintry weather to Iceland, is set to bring a spell of heavy rain across large parts of Britain from tomorrow evening and has already triggered a weather warning for parts of Scotland.
In a post on Twitter, NetWeather.TV said: "A waving front out west will eventually move inland as an active cold front in the evening. Heavy and persistent rain #Highlands."
"Disruption to travel and localised flooding possible. Freshening southerly winds, coastal gales. #Floodaware."
UK weather: An area of low pressure is circulating in the North Atlantic (Image: Netweather)
"Lots of rain for the rest of this week. 1. Out west today, bringing wintry weather to Iceland tonight. 2. Weds warned low and 3. Thurs/Fri - more rain for NI, Scotland later Wales, northwest and southwest England."
NetWeather.TV forecaster Nick Finnis added a "strong jet stream moves in off the Atlantic" from Wednesday bringing a spell of wet weather and strong winds.
Overnight temperatures will fall during the early hours of Wednesday morning with lows of 6C in Scotland, 5C north and 7C in London.
By Wednesday morning, Scotland, northwestern parts of England and Northern Ireland are set to see the worst of the wet weather before strong gales push the weather front eastwards.
Mr Finnis said: "After recent fairly calm weather, a change on Wednesday, as strong southerly or southwesterly winds develop ahead of a deepening low pressure system moving northeast towards western Scotland and associated squally active cold front moving east."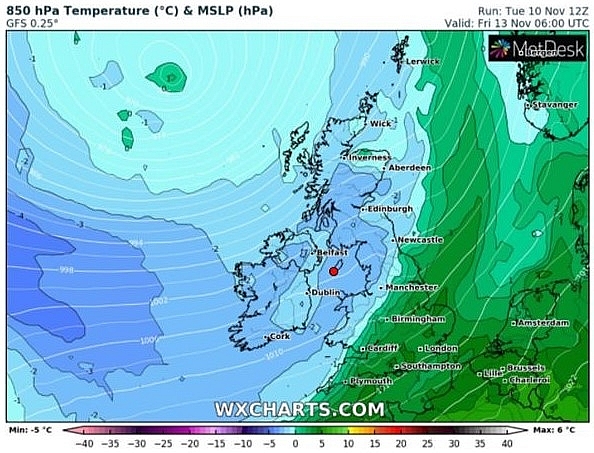 UK weather: Cold air will begin to move across the UK (Image: WXCHARTS)
"The low and its cold front will bring wet and windy conditions eastwards across Scotland, northwest England, Northern Ireland through the morning and lingering into the afternoon.
"Outbreaks of heavy squally rain then pushing in across Wales, southwest England and the Midlands during the afternoon."
The threat of heavy showers on Wednesday has triggered a yellow weather warning for the west of Scotland. The Met Office has put a warning in place from 2am on Wednesday until midnight on Thursday. The forecaster warned disruption and flooding is likely, with up to 80mm of rain in Dumfries, Galloway and across Skye
The Met Office warning said: "A band of rain will push in from the west during the early hours of Wednesday, this will persist throughout the day with accumulations of 40 to 50 mm widely expected within the warning area. Potential for 70 to 80 mm in Dumfries and Galloway and across Skye. This will be accompanied by strong southerly winds."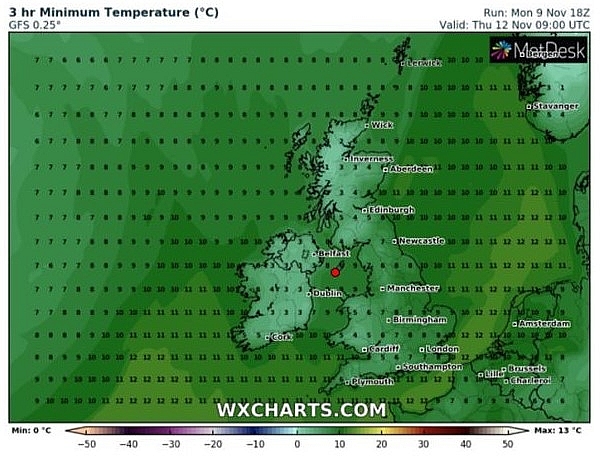 UK weather: Temperatures will plummet across Britain (Image: WXCHARTS)
Temperatures will fall further overnight on Wednesday, with lows of 1C in Scotland 4C in Wales and 5C in the north of England. Despite the morning chill, the UK is set to remain dry on Thursday, before unsettled conditions resume at the weekend.
Netweather.TV forecaster, Mr Finnis added: "Thursday will bring a window of mostly dry and bright conditions, before rain and stronger winds returns Friday morning. The weekend continuing the unsettled theme, with low pressure in charge, bringing windy conditions, spells of rain or showers. But, with winds from the southwest for the most part, it will be mild for all."
On November 12
A ridge of high pressure affecting the UK at first on Thursday morning. There will be some mist and fog patches in more sheltered areas too. These clear to leave sunny spells and mostly dry conditions with broken cloud. Winds will be increasing in Ireland with some drizzle around western and southern coasts. This drizzle also affects western coasts of England, Wales and Scotland in the afternoon. Highs at a cooler 8 to 11C.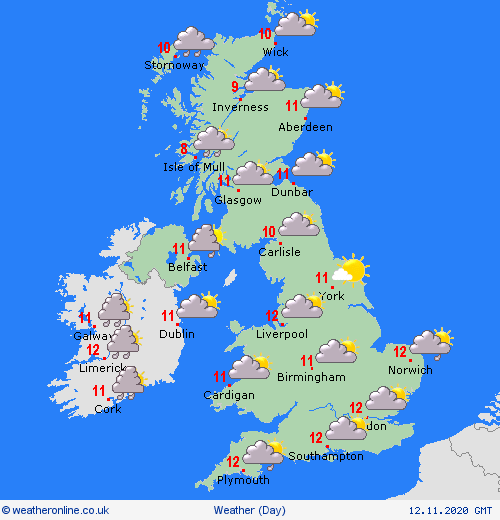 Photo: Weather Online.
Europe's weather forecast
BBC WEATHER has warned of "poor visibility" across parts of Europe as dense fog patches blanket the continent. BBC Weather's Nick Miller has forecast high pressure in Europe to bring more settled weather ahead of Thursday's weather systems. He said Italy should also expect to see one or two storms. Meteoalarm has a yellow weather warning in place for fog across parts of Germany, Belgium and eastern Europe.
Mr Miller said: "Mist and fog continuing to bring poor visibility across parts of Europe particularly central and eastern areas. High pressure bringing some settled weather."
"Weather turning more active though as we look at the forecast across the UK as we see some wetter and windier weather pushing into western areas. Pressure is low on the eastern side of the Meditteranean."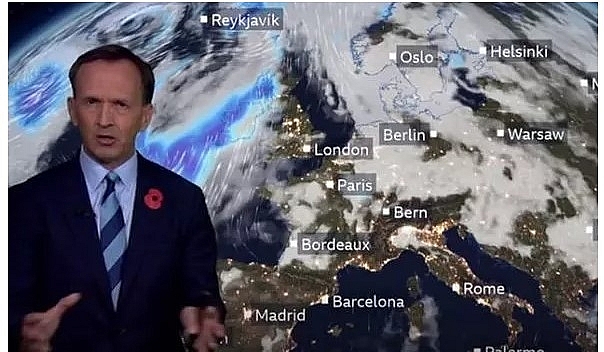 BBC Weather has warned of "poor visibility" across parts of Europe (Image: BBC)
"This is where we are getting a few showers and storms here affecting parts of Greece. Northwards though you see large swathes of cloud and fog in places."
"On Thursday, we are seeing one weather system pushing into Scandinavia but another one bearing down on the UK. And one or two storms in Italy."
Discussing the weather conditions from Wednesday onwards, BBC Weather's Carol Kirkwood said: "Tomorrow we start off with some brightness in the east, when the fog lifts. But it won't last long. Already, we've got the cloud and the rain advancing towards the east. Just ahead of this there'll be gusty winds."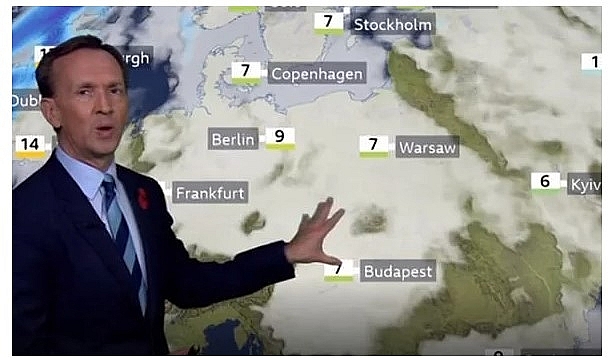 BBC Weather's Nick Miller has forecast high pressure in Europe (Image: BBC)
"This is going to be a band of rain, windy around it and also just behind it too. And it will take its time before it, eventually, makes it over towards the east."
She continued: "Thursday morning, we'll see the front clearing eastern areas. And then, for many parts of the UK on Thursday, it's looking dry, there'll be sunshine, it's looking fine."
"However, we can already see the next system waiting in the winds, bringing thicker cloud, stronger winds and also some rain."
BBC Weather has warned November will be highly influenced by winds from the southwest and will keep conditions milder than the average this time of the year.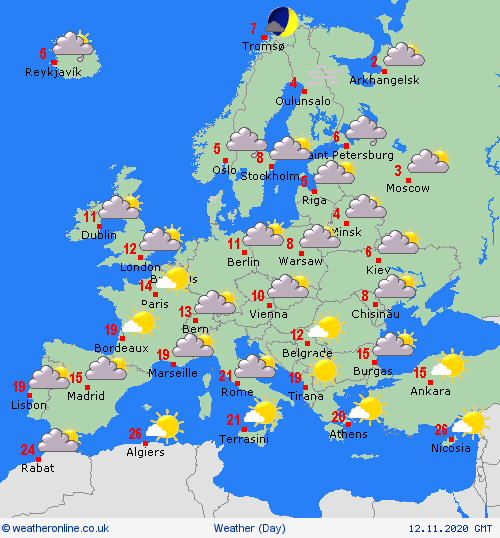 Photo: Weather Online.