UK's The Guardian features Vietnamese's braised fish and pagoda in Lunar New Year article
Two photos captured the best moment of Vietnamese celebrating Tet holiday, which was taken in nothern Vietnam, were chosen by The Guardian in its global best collection of Lunar New Year celebrations around the world.
A photo taken by Reuters captures a man wearing a gas mask as he braises black carp in clay pots with firewood to serve as a traditional Tet dish in Vu Dai Village, northern Ha Nam Province.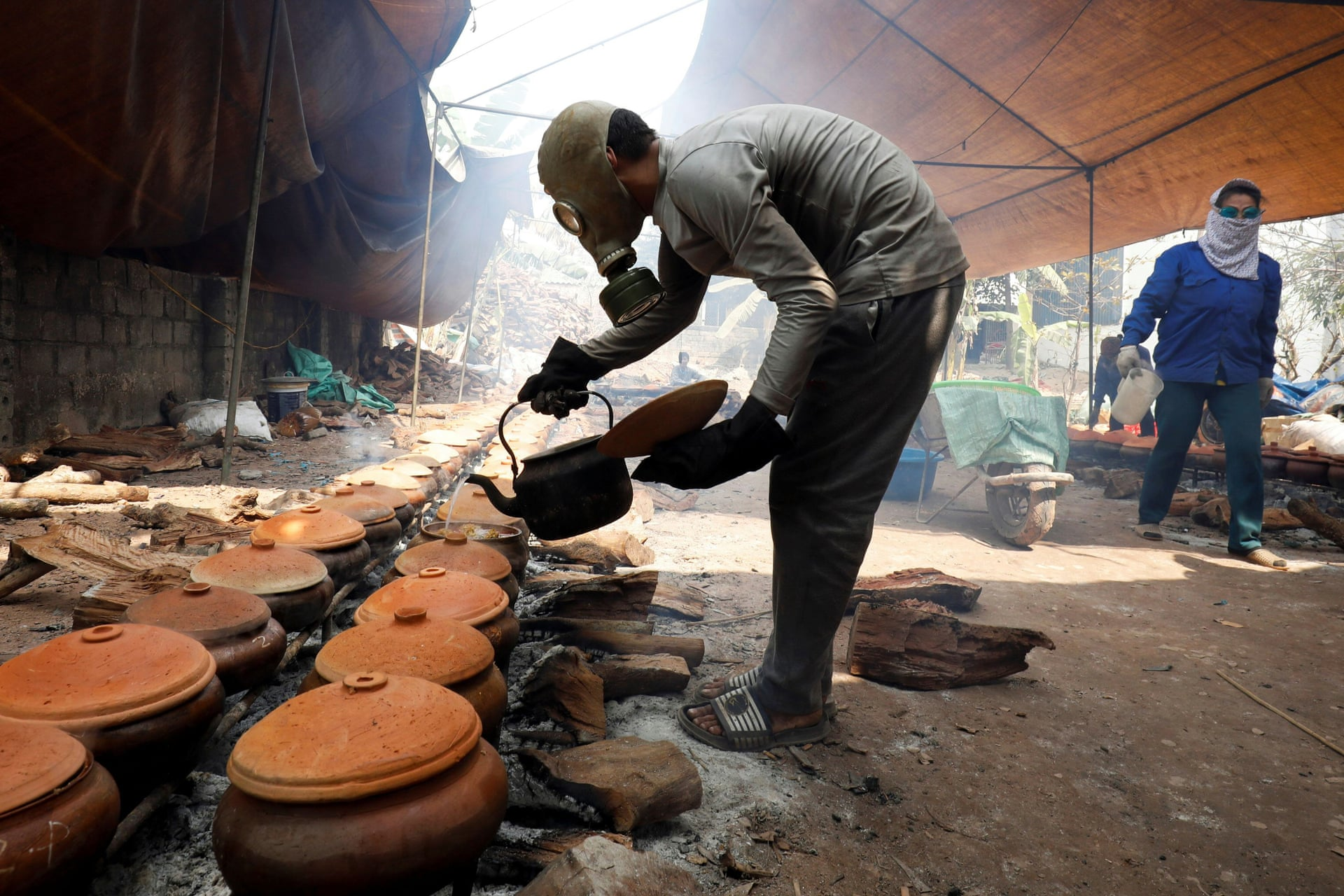 A man wears a gas mask as he braises black carp in clay pots with firewood to serve as a traditional Vietnamese dish, Ha Nam Province. Photo by Reuters/Kham.
The mask helps Cuong work amid the smoke from the firewood burning beneath the clay pots of black carp that he cooks in the yard of his employer, Tran Duc Phong, in Dai Hoang, a Red River Delta village surrounded by verdant rice fields about 100 km (62 miles) from the capital, Hanoi, Reuters reported.
Cuong likes his job, though he admits it's not easy. The gas mask is a necessary tool, he added: "Without it, I can only work for 15 minutes."
Dozens of other families prepare fish the same way in Dai Hoang. Because of its unique flavours, the food's popularity has gone beyond the village, even reaching Vietnamese communities abroad, buoyed by rising incomes and word spread on social media.
"I provide braised fish to everywhere in Vietnam as well as overseas markets, though mostly the domestic market," Phong said, standing before dozens of large clay pots, smoke lingering in the air around him.The most delicious variety, he says, is made with black carp, which is cooked for about 12 hours until tender with firewood from the tropical longan tree, better known for its sweet, juicy fruit.
The black carp, each weighing 4-6 kg (9-13 pounds), are carefully selected and cleaned, cut and marinated, then cooked with a broth made from freshwater crabs mixed with spices, soy sauce, coconut milk and sugar. A root similar to ginger called galangal is placed on the bottom of the pots to prevent the fish from burning.
Phong and other sellers in the village were inundated with orders ahead of the Lunar New Year, which began on Friday. He typically makes several hundred clay pots of braised fish each day in the run-up to the holiday, receiving most of the orders online.
"COVID-19 has affected almost all parts of the economy," said Phong. "But luckily for me, people still need to eat and they still need braised fish for Tet."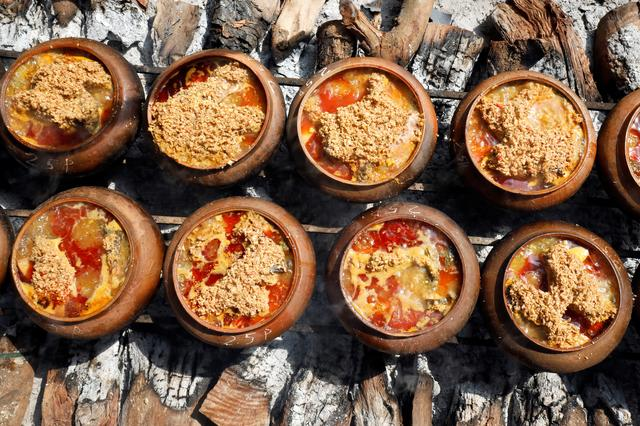 Braised black carp in claypots is cooked with longan firewood to be served as a traditional Vietnamese dish for Lunar New Year celebrations in Ha Nam province, Vietnam February 5, 2021. REUTERS/Kham
If the North is typical, there is a delicious sweet field crab and tossa jute soup served with spicy shrimp paste and "Cà pháo"; In the Central region, there are "Cơm hến" (Baby basket clams rice), Hue beef noodle soup ("Bún bò Huế") , and the liberal Southern region of the country has a sour soup with braised fish ("Cá kho tộ"). But when we mention about braised fish, it is generally mentioned a Vietnamese dish that can be said to be the key, hard to lack in every family meals. According to folklore, when you have just recovered from the illness, you have to eat braised fish (not to mention other Vietnamese dishes), which is the best, the healthiest, not afraid of having indigestion or allergies...
White rice, braised fish and sour soup are the Vietnamese foods that make up the typical meal of the South. The soft, fragrant sweet taste of fish, the salty taste of fish sauce and the spicy taste of red chili create the characteristic flavor of this dish. Today, life is renewed so clay crucible is no longer used so people gradually cook fish in metal pots, rice cookers ... But with the Southern people in particular and those who have eaten this fish dish, they are all acknowledged, the braised fish still has a delicious, more characteristic flavor and is a typical dish in Vietnamese cuisine.
The other photo taken by AFP captures two women in face masks checking their smartphones at Tran Quoc Pagoda in Hanoi's Tay Ho District, one of the oldest pagodas in the capital.
Two women check their smartphones at Tran Quoc Pagoda in Hanoi, 2021. Photo by AFP/Manan Vatsyayana.
In Vietnam, Lunar New Year, or Tet, is the most important national holiday, an occasion for family reunions and home parties. This year, the Year of Buffalo started on February 12 and Vietnamese enjoyed their seven-day Tet break which wrapped up on Tuesday.
When spring comes, apart from travelling, Vietnamese people usually go on a pilgrimage at the beginning of Lunar New Year – or called 'go to pagoda' to pray for safety, health, good luck, prosperity and happiness during the year. Going to pagoda has become a custom of many people from all walks of life in Viet Nam.
When the New Year comes, Vietnamese go on pilgrimages, they never forget to burn incense at home to commemorate ancestors, their original point and then go to pagoda at midnight on the 30th, the last day of lunar year or in the morning of the first day of the New Year.
At midnight on the last day of the old year (giao thua), every family prepares a hearty tray and then burns incense to invite deity, God of the soil, ancestors and foreheads to gather with descendants. When the incense ends, everyone together gathers around the tray to eat and wish each other a happy new year. Children in the family will wish grandparents, parents and other adults and they are given lucky money in a red cover and good wishes to hope for a good new year. Then the whole family goes to the pagoda to pray for lucky things for the year and ask for offerings. If they cannot go to a pagoda at midnight of the last day of the old year, everyone can go in the early morning of the first day of the New Year.
Vietnamese people believe that going to the pagoda is not only to pray for good things for the coming year but is also the time for everyone to be reminded of the spirit life after the hardy months earning a living.
Vietnamese people offer the pagodas steamed glutinous rice, boiled chicken, wine, tea or fresh flowers, scent incenses. However, it usually has incense, fresh flower, gosh money, money and Chinese-written petitions which write wishes of everyone in family for a new year to pass as expected. After kowtow, everyone wants to get offerings from the pagoda like a branch of tree or flower which symbolize for verdancy, abundance and health.
The Guardian's collection also featured images of people burning incense and praying for good luck on Lunar New Year's Eve at a temple in China's Guangxi region, or divers wearing costumes to perform a traditional lion dance at Indonesia's Jakarta aquarium.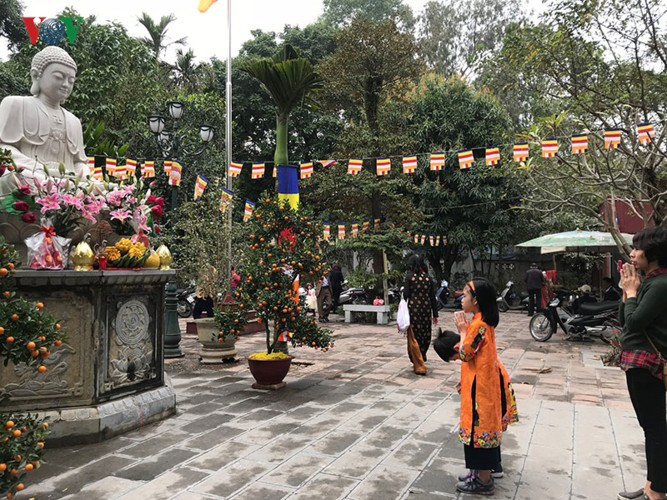 Vietnamese people believe that going to a pagoda is not just to pray for good things in the coming year, but also to reflect on what they have done in the past and leave all hardship behind. (Photo: VOV)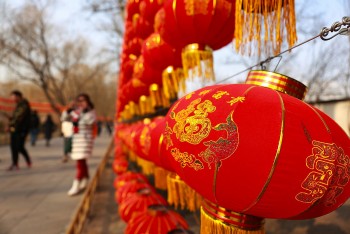 Handbook
Lunar New Year is one of the most important holidays in Asia countries and has had a long history with different traditions. Here are some interesting facts about Lunar New Year, and how to celebrate it.