Updated news on 39 Vietnamese in-container deaths in UK: the main suspect was arrested in Germany
The main suspect in illegal human trafficking concerning the tragic deaths of 39 Vietnamese people in container in UK (10/2019) was arrested in Germany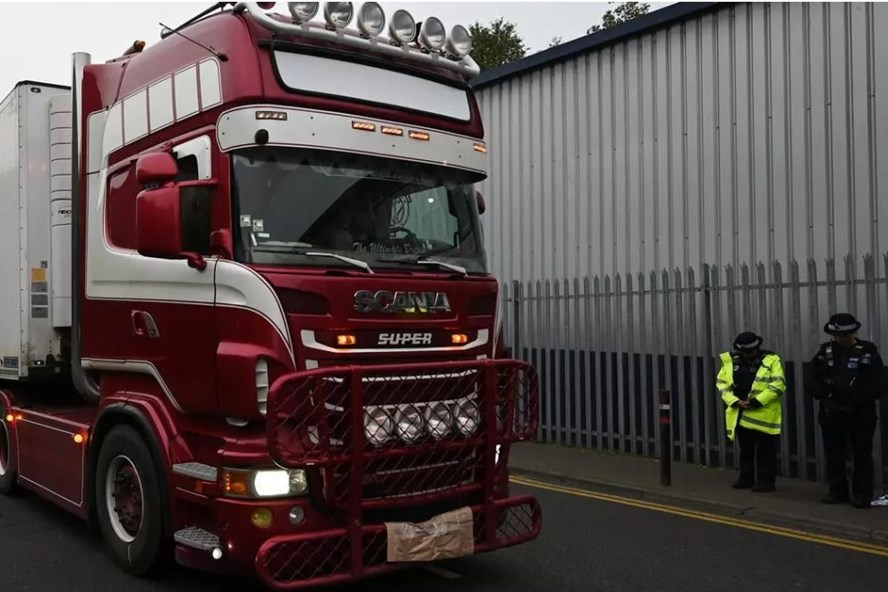 The container truck in which 39 Vietnamese were found dead in Essex county, northeast of London, the United Kingdom on October 23, 2019. — AFP/VNA Photo
On 30th May, AFP reported that the main suspect associated with the deaths of 39 Vietnamese in container in the UK was arrested in Upper Rhine (German). He is a 29-year-old man with nickname "The Bald Duke"
"He may be the leader of the human trafficking39 network in French", AFP cited information from investigators.
Also according to above source of information, the suspect was arrested after French authorities have issued wanted notice all over Europe. Police have not proclaimed the man's nationality.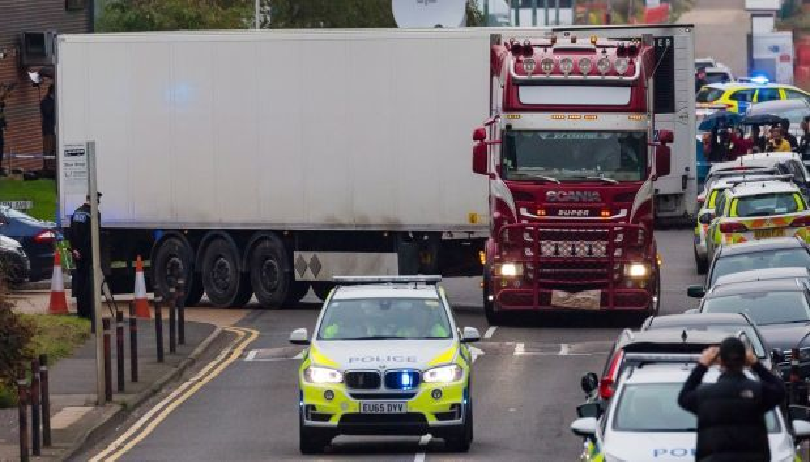 Police drive the tractor and trailer from the scene in Waterglade Industrial Park in Grays, Essex, Britain, last year. Photograph: Vickie Flores/EPA
Before, police in France and Belgium have arrested 26 people suspected of human trafficking in the deaths of 39 Vietnamese migrants. There are 13 people arrested in France, 11 Vietnamese citizens, and two Moroccans in the Brussels area.
According to AbcNEWS, police in Belgium and France on Wednesday announced the arrests of 26 people suspected of human trafficking in the deaths of 39 Vietnamese migrants who were found in a refrigerated truck in Britain last year
One month ago, a man wanted in connection with the deaths of 39 Vietnamese people in a lorry in Essex has also been arrested and charged with manslaughter. The 40-year-old from Northern Irelandhas been charged with 39 offences of manslaughter, as well as immigration offences.
Ronan Hughes, of County Armagh in Northern Ireland, is due to appear at Dublin's high court on Tuesday charged with 39 counts of manslaughter, as well as immigration offences, Essex police said.
Last November, Vietnamese authorities released the identities of all 39 Vietnamese found dead on an industrial estate about 20 miles (32 km) east of London. The two youngest boys were 15 years old and the oldest man was 44. Their remains were brought home later that month.
Twenty-one of the victims were from Nghe An Province in north-central Vietnam, 10 from neighboring Ha Tinh, and the rest from nearby Quang Binh and Thua Thien-Hue provinces, as well as Hai Duong Province and Hai Phong City in the north.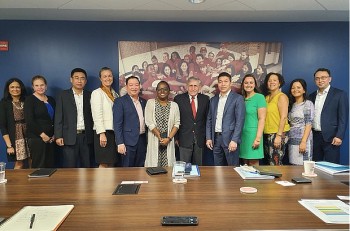 Friendship
The delegation of the Committee for Foreign Non-Governmental Organization Affairs (COMINGO) led by Phan Anh Son, vice president - general secretary of VUFO, vice chairman of the COMINGO visited and worked in the United States from September 20-28. The visit aims to promote Vietnam-US relations, strengthen cooperation in humanitarian aid and development assistance for Vietnam particularly.