US and Canada weather forecast August 1: Hurricane Isaias heads toward Bahamas and Florida
US and Canada weather forecast August 1: Heavy rain and winds are forecast to hit the Bahamas and the eastern shores of Florida this weekend as Hurricane Isaias barrels through the Caribbean and into the southeastern US. Meanwhile, in Canada, heat warnings continue for B.C.'s Southern Interior, 40 C forecast for Grand Forks.
US weather forecast
It is reported by CNN that the Isaias storm, which has 75 mph winds, will be near the central Bahamas Friday night and move northwest Saturday as it moves near Florida's east coast. Southern and eastern Florida is expected to be hit with a maximum of 6 inches of rain, the hurricane center said. The northeastern portion of the state and coastal Georgia is due to get 1 to 2 inches of rain.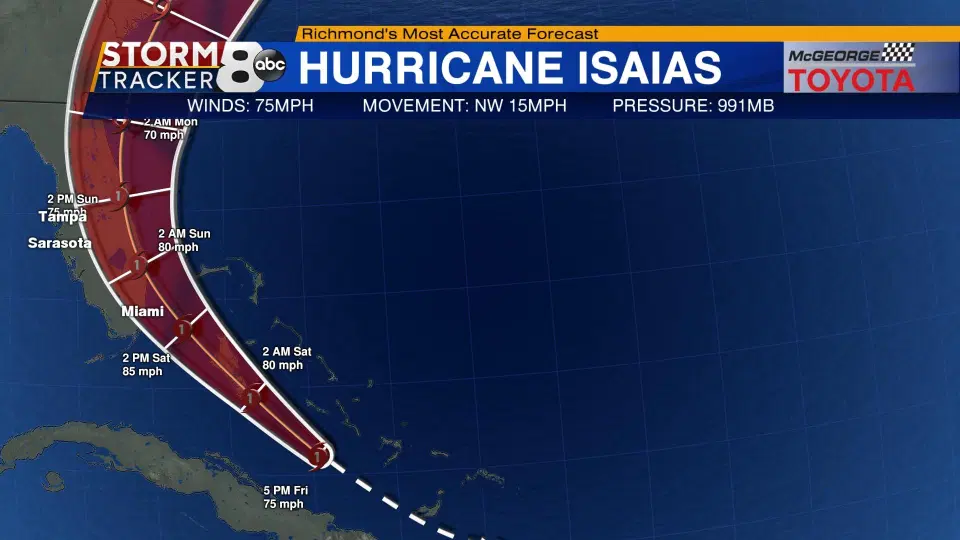 Photo: ABC 8 News
A hurricane warning is currently in effect for eastern Florida, the hurricane center said, though it is not clear where exactly the storm will hit. Some models indicate Isaias could hit Florida or skirt up the east coast of the US. A hurricane warning means that hurricane conditions are expected somewhere within the warning area.
Despite not knowing the exact path of the storm, states are still preparing. North Carolina Gov. Roy Cooper and Virginia Gov. Ralph Northam both declared a state of emergency Friday ahead of the storm.
Photo: ABC 8 News
According to National Weather Service San Juan meteorologist Gabriel Lojero, Isaias' exterior slammed Puerto Rico before it went over the Dominican Republic, all as a tropical storm on Thursday. It left 300,000 to 400,000 people without power in Puerto Rico.
It dropped 5 to 10 inches of rain, triggering flash floods and mudslides on the island, Lojero said.
Where Isaias will affect the US, and how intense it will be, was still uncertain.
Some forecast models show the storm slowing down and coming very close to the Florida coast Saturday and Sunday before getting near the Carolinas on Monday and Tuesday. In contrast, others curve the hurricane away from Florida and directly toward the Carolinas.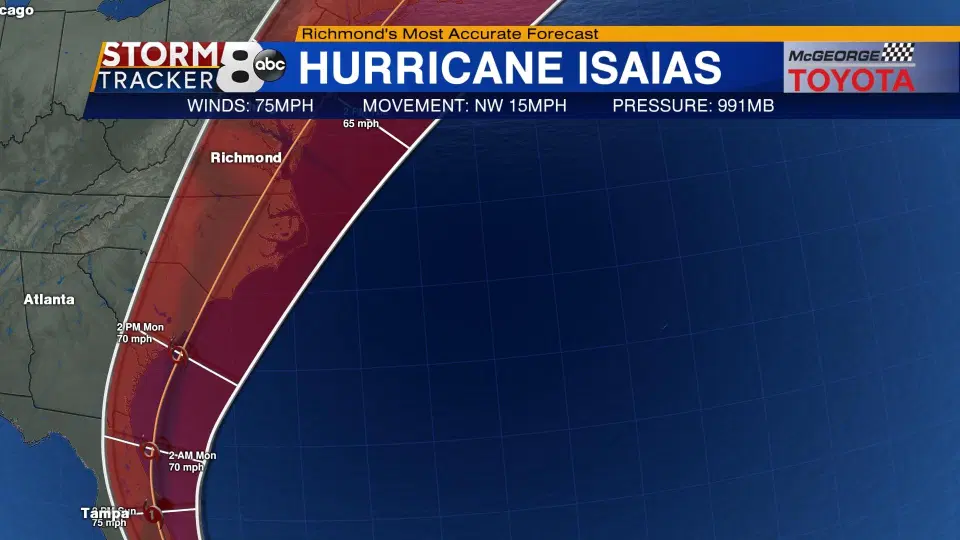 Photo: ABC 8 News
Either way, the storm could affect much of the US East Coast at some point into next week -- potentially bringing winds of tropical-storm strength as far north as Maine by early Wednesday, added CNN.
"The details are not very clear at all, especially considering the track uncertainty, but there is a notable chance of a hurricane moving close to the US East Coast, so the forecast continues to show that scenario," the NHC said in a forecast discussion Friday morning.
"Interests along the entire US East Coast should monitor the progress of Isaias and updates to the forecast," the discussion continued.
"Deadly heatwave' forecast for Southwest this weekend", NWS warns
The National Weather Service has issued an Excessive Heat Warning for parts of Arizona, Nevada, and California, including Las Vegas and Phoenix. This warning signifies "dangerously hot conditions up to 120" and is in effect until 9 p.m. PST on Saturday.
"Heat of this magnitude is rare, dangerous, and deadly," said the Phoenix National Weather Service of the temperatures predicted today for much of western Arizona.
Temperatures in many southwest cities will reach over 110 degrees Fahrenheit this weekend, posing key health risks. Las Vegas is expected to reach 112 on Saturday, and Phoenix will hit 114 today. Palm Springs is forecast to hit 118 on Saturday, reported CNN.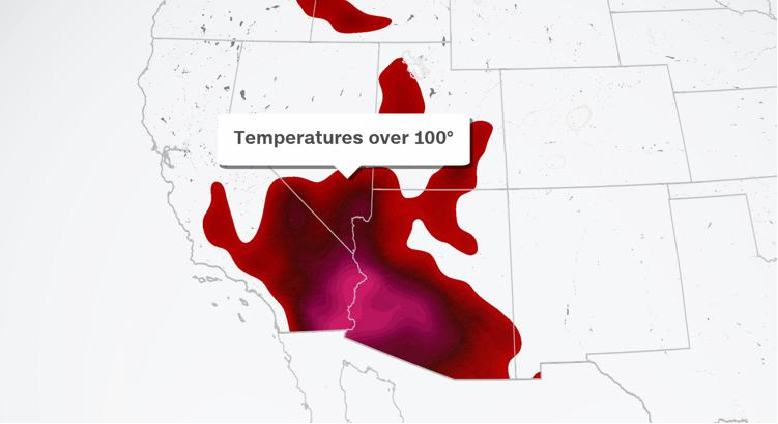 Parts of the Southwest will see temperatures over 100 degrees this weekend. Photo: NWS
The NWS is asking residents to stay safe by keeping hydrated and avoiding outdoor activities. According to the Centers for Disease Control and Prevention, extreme heat kills around 600 people per year. People with certain medical conditions, the elderly, and those without access to air conditioning are at particular risk.
A high-pressure system moving through the Southwest is bringing the heat, which will last through the end of the weekend. The heat combined with dry air and winds of up to 15 mph in some areas may also increase fire risk, says the NWS.
August Temperature Outlook: Hot End to Summer Expected in Northeast, Milder in Central U.S.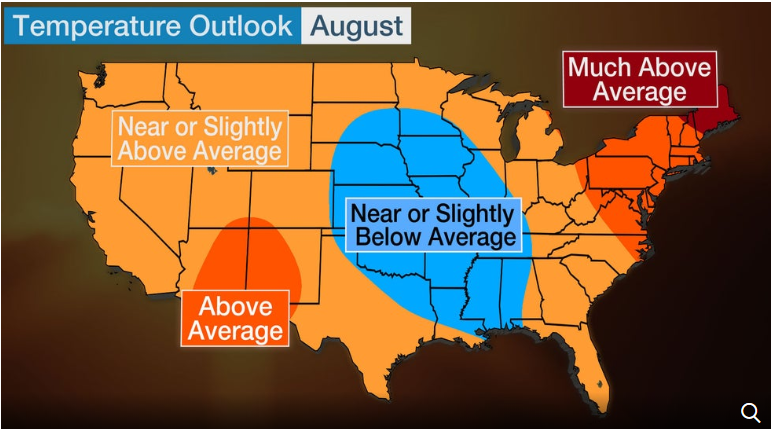 August Temperature Outlook Photo: The Weather Company
Summer may end on a hot note in the Northeast and parts of the Four Corners region, according to the latest outlook from The Weather Company.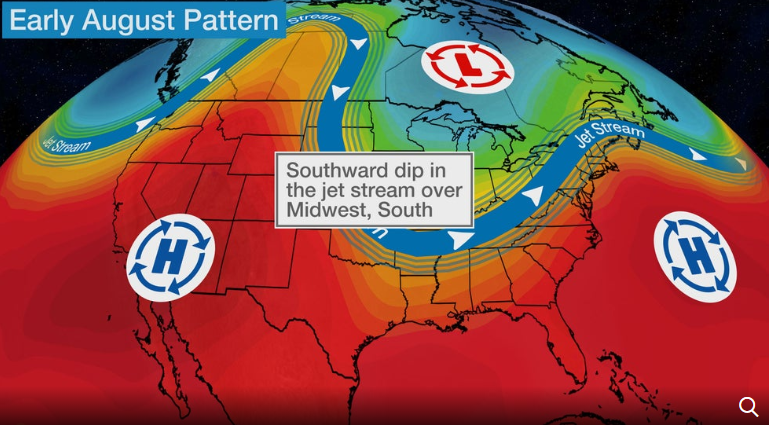 Early August Pattern Photo: The Weather Company
Temperatures will be the greatest above average in Maine, far northern New Hampshire and northeastern Vermont in August. The Northeast, much of the mid-Atlantic, as well as parts of the Four Corners region, will experience a warmer than average end to summer, informed the Weather Channel.
Meanwhile, temperatures will trend near or slightly below average from eastern South Dakota and southern Minnesota southeastward into Mississippi and much of Alabama.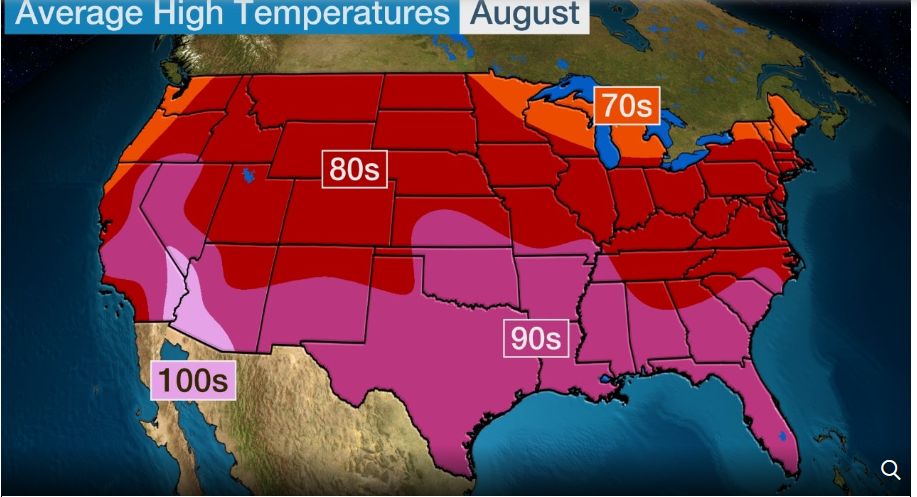 Average Highs in August Photo: The Weather Company
Otherwise most of the West, Great Lakes, and Southeast can expect temperatures in August to be near or slightly above average.
Milder conditions may prevail in parts of the central U.S., where temperatures may trend near or slightly below average. Highs in the 70s and 80s are possible, instead of the 80s and 90s typically expected at this time of year.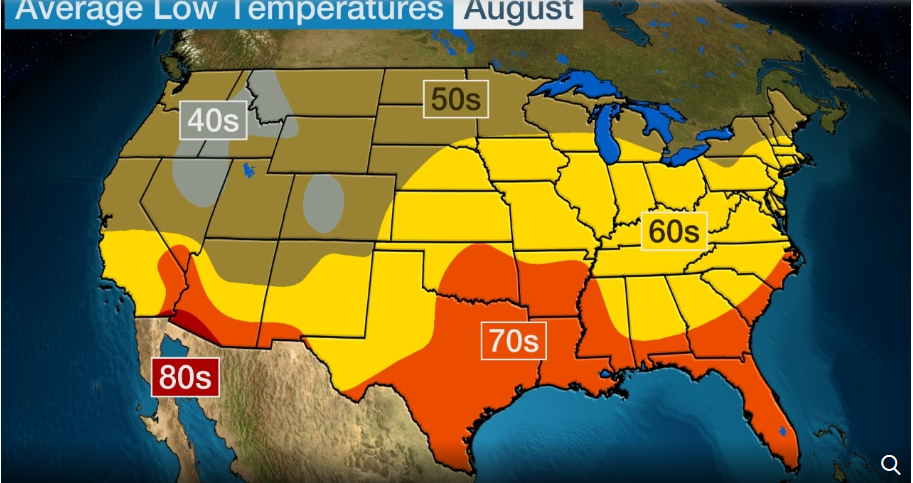 Average Lows in August Photo: The Weather Company
Warmer than average lows could lead to some uncomfortable nights in the Northeast and Southwest. Much of the West is expected to experience temperatures near or slightly above average, which may mean widespread average lows in the 50s. Near-average or slightly warmer than average temperatures in the Great Lakes and Southeast in August may translate to lows in the 60s or 70s.
Parts of the Plains, Mississippi Valley, and South that could trend slightly cooler than average may find lows in the 50s and 60s at times in August.
Canada weather forecast
It's going to be a scorcher across almost all of Alberta this August long weekend.
Environment Canada issued heat warnings Friday afternoon for almost the entire province, with the exception of Banff National Park and mountain areas to the south.
"A strong ridge of high pressure will bring above-average heat for the long weekend," Global Edmonton meteorologist Jesse Beyer said.

The weather forecast in Edmonton in the next five days Photo: Canadian environment
After a brief bit of relief on Thursday and Friday following several days of record-breaking temperatures, Environment Canada said hot daytime and overnight temperatures are expected to return Saturday and will persist through the weekend.
"Edmonton will be back into the 30 C [range] for most of the long weekend," Beyer said.

The weather forecast in Ottawa in the next five days Photo: Canadian environment
Southern Alberta will see temperatures a few degrees higher than central and northern Alberta, but overall for the next three days, daytime temperatures are set to reach the high 20s to low 30s combined with overnight lows near 14 to 16 C. Temperatures are expected to return to seasonal numbers early next week, according to the Global News.
"Temperatures will remain warm with daytime highs above 30 C expected through Sunday," said Environment Canada, noting the Kootenays will continue to experience high temperatures through the weekend, then see temperatures moderate on Monday.

The weather forecast in Toronto in the next five days Photo: Canadian environment
B.C. Wildfire Service does its own weather forecasting and says it's prepared for the long weekend, with fire crews on standby.
And with fire danger ratings ranging between high and extreme for nearly all of southern B.C., B.C. Wildfire Service is also cautioning the public about fire safety.

The weather forecast in Calgary in the next five days Photo: Canadian environment
People are advised to take the following precautions to protect themselves, their families, and their neighbors.
Environment Canada said special attention may be needed when it comes to people who are more susceptible to heat such as infants, children, seniors, and those with pre-existing lung, heart, kidney, nervous system, mental health or diabetic conditions, outdoor workers and those who are socially isolated. Heat warnings are issued when very high temperatures are expected to pose an elevated risk of heat illnesses, such as heat stroke or heat exhaustion.