US and Canada weather forecast July 31: Tropical Storm Isaias forecast to become hurricane
US and Canada weather forecast July 31: After hitting portions of the Caribbean with rain and wind, Tropical Storm Isaias is expected to become a hurricane on Friday, reported National Hurricane Center. In Canada, heat warning with a temperature of 40 C is forecast for most parts of the Western region.
US weather forecast
The forecast for Tropical Storm Isaias, the earliest ninth named storm on record in the Atlantic, has taken a dangerous turn. The tempest is now predicted to strengthen to a hurricane and sweep through the Bahamas before tracking perilously close to Florida this weekend and the rest of the East Coast next week.
Isaias has already unleashed torrential rain, flash flooding, and power outages in Puerto Rico.
It is reported by the Washington Post that tropical storm warnings are up for much of the Dominican Republic, Haiti, and Turks and Caicos, as well as the southeastern and central Bahamas. A tropical storm watch has also been issued for the northwestern Bahamas, including the Abacos Islands, which were devastated by Category 5 Hurricane Dorian last September. The warning has been dropped in Puerto Rico and the Virgin Islands.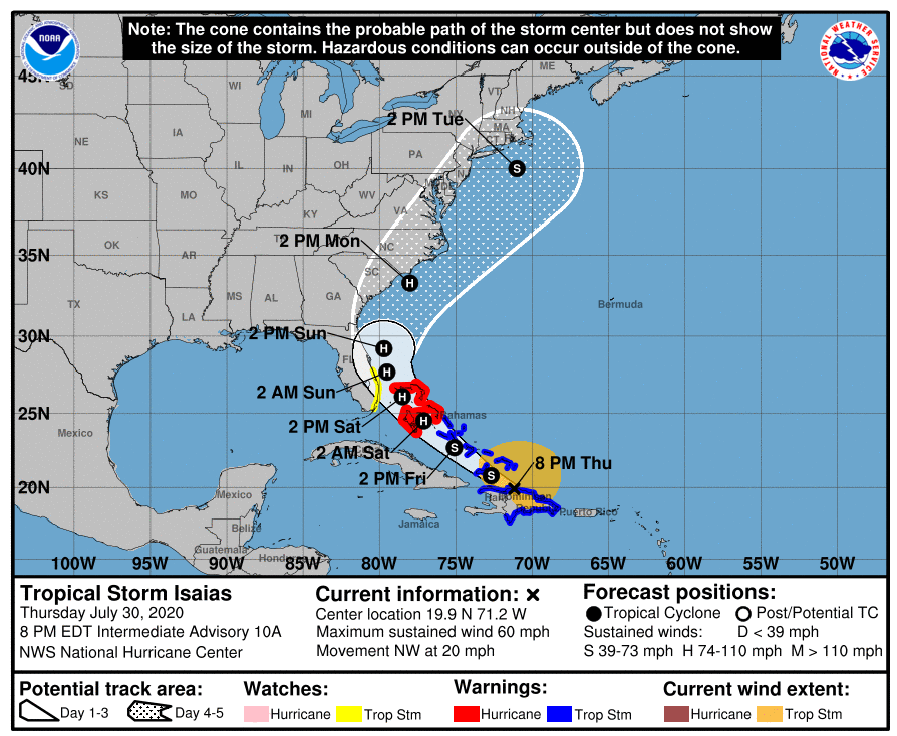 Photo: National Oceanic and Atmospheric Administration
Meanwhile, tropical storm watches have been issued in Florida between Homestead and north of Vero Beach, including in Miami, Fort Lauderdale, and Palm Beach. Residents in the Southeast U.S. are carefully watching the track of Isaias, with a close shave or landfall among the possibilities.
"There is a risk of impacts from winds, heavy rainfall, and storm surge this weekend along the Florida east coast and spreading northward along the remainder of the U.S. east coast through early next week," the National Hurricane Center wrote Thursday.
Isaias was centered about 85 miles southeast of Puerto Plata, Dominican Republic early Thursday afternoon. It had maximum sustained winds of 60 mph and was moving northwest at 21 mph. Colorado State University hurricane researcher Phil Klotzbach said Isaias is the earliest ninth Atlantic named storm. The previous record was Irene on August 7, 2005, according to the ABC 11.
The center of Isaias is expected to move over Hispaniola late Thursday. When tropical systems move over the mountainous Hispaniola region they are often difficult to predict. The storm's path and strength will likely change over the next few days.
While winds near the core may reach 75 mph, gusts just outside the center will range between 40 mph and 50 mph. That means subtle shifts in the storm track will have a big impact on what Florida winds up with.
The storm's cone of uncertainty does include North Carolina. Current projections say the storm will reach our shores Monday night into Tuesday morning.
So far this year, Cristobal, Danielle, Edouard, Fay, Gert, and Hanna have also been the earliest named Atlantic storms for their alphabetic order, stated USA Today.
The storm will likely be worse in the northwest Bahamas, where the center is forecasting "a dangerous storm surge" that "will raise water levels by as much as 3 to 5 feet above normal tide levels in areas of onshore flow."
Record-challenging, triple-digit heat to sear portions of Pacific Northwest
After several days of temperatures in the 90s over interior portions of the Pacific Northwest, meteorologists say that the highest temperatures are yet to come.
As the jet stream lifts farther north and high pressure builds over the West, high temperatures are forecast to be over 100 degrees in some locations through Friday. Temperatures that high is likely to challenge records in several cities.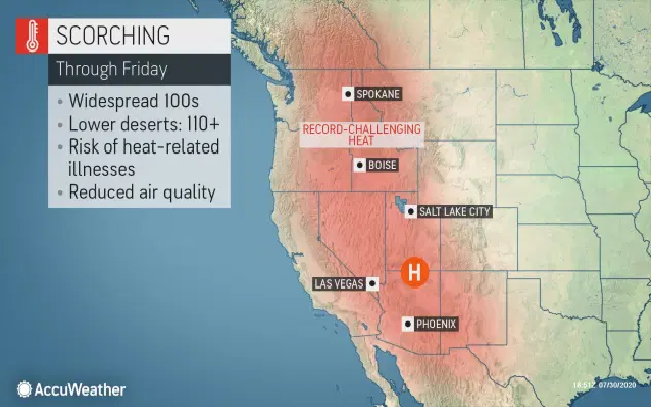 Photo: Accu Weather
While caution is always advised in hot weather, temperatures in the 100s are not common in the Northwest and will make it even more difficult for people to adapt.
"Anyone with outdoor plans such as going for a run or walking their dog should try to do so early in the morning or late in the evening toward sunset to avoid peak heating hours during the middle of the day," Pydynowski advised.
According to Accu Weather, since high pressure helps to promote sinking air, it is difficult for clouds to build. With few, if any clouds, the rain will not fall. Unfortunately, dry weather is not what the region needs.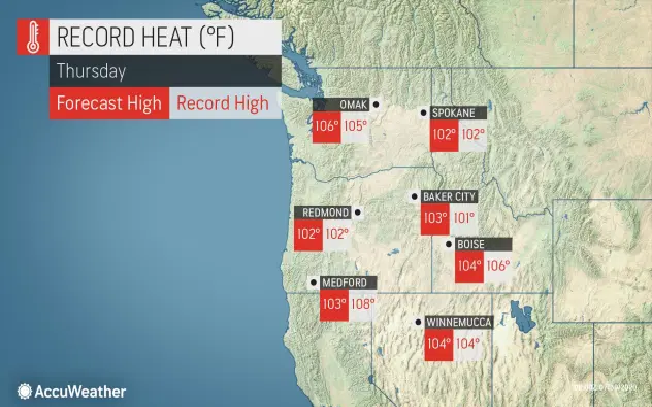 Photo: Accu Weather
"Much of Northern California, Oregon, and eastern Washington is already under a moderate to severe drought and the upcoming weather pattern does not look to bring any relief as a large dome of high pressure will keep much of the Northwest dry into next week," said Pydynowski. "Any rain chances will likely remain confined to mainly western Washington into early next week," he added.
"The dry weather has led to a burn ban in many areas," said Pydynowski. "Even in areas without a burn ban, anyone doing outdoor activities this weekend such as camping or grilling should avoid having open fires given how dry the vegetation is across the region."
Heading into the weekend, slightly lower temperatures will occur in the Northwest as the high pressure weakens slightly. However, highs in the 90s will still be common and locations such as Boise will likely still be near 100. In most areas, these temperatures will fall short of records.
A more significant lowering of temperatures is expected by early next week thanks to a dip in the jet stream with temperatures likely near or even slightly below normal.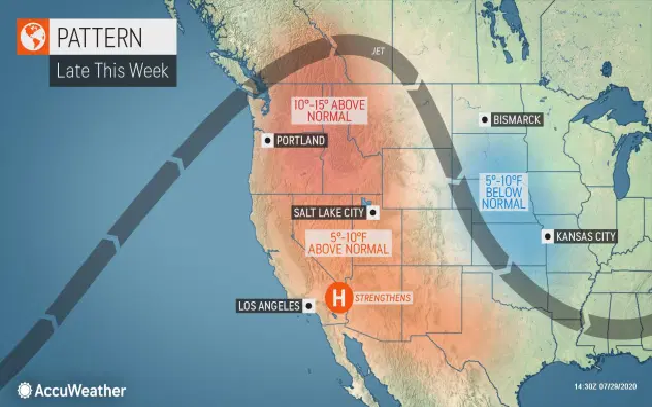 Photo: Accu Weather
Canada weather forecast
It is informed by CTV News that residents across much of southern Alberta, central and southeast Saskatchewan, and British Columbia's southern Interior are sweltering through a hot spell.
Environment Canada heat warnings or special weather statements are posted in those regions.
The Fraser Canyon community of Lytton, B.C., which often claims the title of the hottest place in the country, is forecast to reach a high of 40 C, while the city of Kamloops is expected to be just one degree cooler.
Temperatures are lower in Alberta and Saskatchewan, but high humidity in many areas, including Lethbridge, Medicine Hat, and Saskatoon, will make it feel close to 40 C.
The weather office says Saskatchewan should cool by Friday, but the hot weather is forecast to continue through the weekend in B.C. and Alberta.
Heat in B.C. follows an unseasonably wet June and July, but now residents are being warned to take care in the backcountry because conditions have dried considerably.
The current wildfire danger is rated as high to extreme across the southern quarter of the province and B.C. Forests Minister Doug Donaldson says fire safety must be top of mind.

The weather forecast in Montreal in the next five days Photo: Canadian environment
"Fighting wildfires can be challenging at the best of times, but managing them in the midst of the COVID-19 pandemic requires B.C. Wildfire Service staff to operate with even greater care,'' he said in a statement.
The wildfire service responded to 239 fires in B.C. between the start of the wildfire season on April 1 and July 29. Human activity is blamed for sparking about 85 percent of those blazes.
In St. John's, it is forecast to be mainly cloudy. 40 percent chance of drizzle in the morning. Fog patches dissipating in the morning. High 19 except 24 inland. Humidex 29 inland. UV index 6 or high. At night, it is likely to be mainly cloudy with 60 percent chance of drizzle, Fog patches developing in the evening.

The weather forecast in Toronto in the next five days Photo: Canadian environment
In Toronto, it is forecast to be sunny. High 28. Humidex 32. UV index 8 or very high. At night, it might be clear and increasing cloudiness before morning.

The weather forecast in Vancouver in the next five days Photo: Canadian environment
In Vancouver, it is forecast to be mainly cloudy with a 30 percent chance of showers in the morning and early in the afternoon. Clearing late in the afternoon. Risk of a thunderstorm in the morning. High 25. Humidex 30. UV index 7 or high. At night, it might be partly cloudy.

The weather forecast in Victoria in the next five days Photo: Canadian environment
In Victoria, it is forecast to be cloudy with a 30 percent chance of showers in the morning and early in the afternoon and risk of thunderstorms. Clearing late in the afternoon. Windy near Juan de Fuca Strait. High 27 except 21 near the water. Humidex 30. UV index 5 or moderate.

The weather forecast in Saskatoon in the next five days Photo: Canadian environment

The weather forecast in St John's in the next five days Photo: Canadian environment

The weather forecast in Ottawa in the next five days Photo: Canadian environment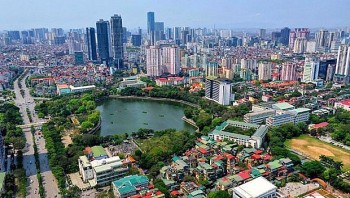 National
Vietnam News Today (Jan. 29): Quang Ninh: Cross-border trading with China resumed after Tet; Hanoi in the world's top three culinary destinations: Tripadvisor; Intertwined opportunities, challenges for Vietnam's economy in 2023; Supermarkets, traditonal markets gradually resume normal operations amid abundant supply.