US weather forecast
Temperatures are forecasted to reach as high as 106 degrees Fahrenheit in the Dallas-Fort Worth area, and cities further west would see temperatures hit 120 degrees. This high heat can be extremely dangerous, and local officials are urging people to take the risk seriously.
In the Southwest, heat is expected to hit near-record highs. Tuscon and Arizona can expect a high of 113 degrees on Sunday, and Phoenix may reach 116. Las Vegas is forecast to reach 110, and Death Valley will see a high of 116 this weekend. The temperatures will stay in the mid-90s but humidity will cause heat indexes to soar. Specifically, Jackson and Mississippi will see a heat index of 109, New Orleans will reach 110, and Mobile, Alabama, will approach a heat index of 114, according to CNN.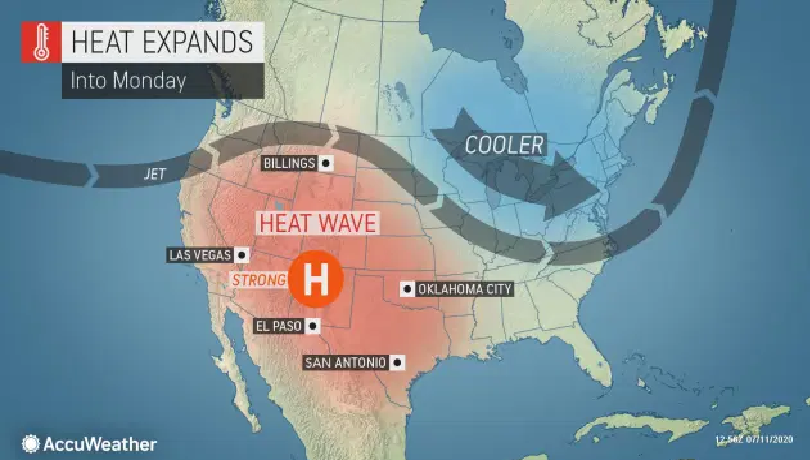 High pressure settling under this jet stream will limit showers and thunderstorms, leaving communities to bake in the unobstructed sunshine Photo: Accu Weather
A heat advisory covers most of Texas, virtually all of Louisiana and large swaths of Mississippi, Alabama, Oklahoma, and New Mexico. Albuquerque is expected to reach 101 degrees and Oklahoma City is forecast to hit 106 degrees.
Heat waves, particularly in the Southwest, often carry relief with cooler temperatures overnight, but that effect is limited this weekend.
The high temperatures coincide with other unusual weather across the country. Tropical Storm Fay is bearing down on the mid-Atlantic, and parts of the Pacific Northwest are experiencing below-average temperatures for July, CNN added.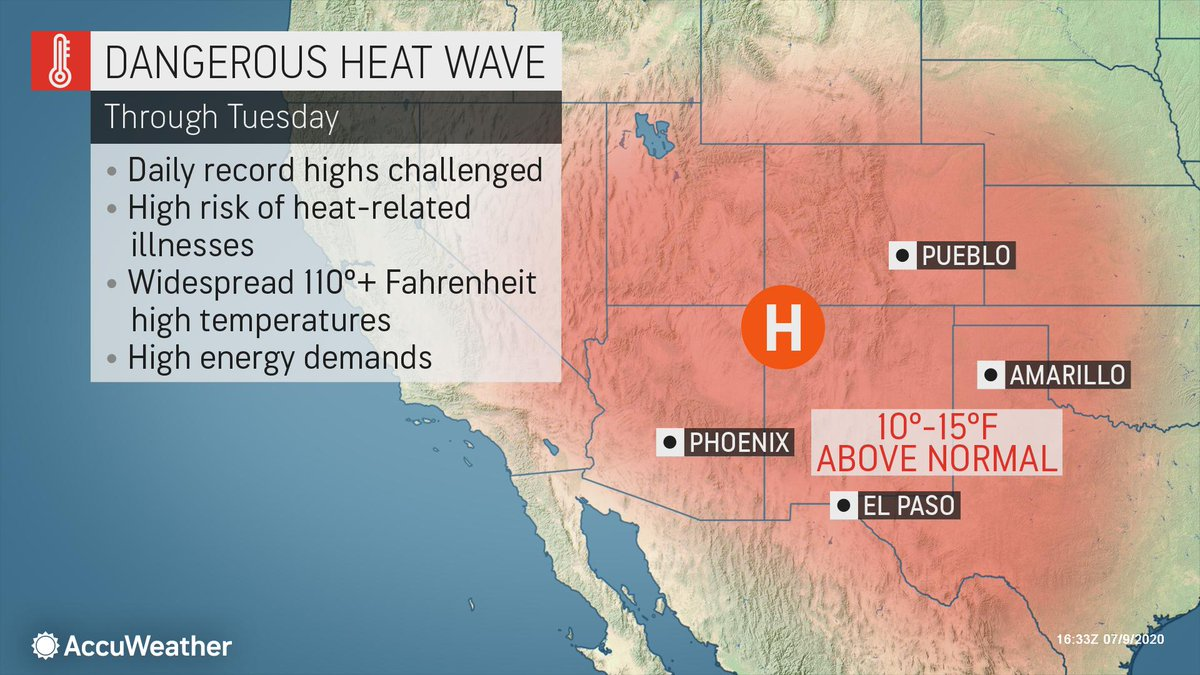 Photo: Accu Weather
As reported by the AccuWeather, residents from the California valleys to the Mississippi River are bracing for temperatures near- to well-above 100 degrees Fahrenheit expected to last into mid-July.
Brutal heat has been baking the southwestern U.S. since early this week. Phoenix, Arizona, has suffered from high temperatures of 110 degrees or more since July 4, and cities like Las Vegas and Bakersfield, California, soared above 100 degrees for several days.
A northward bend in the jet stream will continue to help keep the heat locked over the Southwest and also allow it to nudge eastward into the south-central U.S. through the middle of the week.
Temperatures will continue to soar as much as 10 to 15 degrees above normal in California through Sunday, and in other places in the southwest until Monday or Tuesday.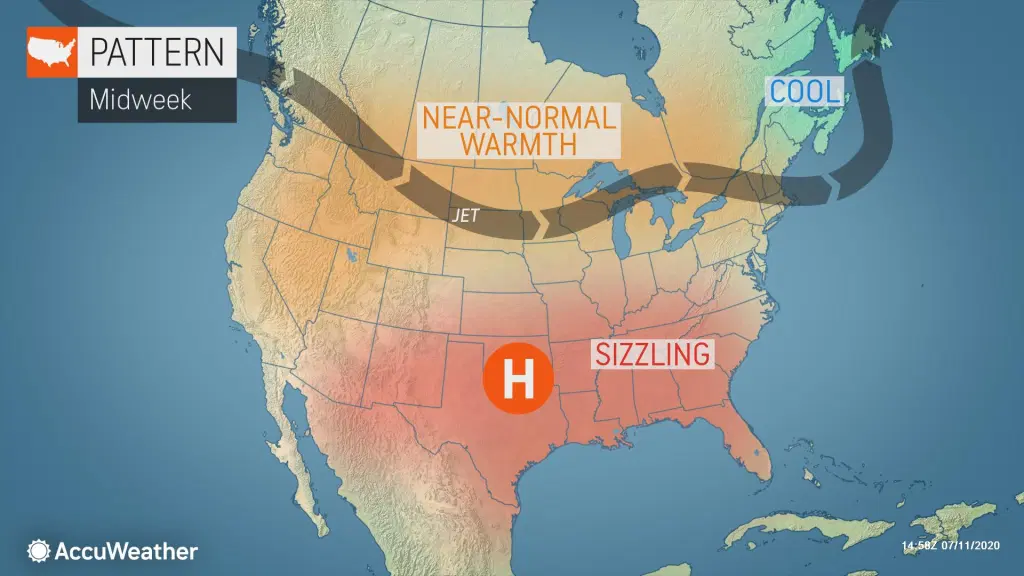 Photo: Accu Weather
Tuscon, Arizona, and Las Vegas are each forecast to peak above 110 degrees, while Phoenix, Arizona, and Death Valley are forecast to be near 120 degrees.
As next week progresses, the heat will spill eastward into the southern Plains. Amarillo and Lubbock in northwestern Texas will top out at 105 degrees for at least a couple of days early next week, more than 10 degrees above the norm in mid-July. Even as far north as Dodge City and Wichita, Kansas, will reach over 5 degrees above normal into the upper 90s into Wednesday, informed the Accu Weather.
Higher humidity levels, soil moisture, and scattered thunderstorm activity will prevent 110- to 120-degree heat in the southern Plains, but it is possible that some locations approach the century mark. Widespread highs in the middle 90s are likely.
Severe thunderstorms to proceed stifling heat in the northeastern US following Fay
"Any sunshine that pokes through the clouds can Fay left behind will create more instability, an ingredient necessary for thunderstorms", AccuWeather Meteorologist Courtney Travis elaborated.
"Communities from central New York and northern Pennsylvania all the way through the Hudson Valley and the Green Mountains of Vermont should be on alert through Sunday evening," Travis added.
Damaging wind gusts and heavy downpours will be the major threats, but hail is also possible with these thunderstorms. Any location that already was hit with Fay's rain could see flash flooding more easily should a potent thunderstorm slowly pass by.
"In addition to Fay's moisture, which avoided the central Appalachians and eastern Great Lakes area, a non-tropical storm system from the Midwest will pivot into the Northeast into early next week," said AccuWeather Senior Meteorologist Brett Anderson, reported the Accu Weather.
Canada weather forecast
A special weather statement says, "The remnants of Tropical storm Fay will move northward across Southern Quebec today. Locally heavy rainfall will be possible, particularly during the afternoon and evening."
Environment Canada says Ottawa could see between 50 and 70 mm of rain by Sunday morning while admitting it is difficult at this time to specify exact amounts.
On Friday, they had warned the totals could be as high as 100 mm. The statement is in effect for Ottawa, as well as areas to the south and east of Ottawa.
The weather forecast in the next five days in Ottawa Photo: Canadian weather
On Sunday in Ottawa, it is expected to shower in the morning, then cloudy with a 30 percent chance of showers in the afternoon. The temperature is 28°C, the humidex is 34. Rainfall totals 5 to 10 mm. The UV index of 3, or moderate. On Monday, it would be cloudy with a 40 percent chance of showers. On Tuesday, it might be Cloudy with a 60 percent chance of showers, reported CTV news.

The weather forecast in the next five days in Toronto Photo: Canadian weather
In Toronto, it is forecast to be a mix of sun and cloud and a 40 percent chance of showers in the afternoon. The Hhumidex is 34 and the UV index is 9 or very high. At night, it's mainly cloudy and a 30 percent chance of showers in the evening. The Wind north 20 km/h will become light near midnight.

The weather forecast in the next five days in Vancouver Photo: Canadian weather
In Vancouver, it is forecast to be a mix of sun and cloud. The UV index is 7 or high. At night, it will be a few clouds.
The weather forecast in the next five days in Montreal Photo: Canadian weather
In Montreal, it is forecast to be a few showers ending in the morning then a mix of sun and cloud. Wind west 20 km/h would gust to 40. The humidex is 34 and the UV index is 7 or high. At night, it could be partly cloudy. The wind west 20 km/h would become light in the evening.
Malie Nguyen