Latest UK and Europe weather forecast, July 12: Heatwave returns to bake Britain - UV warning
In the coming days as of July 12, heatwave may return to bake Britain with weather map turning black with heat, meanwhile, hot and dry weather shall sweep across southern areas of Europe.
UK's weather forecast
Sunny skies and warmer weather have banished the rain this weekend, but now scorching 30C (84F) highs are on course to bake Britain in the coming days, with weather maps turning black with heat. Here is the latest weather forecast and maps, express.co.uk reported.
Heavy rain has soaked much of the UK this past week, with maximum rainfall totals of 16.88mm (0.6 inches) falling in Spadeadam, Cumbria on Friday. However, the weekend is off to a sunnier start, with largely dry and warm weather for much of the UK and the potential for 26C highs.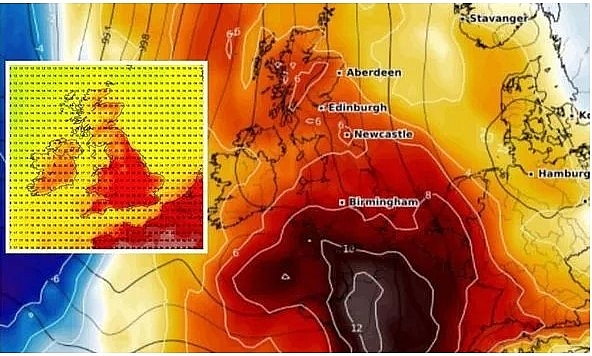 UK heatwave returns: Weather maps show scorching highs in the next few weeks (Image: WXCHARTS/ NETWEATHER)
A Met Office meteorologist said: "At the weekend many places staying dry with sunshine, so looking quite bright and sunny for the weekend for most.
"Apart from on Sunday when we could see some rain across Northern Ireland and western Scotland, but elsewhere dry, warm and sunny." Temperatures are forecast to peak at around 20C today for the south of England, with high to mid-teens predicted for the rest of the UK.
On Sunday, temperature charts from Netweather show hot weather spreading from the south on Sunday, with highs of 26C possible. This could repeat on Monday, with much of the south again seeing 26C highs as temperature maps turn red with the heat.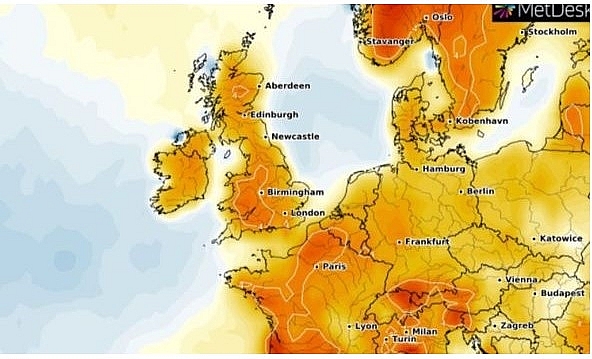 UK heatwave returns: This weekend will be warmer, with sunny spells (Image: WXCHARTS)
Outlook for next week
Asked about next week's weather, a Met Office spokesman said "On the whole, England and Wales is looking largely settled, with temperatures in the mid-20s in the sunshine." However, the spokesman added: "It is too early to tell if it will be a heatwave."
The Met Office five day forecast sees many places dry with sunny spells on Saturday, with a few showers likely in central and northern areas.
Later it could be cloudier with rain for the Northern Isles while feeling quite warm in the south. Tonight it will be cloudy with occasional rain and drizzle in the far north, else dry with clear periods.
However, it will feel chilly in rural areas with a few misty or shallow fog patches. On Sunday it will be dry with sunny periods for most areas, and warmer than recently in light winds. In the far north and into Scotland and Northern Ireland it will be cloudy with occasional rain.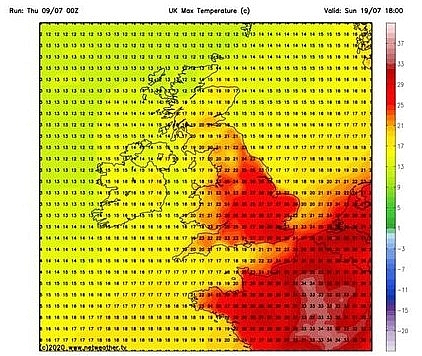 UK heatwave returns: Up to 30C could be seen next Sunday (Image: NETWEATHER)
For Monday to Wednesday conditions will be changeable and often rather cloudy with many areas seeing rain at times. Rain will be most frequent for western Scotland with parts of the south and east seeing more prolonged sunny spells.
Conditions are forecast to continue to heat up next week, reaching the high 20C by Friday. And the weather will continue to heat up, with a scorching 30C predicted for the south on Sunday, July 19. Netweather maps show much of the UK turn red with the heat as highs of 30C and just below are felt widely.
Maps from WXCharts show the south of England and much of Europe turning black as temperatures spike on Sunday, July 19. This blood-red and black heat spans across much of the south of England, into Wales and edges up to the north of England on Sunday.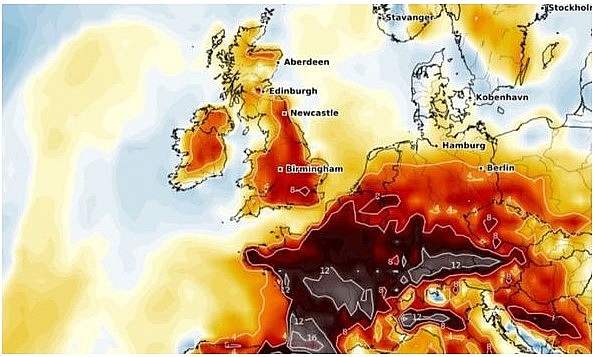 UK heatwave returns: Scorching highs will track across to the UK in the coming weeks (Image: WXCHARTS)
The heat is expected to continue on Monday, July 20, with almost the entire UK turning red on Netweather maps and temperatures again reaching 30C.
The Met Office long-range forecast for July 13 to July 22 predicts mostly dry and settled weather, especially for the south of England. Netweather's long-range forecast also predicts higher temperatures, with a high-pressure system dominating from Monday, July 13.
The long-range forecast from Monday until Sunday, July 19 reads: "High pressure will dominate the weather over much of the UK during the early to middle part of this week, and over England and Wales the weather will be predominantly dry and sunny, with temperatures above the seasonal average by day, but near average by night.
"It currently looks unlikely that this high-pressure spell will bring any prolonged heatwaves, although a short-lived hot southerly or south-easterly incursion towards the very end of this anticyclonic spell is possible.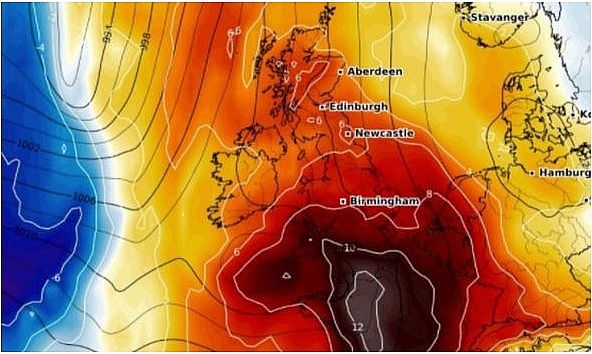 UK heatwave returns: Temperature maps turn black with heat as temperatures spike (Image: WXCHARTS)
"For much of Scotland and Northern Ireland there will also be some dry and sunny weather but cloud amounts will be more variable, as there will be an eastern North Atlantic trough which will bring moist south-westerlies into Scotland and Northern Ireland at times. Significant rainfall, though, is expected to be confined to north-west Scotland.
"Late in the week there are indications that the spell of anticyclonic weather will break down from the west or north-west, turning the weather more unsettled, but it is expected to stay on the warm side.
"Thunderstorms are possible during the breakdown but not guaranteed, as it is possible that we could see a largely thunder-free breakdown from the north-west."
Europe's weather forecast
On July 12
According to weatheronline.co.uk, mostly dry and fine across Spain and Portugal although watch out for developing scattered showers once again across the far north of Spain. Rain across northern Italy will move into central areas through the day. Staying dry and settled across Turkey but outbreaks of rain moving into northern parts of Greece.
A mostly dry and fine day across France but with rain affecting the southeast corner. Cloudy skies with patchy rain moving into the Low Countries and northern Germany. Heavy rain across Austria, Switzerland and Hungary. Southern Poland and Croatia will also see heavy spells of rain. Further east it looks to be mostly dry but with showers developing.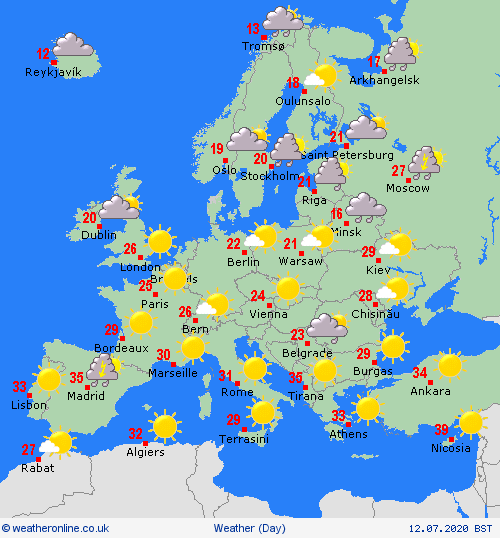 Photo: weatheronline.co.uk
Unsettled across Scandinavia with a brisk wind along the Norway coast. It does look to improve, however, later on in the day across much of Sweden and Finland although expect a scattering of showers. A cloudy and breezy day for Denmark, largely dry but blustery showers could blow through.
On July 13
Slack low pressure over Iberia will trigger a few thundery showers, particularly in northern Spain later in the day. Much of southern Spain and Portugal stay hot and sunny. The western Mediterranean and Italy will be largely dry, but a few showers may pop up along the spine of Italy and in the southern Alps. Isolated showers the Balkans, but much of Greece will be dry.
High pressure over northwestern Europe brings a fair day to much of France, highest temperatures toward the west with a general easterly breeze. Dry for the Low Countries, southern Germany and much of the Alps, but patchy rain affects northern Germany.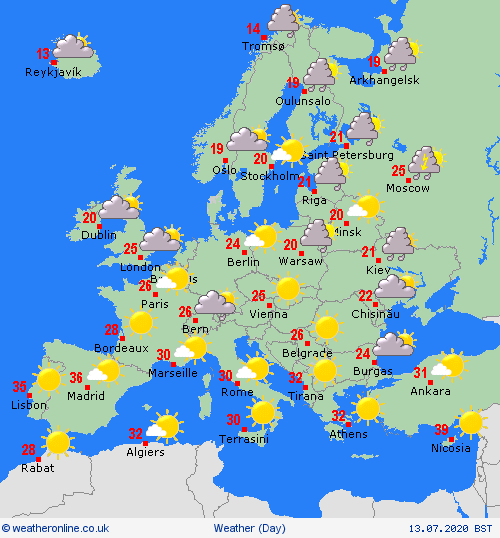 Photo: weatheronline.co.uk
Showery rain for Poland, the Baltic states and southern Sweden. Breezy with passing showers for Denmark. Frequent showery rain for west and northern Norway, plus western Finland. Areas of thundery rain affect western Ukraine, Belarus and Romania.
On July 14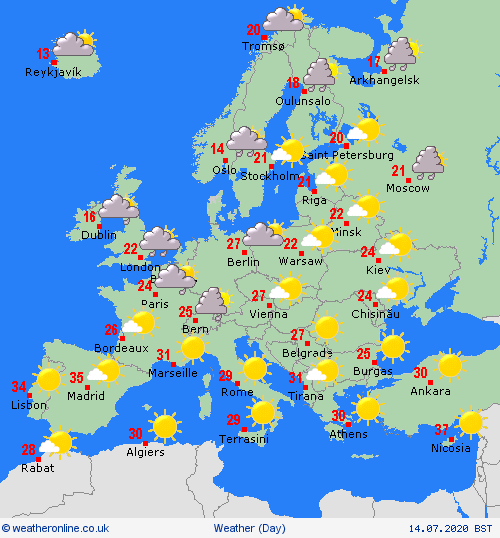 Photo: weatheronline.co.uk