US weather forecast
It is reported by the Tampa Bay Times that shower activity associated with a broad area of low pressure more than 1,000 miles east of the Windward Islands has an 80 percent chance of developing into a tropical storm or depression in the next 48 hours and a 90 percent chance in the next five days, according to the National Hurricane Center. The system became less organized Sunday night but conditions are expected to become more favorable for development, forecasters said.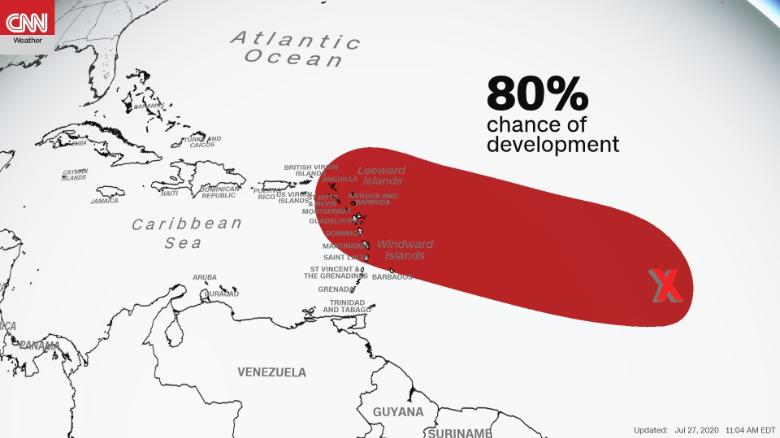 A storm system has an 80% chance of being upgraded to depression or Tropical Storm in the next 48 hours. Photo: CNN
The storm was moving west to northwest at 15 to 20 mph and is expected to affect parts of the Lesser Antilles by Wednesday. Some spaghetti models included in Spectrum BayNews9′s tropical forecast on Monday show the storm entering the Caribbean Sea and approaching Florida's coast by early next week.
If the system forms into a tropical storm it will be named Isaias, which is pronounced "ees-ah-EE-ahs," according to the Hurricane Center.
It would be earliest in the season that a storm starting with the letter "I" has formed, according to Colorado State meteorologist Philip Klotzbach. The record is Aug. 7, 2005, when Tropical Storm Irene formed.
Days after Hurricane Hanna brought torrential rain and flooding to South Texas, unusually warm sea surface temperatures are providing fuel for the tropical disturbance to strengthen, informed CNN.
Several models predicting the path of the storm are in agreement of where this system is likely to go Photo: CNN
"Every model that I looked at today develops this area into some form of a tropical system and turns it toward or north of Puerto Rico," CNN meteorologist Chad Myers said.
Even though the storm won't threaten land for a few days, the models are consistent in showing the storm tapping into warm waters and strengthening.
"Rarely do you see the convergence of models like you're seeing with this next storm," Myers said. "There's a consensus with this that the storm is going to do something and that it's going to get into that Bahamas area."
The system will encounter favorable conditions allowing it to develop and strengthen as it tracks west, the National Hurricane Center says.
"The system is forecast to move westward to west-northwestward at 15 to 20 mph and could begin to affect portions of the Lesser Antilles on Wednesday or Wednesday night," NHC said. "Interests on those islands should continue to monitor the progress of this system."
Hurricane Hanna weakens but flooding still threat in Texas, Mexico
A downgraded Hanna continued weakening on Monday but its remnants still threatened to bring rainfall and flash flooding to waterlogged parts of South Texas and Northern Mexico that have been dealing with a surge in coronavirus cases.
Now a tropical depression, Hanna was 65 miles (105 km) north of Fresnillo in the Mexican state of Zacatecas as its winds weakened to about 25 mph (40 kph), the National Hurricane Centre said.
Initial reports indicated Hanna dumped up to 15 inches (38 centimeters) of rain in some areas in South Texas.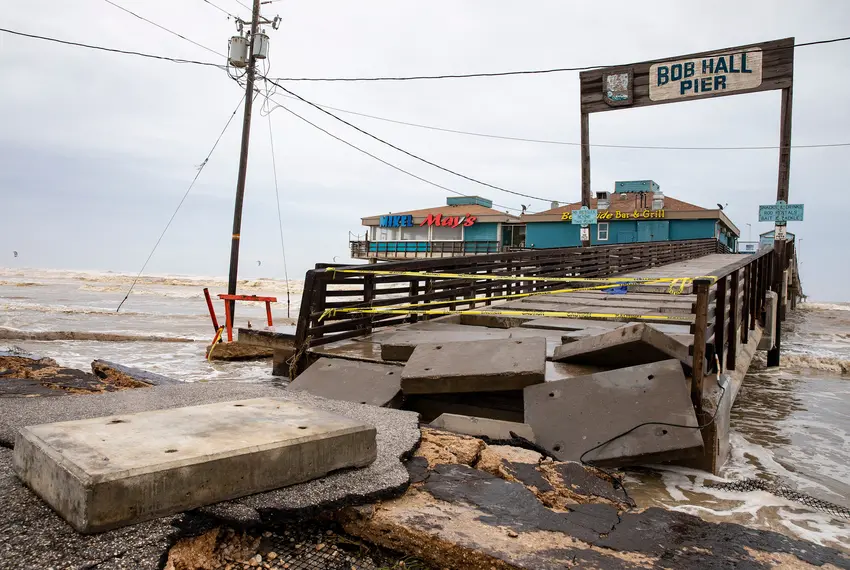 Padre Island's Bob Hall Pier was closed after portions of the structure collapsed from damage due to Hurricane Hanna. Photo credit: Courtney Sacco/Caller-Times via REUTERS
Another 1 to 2 inches (2.5 to 5 cm) could fall on Monday in areas of South Texas that are already waterlogged. The northern Mexican states of Coahuila, Nuevo Leon, and Tamaulipas could see an additional 4 to 8 inches (10 to 20 cm) of rain, possibly producing mudslides in these areas.
Two days after Hurricane Hanna touched down in South Texas, thousands remained without power and communities were grappling with how to deal with the damage caused by flooding and strong winds, reported the Texas Tribune.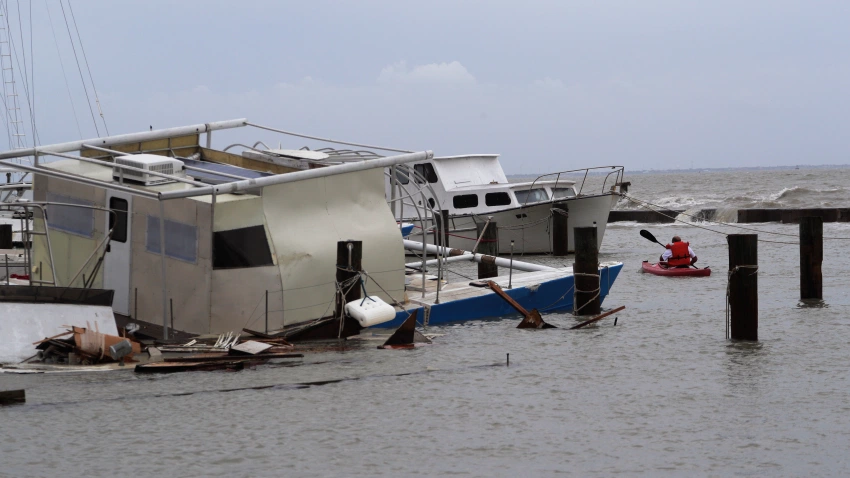 Photo: NBC 10 Philadelphia
Gov. Greg Abbott warned Texans on Sunday that there are continued threats of flash flooding even as rainfall slows, due to overflowing rivers.
"Any additional rainfall will exacerbate these threats, but the State of Texas is ready to respond and protect our fellow Texans," he said in a statement.
Downed power lines and trees have caused road closures across South Texas. As of 1 p.m. Monday, American Electric Power Texas, one of the state's largest electric providers, reported more than 58,000 power outages in Corpus Christi, Laredo, and the Rio Grande Valley.
Hurricane Douglas skirts north of Hawaii
Hawaii dodged the worst of Hurricane Douglas on Monday, forecasters said, as the storm swirled by just north of the islands.
"Not only did it did it not make landfall, but it also skirted by the islands," National Weather Service meteorologist Chevy Chevalier said.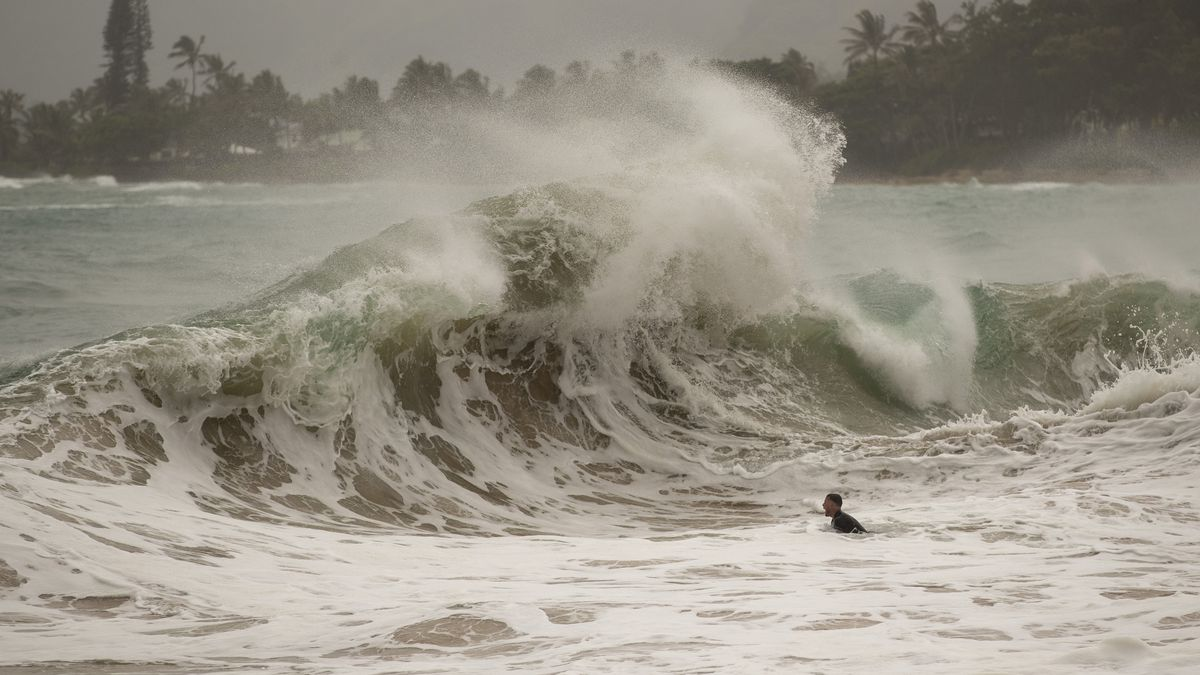 A body surfer prepares to dive under a large wave generated by Hurricane Douglas, at Laie Beach Park, Sunday, July 26, 2020, in Laie, Hawaii. (AP Photo/Eugene Tanner)
While wind, rain, and high surf accompanied Douglas, the island of Kauai – which experienced the closest shave – still was missed by about 40 miles, the Capital Weather Gang said.
There were no initial reports of injuries, and what damage there was appeared to be minor.
All hurricane warnings for the state were dropped early Monday, the Central Pacific Hurricane Center reported.
Early Monday, Douglas was 60 miles northwest of Lihue, Kauai. It had maximum sustained winds of 90 mph, keeping it as a Category 1 hurricane.
Douglas is forecast to be downgraded to a tropical storm later in the day as it moves rapidly away from Hawaii, AccuWeather said.
Canada weather forecast
After a wet and cold spring, much of Alberta is in for a week of smoldering summer temperatures. A heat warning is in effect for a large swath of the province, including the Edmonton region.
Temperatures reaching 29 C or higher are expected for at least the next two days, according to the advisory issued Monday by Environment Canada. In the Edmonton region, temperatures are expected to be in the low 30s on Monday and Tuesday.
Temperatures aren't expected to cool off once the sun goes down. Overnight lows of 16 C are expected for Monday and Tuesday. The UV index for Monday is 9 or very high.
Environment Canada's seven-day forecast for Edmonton shows temperatures for the rest of the week in the high 20s, with no daytime rain expected.
Heat warnings are issued when very high-temperature conditions are expected to pose a higher risk of heat illnesses, such as heat stroke or heat exhaustion, reads the weather website.
Environment Canada officials recommend in the warning to reschedule outdoor activities, take frequent breaks from the heat, and drink plenty of water.

Photo: Canada Environment
In Montreal, there is forecast to be mainly cloudy with a 40 percent chance of showers early in the morning. The wind southwest is 20 km/h. The humidex is 36 and the UV index is 8 or very high. At night, there might be partly cloudy and it would become clear near midnight.

Photo: Canada Environment
In Ottawa, it is likely to have a mix of sun and clouds. Wind west 20 km/h gusting to 40. The humidex is 34 and UV index 8 or very high.

Photo: Canada Environment
In Vancouver, it might be sunny and become a mix of sun and clouds late in the morning. The humidex is 28 except 31 inland. The UV index is 8 or very high.

Photo: Canada Environment
In Toronto, there might be sunny in the morning then a mix of sun and cloud with 30 percent chance of showers late in the afternoon. The wind west is 20 km/h gusting to 40 becoming light in the afternoon. The humidex is 33 and the UV index is 8 or very high. At night, it is likely to be partly cloudy with a 30 percent chance of showers.
Malie Nguyen