US weather forecast for July
It is reported by the National Weather Service's Climate Prediction Center that widespread and prolonged extreme heat is baking the contiguous United States and meteorologists see no relief in sight, except for a brief time in a corner of the Pacific Northwest. Next week is likely to be worse than this week. And the entire Lower 48 states and Alaska are likely to be warmer than normal for the last two weeks of July, traditionally the hottest time of year.
Jeff Masters, founder of Weather Underground and now a meteorologist at Yale Climate Connections said that "It's very widespread and it's going to be very long-lasting. It's not a record-breaking heatwave, but it is notable for its persistence."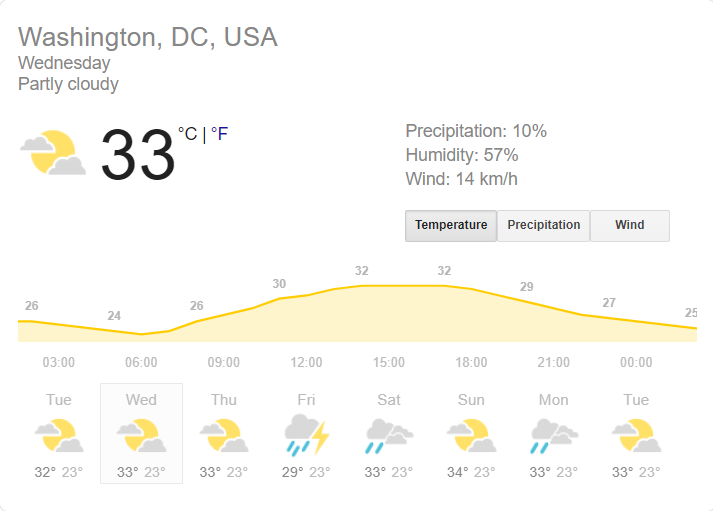 The weather forecast in Washington DC today Photo: Captured
"This is a dangerous kind of heat which people should be careful about heatstroke, stay indoors and drink lots of water", added meteorologists. The excessive heat on Tuesday is nothing compared to what's coming up.
South Carolina, likely will feel 105 on Friday and then 108 on Saturday. Meanwhile, Little Rock is forecast to feel like 107 and 109 on Friday and Saturday. Houston should feel like 109 Friday through Sunday. Phoenix is forecast to feel like 108 on Friday and 110 on Saturday and Sunday.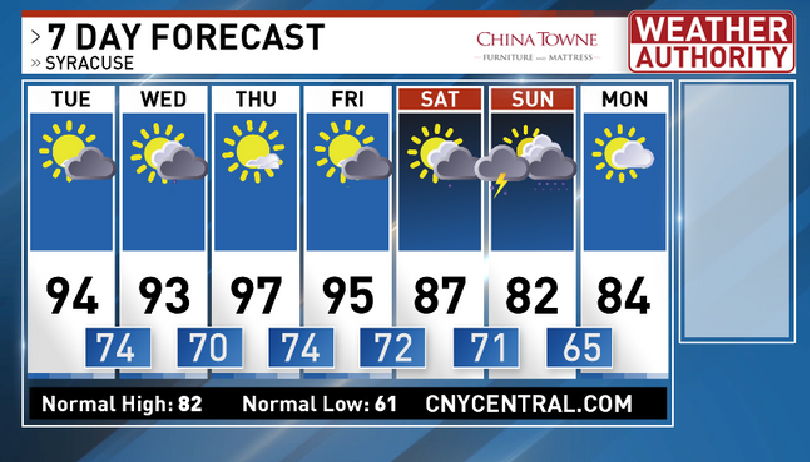 The weather forecast in the next 7 days in the US Source: CNY Central
Miami has gone through its hottest stretch on record, and an unusually hot the Atlantic Ocean is adding to the problem will make Miami not to cool below 80 at night, revealed Ryan Maue, a private meteorologist for BAM forecasts.
Meteorologists can certainly say that the hot weather is due to global warming statistical and scientific analysis but this is what they expected of with climate change, said Climate Prediction Center meteorologist Matthew Rosencrans.
Next week, Wisconsin could be battling it out with the Southeast for the nation's hottest feels-like temperature — which factors in humidity — with heat indices pushing past 100. And the worst prolonged heat looks to affect the western Nebraska, Oklahoma and the Texas panhandle, with temperatures reaching 110.
The blood-red, dark brown, and purple cover the weather maps, showing that the weather is much hotter than normal temperatures. Rosencrans emphasized that giant ridge of high pressure, parking hot air, is stuck in the Southwest and extends farther east than usual blocking cold front from moving in.
July 8
Another day with highs in the low 90s and high humidity will continue, there will be a bit more of a breeze. The Wednesday afternoon cumulus cloud pattern will be exiting to the east as the organized thunderstorm pattern starts in northern Nebraska.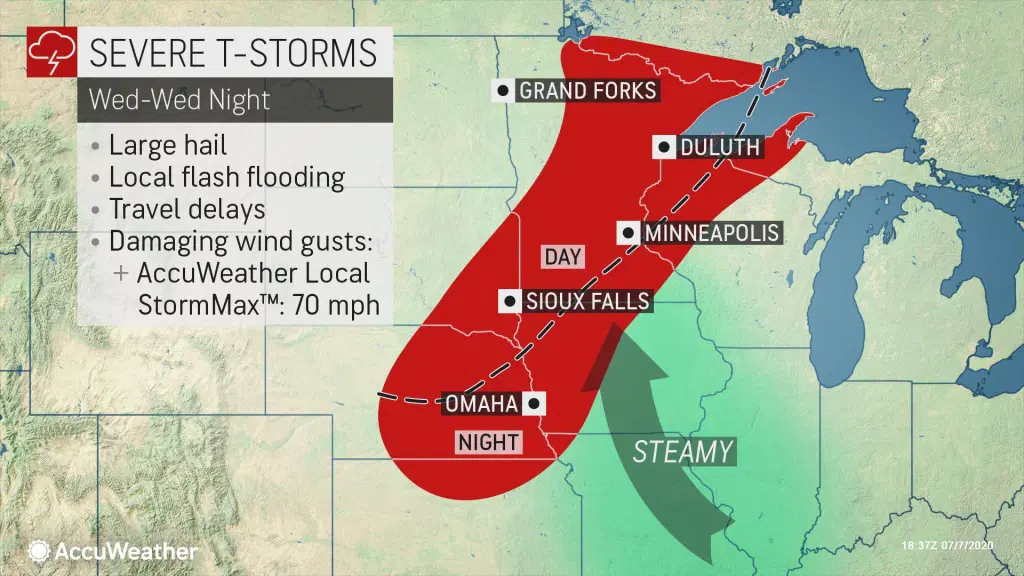 Photo: Accuweather
Mostly it has been dry across southeast, east-central Kansas to western Missouri. It has been wetter across eastern Missouri and southeast Nebraska to central Kansas. This is a crucial time for the corn crop and next month is crucial for the soybeans. Therefore, a pattern with more rain would be nice and that is just what is about to occur.
"As this low slowly meanders toward the Southeast coast, the area of enhanced rainfall will shift more into the Carolinas, perhaps even extreme southeast Virginia during the latter half of the week", Accu Weather Senior Meteorologist Joe Lundberg said.
"The amount of rain during the second half of the week may be dependent upon potential surface development of this system and its ability to draw even more moisture inland off the warm waters of the Gulf Stream," added Lundberg.
Regardless, Accu Weather meteorologists expect several inches of rainfall to douse the southern Atlantic Seaboard during the middle and latter part of the week, with an Accu Weather Local StormMax™ rainfall of 6 inches possible centered on the Carolinas.
Canada weather forecast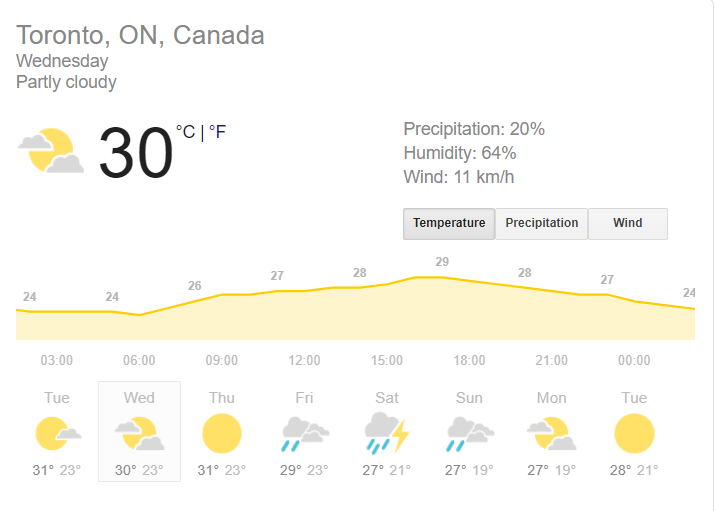 The weather forecast in Toronto, Canada today Photo: Captured
Ontario remains submerged beneath a soup of heat and humidity, with little relief from those conditions in the near future. Downpours won't make a dent in the drought-like conditions that have accompanied this extreme heat for the early days of July. That means a dry stretch that began well before July will continue. In fact, many places in southern Ontario only recorded rainfall of less than 0.5 mm over the past 30-50 days, according to MSN.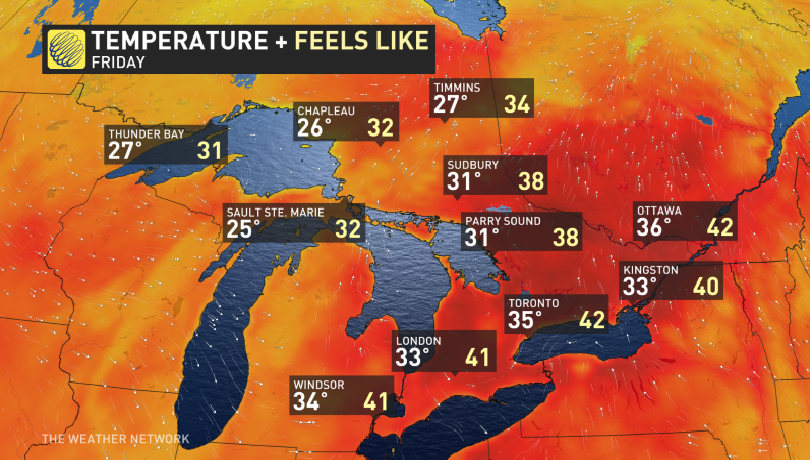 Photo: The Weather Network
Thursday and Friday feature daytime highs slightly higher, with most people feeling like or even slightly beyond 40 with that persistent, intense humidity. Some temporary relief from the heat may occur Sunday, with daytime highs returning to seasonal, but the humidity will linger. However, the overall hot pattern will continue until mid-July.

The weather forecast in the next 5 days in Ottawa Photo: Canadian weather
In Ottawa, there is a mix of sun and cloud, a 30 percent chance of showers in the afternoon with risk of a thunderstorm. The UV index is 9 or very high. At night, there is expected to be partly cloudy with a 30 percent chance of showers early in the evening.
The weather forecast in the next 5 days in Vancouver Photo: Canadian weather
In Vancouver, there is increasing cloudiness early in the morning. The UV index is 6 or high. At night, there may be cloudy, and the periods of rain beginning early in the evening.
Malie Nguyen