US and Canada weather forecasts July 27: Storm Hanna weakens to tropical depression, Hurricane Douglas hreaten Parts of U.S
US and Canada weather forecast, July 27: Hurricane Hanna weakened to a tropical depression while hurricane Douglas threaten parts of U.S. In Canada, severe storm threats in Ontario will eliminate the sweltering heat and many parts of British Columbia are forecast to see the hottest weather of the summer so far.
US weather forecast
It is reported by the National Hurricane Center that Hanna made landfall Saturday evening on Padre Island, south of Corpus Christi. It was the first hurricane of the season in the Atlantic and had sustained winds of 90 mph, making it a high-end Category 1 hurricane.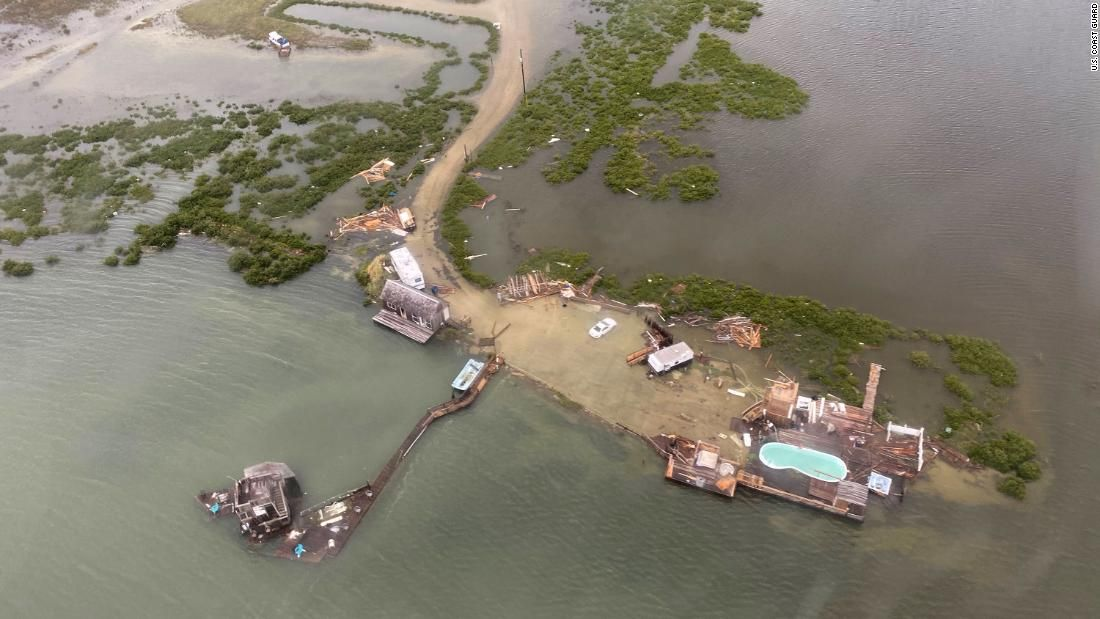 A Coast Guard Sector/Air Station Corpus Christi MH-65 Dolphin aircrew investigates areas impacted by Hurricane Hanna near Aransas Pass, Texas, on Sunday. Photo: CNN
By Sunday evening it was downgraded to a tropical depression, with maximum sustained winds of 35 mph, and was slowly dying over the mountains of northern Mexico. However, it still posed a threat for rain in the drenched Rio Grande Valley, where more than a foot of rain has fallen.
"Any hurricane is an enormous challenge," Gov. Greg Abbott said in a news conference Saturday. "This challenge is complicated and made even more severe, seeing that it is sweeping through an area that is the most challenging area in the state for Covid-19."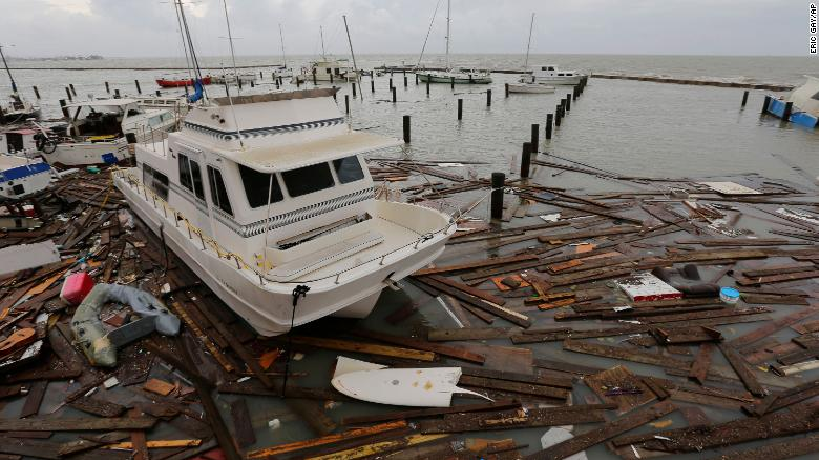 Debris floats around damaged boats in a marina after it was hit by Hurricane Hanna on Sunday in Corpus Christi, Texas. Photo: CNN
A flash flood emergency remained in effect for Hidalgo County, Texas, as roads and highways are underwater, prompting water rescues.
Widespread rainfall totals are between 4-6 inches, but some places have seen a foot of rainfall. There is still the chance for 2-4 inches of rain in parts of southern Texas as well as the chance of isolated tornadoes through the rest of Sunday, added CNN.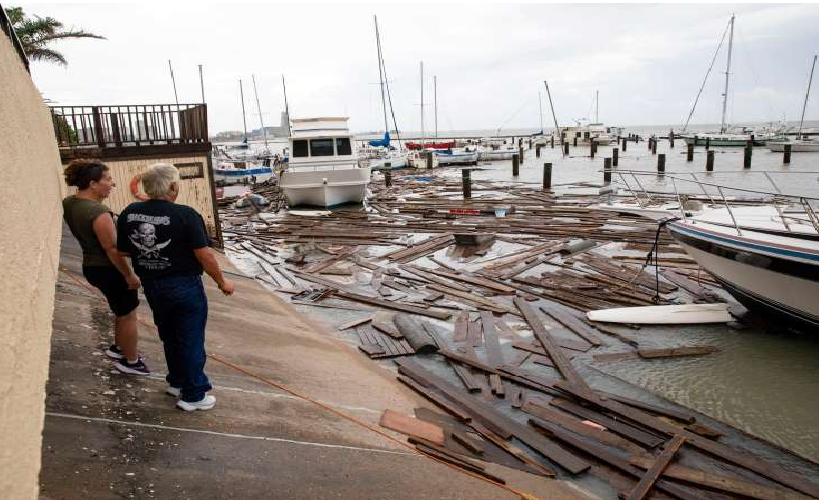 Boat owners lookout to the damaged Harbor Del Sol Marina as they check their boats the morning after Hurricane Hanna on Sunday, July 26, 2020. Photo courtesy of Sacco/Caller-Times
In Corpus Christi, part of a popular pier collapsed, CNN affiliate KRIS reported, and high waters encroached on the Art Museum of South Texas.
Abbott issued a disaster declaration for 32 counties in the state and has also issued a federal emergency disaster declaration request. Urging extreme caution, Abbott warned residents across the state not to forget about the virus because of the storm.
Some of the southernmost parts of Texas received more than a foot of rain as the center of the storm crossed over to northeastern Mexico, CNN meteorologist Derek Van Dam said.
NHC also gave warnings about Hurricane Douglas which might lead Hawaii to brace for devastating 'triple threat' storm.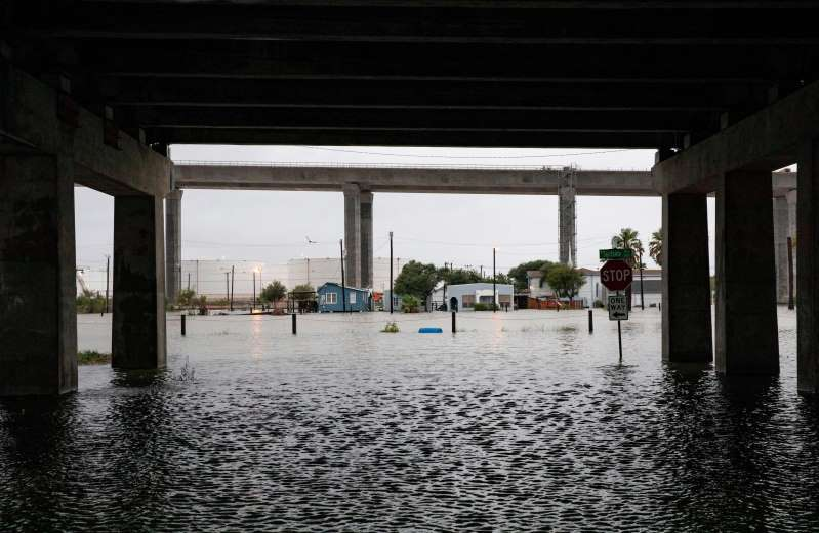 High water fills the streets on Corpus Christi North Beach morning after Hurricane Hanna Sunday, July 26, 2020. Photo courtesy of Sacco/Caller-Times
This led to widespread flooding in the Rio Grande Valley town of Mission, where the National Weather Service declared a flash flood emergency. There were numerous reports of water rescues, mainly from cars stuck in rising floodwaters. Parts of US Highway 83 were impassable, added CNN.
Hurricane Douglas is set to wreak havoc on the islands of Hawaii, with the US state bracing for a devastating combination of high winds, rain, and storm surge.
National Weather Service meteorologist Vanessa Almanza said: "It's definitely going to be a triple threat." Precipitation from the storm is expected to range from five to 15 inches.
Robert Ballard, the science and operations officer at the Central Pacific Hurricane Center, said: "Douglas is continuing a gradual, slow, weakening trend, which in itself is good news, but the bad news is that this hurricane is going to come very close to the islands even as it's weakening".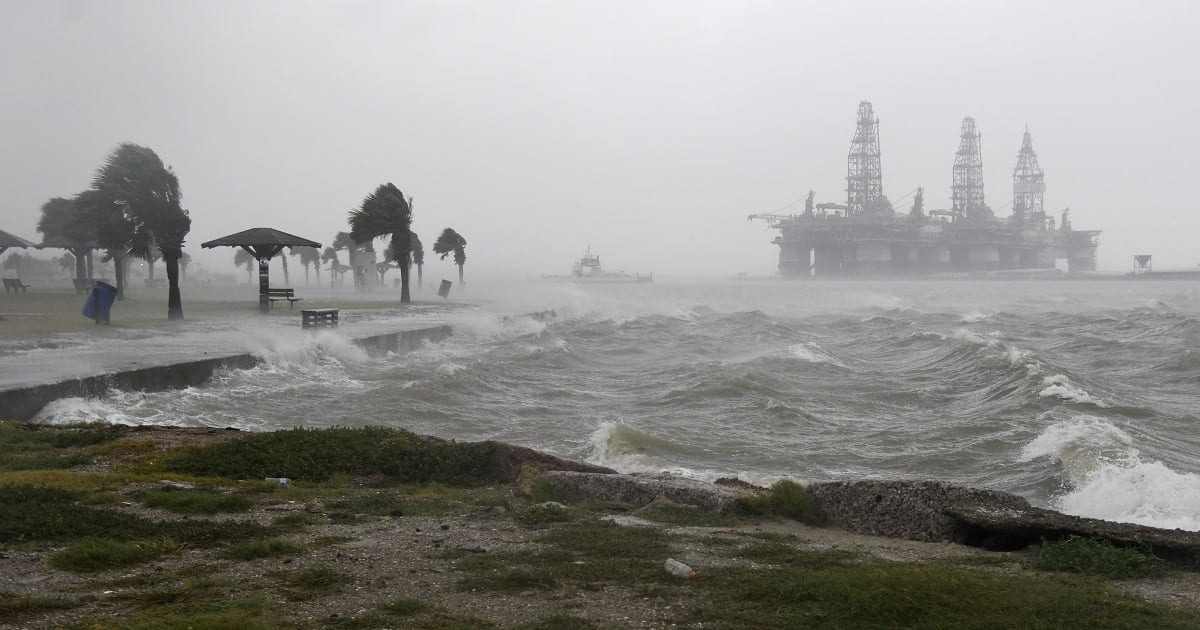 Photo: NBC News
A statement from Maui officials said that the impact of the hurricane would be evaluated on Monday.
During a Saturday news conference, Hawaii Governor David Ige said: "We know that it is weakening as it approaches, but it still will have a significant impact on each island."
Express.co.uk cited the words of Honolulu Mayor Kirk Caldwell that 13 shelters were set to open at 9 am on Sunday around Oahu, in preparation for the storm's arrival. While, US President Donald Trump issued an emergency warning for Hawaii due to the storm, designating federal aid in addition to state and local respondents.
Hawaiian Airlines canceled all Sunday flights between Hawaii and mainland US, as well as between the islands.
Maui braces for impact as Hurricane Douglas nears Hawaii
Hawaii prepared for the onslaught of Hurricane Douglas on Sunday, with predictions of high winds, rain and storm surge.
"It's definitely going to be a triple threat," said U.S. National Weather Service (NWS) meteorologist Vanessa Almanza.
Rainfall from the storm can be anywhere from 13 to 38 centimetres. It's "probably not a good day to go to the beach," Almanza said.
Douglas weakened Saturday to a Category 1 hurricane as it approached Hawaii, but officials warned people should not be lulled into complacency. The NWS said Douglas should remain a hurricane as it moves through the islands Sunday.
"Douglas is continuing a gradual, slow, weakening trend, which in itself is good news. But the bad news is that this hurricane is going to come very close to the islands even as it's weakening," said Robert Ballard, the science and operations officer at the Central Pacific Hurricane Center. "And we do expect significant impacts as it makes its point of closest approach or possible landfall as it comes through."
Carlos Mozo fills sandbags in preparation for flooding from the hurricane in Hau'ula, on the windward side of Oahu. (Ronen Zilberman/AFP/Getty Images)
Oahu, home to the state's largest city, Honolulu, was placed under a hurricane warning with the storm beginning to impact the island as early as late morning. Kauai and Maui were also placed under warning status Sunday, while a hurricane watch was cancelled for the Big Island.
Officials on Maui planned to sound hurricane warning sirens Sunday morning alerting residents to shelter in place or take refuge at one of seven shelters set up around the island. The hurricane was packing maximum sustained winds of 150 km/h Sunday.
The NWS said parts of Maui were to feel the first impacts of Hurricane Douglas on Sunday morning, followed by Oahu about midday and the islands of Kauai and Niihau in the evening.
Canada weather forecast
As informed by the Weather Network that a cold front sweeping through southern Ontario Monday will finally wipe out the heat and humidity, but will also bring the chance for severe storms in the afternoon and evening in parts of the region.
Good news for those seeking relief from the intense heat in Ontario -- an incoming cold front will drop temperatures back to seasonal on Tuesday. However, before it does, it may spark potentially severe thunderstorms across portions of southern areas Monday afternoon and evening. Areas in the east and southwest are more favored for them to develop.
Monday (July 27)
Monday will be the final day of the extreme heat and humidex values in the low 40s in southern Ontario, as a cold front is set to wipe them out once it passes.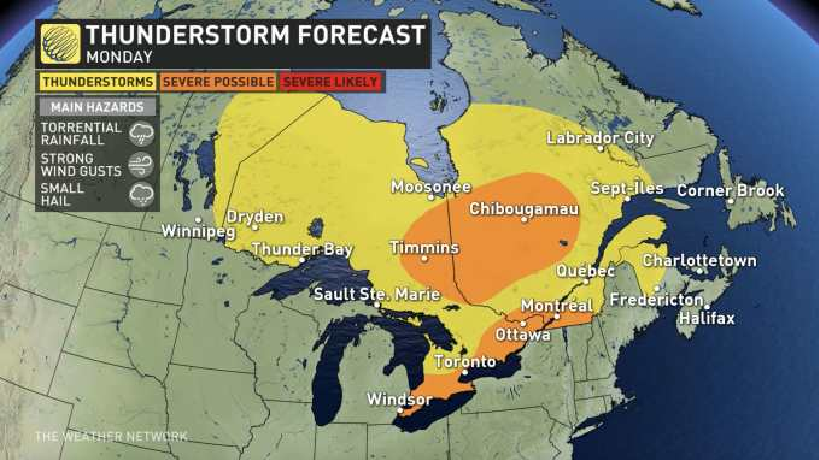 Monday: severe storm potential with front passage Photo: The Weather Network
Before doing so, it may set off severe thunderstorms in eastern Ontario in the afternoon and the southwest in the evening hours. The GTA may see an isolated storm passing through after sunset. Northeastern Ontario may also see severe-level storms during the same time periods.
Any severe storms that do fire up will have plenty of moisture to work with, so there will be torrential rainfall, as well as strong wind gusts and small hail.
Tuesday (July 28)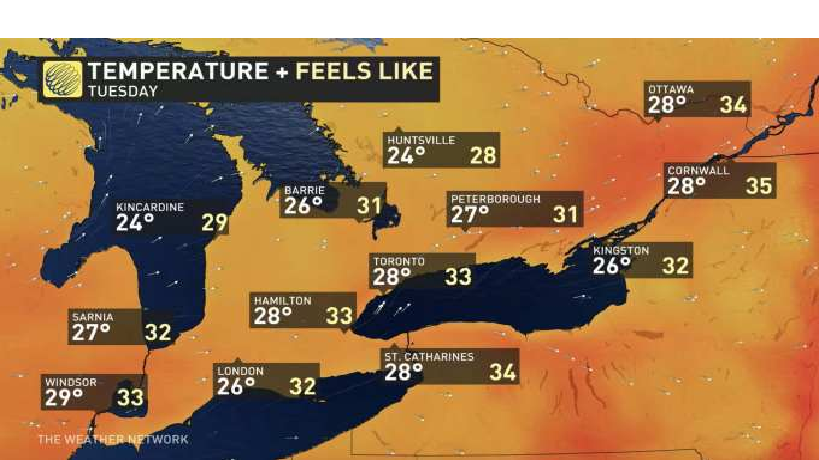 Tuesday: seasonal temperatures, humidity lowered Photo: The Weather Network
The same cold front that may trigger Monday's storms will not only take the temperatures down but also sweep that humidity out of the province. On Tuesday, temperatures return to seasonal with daytime highs sitting in the mid-to-upper 20s and more tolerable humidex values in the low 30s. This trend will continue for the rest of the week.
While, in several parts of British Columbia including the Lower Mainland, Vancouver Island, and the southern part of the province, daytime highs in the region are expected to reach the low 30s on Monday. Temperatures will start to dip on Tuesday as the ridge weakens, bringing in cooler marine air.
According to MSN, the Okanagan region will see daytime highs in the mid to upper 30s, with the hot air persisting until Tuesday or Wednesday. Environment Canada issued heat warnings for the region along with the West Kootenay, Boundary, Fraser Canyon, North and South Thompson, and the Cariboo.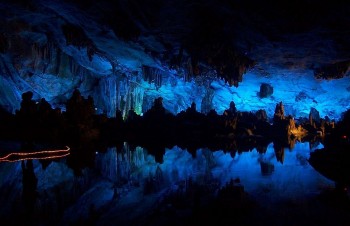 Travel
Caves are the creation of nature, charming any tourists with their mysterious and an air of danger, waiting for humans to explore the deepest secrets inside them. Take a look at these magnificent and beautiful caves around the world that you must visit once in your lifetime.
Viet's Home
According to the AFC official statement, Vietnam striker Nguyen Tien Linh won the AFC International Player of the Week after receiving the most votes out of the remaining nine players.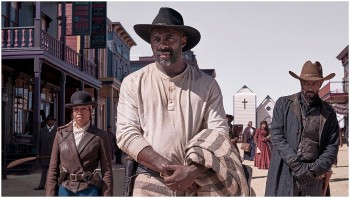 Handbook
November is coming close, and the cold outside makes us want to curl up inside our warm blanket and bing watch our favorite movies or shows. Here is the list of what is coming on Netflix in November, and some of the most expected Netflix originals for you to enjoy.