US Consul General in HCMC hopes to cooperate with Vietnam in human resource development
On April 22 afternoon, Can Tho Party Committee Secretary Le Quang Manh, Can Tho People's Committee Vice-Chairman Nguyen Van Hong, and other department leaders welcomed Ms. Marie C. Damour, US Consul General in Ho Chi Minh City.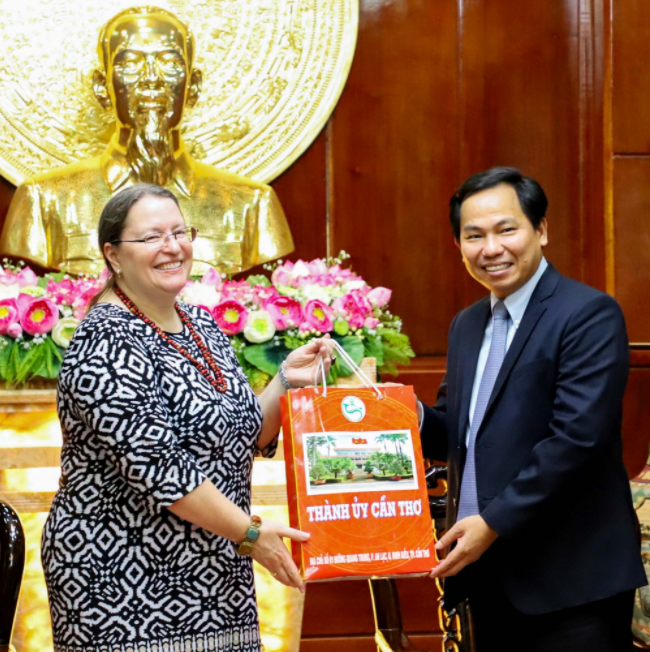 Can Tho Party Committee Secretary presented souvenirs to the US Consul General in Ho Chi Minh City.
At the meeting, Can Tho Party Committee Secretary Le Quang Manh welcomed the Consul General's visit and informed her about Can Tho's social-economic development situation and development orientation on education, medical, investment promotion, climate change response...
Can Tho Party Committee Secretary said that the city had interest in and hoped to connect with US leading scientists to build comprehensive and long-term solutions, plans to cope with climate change. At the same time, he hoped the US Consul General to connect US potential investors in renewable resources, education, medical to look for investment opportunities; encourage US projects implemented in the city; promote regular cooperation activities between the two sides.
Ms. Marie C. Damour thanked the leaders of Can Tho for the solemn reception and expressed her impression of the creative learning spirit of Vietnamese students. She wished the two sides would implement cooperation in human resources development in Vietnam in general and Can Tho in particular.
According to the Consul General, the United States has strengths in many fields such as energy, health, infrastructure development... Based on the potential and development orientation of Can Tho City, she believed in the future cooperation between the two sides and in the diplomatic relationship between the US and Can Tho city.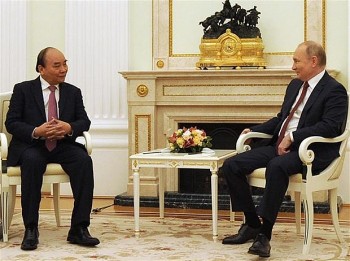 National
An article in Russia's independent newspaper focused on the Vietnam-Russia relationship and the significance of President Nguyen Xuan Phuc's visit to Russia from Nov. 29 to Dec. 2.