US final presidential debate highlights & experts grading
President Trump and Joe Biden faced off in their final debate Thursday night in Nashville.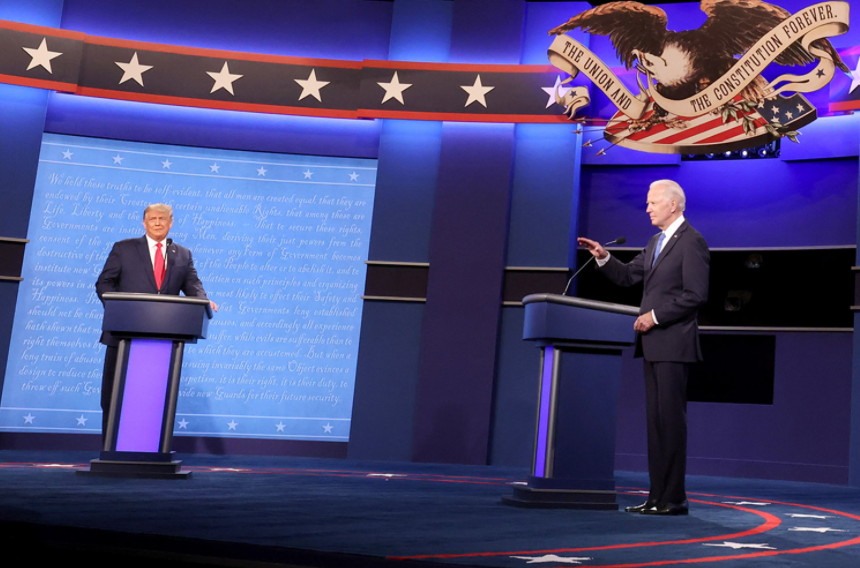 President Donald Trump (left) and former Vice President Joe Biden at Thursday night's debate in Nashville, Tennessee. (Photo: Getty)
The final debate of the 2020 election came and went Thursday without many new revelations — and without as much chaos between the nominees as viewers saw the last time they faced off.
President Donald Trump and former Vice President Joe Biden painted a drastically different picture of America and disagreed throughout the debate, though the two men largely avoided a repeat of their first meeting last month, when Trump repeatedly interrupted and heckled Biden, who responded then by calling him a "clown" and telling him to "shut up", People magazine cited.
Compared with the first debate — which was defined by furious crosstalk and personal insults — the final face-off was an almost staid affair, said CNBC. Despite their more respectful approach, the two still came to a head at various points — especially when Trump attacked Biden with unfounded accusations of corruption and mocked the former vice president.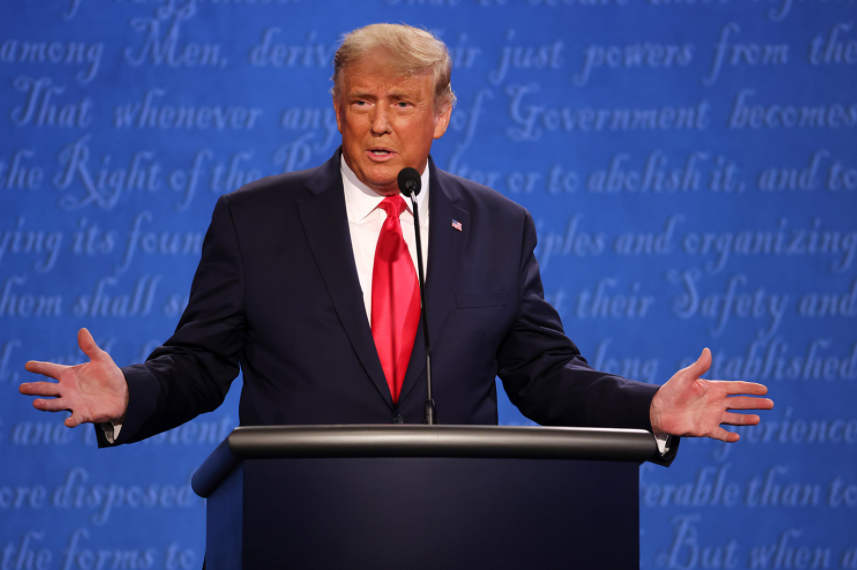 President Trump on the debate. (Photo: Getty)
Summary of debated topics
The moderator, NBC News' Kristen Welker, kept a tight lid on the Republican president and the Democratic nominee as she peppered them with questions about the coronavirus pandemic, the economy and foreign interference in the election, as well as the candidates' finances.
Coronavirus contrasts
Biden warned that the U.S. is headed for a "dark winter" as it continues to grapple with the coronavirus, but Trump maintained that he had taken quick action to respond to the pandemic.
The president then claimed a vaccine would be announced in "a couple of weeks" but then backpedaled when Welker asked him if that's a guarantee.
The president also took his first shot of the night at Biden, noting that the former vice president criticized him in January when he put restrictions on travel from China. "Now he's saying, 'Oh, I should have moved quicker.' But he didn't move quicker, he was months behind me," Trump said.
Tension going on in Reopening the economy
Trump argued that "we need to open up" and said it's too expensive for businesses to be mandated to put up things like plexiglass barriers. "These are restaurants that are dying," Trump said.
Biden then sought to correct Trump's claim that his opponent wants to shut down the country. "I'm going to shut down the virus. Not the country," Biden said.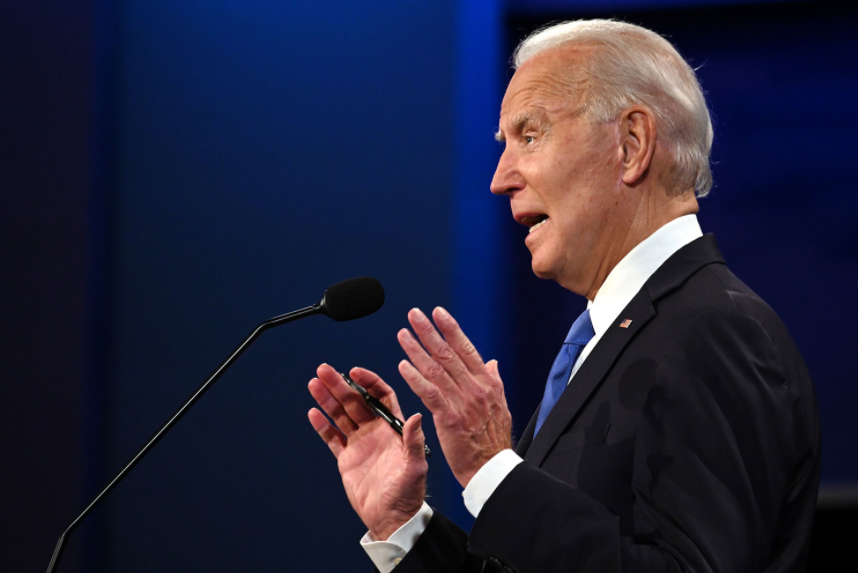 Former Vice President Joe Biden in the debate. (Photo: Getty)
Sparring over personal finances
Trump claimed Biden makes money from Russia, China and Ukraine, an allegation the former vice president strongly denied before mocking Trump for failing to publicly release his income tax returns and for having a bank account in China.
The president then claimed, without proof, that he's paid "millions and millions of dollars" in taxes. Trump then said, as he has for years, that he can't release his tax returns because they are under audit by the IRS.
Trump called "Bidencare" as "socialized medicine"
If the Supreme Court rules the Affordable Care Act unconstitutional, Biden said his next move would be to "pass Obamacare with a public option: Bidencare."
The two candidates sparred over their stances on healthcare, as Trump continued to claim Biden's healthcare plans are "socialist," while the Democratic nominee called that description "ridiculous."
Biden responded by attacking Trump for not having a clear health-care plan, despite promising that he would unveil it.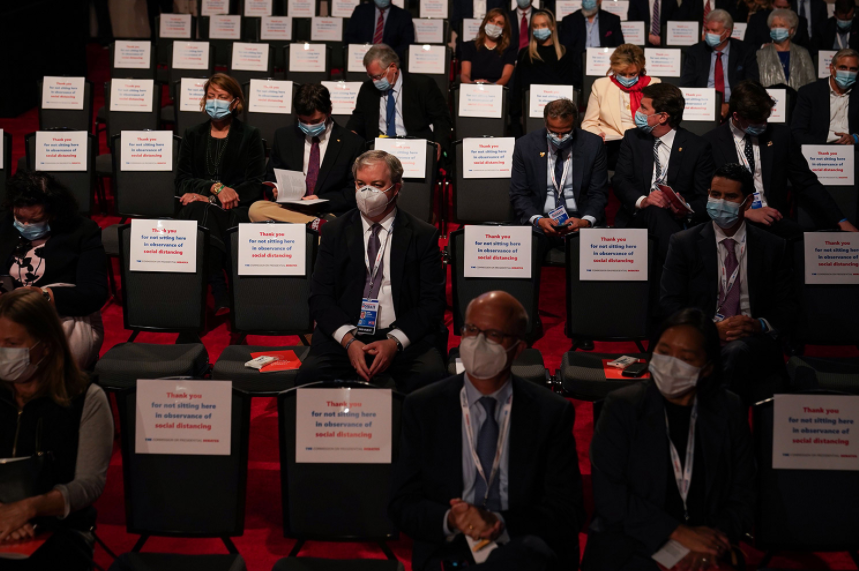 The attendees at Thursday night's presidential debate in Nashville, Tennessee. (Photo: Getty)
Biden criticized Trump on racism
When asked about racism, Biden, who raised Trump's previous racist remarks and actions throughout his life — including his pursuit for the death penalty on five Black and Hispanic youth who were wrongly accused in the "Central Park five" case, sympathized for Black parents who need to talk to their kids about being targeted by the police because of their race.
Trump then claimed he understands what Black communities experience and claimed "nobody has done more for the Black community than Donald Trump" with the "possible exception" of President Abraham Lincoln, who abolished slavery. He said to the debate monitor: ""I am the least racist person in this room."
Sharply differences appeared in national minimum wage
The question of whether raising the minimum wage contributes to unemployment on a macro level is still hotly debated by economists.
When being asked about his previous suggestion that he'd consider raising the minimum wage, Trump said "I would consider it to an extent. But not to a level that is going to put all these businesses out of business."
Biden jumped in. "These people are working two jobs, because one job is below poverty. And there is no evidence that when you raise the minimum wage, businesses go out of business."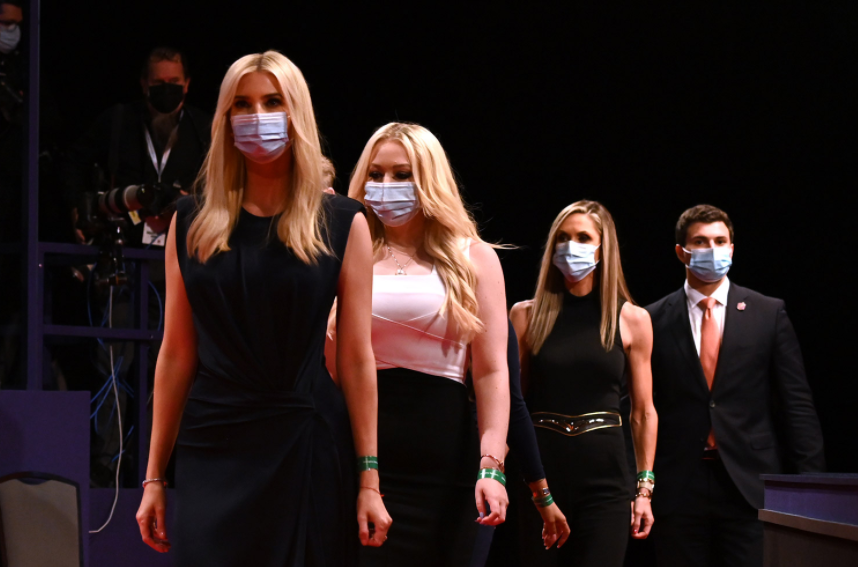 Trump's family appeared at the debate. (Photo: Getty)
Experts grade the candidates - Who gains the upper hand?
President Donald Trump was the most improved performer at Thursday's debate, but a panel of debate experts told NBC News that Joe Biden was more effective with his arguments. The three experts all agreed the faceoff was more informative than the chaotic first debate in Cleveland last month.
While Trump's strategy of interrupting less and letting Biden speak more in hopes of provoking a gaffe from the former vice president was sound strategy, the experts said Biden didn't make the type of major mistake Trump probably needed to change the race, said CNBC.
Mitchell McKinney, Director of the Political Communication Institute at the University of Missouri said "Donald Trump seemed at times certainly perturbed, but restrained himself and wasn't going for the jugular", while Biden was "able to avoid any major gaffes".