US rejects nearly all Chinese claims to territory in South China Sea
Secretary of United State Mike Pompeo on Monday announced a formal rejection of "most" of China's maritime claims in the South China Sea, marking the turning point as Washington officially directs to Beijing's ambition to assert control in the strategic waters.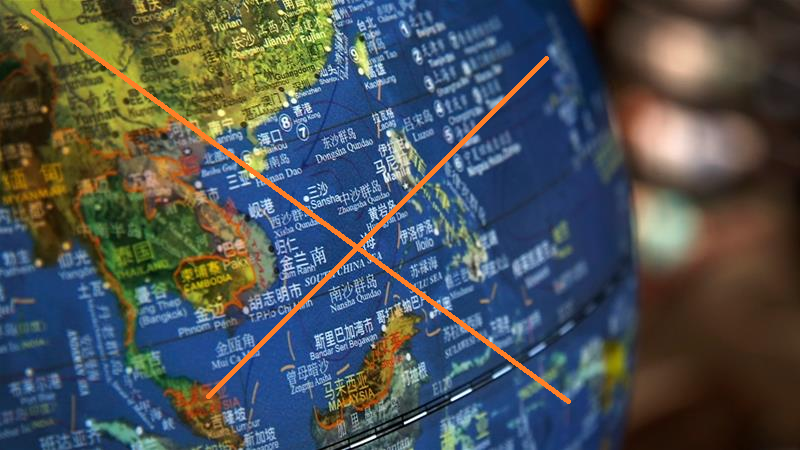 Chinese maritime claims outside its internationally recognized waters are illegitimate. Photo: Andy Wong/AP
Accordingly, the administration presented the decision as an attempt to curb China's increasing assertiveness in the region with a commitment to recognizing international law. But it will almost certainly have the more immediate effect of further infuriating the Chinese, who are already retaliating against numerous U.S. sanctions and other penalties on other matters.The Trump administration escalated its actions against China on Monday by stepping squarely into one of the most sensitive regional issues dividing them and rejecting outright nearly all of Beijing's significant maritime claims in the South China Sea, reported Military Times.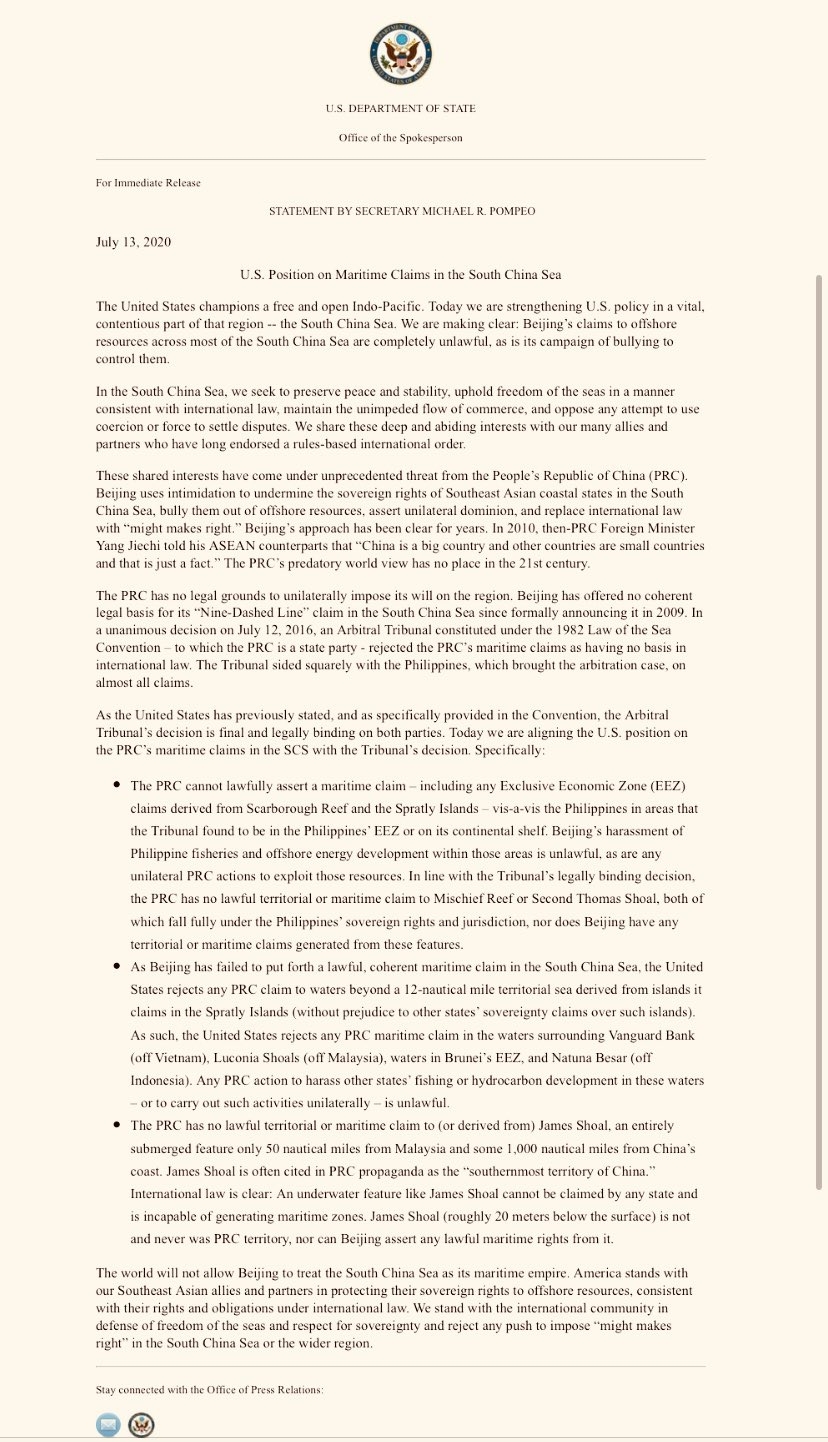 US Secretary of State Mike Pompeo's statement. Photo: U.S Department of State
Previously, U.S. policy had been to insist that maritime disputes between China and its smaller neighbors be resolved peacefully through U.N.-backed arbitration. But in a statement released Monday, Secretary of State Mike Pompeo said the U.S. now regards virtually all Chinese maritime claims outside its internationally recognized waters to be illegitimate. The shift does not involve disputes over land features that are above sea level, which are considered to be "territorial" in nature.
"The world will not allow Beijing to treat the South China Sea as its maritime empire," Pompeo said. "America stands with our Southeast Asian allies and partners in protecting their sovereign rights to offshore resources, consistent with their rights and obligations under international law. We stand with the international community in defense of freedom of the seas and respect for sovereignty and reject any push to impose 'might makes right' in the South China Sea or the wider region".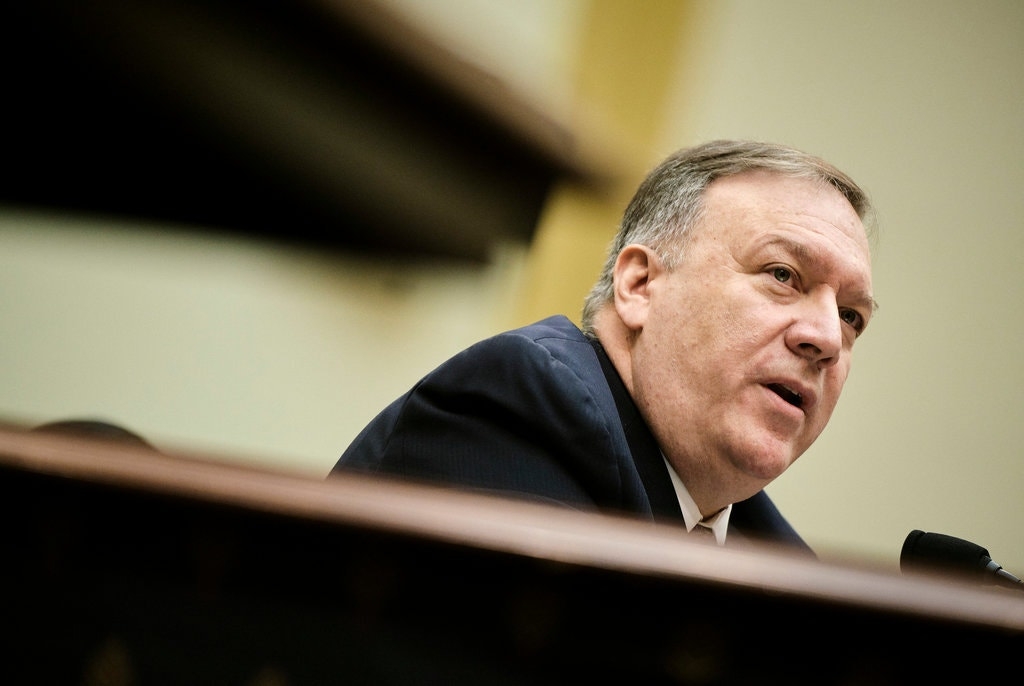 Secretary of State Mike Pompeo denounced China on Monday, saying its maritime claims in the South China Sea were "completely unlawful. Photo: T.J. Kirkpatrick/The New York Times
CNN, in its most updated article on July 14, cited a US Navy statement saying that two US Navy aircraft carriers sent to the South China Sea last week in order to "conducted several tactical exercises designed to maximize air defense capabilities and extend the reach of long-range precision maritime strikes from carrier-based aircraft" in the context of heightened tensions between the two nations and after China completed naval exercises in the contested waters.
It is the first time since 2014, and only the second since 2001, that two US carriers have operated together in the South China Sea, according to Lt. Cmdr. Sean Brophy, a spokesperson aboard the Reagan.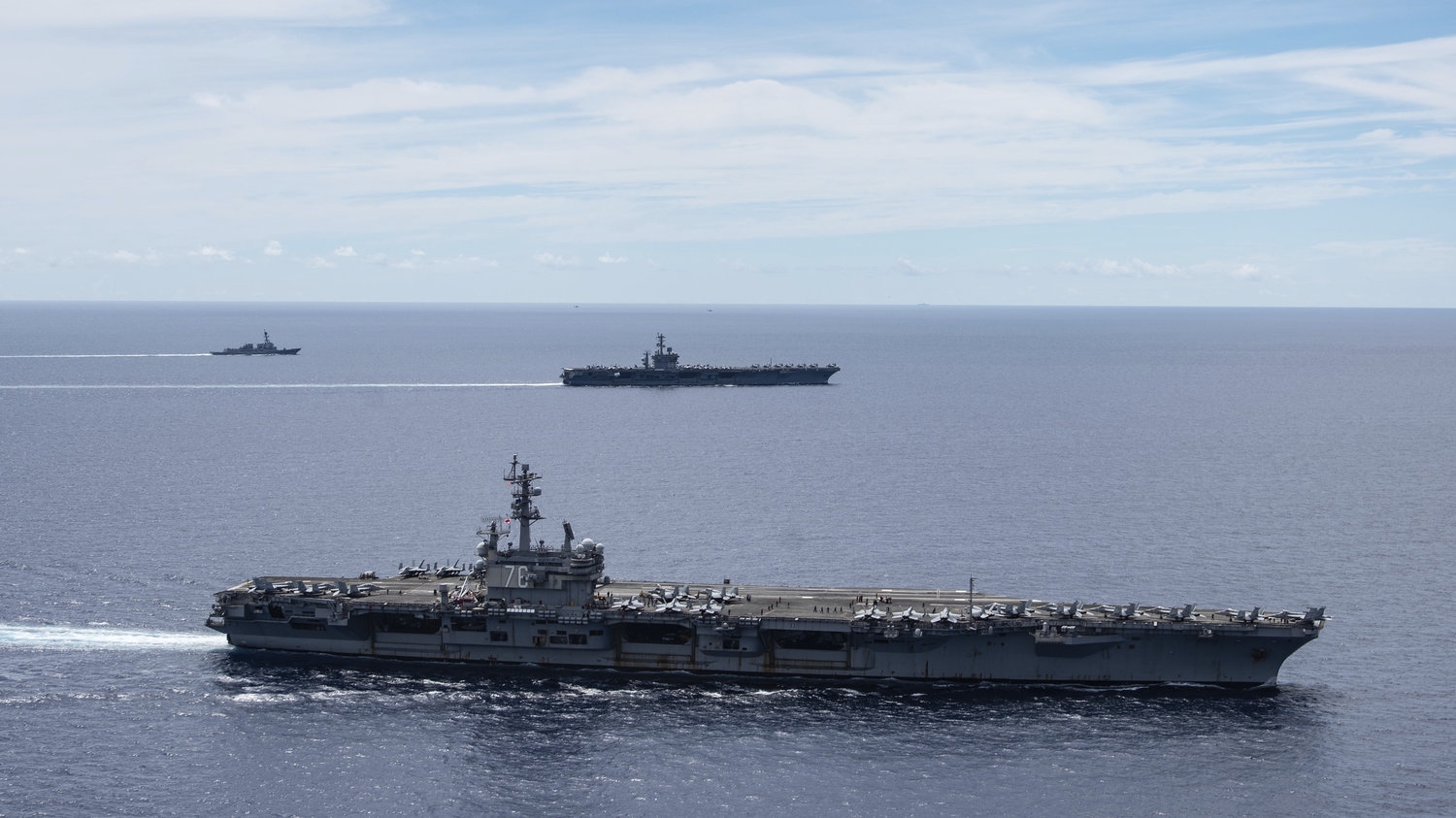 The USS Ronald Reagan (foreground) and the USS Nimitz Carrier Strike Groups sail together in formation in the South China Sea on July 6. Photo: U.S. Navy via AP
militarytimes, CNN, NYTimes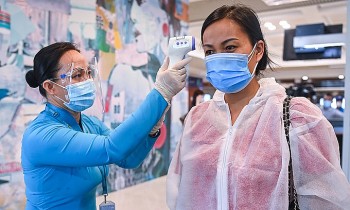 National
Vietnam News Today (October 20): Vietnam adds 3,034 Covid-19 cases to national infection tally; HCM City enhances cooperation with China's Shanghai; Thirty-two localities declare Covid-19 risk levels; Transport ministry mulls letting the unvaccinated fly.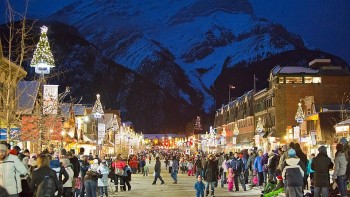 Travel
If you are looking to celebrate your Christmas somewhere else outside the country, then Canada can be the perfect choice for you with these 10 best and most idyllic places to have a wonderful Christmas holiday with your friends and families.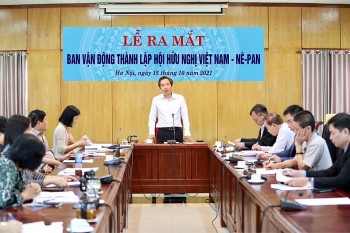 Friendship
The Advocacy Committee for the establishment of the Vietnam - Nepal Friendship Association was officially launched.