US, UK among Countries Recognising Vietnam's Vaccine Passport: Spokesperson
The United States, Japan, the United Kingdom, Australia and Belarus have recognized Vietnam's vaccine passport.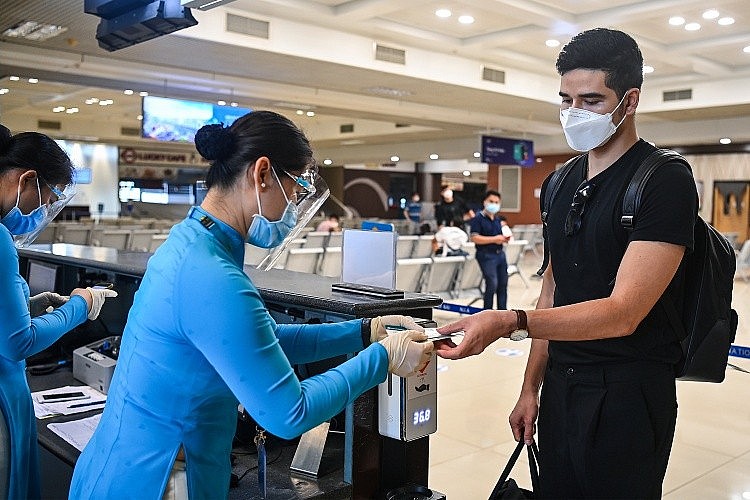 A passenger at the Noi Bai Airport, Hanoi, October 2021. Photo: VnExpress
The Vietnamese Ministry of Foreign Affairs is actively discussing with about 80 partners about mutual recognition of vaccine passports, with many countries having recognized Vietnam's vaccination certificate, said Foreign Ministry spokeswoman Le Thi Thu Hang.
Speaking at a press conference in Hanoi on December 9, Hang said many countries such as the United States, Japan, the United Kingdom, Australia and Belarus have recognized Vietnam's vaccine passport, while India and Canada have agreed in principle.
A number of other partners, including members of the ASEAN bloc, the European Union, China, and the Republic of Korea are still considering and waiting for the Vietnamese side to come up with a consistent vaccine passport template, she said.
"Vietnamese authorities are also quickly completing software solutions to soon issue a vaccine passport form according to international standards," Hang told the press, as cited by VOV.
Mutually recognised vaccine passports can be used to travel from one country to another. Photo: internet
Vietnam is accepting vaccine passports from 78 countries and territories, with the addition of six more since October; and it is part of a similar list in Australia.
"Vietnam has temporarily recognized vaccination certificates from 78 countries and territories," the spokeswoman confirmed.
The six new countries are: Canada, Iran, Iraq, Maldives, South Africa and Zimbabwe, according to VnExpress.
The 78 countries and territories include Poland, the United Arab Emirates (UAE), the Republic of Korea (RoK), Kazakhstan, Mongolia, Oman, Thailand, Romania, Japan, New Zealand, Brazil, Sri Lanka, the Czech Republic, Morocco, Saudi Arabia, Armenia, Germany, Russia, the UK, Austria, San Marino, Laos, Singapore, Belgium, Spain, Denmark, the US, Italy, Bulgaria, Slovakia, Norway, Sweden, Israel, France, Turkey, Azerbaijan, India, Switzerland, China, Pakistan, Ireland, Greece, Kuwait, Colombia, the Netherlands, Australia, Finland, Taiwan (China), Hungary, Belarus, Cambodia, Algeria, Canada, Indonesia, Nepal, Mexico, Bolivia, Croatia, Portugal, Turkmenistan, Palestine, Qatar, Libya, Egypt, Timor Leste, Ukraine, the Philippines, Malaysia, Luxembourg, Argentina, Jordan, and Brunei./.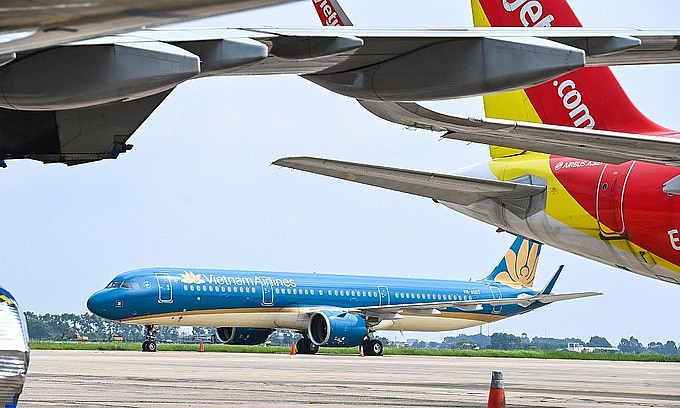 Aircraft park at Noi Bai International Airport in Hanoi, October 2021. Photo: VnExpress
The Ministry of Transport has suggested that the government allows international flights to resume on nine routes from next week (December 15).
In a plan submitted earlier, the ministry proposed that the resumption be carried out in two pilot phases, VnExpress reported.
The first phase starting Dec. 15 will reopen flights between Vietnam and San Francisco or Los Angeles (the US), Singapore, Bangkok (Thailand), Phnom Penh (Cambodia), Vientiane (Laos), Beijing (China), Tokyo (Japan), Seoul (South Korea), and Taipei (Taiwan).
The first phase, lasting two weeks, will see four flights per week on each route in each direction, expected to carry 28,000 people to Vietnam. Airports that are allowed to operate in this period would be the Tan Son Nhat in HCMC and Noi Bai in Hanoi.
The second phase will start next January, adding flights on routes connecting Vietnam and Kuala Lumpur (Malaysia), Hong Kong, Paris (France), Frankfurt (Germany), Sydney (Australia), and Moscow (Russia).
For this phase, which will last a month, four airports will be added to the itineraries: Da Nang, Cam Ranh in Khanh Hoa province, Phu Quoc in the eponymous island and Van Don in Quang Ninh province.
Flight frequency will be increased to seven on each route in each direction, with around 160,000 people expected to arrive in Vietnam.