Vietnam Welcomes First Foreign Visitors with Vaccine Passports
A Vietjet Air flight arrived at Phu Quoc International Airport, the southern province of Kien Giang on Nov. 20, carrying the first international visitors to the island after nearly two years due to Covid-19.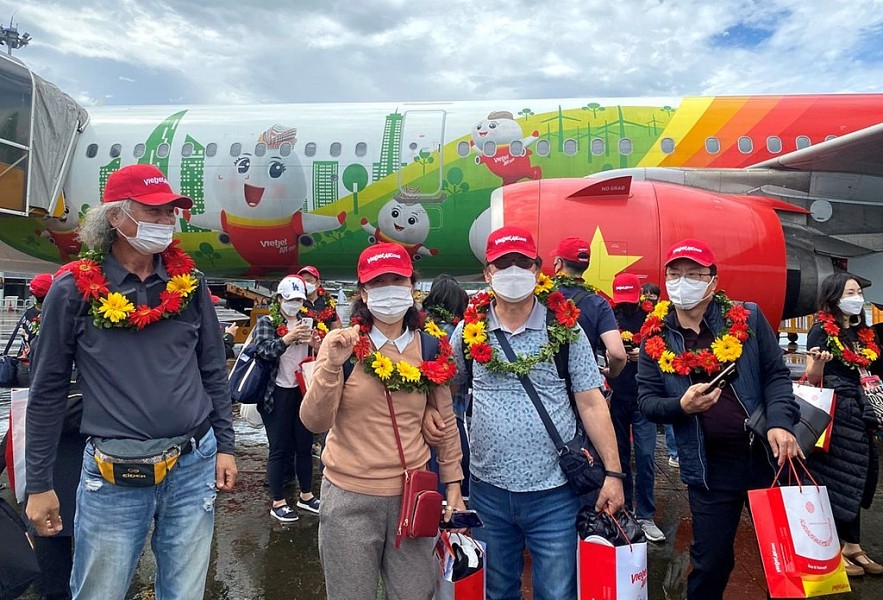 First international tourists to Phu Quoc. Photo: VNA
The 204 visitors from the Republic of Korea (RoK) were welcomed at the airport by the leader of Kien Giang and the Vietnam National Administration of Tourism, as well as representatives of travel operators.
"I am happy to see everything, from the scenery to the way we were received, is so great," said a tourist on his first trip to Phu Quoc.
Tourists undergo health screening at the airport, before traveling to Phu Quoc United Center, where they will spend the next four days.
Resorts, entertainment and sport venues, parks and zoos, among other services, will all be available.
During their trip, tourists will be Covid tested twice, once when they enter the island and again when they leave.
Nguyen Trung Khanh, head of the Vietnam National Administration of Tourism, said the visit was among the first of the trial vaccine passport programme, both for Phu Quoc and Vietnam. It is a step towards resuming tourism in Vietnam, he added.
Nguyen Luu Trung, deputy chairman of Kien Giang People's Committee, said the event marked a new chapter for Phu Quoc's tourism.
"We believe with cooperation between businesses, until the end of the year, Phu Quoc could receive and serve up to 400,000 tourists," he said.
Kien Giang is one of five localities to get the green light from the government to welcome back fully immunized tourists from November onwards along with Quang Nam, Khanh Hoa, Quang Ninh, and Da Nang.
In Quang Nam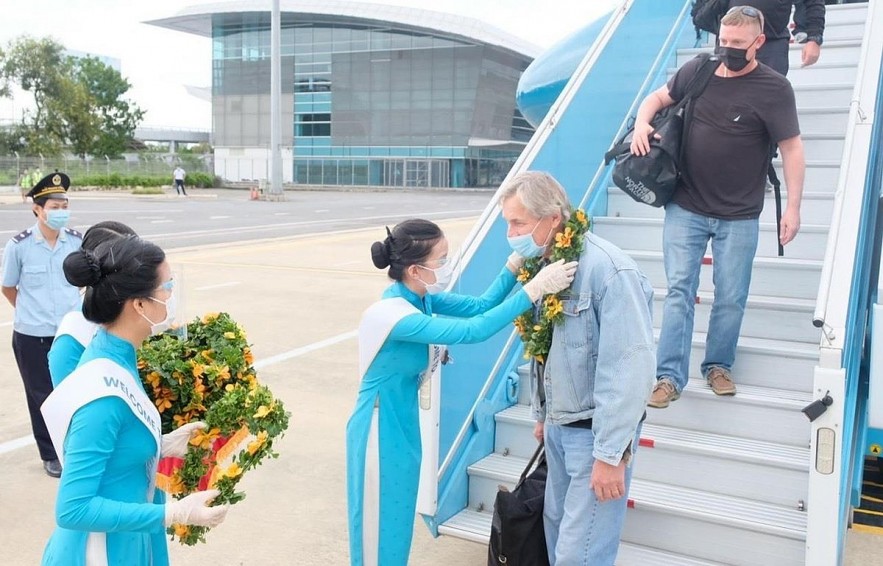 Vietnam Airlines staff welcome foreign tourists arriving at Da Nang International Airport, Nov. 17, 2021. Photo courtesy of Vietnam Airlines
On Nov. 17, a group of 30 international visitors from the US, the RoK, and Canada arrived in Quang Nam, becoming the first tourists to visit the central province under the pilot program.
Upon their arrival, the tourists were transferred to the New Word Hoiana Hotel in Duy Hai commune where they plan to take a tour of local destinations in the coming days.
On Nov. 18, 100 tourists from the US, Canada, and the RoK also came to the province – home to the world heritage sites of Hoi An ancient town and My Son Sanctuary.
Quang Nam is scheduled to receive another group of foreign holidaymakers on Nov. 25.
The three flights will therefore bring a total of over 300 foreign visitors to the province.
They will join an eight-day-seven-night package tour of Hoi An ancient city, My Son relic site, and several entertainment areas, according to Nguyen Nhu Nam, general director of Vietnam TravelMART travel company.
In Da Nang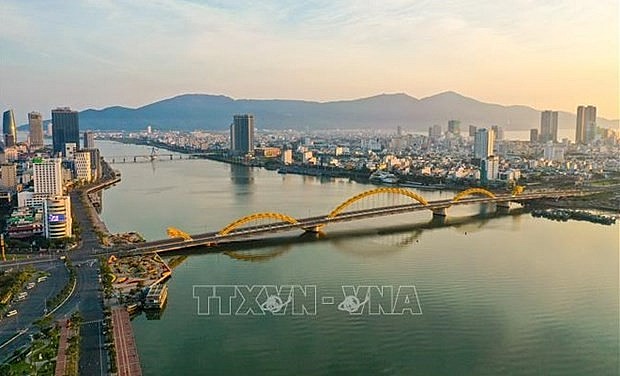 Dragon Bridge spanning the Han River in Da Nang city. Photo: VNA
After a hiatus caused by the Covid-19 pandemic, the central city of Da Nang has opened its door to international tourists under a three-phase pilot road map.
In the first phase from this November, Da Nang, a large travel hub in the central region, is welcoming foreign visitors through package tours, charter flights, and international commercial flights to the designated areas and tourism service establishments in Phu Quoc city (Kien Giang province), Da Nang, and the provinces of Khanh Hoa, Quang Nam, and Quang Ninh.
In the second phase from January 2022, the city will expand the group of international tourists it is reopened to. They can also take part in tours of destinations in the five abovementioned localities.
It will completely reopen to international tourists in the third phase, whose beginning will depend on the pandemic situation and outcomes of the first two phases.
The municipal Department of Tourism said the reopening to international travelers aims to gradually recover the tourism industry and related sectors, helping guarantee social security and popularise Da Nang as a safe and attractive destination.
Foreign visitors to the city between November 2021 and February 2022 will be mainly overseas Vietnamese and from several key markets like the Republic of Korea and Japan, according to the department.
On Nov. 17, a Vietnam Airlines flight from the RoK landed at Da Nang International Airport, carrying the first international visitors to Vietnam after a long period of pandemic-triggered suspension. After landing, they moved to Hoi An city of neighboring Quang Nam province to spend their registered holiday there.
Viet Nam News reported that on Nov. 11, two charter flights brought more than 400 Korean and Japanese fully vaccinated passengers from Seoul and Tokyo to the southern resort city of Nha Trang in Khanh Hoa province.
Requirements for international tourists
Tourists must prove certificates of taking full doses of the Covid-19 vaccination or Covid-19 recovery recognized by authorities in Vietnam, except children under 12 years old accompanied by parents or guardians. For Covid-19 recovery patients, the time from being discharged from the hospital to the time of departure must not exceed six months.
Other conditions include having negative results for the SARS-CoV-2 test by RT-PCR/RT-LAMP method within 72 hours before departure and certified by the authority of the country conducting the test (from time of sampling) and having medical or travel insurance that covers Covid-19 treatment worth at least USD50,000.
Tourists must have their temperature regularly checked and install the IGOVN application during their stay. Masking is required, and there will be no quarantine mandate.
On the first day of entry, tourists will be taken to the accommodation facility and have Covid-19 tests. They can continue their stay if the tests prove negative; otherwise, they will be taken to a medical facility and the cost will be covered by insurance or travel agency.
Within the first seven days, tourists must adhere to the schedule, observe pandemic prevention regulations and take self-tests every two to three days. In case of having any symptoms of fever, cough, shortness of breath or sore throat, they must inform medical staff for screening tests.
After seven days, those who continue to stay in Vietnam must be tested for Covid-19 and could travel to other localities within the program if the results are negative. Those who want to see their relatives in Vietnam need to register with their tour operators.