USA mass shooting: Two dead, over 20 were injured
Early on Sunday, at least 2 people were kill and more than 20 others were injured in Miami after attackers opened fire on concertgoers outside a banquet hall, becoming the fourth mass shooting in May.
Police are asking for the public's help in finding whoever opened fire at a Florida club early Sunday, killing at least two people and wounding at least 20 more, Miami-Dade Police Department Director Alfredo Ramirez III said.
Shortly after midnight, a white Nissan Pathfinder pulled up to the El Mula Banquet Hall near Hialeah and three people "stepped out of the vehicle with assault rifles and handguns and started firing indiscriminately into the crowd," Ramirez said.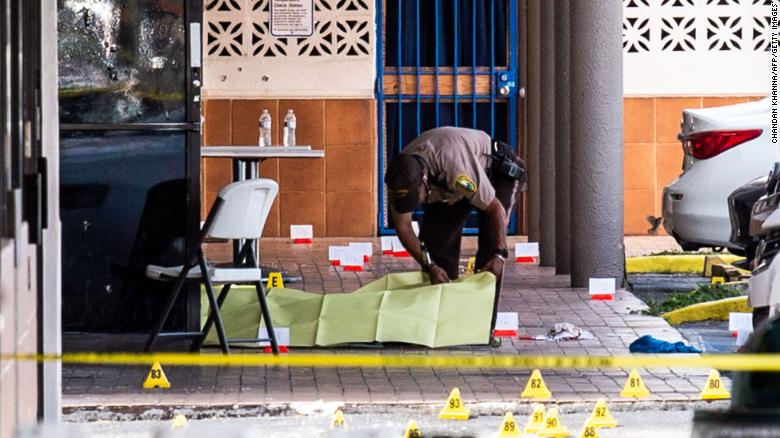 A Miami-Dade officer covers a body outside a club that was rented out for a concert. (Photo: CNN)
"This is a despicable act of gun violence, a cowardly act," he told the Miami Herald. "This type of gun violence has to stop. Every weekend it is the same thing. This is targeted, this is definitely not random."
No suspects were in custody and authorities indicated they expected the death toll to rise. Marcus Lemonis, a Miami businessman and CNBC television host, offered a $100,000 reward for information leading to a conviction.
On Friday night, a drive-by shooting in Wynwood left one dead and six wounded. Authorities were alerted by ShotSpotter, an audible detection system that relays the sound of gunfire. A law enforcement source said officers who arrived to find victims lying in the road outside the rented party venue likened that scene to "a war zone".
Some of the shooting victims' loved ones wait outside the Ryder Trauma Center at Jackson Memorial Hospital in Miami on Sunday. (Photo: CNN)
Officers responding to gunshot detection system alerts in Wynwood shortly before midnight found several people with what appeared to be gunshot wounds, Miami Police Department spokeswoman Kiara Delva said.
Some shooting victims arrived at the hospital on their own, Delva said.
One victim was taken to University of Miami Hospital, and six others were at Jackson Memorial Hospital, according to Delva.
Delva said one person later died and six others were recovering.
Detectives are searching for a silver Nissan Maxima that may have been involved in the shooting, according to police.
With almost all pandemic restrictions lifted, visitors have swelled numbers in Miami, a popular vacation destination, for the Memorial Day weekend and the Urban beach week hip-hop music festival.
Police have not said if they believe the shootings are linked, but said that it appeared the victims were targeted in both attacks. After the Friday incident, detectives found shell casings from at least two types of weapon.
In the Sunday incident, authorities said, eight wounded were taken to hospital by ambulance, at least three in critical condition. A further 12 people went to local hospitals on their own, the Herald reported.
TV crews at the scene counted almost 100 evidence markers, a likely indicator of the number of shots fired.
Angela Green, whose 24-year-old son was at the concert, told reporters at Jackson Memorial hospital he was shot in the stomach but was expected to survive.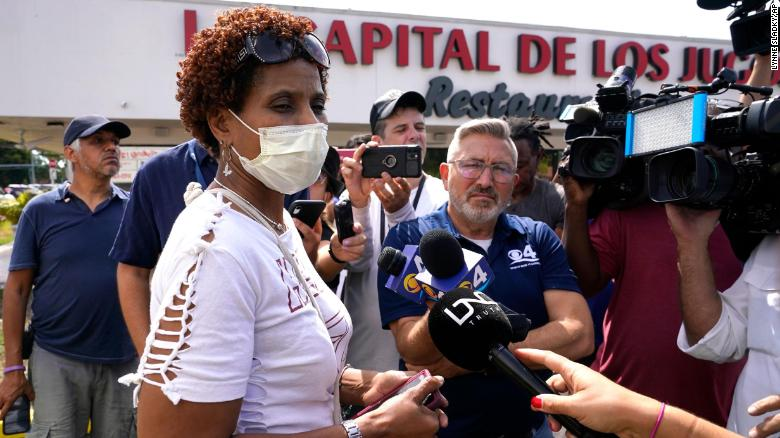 Angelica Green said her son and nephew hadn't made it into the club when they were shot. (Photo: CNN)
"He called us frantic, saying he had been shot, that it hurts and that he loves us," Green said. "My husband was like, 'No, stay with us.' He said the guys came with ski masks and hoodies and just started shooting up the crowd."
Art Acevedo, chief of the Miami police department, a separate jurisdiction to Miami-Dade detectives investigating the shooting, blamed political inaction for failing to curb gun violence.
"We had our own shooting the night before where seven people were shot and one dead," he told CBS's Face the Nation. "It's just an indication of the problem we have with the scourge of gun violence in this country that we need to do much more at a federal level to stop.
"We need universal background checks. We need to make burglarising licensed gun stores a federal crime with mandatory sentencing. And we need the federal government and both sides to address this issue because without legislation, without certainty as it relates to holding these criminals accountable, we're never going to get through the summer without much more death and destruction."
Gun control is stalled in the divided US Senate, following the passage of two bills by the House. Joe Biden announced in April his own series of executive orders designed to address the "international embarrassment" of gun violence in America.
All the mass shooting in America in May
To some, it might have seemed as if mass shootings all but halted during the coronavirus pandemic, with a year passing between large-scale shootings in public places.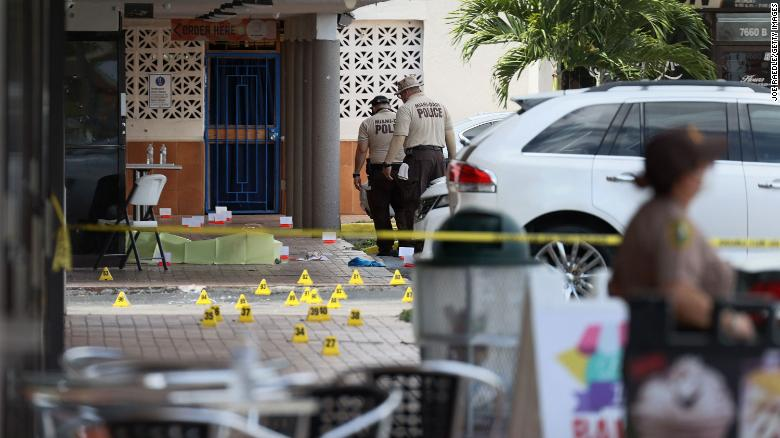 Miami-Dade police investigate Sunday near shell case markers on the ground. (Photo: CNN)
But the shootings never stopped. They just weren't as public.
The Gun Violence Archive, which defines a mass shooting as one with four or more people injured or killed, not including the perpetrator, counted more than 600 such shootings in 2020, compared with 417 in 2019.
That carnage has continued into 2021, with at least 232 mass shootings as of May 26. (Including Wednesday's shooting in San Jose, Calif, the archive, a nonprofit organization, has counted 15 mass murders, which it defines as four or more people killed, in 2021.)
There is little consensus on the definition of a mass shooting, complicating the efforts of nonprofits and news organizations to document the scope of the problem.
May 28: Wynwood, Miami
Seven people were shot, one died, when a gunman opened fire near Wynwood Friday, police said. The incident happened at approximately 11:53 p.m. Friday in the area of NW 1st Court and 20th Street. Officers responding to the scene found several victims with apparent gunshot wounds.
May 26: San Jose, Calif.
Nine people were killed in a shooting at a rail yard in San Jose, Calif., early on Wednesday, the Santa Clara County Sheriff's Office said. The gunman, a transit worker, was also dead, said the authorities, who believed he had taken his own life.
May 9: Colorado Springs
A man killed six people before fatally shooting himself at a birthday party at a mobile home park. Friends, family and children were gathered inside when the shooting occurred. The gunman was "a boyfriend of one of the female victims," the police said.