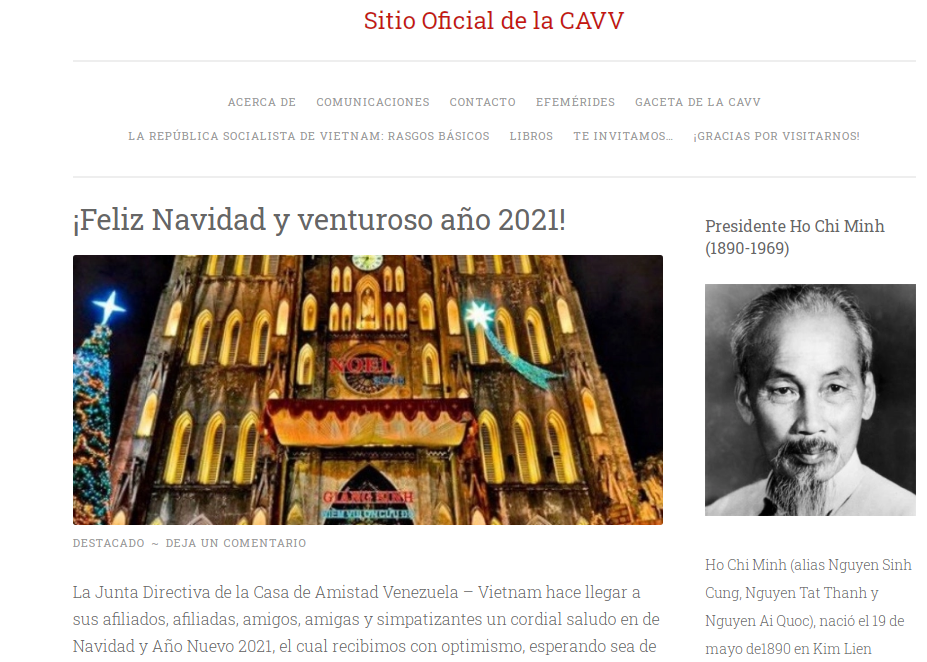 Screenshot of the Venezuela – Vietnam Friendship Association's e-portal.
On the occasiong of the 31st anniversary of the establishment of the bilateral diplomatic ties, the executive board of the Venezuela-Vietnam Friendship Association (Casa de Amistad Venezuela – Vietnam CAVV) made debut during a ceremony held on October 22, 2020.
The Association also has launched an electronic portal at https://amistadvenviet.wordpress.com to promote communications on people-to-people diplomacy, Vietnamese culture and people, and the solidarity and friendship between the two countries, reported VNA.
The e-portal has columns on Vietnam, providing readers with President Ho Chi Minh's Nhat Ky Trong Tu in Spanish. It also published the first newsletter of the CAVV's activities in recent times.
The development of the portal is part of efforts to improve the quality of and modernise methods of information transmission, meeting requirements on timely provision of information on major activities and events between the two countries, contributing to promoting Vietnam's image to partners and friends in Venezuela.
It is also a forum for Venezuelans who love Vietnam to get insights into the Southeast Asian nation and make interactions, thus further strengthening traditional friendship between the two peoples.
Vietnamese Ambassador Le Viet Duyen congratutes Chairman of the Venezuela-Vietnam Friendship Association Carolus Wimmer, who also is head of External Relations of Communist Party of Venezuela. Source: Vietnamese embassy
CAVV Chairman Carolus Wimmer, , who also is head of External Relations of Communist Party of Venezuela, in an open letter to introduce the e-portal, thanked members of the association for their contributions and efforts to put the portal into operation.
Wimmer added that moving forward CAVV will seek focus, active co-operation, and contribution from members, the Embassy of Vietnam in Venezuela, in addition to Vietnamese media agencies, in order to enrich the association's website to develop it into a trusted address for readers in Venezuela, Latin America, and the wider world.
Vietnam and Venezuela established diplomatic relations on December 18, 1989, which was upgraded to a comprehensive partnership in 2007.
Since then, despite geographical distance, both nations have constantly strengthened their friendship and collaboration through the exchange of contacts and all-level delegation.
In recent months, Vietnam's governments, businesses, and people have donated supplies such quick test kits, medical masks, personal protective equipment and rice as well as cash donation to assist the fight against COVID-19 in many nations, including Venezuela.
The Embassy of Vietnam in Venezuela in August handed over medical equipment to the host country's Ministry of Foreign Affairs, along with 20,000 face masks from the Vietnamese National Assembly to help Venezuela deal with the novel coronavirus pandemic.
Hannah Nguyen