Video: PM Trudeau pauses for 21 seconds when asked about Trump's response to protests
Asked about U.S. President Donald Trump threatening the use of military force against protestors in the United States, Prime Minister Justin Trudeau paused for 21 seconds before saying "we all watch in horror and consternation." He did not comment on Trump.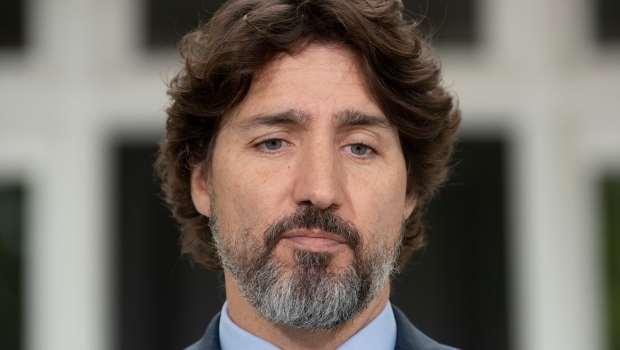 Prime Minister Justin Trudeau struggled to find the words to answer a question about President Trump's response to the protests roiling the United States
When asked Tuesday to comment on President Trump's threat to use military force against protesters demonstrating against the death of African American George Floyd in police custody, Prime Minister Trudeau paused for 21 seconds before giving a carefully worded response.
He opened his mouth, then shut it — twice. He softly groaned.
WATCH VIDEO | Prime Minister Justin Trudeau pauses when asked about Trump's response to protests:
He avoided criticizing the president directly, instead speaking more broadly of social "injustices."
"We all watch in horror and consternation what's going on in the United States", Prime Minister Justin Trudeau said.
Protests in support of George Floyd, the black man killed by a white Minneapolis police officer, occurred across the country last weekend and in Toronto were connected to the death of Regis Korchinski-Paquet — a 29-year-old black woman who plunged from her family's high-rise apartment shortly after the police arrived, answering a distress call. The incident is being investigated by a police oversight unit.
"It is a time for us as Canadians to recognize that we too have our challenges," said Prime Minister Trudeau, NYT cited.
PM Trudeau has long been hesitant to wade into domestic U.S. politics or condemn Trump's more controversial remarks.
Trump has been known to lash out at his critics and Trudeau has tried to maintain a diplomatic relationship with the leader of Canada's largest trading partner — a country Canada depends on for critical supplies of personal protective equipment during the pandemic.
Deputy Prime Minister Chrystia Freeland said Trudeau's answer to the Trump question was "excellent and eloquent."
"I think that most important response of any Canadian political leader has to be to understand our own responsibility for what happens here in our own country," she said with CBC News.
Green Party Leader Elizabeth May said she's not prepared to criticize the prime minister and Freeland for their silence on Trump's threat to call out the military to restore order in America's cities.

She said the two depend on a healthy relationship with the Trump administration to negotiate agreements, such as the agreement on managing the border during the COVID-19 pandemic.

"I want to give the prime minister and the deputy prime minister the space to navigate how they deal with the Trump White House. But, as an individual, as the parliamentary leader for the Green Party, I can't stand by.… I think those of us in other countries should speak out," May said to CBC News.
However, NDP Leader Jagmeet Singh has condemned Prime Minister Justin Trudeau's failure to call out the "reprehensible" actions of U.S. President Donald Trump as protests escalate over anti-black racism.
Bloc Québécois Leader Yves-François Blanchet said Trudeau "needs a spine" and should show more courage in the face of aggressive actions by a U.S. leader that are fuelling chaos on the country's streets.
PM Trudeau: Co-ordinated global recovery plan
Prime Minister Justin Trudeau will continue today to make the case for a co-ordinated global response to cushion the economic impact of the COVID-19 pandemic on the world's poorest countries, Canada Press reported.
He'll be among the leaders and heads of state to deliver remarks during a virtual summit of the Organization of African, Caribbean, and Pacific States (OACPS).
Among other things, he is expected to promise that Canada will partner with developing countries, which stand to be the hardest hit by the pandemic, and help to rally the world behind measures like debt relief to help them survive the crisis.
That is similar to the message Trudeau delivered last week while co-hosting a major United Nations summit, alongside UN secretary general Antonio Guterres and Jamaican Prime Minister Andrew Holness.
According to Canada Press, Without a global co-ordinated recovery plan, the UN estimates the pandemic could slash nearly US$8.5 trillion from the world economy over the next two years, forcing 34.3 million people into extreme poverty this year and potentially 130 million more over the course of the decade.
CBC, CanadaPress, NYT