Vietnam - a fertile market for international fashion brands
Both budget and luxurious brands in the fashion industry are present in the Vietnamese market.
Budget fashion brands H&M, Uniqlo, Zara attract customers
An H&M store at Vincom Center Dong Khoi (District 1, Ho Chi Minh City) on April 4 was still packed with customers while many shops surrounding were quiet. Between 11-12 a.m, there were about 100 customers to the store. Nearly a dozen people were queuing at the counters. It seemed that the shopping atmosphere at this store didn't cool down amidst the wave of calling boycott H&M from Vietnamese netizens.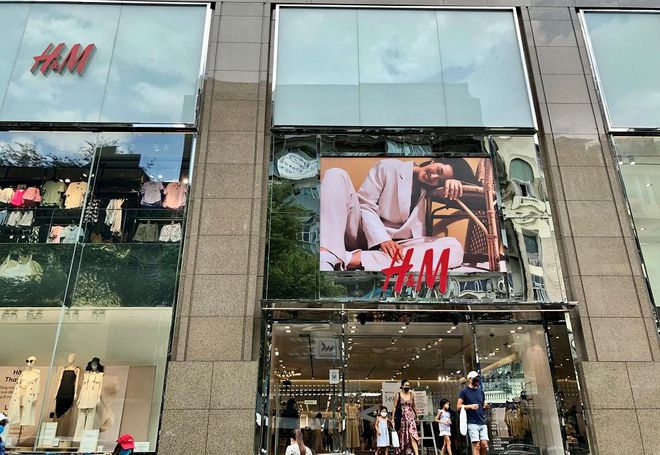 An H&M store in Vietnam. Photo: Thanh Nien
Hanh, a customer said the budget fashion brands such as H&M, Zara or Uniqlo, etc constantly change models and have affordable prices, hence, they're preferred by many shoppers. At a Zara store, from the areas selling women's and men's clothing to one selling children's clothing, are crowded. Or at a Uniqlo store at the Parkson Le Thanh Ton Shopping Center (District 1, Ho Chi Minh City), customers are seen constantly going in and out. Apart from the abovementioned brands, other ones like Mango, Gap, Topshop, Levis, etc also welcome many customers.
This shows that Vietnam has become a fertile market for foreign fashion products. Especially, despite entering the Vietnamese market for a short time, brands such as H&M and Uniqlo have launched many stores.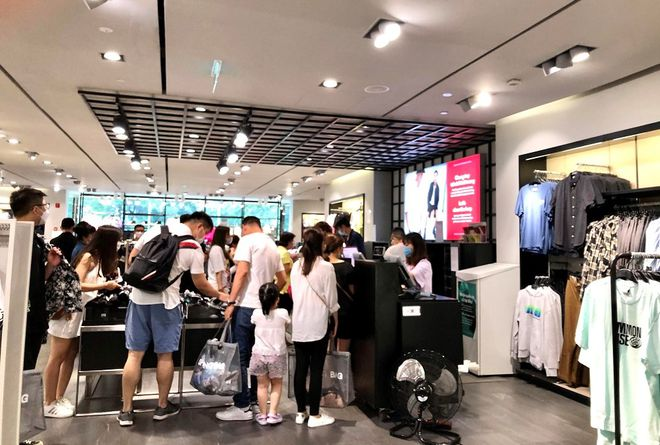 A counter at an H&M store is crowded with people. Photo: Thanh Nien
On September 9, 2017, H&M marked its presence in the country by opening its first store at Vincom Dong Khoi. Before the opening time, thousands of people lined up outside the store. The Swedish clothing company reported 12,000 shoppers to the store on that day.
It now has 12 stores in Vietnam, including 5 stores in Hanoi, 4 in Ho Chi Minh City, and 3 in Can Tho, Da Nang, and Ha Long. Its revenue increased from VND 227 billion ($9.8 million) in 2017 to VND 1.116 billion ($48.6 million) in 2019.
In 2018, Zara raked in a revenue of over VND1.700 billion ($74 million) which was higher than that of high-end fashion retailers such as Tam Son Fashion and Mai Son International Retail.
Meanwhile, Uniqlo opened its fourth store in HCMC early this year, raising the number of its stores in Vietnam to 7 only after one year of entering the country.
Chanel, Gucci, LV, etc are also favorite
Deluxe fashion brands have also drawn the attention of many Vietnamese customers. During the past one month, Dung, living in HCMC, has been "hunting" for a Chanel WOC. In addition, she purchased a cardholder at a price of VND13 million ($567). Meanwhile, Thu, an office worker bought an LV scarf worth more than VND5 million ($218) and LV Felicie worth nearly VND24 million ($1,046).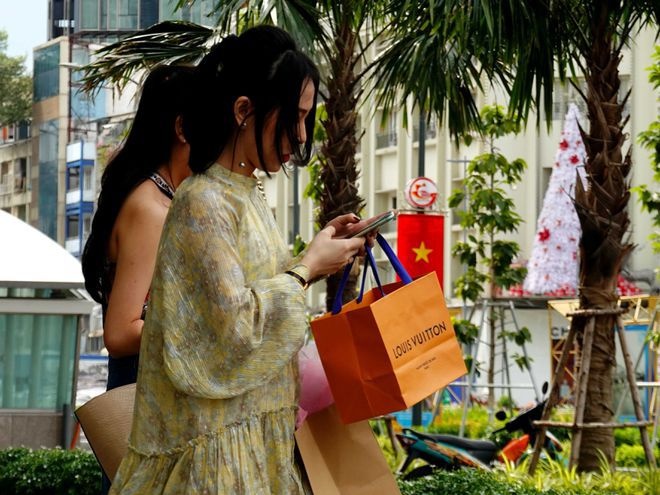 LV is also preferred by Vietnamese customers. Photo: Thanh Nien
According to Pham Xuan Hong, Chairman of the Ho Chi Minh City Association of Garments, Textiles, Embroidery and Knitting (AGTEK), most international fashion brands are doing business well in Vietnam is due to the fact that the locals are often into the well-known brands. Zara, Uniqlo, or H&M with affordable prices have grabbed the attention of Vietnamese and puts pressure on domestic brands, he added.
According to the market research company Statista, the revenue of luxurious fashion products in Vietnam was estimated at $974 million in 2020, representing a year-on-year decline of 6% due to the Covid-19 epidemic. However, they are forecasted to enjoy a rapid recovery with a growth of more than 17% in the next year, Statista added.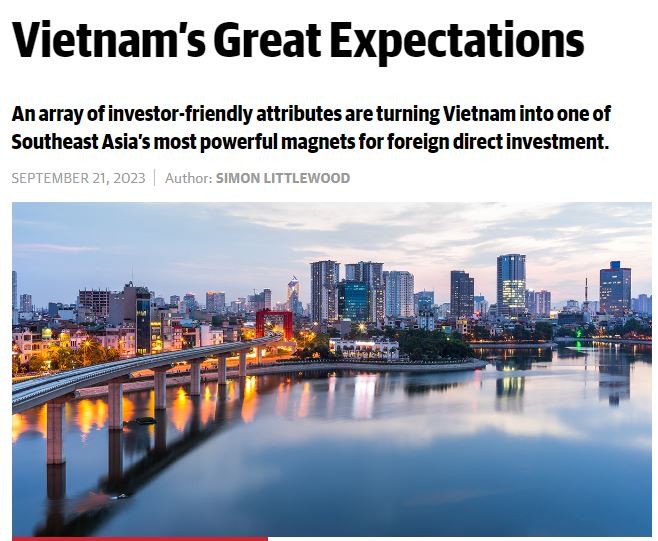 Economy
"An array of investor-friendly attributes are turning Vietnam into one of Southeast Asia's most powerful magnets for foreign direct investment," said Global Finance Magazine in a recent article.
September 23, 2023 | 16:38
Economy
Vietnam has a fast-increasing semiconductor ecosystem and possibilities to improve its position in the global supply chain. In the joint announcement of the US-Vietnam Comprehensive Strategic Partnership, the two countries acknowledged Vietnam's significant potential to become a key nation in the semiconductor industry, adding they "are supportive of the rapid growth of the semiconductor ecosystem in Vietnam."
September 22, 2023 | 09:22