Vietnamese community in Ukraine - Fulcrum in the raging pandemic
Thanks to mutual support and sharing, about 10.000 Vietnamese in Ukraine have steadfastly overcome the COVID-19 pandemic.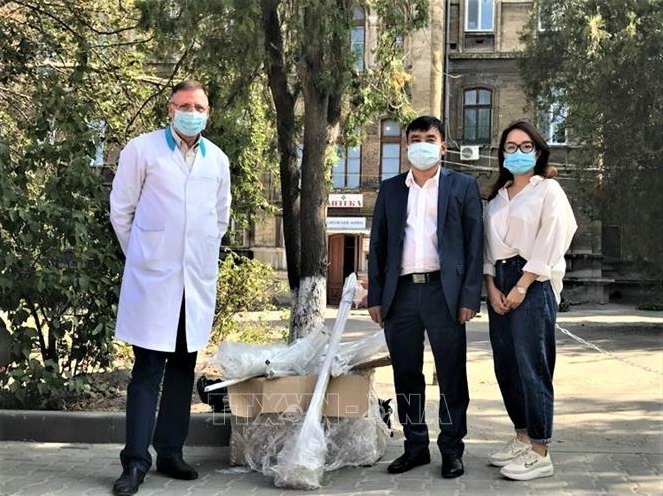 Gifts sent to a Ukrainian hospital. (Photo: Vietnamese Community in Odessa)
COVID-19 situation has been developing complicatedly, as the number of new infections and daily death has continuously raising to reach the highest level ever (more than 18.000 new infections and 340 death per day). In this third wave, the number of new cases significantly rises. On some peak days, more than 5.000 patients have to be hospitalized, causing overload. However, the Vietnamese community in this Eastern European country, which includes about 10,000 people, has steadfastly overcome the ranging COVID-19 thanks to pre-pandemic experience, as well as mutual support and sharing.
Mr. Nguyen Hai Anh, Vice President of Vietnamese Association in Odessa, a province in southern Ukraine, a member of Odessa's Community Pandemic Prevention Department, said that the locality is home to a large number of Vietnamese (more than 3,000 people), living mostly in 2 urban zones named Lang Sen and Sorsa. Currently, Odessa records Vietnamese infected with COVID-19 every day, some even have to be hospitalized.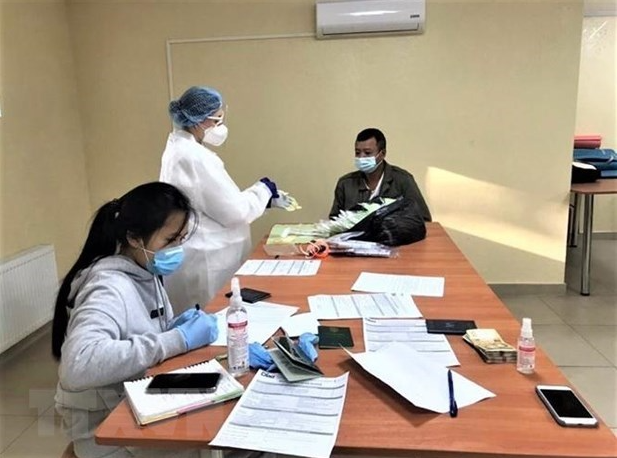 Vietnamese in Odessa took COVID-19 tests. (Photo: VNA)
Odessa's Community Pandemic Prevention Department, founded in last year's March after the pandemic broke out in Ukraine, has become a bridge to help serious cases to be hospitalized in Odessa's Hospital for Infectious Diseases - the best hospital in treating COVID-19 in the province. Mr. Nguyen Van Hung, the most active Department's member, stated that the Vietnamese Association in Odessa has long relations with the province's Hospital for Infectious Diseases. Therefore, in this pandemic period, the department could proactively contact the hospital for consultants and checkups when necessary.
Keep in mind the spirit of quick and active reply, the Department has set up quick response teams, asked the people to inform the Department of their body temperature and oxygen concentration in the blood twice a day. Those who have high fevers are contacted to timely hospitalized. Thanks to the wholeheartedly and thoughtful preparation and caring from the Vietnamese Community in Odessa and the Community Pandemic Prevention Department, the Vietnamese are now much more assured and cheerful compared to the initial pandemic period. Hai Anh shared in joy: "I and Hung have been receiving many phone calls from the Vietnamese people, saying that they feel at ease."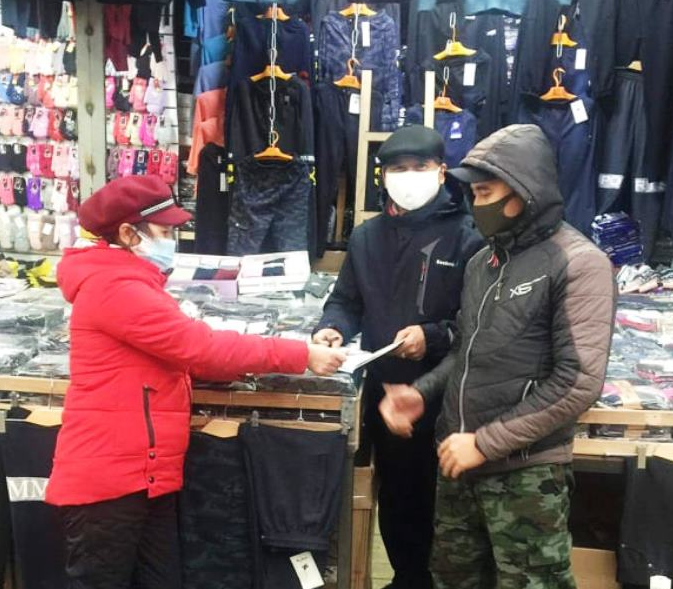 Vietnamese in Ukraine. (Photo: VNA)
According to Mr. Dang Xuan Tieu, a COVID-19 patient, the leaders of the Vietnamese Association in Odessa province are "not only so warm-hearted", but also knowledgeable and experienced. They helped people in the Vietnamese community who are sick to be timely treated and hospitalized. "One has to be in struggles to know how important their community is", said Tieu.
It can be said that on the land of Ukraine, wherever Vietnamese people live, community gratitude appears sharply in the pandemic period. There are Community Pandemic Prevention Department in Odessa, Fund to Control COVID-19 Pandemic in Kiev, supporting group for Vietnamese in Ukraine and Volunteer Interpreter Group in Kharkov,...
Mr. Ho Sy Truc, Vice President of the Vietnamese Association in Kiev, said that the Vietnamese here had founded groups to support the infected Vietnamese to get hospitalized. Over the last year, the Vietnamese community has actively donated to Ukrainian hospitals' anti-COVID-19 funds, sharing with the host country in the fight against the pandemic, spreading Vietnam's good natures. It can be seen that in the ranging pandemic, community spirit and the mutual assistance of the Vietnamese people have been shown deeply. This spirit has been increasingly strengthened, and become a solid fulcrum for the Vietnamese communities abroad to cope with this "destructive wave".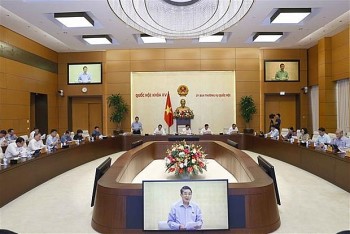 National
The National Assembly (NA) Standing Committee examined the draft revised Law on Protection of Consumer Rights on August 15 as part of its monthly session.