Vietnam Ambassador to France: Stay calm, support together and overcome "Covid-19" affliction
Together with other Vietnam embassies worldwide, Vietnam Embassy in France has been taking more continuous measures and activities supporting native communities as well as providing timely information on local disease situation and responses, in efforts to prevent virus spread.
Vietnamtimes would like to introduce the Vietnam Ambassador to France 's share on the complex development of Covid-19 disease.
Vietnam Ambassador to France Nguyen Thiep (Photo: Baoquocte)

Active, flexible and adaptable
Amid the unpredictable and more dangerous development of Covid-19 pandemic, overseas Vietnamese feel basically anxious and distressed. Therefore, Ambassador Nguyen Thiep said that Vietnam Embassy playing its role as the center connecting Vietnamese overseas and in the homeland always grasps overseas Vietnamese's situation as well as native regulations on urgent responses in order to actively and flexibly adapt to the disease development and timely support and calm beloved citizenship.
In particular, after the announcement of President Emmanuel Macron that France officially took part in " a battle against coronavirus enemy" and the lockdown of the whole country, both Embassy and Consulate partly turns to work online to reduce unneccessarily direct contact. That may impact work of dealing with Vietnamsese citizens' claims. Therefore, the Ambassy has cancelled all online appointments and immediately met demands online and sent by post.
It is realized the more important mission during this difficult time is to protect citizenship, closely following assignments by Ministry of Forreign Affairs and taking advantages of human resources to deal with Vietnamese nationals' affairs in the host country.
"When Covid-19 infections continuously increased in France, the Embassy received numerous calls daily, even in the middle night. Right after the web for citizenship protection was set up, the Embassy sometimes could have received 600 emails with hundreds of calls concerning on homeland disease situation and support from Vietnamese government and the embassy" Thiep shared.
Besides, the Embassy in association with student association, Vietnamese community in France to call for a medical support from doctors and medical students in France volunteer to help each other. These associations have assisted to list 24 doctors volunteering to support, consult Vietnamese expatriates on diagnoses and preventive measures. Its website has been online registered for volunteer support by 6 doctors and medical students.
Thiep also said about the most concern of how to " rescue citizens stranded in the airport". During the last two weeks, many countries has put a ban on entry to foreigners against disease spread. It caused Vietnamese expatriates locked the way back home, so do those in France. The Embassy has kept working and associating with airlines as well as local authorities for repatriations.
Together with, we overcome the " gale of affliction"
According to Thiep, it is confirmed about 1,250 citizens currently registering for being protected by the Embassy, including 70% of studetns with only 10 tourists. Besides, only 12-15% of them wished to return home last days, and 60 of them had been back to the homeland. 80% of remains said that thay were ready in both mental and physical preparation in the lockdown time in France and registered for supporting when neccessary.
Basing on the assessment, repatriates who wished to go home soon were almost tourists staying in a few days with expiry visa, those visiting relations or pathological background with high risks of Covid-19 infections or 6-month pregnants visiting husbands without native medical insurance.
The Embassy has also received many calls from students express their concerns of anxiety from family asking them to go back home.
"That pressures on expatriates due to almost straight flights suspended and high-risk transits of native limitation. And, more causes worried the over 12-hour transit flights the highest infectious source while students in France owns their medical insurance and experiencing a modern health-care system…", so, students shouldnot have returned home country in such high risks" Thiep assested the concern of escaping from the disease.
He informed that there were 4 families and Vietnamese students confirmed Covid-19 infectious and supported by Vietnamese doctors in France for emergency cure and local quarantined. Among, Nguyen Huyen Vy and her family in Cretei took the most serious case, her father was in serious emergency and vetilation, her daughter got fever and treated while her mother and grandmother couldnot speak French.
" It was memorable day as of 12 March, after supported by the Embassy and doctors, Nguyen Huyen Vy expressed her emotion like coming back the life of a drowning man would catch at a straw when receiving the call from the embassy.
Inspite of movement limitation orders, officials has still determined to go out for direct motivation and support to citizenship protective measures.
Thiep presented that anybody concerned and worried of the risks , but with awareness of mission and responsibility to be overseas Vietnamese's bridge and reliance inspiring them to work with their hearts.
How long France overcomes the peak pandemic doesn't matter, definitely Vietnamese expatriates in France choosing to stand by French and those expecting back to home would take their all efforts joining hands to work together and triumph over the Covid-19 upheaval.
thoidai.com.vn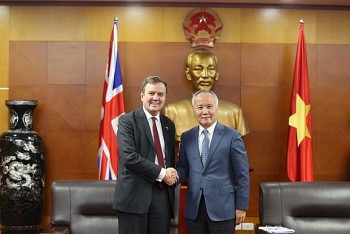 Economy
UK ready to boost CPTPP's economic firepower, said the Trade Minister on Vietnam visit