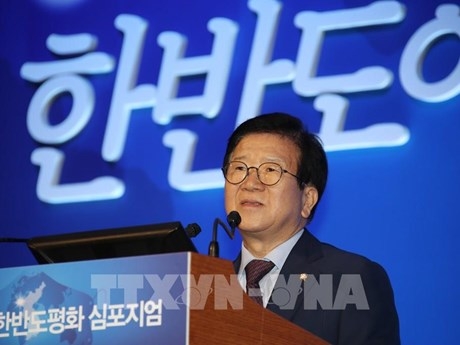 The Speaker of the National Assembly of the Republic of Korea, Park Byeong-seug. Photo: VNA
The visit will be made at the invitation of Chairwoman of the Vietnam National Assembly Nguyen Thi Kim Ngan.
The Vietnam-RoK relations have grown steadily based on political trust between the two countries' high-ranking leaders, similarities in history and culture, mutual economic assistance, and people-to-people exchange.
After their relationship was upgraded to a strategic cooperative partnership in 2009, the two nations have become each other's important partner, with broader cooperation across economics, trade, investment, labour, and development cooperation.
Culture and education cooperation, and people-to-people exchange have served as an important foundation for the two countries' people to deepen their mutual understanding.
Notably, the Vietnam-RoK and RoK-Vietnam friendship parliamentarians' groups have acted as a bridge connecting the two countries' legislative bodies and peoples.
During the meeting with Vietnamese Ambassador Nguyen Vu Tung on October 22, the RoK top legislator affirmed Vietnam is a central cooperation partner in the RoK's New Southern policy.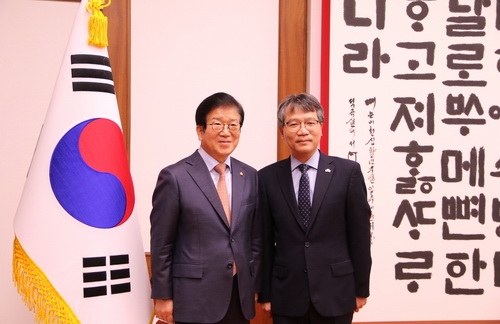 Speaker of the National Assembly of Republic of Korea (RoK) Park Byeong-seug (R) receives Vietnamese Ambassador Nguyen Vu Tung in Seoul. Photo: Vietnam's embassy
RoK so far has bilateral free trade agreements with two ASEAN countries; Singapore and Vietnam. The country has also been in negotiations for more FTAs with Malaysia and the Philippines.
Korean combined exports to Vietnam in 2019 reached USD 48 billion while Vietnam was the third-largest export destination for Asia's No. 4 economy in 2019, with China and the US standing as the top two.
South Korea is currently the fifth largest investor in the first half of 2020 in Vietnam with a total capital of nearly USD 545 million. Currently, Korean businesses own more than 8,000 investment projects in Vietnam, contributing 30% of total export value and more than 700,000 jobs in many localities.
Last month, RoK's Foreign Minister Kang Kyung-wha became the first foreign minister to have made an official visit to Vietnam so far this year./.
Hannah Nguyen