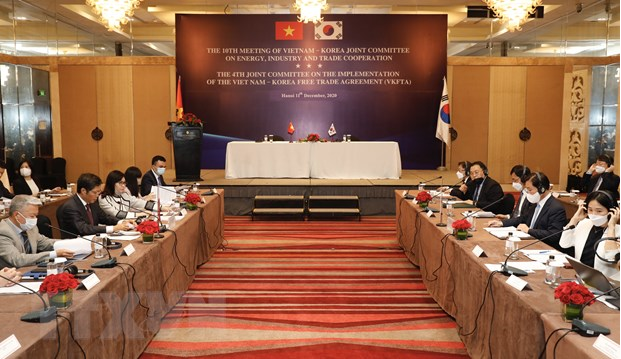 Vietnamese Minister of Industry and Trade Tran Tuan Anh and Korean Minister of Trade, Industry and Energy Sung Yunmo co-chair the 10th Meeting of Viet Nam-RoK Joint Committee on Energy, Industry and Trade Cooperation. Photo: VGP
Vietnam and the Republic of Korea (RoK) have signed an action plan to complete the target of raising their bilateral trade to 100 billion USD by 2023. The signing took place during the 10th meeting of the Vietnam-RoK Joint Committee on Energy, Industry and Trade Cooperation on December 10-12
The agreement was reached on Friday by Vietnamese Minister of Industry and Trade Tran Tuan Anh and Korean Minister of Trade, Industry and Energy Sung Yunmo at the 10th Meeting of Viet Nam-RoK Joint Committee on Energy, Industry and Trade Cooperation.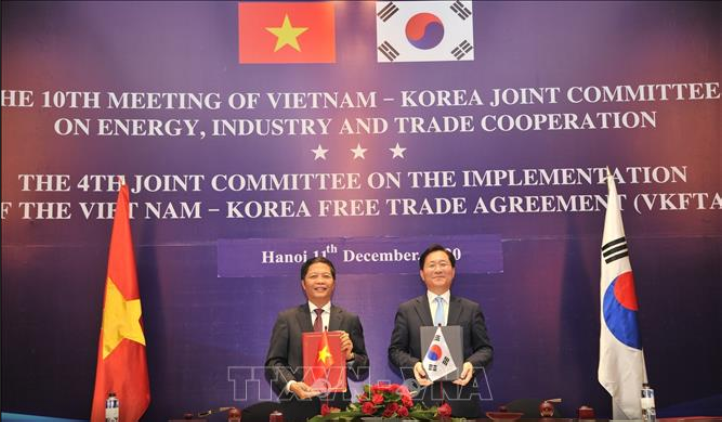 Vietnam and the Republic of Korea (RoK) have signed an action plan to complete the target of raising their bilateral trade to 100 billion USD by 2023, Photo: VNA
The action plan is of significant importance as it figures out measures and roadmap to advance bilateral cooperation in industry, trade and energy in the next few years.
Under the plan, the two countries will work to strengthen Korean investment flows to Viet Nam, support Korean businesses in Viet Nam to increase export value to the RoK, improve Vietnamese exporters' competitiveness capacity, and enhance technological transfer and technical assistance from the Northeast Asian country, according to VGP.
At the meeting, the two ministers agreed on a range of activities to foster technological transfer, improve quality of human resources, and enhance investment connectivity, particularly in automobile, mechanics, electronics, and garment-textile.
On energy, the paired agreed to boost Korean investmentin liquefied natural gas power and renewable energy projects as well as cooperation in improving efficiency and safety of energy in Viet Nam.
Regarding trade domain, the two ministers discussed solutions to expand and facilitate trade in farm produce, and address technical issues that affect bilateral trade ties.
On the occasion, Anh and his Korean counterpart Sung also co-chaired the fourth Joint Committee on the implementation of the Viet Nam-RoK free trade agreement (VKFTA)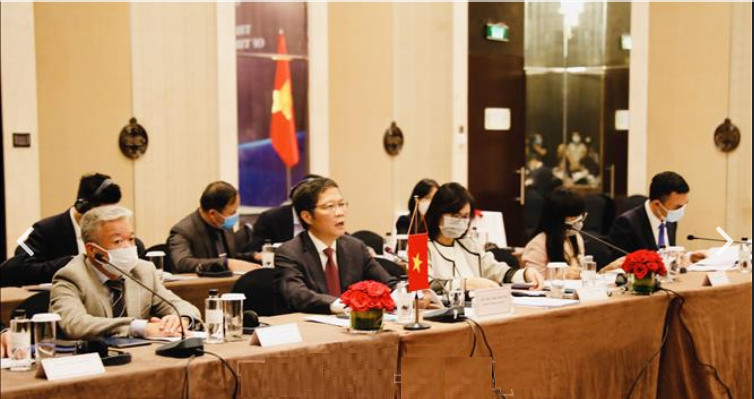 Vietnamese Minister of Industry and Trade Tran Tuan Anh and delegates. Photo: VNA
They also co-chaired the 4th Joint Committee on the Implementation of the Viet Nam-RoK Free Trade Agreement (VKFTA), during which they discussed on several issues like customs, product origin, animal and plant quarantine, commercial technical barriers and trade remedies among others in order to utilize the benefits brought about by the trade deal.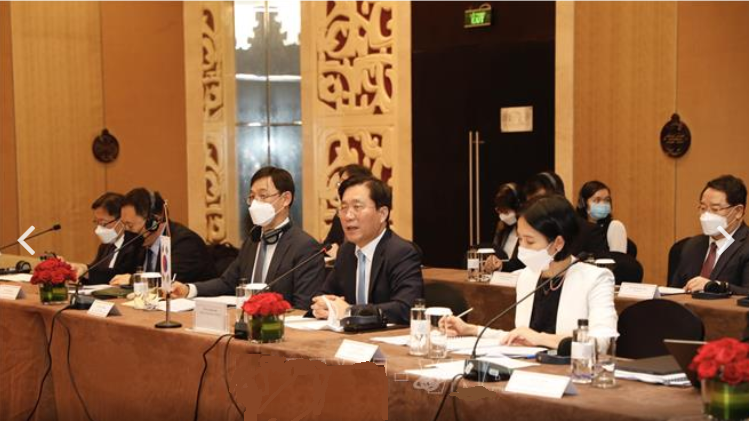 Korean Minister of Trade, Industry and Energy Sung Yunmo and delegates. Photo: VNA
The trade deal was signed in May 2015 after two years of negotiations.
This a comprehensive, high-level commitments and ensure a balance of benefits, including 17 Program Agreement, Article 208, Annex 15 and 1 implementation agreement provisions.
The main contents of the Agreement are: Trade in Goods, Trade in Services (including the Annex on telecommunications services, financial services, movement of natural persons), Investment and Intellectual Property, the measures for food safety and animal and plant quarantine (SPS), rules of origin, customs Facilitation, trade Remedies, technical barriers to trade (TBT), e-Commerce, competition, economic Cooperation, institutional and Legal.
Tarah Nguyen