Vietnam brings Covid-19 vaccine into human clinical trial on November
Military Hospital 103 of the Vietnam Military Medical Academy will start the clinical trial of the Covid-19 vaccine this October, Zing reported.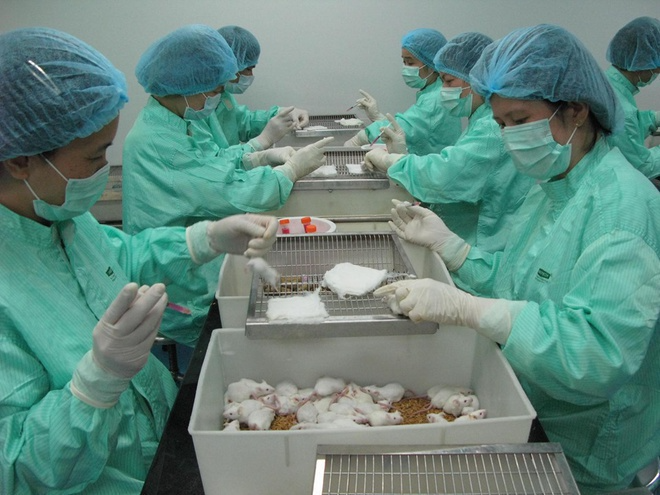 If the vaccine works and is safe following the clinical trials, it is expected to be commercially marketed in mid-2022. Photo: VABIOTECH.
The information was elaborated by Lieutenant General Pham Hoai Nam, Deputy Minister of National Defence at a press briefing at Military Hospital 103 last weekend. Earlier, the unit said that it is necessary to evaluate the protective effects of the vaccine on experimental animals before conducting the trial tests on humans.
According to the document issued by the World Health Organization (WHO), the vaccine production process consists of four major stages. Clinical trials are just a small part of the project.
The vaccine has to be in the first stage in the lab and on animals for experiments. In the second stage, which is the clinal trial on humans- the research unit will conduct experiments in many stages with an increasing number of volunteers.
Vietnamese researchers of the Company for Vaccine and Biological Production No.1 (VABIOTECH) under the Ministry of Health have begun performing trials for the vaccine on 12 healthy macaca mulatta monkeys, according to VOV.
According to Prof. Dr. Nguyen Thu Van, former director of VABIOTECH, testing a COVID-19 vaccine on monkeys is just a step in the vaccine research process. Research units can choose to experiment on different animals such as mice, monkeys, or rabbits.
This is a step forward for VABIOTECH, though it is still in the pre-clinical stage in the laboratory, says Van.
She notes Vietnam is slow compared to the world in COVID-19 vaccine production, but the vaccine, after being licensed, will be used widely, clinical trials require great care. She points to the fact that the world has entered the clinical trial phase and problems have arisen in several countries.
"If laboratory results are good and satisfactory, we will have COVID-19 vaccine for use in mid-2022," says Prof. Van.