Vietnam Covid-19 Updates (July 17): National Tally Surpasses 46,000
The country has so far seen 44,284 domestic infections and 2,008 imported ones. 18 more Covid-19 deaths have brought the country's total death toll to 225, the Ministry of Health reported on July 16.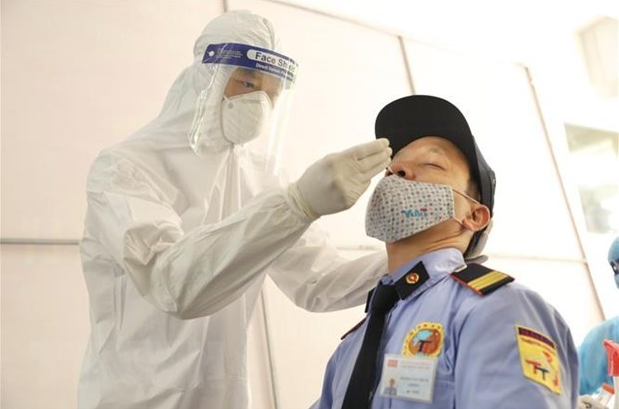 Photo: VNA
National tally surpasses 46,000
The Ministry of Health reported the detection of a further 1,898 new cases of Covid-19, including 15 imported infections on the afternoon of July 16, increasing the total daily infections to 3,336. Ho Chi Minh City, the nation's largest Covid-19 epicenter, recorded more than 2,420 new cases on July 16 alone, with more than 23,200 infections detected during the latest Covid-19 wave.
Vietnam recorded 2,106 new Covid-19infections, including one imported case, from 6:30 pm on July 16 to 6 am on July 17, raising the national count to 46,292. They comprise 1,769 in Ho Chi Minh City; 124 in Binh Duong, 43 in Dong Nai; 42 in Vinh Long, 41 in Dong Thap, 34 in Ben Tre, 22 in Khanh Hoa; seven in Binh Phuoc, six in Soc Trang, four in Can Tho, three in An Giang, two each in Hanoi, Bac Ninh and Binh Dinh, one each in Phu Yen, Lam Dong, Dak Nong, and Gia Lai. Of the new cases, 1,680 were detected inside quarantined or locked-down areas.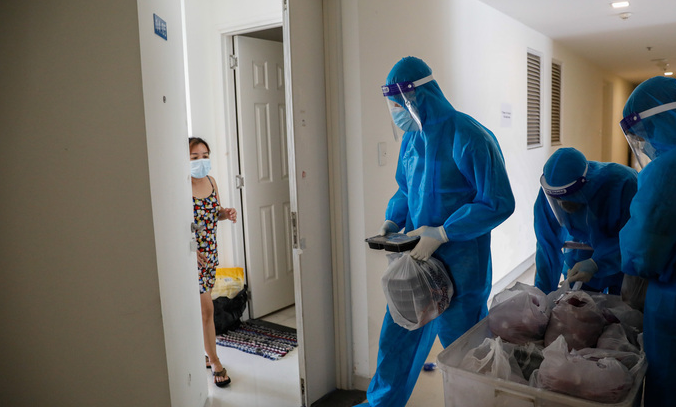 Photo: VN Express
18 Covid-19 deaths bring national count to 225
18 more Covid-19 deaths have brought the country's total death toll to 225, the Ministry of Health reported on July 16.
The fatalities, which occurred from July 8-14, were residents of Ho Chi Minh City (6), Dong Thap (4), Long An (3), Bac Ninh (2) Dong Nai (1), Binh Duong (1), and Bac Giang (1).
At the time of the report, there is no information on the deceased patients' medical history. According to the ministry, there might be other Covid-19 deaths that have not been recorded by local Covid-19 treatment centers. They have been asked to provide full reports to the ministry.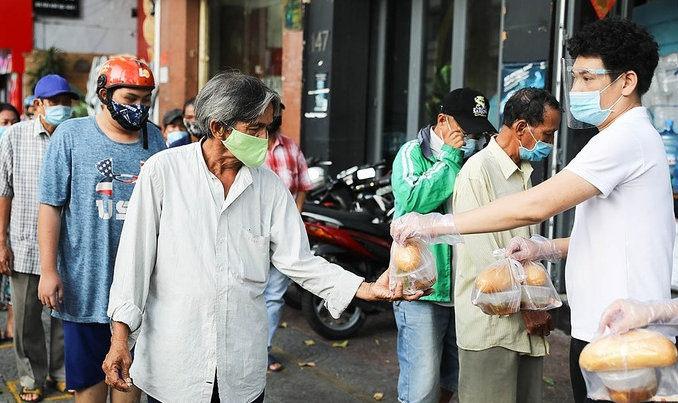 Photo: VN Express
One million AstraZeneca doses donated by Japan arrive in Ho Chi Minh City
The latest batch of AstraZeneca Covid-19 vaccine donated by the Japanese Government landed at Tan Son Nhat International Airport in Ho Chi Minh City on July 16 morning.
The batch of AstraZeneca vaccine, manufactured in Japan and announced by Japanese Foreign Minister Toshimitsu Motegi on July 13, brought the total volume of Covid-19 vaccine granted to Vietnam to nearly 3 million doses in just a month after the first shipment on June 15.
A total of 4,185,623 Covid-19 vaccine doses have been administered to Vietnamese people so far, with 3,890,947 people getting the first shot and 294,676 others fully receiving two jabs.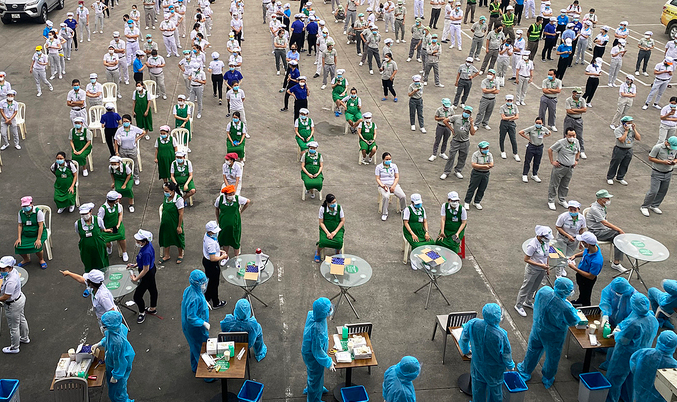 Photo: VN Express
Pilots required to be fully vaccinated to operate flights
Only pilots who are fully vaccinated against Covid-19 with two jabs are eligible to operate flights, the Civil Aviation Authority of Vietnam (CAAV) said in a new directive on mandatory measures for flight safety amid Covid-19. The policy will be applicable from September 1.
The directive requests the CAAV's flight safety standard division to study the Covid-19 Contingency Related Differences (CCRD) of the International Civil Aviation Organisation (ICAO) and issue instructions on the grant of ICAO's Targeted Exemption (TE) this month.
The authority also requires flight operators to strictly adhere to Covid-19 preventive rules. Vaccination must be prioritized to frontline workers, including pilots, flight attendants, technical engineers, who are considered high-risk because of regular contact with passengers, it said.
The country has so far seen 44,284 domestic infections and 2,008 imported ones. The number of infections reported since the fourth wave of Covid-19 outbreaks hit Vietnam in late April amounted to 42,714, 7,246 of whom have been given the all-clear. The total recoveries reached 10,020.
Twelve localities have gone through two weeks without new infections in the community. Among patients under treatment, 267 patients have tested negative to the coronavirus once, 116 twice and 118 thrice.
A total of 4,233,896 doses of Covid-19 vaccines have been administered nationwide so far, with 298,177 people fully vaccinated with two shots.