Vietnam COVID-19 Updates August 6: 3 New Cases Confirmed, Outbreak Expected To Peak In 10 Days.
The 4 new cases are all related to Da Nang, with 1 case reported in Hanoi, and 3 cases in Quang Nam. After analysing the infection of the coronavirus, the Vietnam health sector recommends that in the next 10 days, people should be careful and strictly follow disease prevention guidelines.
Vietnam COVID-19 updates August 6
The National Steering Committee for the Prevention and Control of COVID-19's 6 am announcement on August 6 confirmed 4 more new cases, including 3 in Quang Nam and 1 in Hanoi. All of the new cases are related to Da Nang. Specifically:
- Patient 714: male, a 42-year-old bus operator, currently living in Phuc Dien, Bac Tu Liem, Hanoi. This patient had travelled to Da Nang from July 14 to 17 with his family.
On July 19, the patient had a mild fever, sore throat. On August 4, the patient was admitted to the National Hospital for Tropical Diseases Dong Anh branch and was tested positive for SARS-CoV-2.
- Patients 715 to 717: living in Quang Nam, aged 42 to 45, 1 of which is the daughter of patient 593 and patient 547 and 625's younger sister; the other 2 are F1 of patient 456.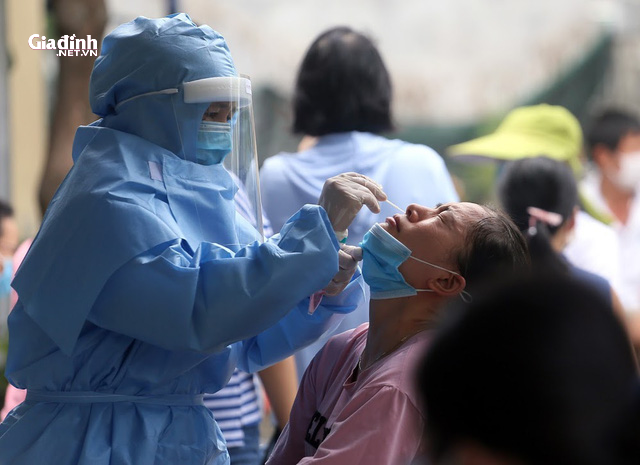 People being tested for COVID-19 in Da Nang. Photo: giadinhvn.
At 6 pm yesterday (August 5), 41 new cases were confirmed. The Ministry of Health informed that patients number 673 to 713 were recognised in Da Nang (34 cases), Lang Son (4 cases) and Bac Giang (2 cases), the other case is a recent arrival.
- Patients number 673 to 678 are from Bac Giang and Lang Son, aged 1- to 41 years old, all of whom have recently travelled to Da Nang. The 6 patients are being quarantined and treated at the National Hospital For Tropical Diseases Đông Anh branch.
- Patient number 679 is a 44-year-old man, isolated immediately after his arrival in Ba Ria - Vung Tau. He arrived at Tan Son Nhat airport from Russia on flight IO4405 on 11/7. Currently, the patient is isolated and treated at Ba Ria Hospital (Ba Ria - Vung Tau).
- Patients 680 to 713 are all in Da Nang, 1-75 years old, 14 of them were previous patients' F1, while 10 of them were patients who had been being treated at Danang Hospital.
The remainder included relatives caring for patients at Da Nang Hospital (7 cases), a medical staff of Da Nang Maternity and Children's Hospital (1 case), police on duty at the Department of Kidney - Endocrinology at Danang Hospital (1 case), Lien Chieu District residents, Da Nang (1 case).
Thus, up to 6 am on August 6, Vietnam had a total of 717 confirmed COVID-19 cases, 309 of which were immediately quarantined at arrival, 268 new cases confirmed from July 25 until now were related to Da Nang.
According to the report of the National Steering Committee for the Prevention and Control of COVID-19, to date, 381 cases have been cured, 8 deaths reported. Among the patients still under treatment, 33 cases have been tested negative for SARS-CoV-2 virus from 1 to 2 times.
The Outbreak Expected To Peak In 10 Days
Speaking to the media on Wednesday (August 5), Deputy Minister of Health said that the number of patients will continue to increase and is expected to peak in the next 10 days. People must be vigilant even when infection tracing is being drastically carried out. Through analysis of the virus infection, the health sector recommends that in the next 10 days, people need to be careful and strictly implement prevention recommendations.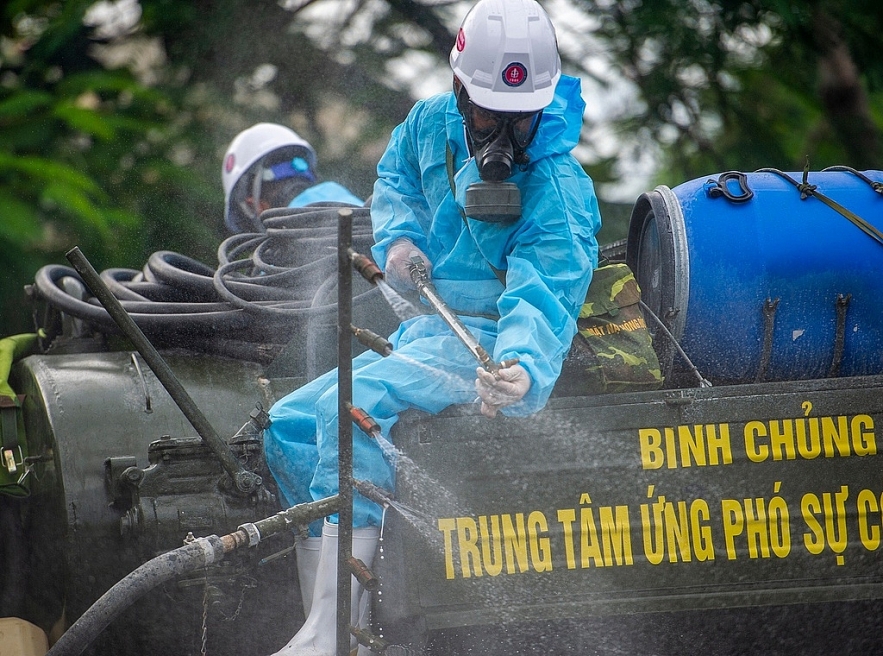 Deputy Minister of Health Nguyen Truong Son said that the peak of the Covid-19 epidemic would appear in the next 10 days. Photo: Hoang Giam
The Ministry of Health announces emergency search for passengers of flight VN7198 from Da Nang to Hanoi on July 24
The Ministry of Health calling for passengers on flight VN7198 from Da Nang to Hanoi on July 24 to immediately contact the nearest health authority for assistance.
Hotlines:
- Ministry of Health: 1900 9095
- CDC Hanoi: 096 9082115 or 094 9396115
The above flight's passengers are asked to:
- Provide phone numbers of people who have been in contact with them.
- Make an online health declaration at https://tokhaiyte.vn or download the NCOVI application from https://ncovi.vn and regularly update your health status.
- Install the Bluezone application to be updated about COVID-19 infection: https://www.bluezone.gov.vn.
Encouraging the use of Bluezone application to prevent and control Covid-19 epidemic
Earlier this week, the Prime Minister suggested that people must install Bluezone application on smartphones to trace Covid-19, protect themselves and their families.
Many people have received messages from the Ministry of Health and the Ministry of Information and Communications asking them to install the Bluezone app on their smartphones since the end of July. On social networks, many groups and influential people have also been urging people to download this application. Therefore, the app's downloads on iOS and Android have skyrocketed in the past week.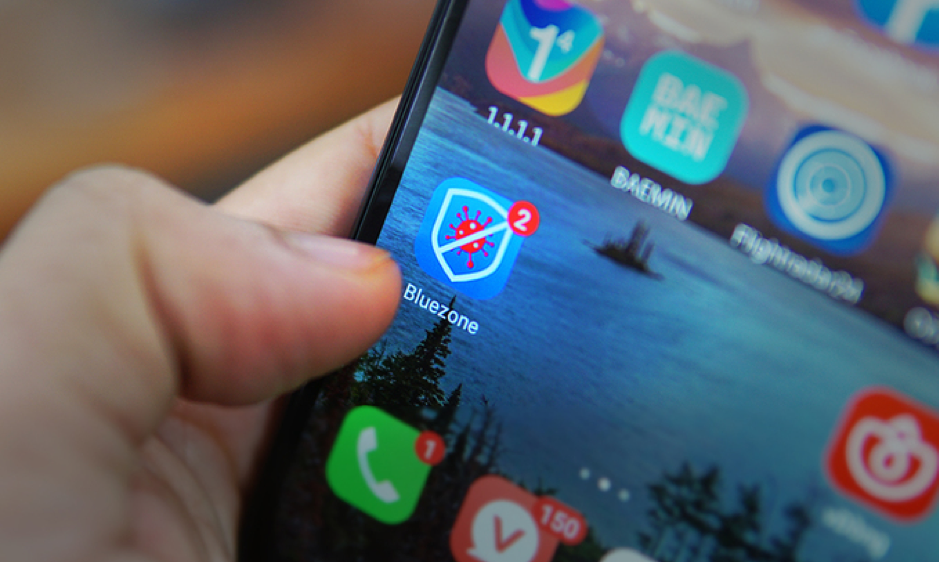 Bluezone app can help control the COVID-19 pandemic.
Bluezone is the name of a COVID-19 early warning application using Bluetooth technology on smartphones to identify safe areas for users.
When users install this application, their daily activities and community contact will automatically be recorded. In particular, all close contacts within a distance of 2 metres are automatically saved.
In case of detecting an infected person, that person's data will be entered into the system, then transferred to all devices in use. The system will automatically compare and analyse the data of the infected person with the contact history saved on the Bluezone system, thereby alerting other users if they have been in contact with the recently infected patients.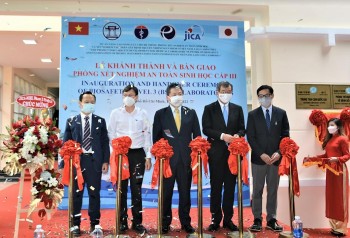 Friendship
The Pasteur Institute in Ho Chi Minh City (PI HCMC) hold an inauguration of its new Biosafety Level-3 Laboratory (BSL-3) on January 17th, 2022. For this new laboratory, the Japan International Cooperation Agency (JICA) has supported the main materials and equipment such as the air conditioning system, the wastewater treatment system, and the two-door autoclave, with a total value of 200 million yen (nearly 40 billion VND).