COVID-19 battle: Cuba gifts drugs, sends doctors to assist Vietnam
Cuban Ambassador to Vietnam, Lianys Torres Rivera, and  Sen. Lt. Gen. Nguyen Chi Vinh, member of the Party Central Committee and Deputy Defence Minister, joined in a ceremony of symbolic acceptance of Cuban drugs, sent by the island to Vietnam to support the fight against COVID-19 pandemic.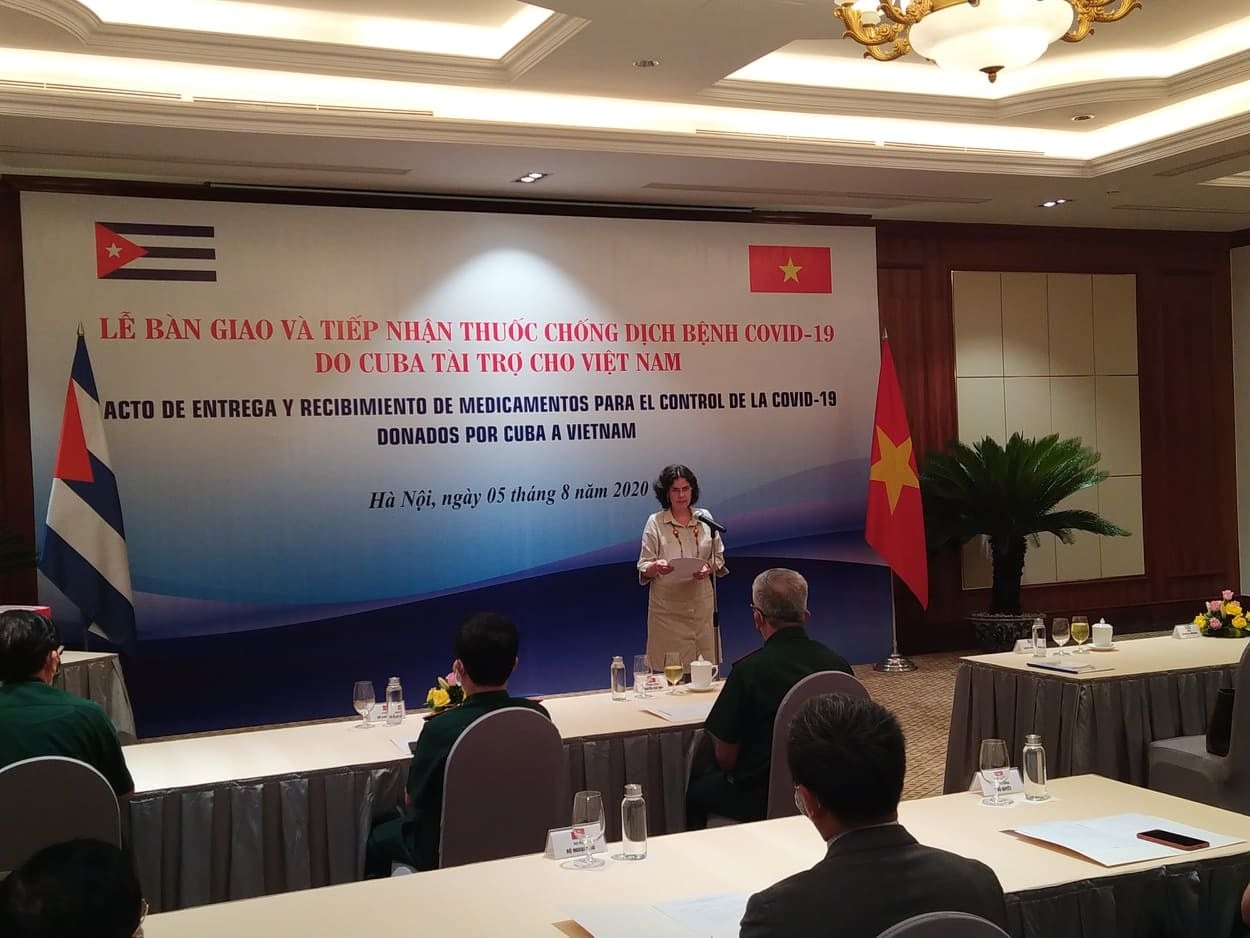 Cuban Ambassador to Vietnam Lianys Torres Rivera at the event. Photo: Cuban Embassy
The medicine, interferon Alfa 2B produced by Cuba, is of special importance in treating the COVID-19 heavy cases.
The whole batch was immediately transferred to the central city of Da Nang and Quang Nam province - the two hotspots at present, to help them fight COVID-19.
Da Nang has recorded hundreds of infections cases, with eight deaths. The city has put three major hospitals - the General Hospital, the C Hospital and Cardiovascular Centre under lockdown.
Bordering Da Nang city, the epicenter of the current COVID-19 outbreak, Quang Nam has applied social distancing measures under the Government's Decree 16 in pandemic-hit localities and locked down areas where cases with complex travel history are detected.
A group of Cuban health experts also has been sent to Vietnam to support the fight.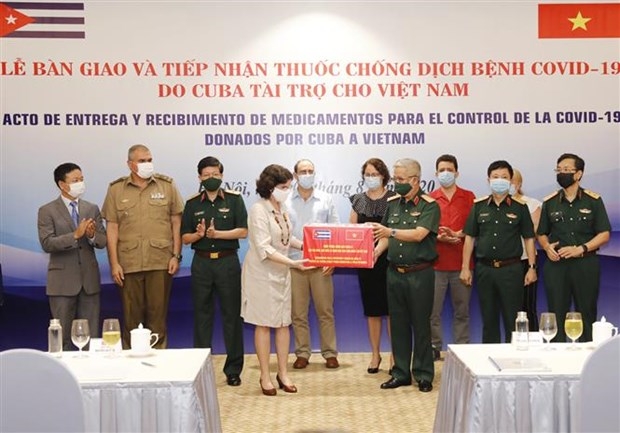 A batch of medicine sent from Cuba to help Vietnam fight the COVID-19 pandemic. Photo: VNA
Speaking at the ceremony, Cuban Ambassador to Vietnam Lianys Torres Rivera said the handover of the medicine to assist Vietnam in the fight against the pandemic helps affirm the desire to boost bilateral cooperation in the medical and pharmaceutical fields with Vietnam, contributing to the bilateral relations of comprehensive cooperation.
The diplomat expressed her hope that the two sides will continue their efforts to maintain and intensify the fine traditional relations, showing to the world the strength of solidarity and cooperation in effectively fighting the common challenges of the mankind.
For his part, Sen. Lt. Gen. Nguyen Chi Vinh, expressed gratitude to the Cuban people for their special sentiment to Vietnam, especially in this difficult time, and affirmed that this is an example of solidarity and friendship in such difficult times due to COVID-19.
Vinh expressed his hope that the coordination from two countries' offices and units in implementing cooperation activities with Cuba in the time to come.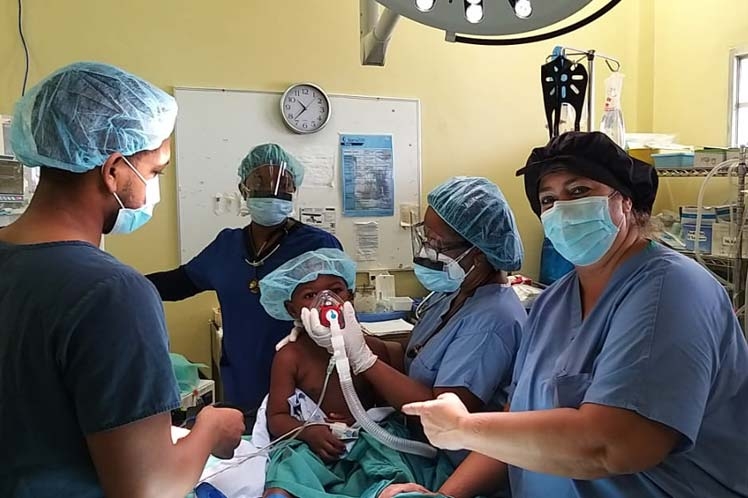 Cuban doctors assist Jamaica against the COVID-19. Source: Prensa Latina
In recent months, Vietnam's governments, businesses, and people have donated supplies such quick test kits, medical masks, personal protective equipment and rice as well as cash donation to assist the fight against COVID-19 in the Caribbean nation.
The central Vietnam-Cuba Friendship Association and the club of Vietnamese alumni once studied in Cuba in April also started a campaign and raised over VND1,57 billion (USD 66.000) to help Cuba in the fight against the ravaging COVID-19 pandemic.
In April, the Ho Chi Minh City Union of Friendship Organisations (HUFO) and the city's Vietnam – Cuba Friendship Association also granted funding to support Cuban citizens in the southern city in lessening the impact of COVID-19.
Last month, Vietnamese Ministry of National Defence presented three tons of antiepidemic medical supplies to Cuban Ambassador to Vietnam Lianys Torres Rivera.
Up to 5,000 tonnes of rice that are the gift of the Vietnamese Party, State and people for the Cuban people to support their COVID-19 fight were symbolically presented at a ceremony in Hai Phong on July 1.
By 6:00 pm on August 5, Vietnam had reported 713 COVID-19 cases, including 309 imported ones that have been quarantined right after their arrival, and 264 new cases related to Da Nang since July 25.
Currently 1,565 people are being quarantined at hospitals, 20,645 at other concentrated facilities, and 97,831 others at home.
Meanwhile in Cuba, as of August 4, 2,382 have already recovered, for 88.3% recovery rate and now Cuba registers 2,701 cases and 88 dead since March when the pandemic broke out.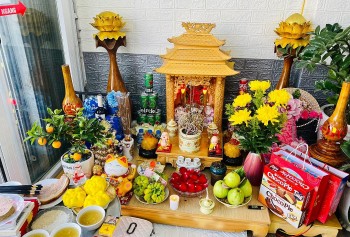 Handbook
Learn more about an ancient Vietnamese tradition that may bring you good fortune!