Vietnam Covid-19 Updates (Dec. 16): New Infections, Deaths Both Rise Over 24 Hours
As of 6 pm on December 15, Vietnam has detected 1,449,175 Covid-19 cases since the start of the first outbreak in January 2020, ranking 32nd out of 223 countries and territories worldwide.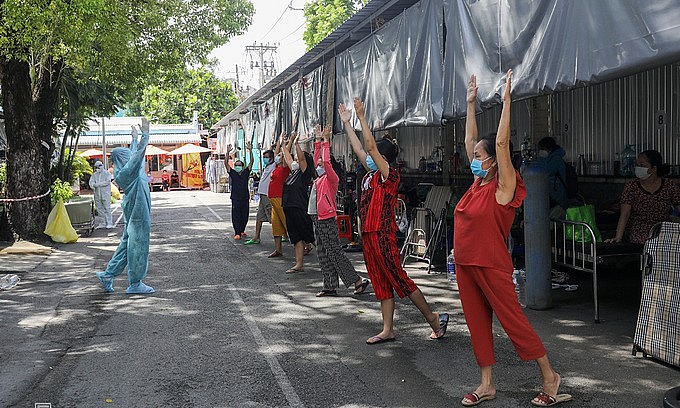 Photo: VN Express
New Covid-19 infections, deaths both rise over 24 hours in Vietnam
Vietnam has confirmed 15,527 new coronavirus infections and 283 deaths during the past 24 hours, up 319 and 31 cases respectively compared to the previous day, the Ministry of Health (MoH) reported in its coronavirus update on December 15.
The majority of the newly detected cases were in the south, with Ho Chi Minh City recording the highest number, at 1,270. Other southern localities saw hundreds of new cases diagnosed during the day were Ca Mau, Ben Tre, Tay Ninh, Dong Thap, Vinh Long, Soc Trang, Bac Lieu, Dong Nai and Tien Giang.
The capital city of Hanoi surpassed the 1,000 case mark again, registering 1,024 new infections, according to the MoH's official data. However, the Hanoi Centre for Disease Control put the city's daily caseload at 1,357, a record high figure, with 611 cases detected in the community. Elsewhere, the outbreak remains complicated in other northern localities, with dozens to hundreds of new cases detected in Bac Ninh, Hai Phong, Hung Yen, Thai Binh, Ha Giang, Hoa Binh, Lang Son, and Quang Ninh.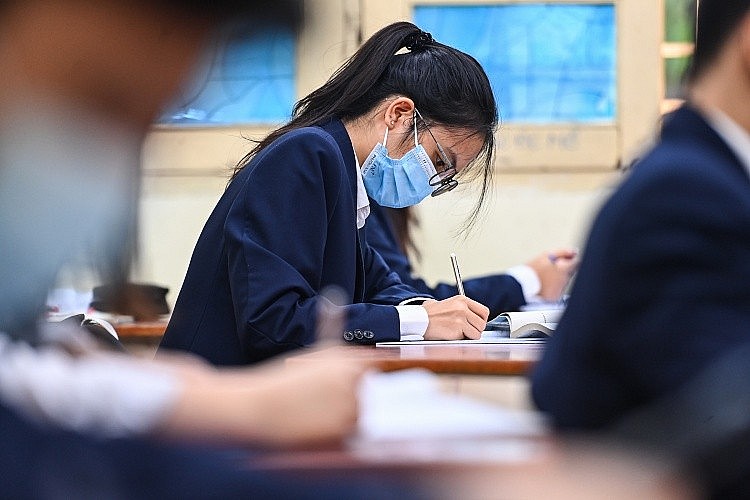 Photo: VN Express
HCMC cuts centralized quarantine for Covid patients
The Health Ministry on Tuesday allowed Ho Chi Minh City to trial cutting down centralized quarantine for certain Covid-19 cases from 14 to seven days. Previously, the HCMC Department of Health requested for the city to cut down its centralized quarantine period to seven days in order to relieve the burden on quarantine facilities and take better care of patients.
The trial would apply to asymptomatic cases who have received two vaccine doses and tested negative for the virus on their seventh day. They would continue to monitor their own health at home for the next seven days, during which they would need to check their body temperatures twice daily. Any medical anomalies should be reported to authorities for timely response.
HCMC still allows Covid-19 cases to be quarantined at home if their homes could satisfy certain standards, or else enter centralized quarantine. The southern city has recorded over 489,000 Covid-19 cases and around 19,000 deaths.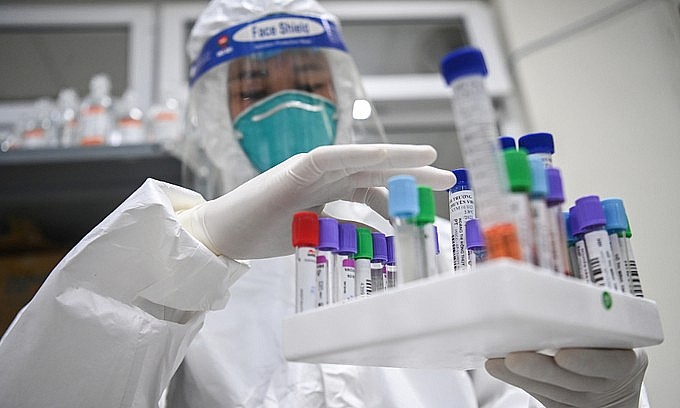 Photo: VN Express
UNFPA presents more medical supplies to Vietnam
The United Nations Population Fund (UNFPA) in Vietnam on December 15 handed over medical supplies and personal protective equipment worth 450,000 USD to 21 Vietnamese localities, including Hanoi and Ho Chi Minh City, to aid them in the Covid-19 combat. The beneficiaries include health workers, volunteers and other forces in the fight, who are working to protect pregnant women, the elderly and girls against domestic violence.
Naomi Kitahara, UNFPA Representative in Vietnam, said the pandemic has become a disaster for women and children who are also facing violence and discrimination. She cited a study conducted by the UNFPA in 2019 as showing that nearly two-thirds (62.9 percent) of women in Vietnam experienced at least one or more types of violence in their lifetime by their husband. In light of the Covid-19 pandemic, the situation has become even worse as the number of calls reporting domestic violence cases to the UNFPA-supported hotline has doubled, she said.
Kitahara stressed that the UNFPA's aid demonstrates its commitment to accompanying the Vietnamese Government and providing services vital to reproductive health, sexual health and social support, as well as preventing and responding to gender-based violence. According to Dinh Anh Tuan, deputy head of the Health Ministry's Department of Maternal and Child Health, this is the fifth donation by the UNFPA to support Vietnam in maternal and child health, with total donations worth nearly 1 million USD.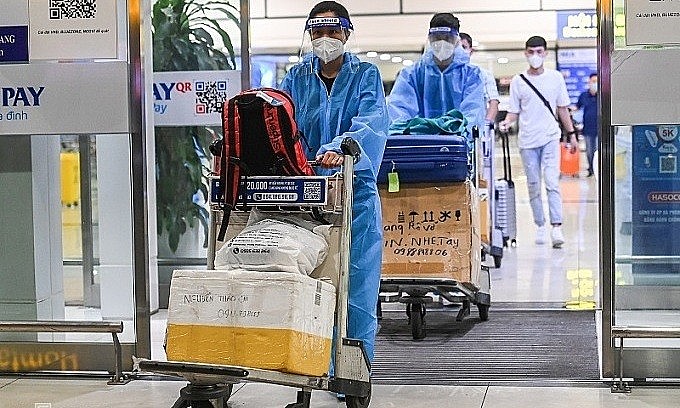 Photo: VN Express
3-day home quarantine proposed for arrivals from overseas
People wishing to enter Vietnam will be quarantined at home, a hotel, or other forms of accommodations for three days in the event that they have already been fully vaccinated or have recovered from Covid-19. They are also required to record a negative Covid-19 test before entering the country, with an exemption for children under two years old. These requirements are parts of a proposal made by the Ministry of Health (MoH) to relevant ministries, agencies, and localities for further opinions.
All entrants must be subject to a PCR test on the third day of their home quarantine. Providing they test negative, they will then self-monitor their health at home from the fourth to 14th day following their arrival instead of being transferred to a concentrated quarantine facility for seven days as is the case at present. During their period of home quarantine, they will not be allowed to leave the place of residence and come into contact with people living in the same house.
For those who have not been vaccinated or injected with sufficient doses of the Covid-19 vaccine, the MoH has requested that they isolate at home or their place of residence for seven days upon their arrival. They will then be tested for the SARS-CoV-2 virus on the first and seventh days, and if the test proves negative, they will then continue to monitor their health until the 14th day. The vaccination certificate of entrants, also known as the vaccine passport, will be examined at the airport through guidelines issued by the Ministry of Foreign Affairs.
As of 6 pm on December 15, Vietnam has detected 1,449,175 Covid-19 cases since the start of the first outbreak in January 2020, ranking 32nd out of 223 countries and territories worldwide. Of the infected patients, 1,063,428 have been discharged from the hospital after making a full recovery from the disease, including 2,992 recoveries announced on December 15.
As many as 28,616 patients have died of the virus, making up 2% of the total number of infections. More than 135 million vaccine doses have been administered nationwide, with 59 million people getting their second shot.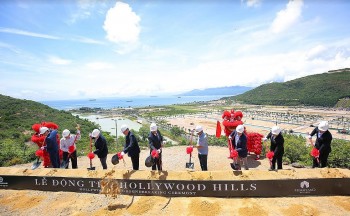 Economy
On October 2, at Hai Giang peninsula (Quy Nhon city, Binh Dinh), Hung Thinh Corporation held the groundbreaking ceremony of Hollywood Hills by YOO Inspired by Starck – a subdivision at MerryLand Quy Nhon. The event marks the first time that the world's No.1 ranked design and branded residence company YOO Inspired by Starck is officially present in Vietnam, with a collection of villas designed by creative director, Philippe Starck.