Vietnam Covid-19 Updates (Jan. 3): Nearly 17,000 Cases Recorded Over the Past 24 Hours
As of 6 pm on January 2, Vietnam has detected 1,763,040 Covid-19 cases since the start of the first outbreak in January 2020, ranking 31st out of 223 countries and territories worldwide.
Photo: VN Express
Daily Covid-19 count rises again to nearly 17,000 in all 63 localities
The daily number of new coronavirus infections suddenly rose by nearly 2,100 on January 2 to 16,948 in all 63 cities and provinces across the country, the Ministry of Health said in its coronavirus update. Of the total, as many as 11,948 people tested positive in the community through random testing and test screening at healthcare facilities.
Hanoi capital in the north topped localities as its daily count surpassed the 2,000 case mark for the first time, hitting 2,092. Almost all inner districts raised their Covid-19 alert level and requested food eateries to offer takeaways and restrict New Year events of large gatherings. Another northern locality - Hai Phong - also saw a sharp surge in daily infection numbers, registering 1,804 cases or 1,688 more cases compared to the previous day.
In the south, while several localities such as Tay Ninh, Binh Phuoc, Ca Mau, Bac Lieu, and Tra Vinh reported hundreds of new cases each, Ho Chi Minh City, the epicenter of the recent Covid-19 outbreak, recorded the lowest figure, at 384 new cases.
Photo: VNA
HCM City strengthens management of quarantine for entries
All entering the country via Tan Son Nhat International Airport from January 1, 2022, must register for QR codes at PC-COVID app or the website https://antoan-covid.tphcm.gov.vn. If they test negative for SARS-CoV-2 at the airport, they must follow 5K regulations from the airport to their residences. If they test positive, they will be put under quarantine or sent to temporary Covid-19 treatment hospital No.12 for treatment.
They were required to monitor their health and fill in daily health declarations. Those who are fully vaccinated, recover from Covid-19, or test negative at the airport are not permitted to leave their residences within three days and test for the virus using the RT-PCR method on the third day since their arrival. In case they show the symptoms of coughing, high temperature, or breathing difficulties, they must immediately report to a local medical station. For unvaccinated or partly vaccinated passengers, must undergo self-quarantine at their residences within seven days from their arrival and seriously follow Covid-19 prevention and control regulations.
Local authorities must actively collect samples for RT-PCR testing of passengers on the third and seventh days of their stay in line with the Health Ministry's regulations. If negative, their health must be monitored for 14 days since their arrival and if positive, they will be sent to the temporary treatment hospital No.12 and reported to the municipal Centre for Disease Control and Prevention (CDC) for genomic sequencing together with the Pasteur Institute.
Photo: VN Express
Vietnam's first Omicron case released from hospital
The Hanoi-based Military Central Hospital 108 said on January 2 that Vietnam's first confirmed Omicron case has been discharged from the hospital on the same day after testing negative for coronavirus a day earlier. The Military Central Hospital 108 treated the Omicron patient, a man who arrived in Vietnam from the UK on December 19 and got a positive result for a rapid antigen test done at the Noi Bai International Airport and was moved into quarantine immediately.
The hospital concluded the man was infected with the variant of concern on December 21, using Oxford Nanopore Technologies' sequencer. Following the discharge, the hospital will continue to coordinate with the recovered patient's family to monitor and manage his health at home, ensuring the safety of the community. The hospital calls on people to strictly follow pandemic prevention and control regulations, especially to protect high-risk groups such as the elderly or people with underlying health conditions.
20 Omicron cases confirmed to date in Vietnam (all imported) have reportedly been asymptomatic or mild cases. The latest five discovered in HCM City have tested negative after five days or a week after testing positive for the new variant.
Photo: VN Express
Vietnam strengthens measures to care for Covid-19-hit children
Deputy Prime Minister Vu Duc Dam has signed the Prime Minister's Directive No.36/CT-TTg on strengthening measures on care for and protection of children hit by the pandemic. Accordingly, the Ministry of Labour, Invalids and Social Affairs (MoLISA) must work with other ministries and agencies to propose measures regarding care for and protection of orphans in general and orphans caused by the pandemic in line with the law, raise public awareness of the effort to uphold the role of the society and residential community in the process, thus ensuring comprehensive growth of children.
The MoLISA was also required to regularly report the implementation of the Directive to the PM. The Ministry of Health will continue popularising pandemic prevention and control measures while stepping up vaccination for children as directed by the Government and PM. The Ministry of Information and Communications was required to effectively carry out the program "Internet connection and computers for students" while the Vietnam Television and the Voice of Vietnam must continue airing school lessons as well as skills to help children improve their physical and mental health.
The People's Committees of centrally-run cities and provinces were assigned to ensure timely, safe and effective vaccination and treatment for children in line with the Government and PM's directions and Health Ministry's guidelines. They must partner with the Vietnam Fatherland Front and its chapters, socio-political organizations to promote the enforcement of policies related to children, particularly orphans and those hit by the pandemic, in line with the law.
As of 6 pm on January 2, Vietnam has detected 1,763,040 Covid-19 cases since the start of the first outbreak in January 2020, ranking 31st out of 223 countries and territories worldwide. On average, nearly 15,500 cases have been documented daily during the past seven days.
Vietnam has also confirmed 20 Omicron cases that were in quarantine upon arrival in the country. Of the infected patients, 1,372,696 have recovered from the disease, and 32,831 patients have died of the disease.
Nearly 153 million vaccine doses have been administered nationwide, with 69 million people getting their second shot and 6 million people receiving their booster jab.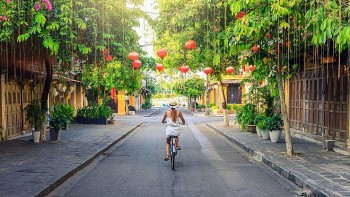 Viet's Home
What has International Living (IL) research revealed about the best retirement havens in 2022? Read on…