Vietnam Covid-19 Updates (Jan. 2): Daily Cases Reach More Than 14,850
The fourth wave to hit Vietnam in late April has until now seen over 1.74 million Covid-19 cases recorded, whilst more than 1.35 million have since recovered from the virus.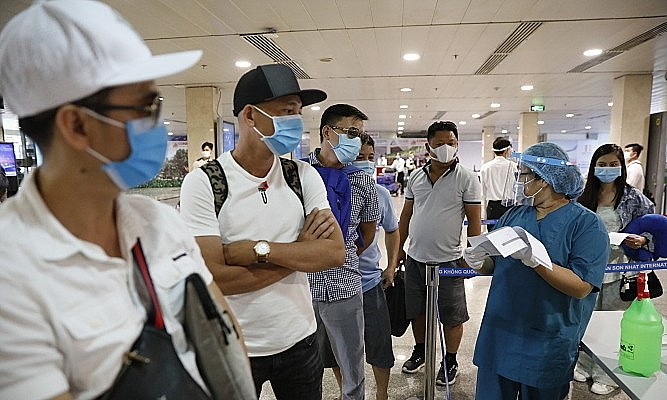 Photo: VN Express
Daily Covid-19 cases reach more than 14,850 across 62 localities
A further of 14,853 people across 62 localities nationwide were detected to be positive for the SARS-CoV-2-virus, marking a drop of 1,654 from the previous day, according to figures released by the Ministry of Health on January 1. Hanoi continued to lead the way for infections with 1,748 cases, trailed by the southern provinces of Vinh Long with 1,223 and Tay Ninh with 947 cases.
The previous day saw the country confirm 14 more Omicron cases who arrived from the Republic of Korea and the United States, while Ho Chi Minh City also confirmed five Omicron cases during the past 24 hours. The nation also announced the detection of its first Omicron infection returning from the UK on December 28.
Photo: VN Express
HCMC applies rapid test for arrivals from abroad
HCMC medical workers and immigration officers are collaborating to conduct rapid antigen tests for all passengers entering the Tan Son Nhat airport from overseas starting January 1. The action is being taken following a directive from the Government Office on controlling the Omicron variant.
The directive enjoins authorities to enhance control on people coming from or transiting in countries that have detected Omicron cases by air, land, and waterways. The arrivals need to undergo rapid testing before boarding and after disembarking. Suspect cases will be isolated immediately. Passengers who test negative can self-isolate while those testing positive will be quarantined under current regulations.
Starting January 1, fully vaccinated and Covid recovered people entering Vietnam will self-monitor at their places of stay for three days from the date of entry, and others for seven days. They will be administered PCR tests during this period and if the result is negative, they are allowed to move about. It is expected that the health staff will test more than 250 people at Tan Son Nhat airport on January 1, 2022.
Health authorities will decode the virus gene of people who have positive test results. The field hospital number 12 in Thu Duc City has been prepared to receive suspected and confirmed Omicron cases. Laboratories can detect Omicron infections early by looking for signs of S gene deficiency in samples. They will do virus gene sequencing of all infected people, including passengers entering Vietnam and people who were re-infected with Covid within 28 days.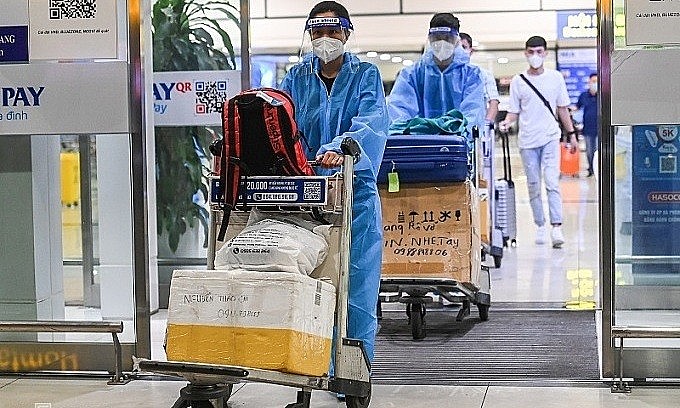 Photo: VN Express
HCMC preschools could reopen in February
The HCMC Department of Education and Training has proposed that preschoolers return to school in February 2022 based on parents' agreement. The expected end of the new school year for pre-schoolers is July 29, according to the plan by the department. The preschools are required to disinfect their premises and ensure standard facilities before welcoming their wards. They are also obliged to talk with parents to learn about the children's health situation and prepare them for their return to classes.
Since the beginning of the 2021 school year, preschoolers in HCMC have not learned offline or participated in any learning activities because of Covid. Their school reopening plan was not considered in the city's general schedule released in August 2021 due to the complicated developments of the pandemic at that time. HCMC has more than 1,360 preschools, including 472 in the public sector. The city has more than 1,800 private kindergartens and classes. The total number of preschoolers is more than 355,000.
In the fourth wave of Covid in Vietnam, the preschool system has been closed for nearly eight months, throwing it into great financial difficulties. Many teachers have had to earn a living with other jobs, and many private preschools have closed. On Friday, HCMC approved for students of grades 7, 8, 10, and 11 to join 9th and 12th graders to return to school from January 4. Preschool and primary school students have not been added to the list.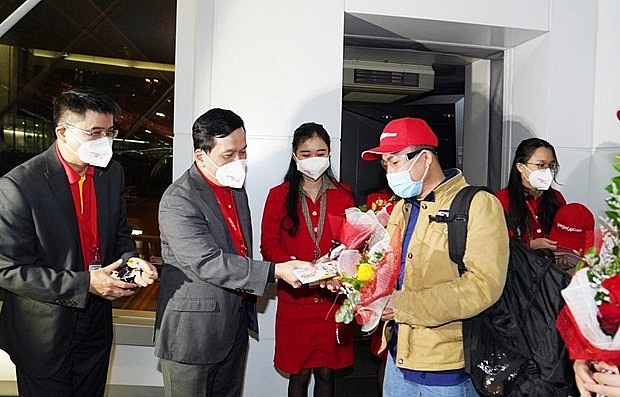 Photo: VN Express
Vietjet welcomes first international flight in 2022
The first international flight operated by new-generation airline Vietjet this year departed from Tokyo (Japan) and arrived at Noi Bai International Airport in Hanoi on January 1. Dinh Viet Son, Deputy Director of the Civil Aviation Authority of Vietnam, and representatives from the Noi Bai airport and Viejet were present at the ceremony to welcome 143 passengers on board the flight.
The airline has resumed the Hanoi-Tokyo route from January 1 with one flight per week, with the frequency expected to be increased in the time ahead. It has also announced the flight schedules between Hanoi/Ho Chi Minh City and Taipei (Taiwan, China), Singapore, Thailand and the Republic of Korea (RoK), which are set for early this year.
Vietjet Managing Director Dinh Viet Phuong said the carrier is ready in terms of resources to reopen all regular international flights in line with Covid-19 prevention and control regulations. The airline is offering free Covid-19 PCR tests for passengers departing from Hanoi and HCM City.
The fourth wave to hit Vietnam in late April has until now seen over 1.74 million Covid-19 cases recorded, whilst more than 1.35 million have since recovered from the virus. As of December 31, more than 152 million Covid-19 vaccine doses have been administered throughout the country, with over 68.8 million people now fully getting two jabs.
A further 2,990 patients were declared to have recovered from the virus, with 1,358,276 people across the country having been discharged from the hospital. Moreover, 216 fatalities related to Covid-19 were confirmed on the day. The national Covid-19 death toll now stands at 32,610, approximately 1.9% of total infections, ranking 26th out of 224 countries and territories worldwide.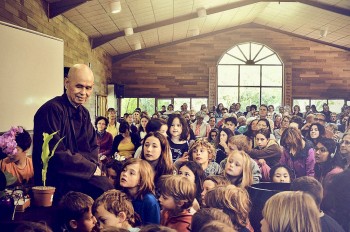 Viet's Home
The master of meditation "passed away peacefully" at the Tu Hieu Temple in Hue – where his spiritual journey began and Vietnam's Buddhist heartland, the Plum Village Community of Engaged Buddhism said.