Vietnam COVID-19 Updates (March 15): Severe reaction found in 2 vaccine recipients
According to a quick report from the vaccination sites, on March 14, two cases of severe reactions were recorded.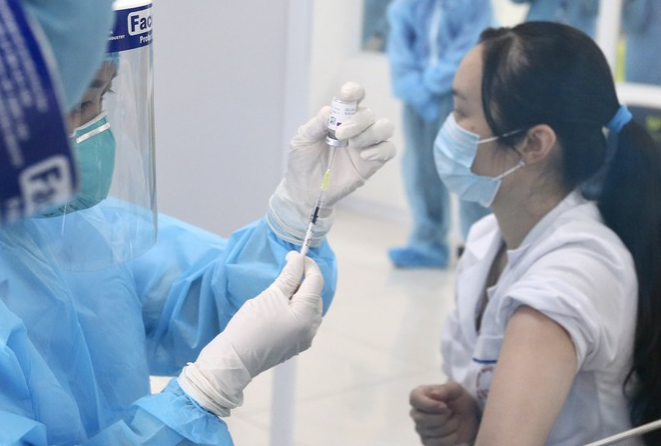 Photo: Tien Phong
1 imported cases in the last 24 hours
Another imported COVID-19 case was reported on March 14 evening, bringing the total number of infections in the country to 2,554, the Ministry of Health said. The new patient is a Japanese expert who has been quarantined since his arrival at Ho Chi Minh City's Tan Son Nhat International Airport on March 10. His sample showed a positive result and he is now treated at Cu Chi COVID-19 treatment hospital.
The Ministry of Health did not record positive nCoV cases this morning. The total number of community cases over the past month and a half maintained at 901.
Photo: Vietnam Plus
Severe reaction found in 2 vaccine recipients
According to the National Expanded Immunization Program (NEIP), as of 16:00 on March 14, a total of 11,605 people were vaccinated against COVID-19, including health workers performing tasks relating to COVID-19 patients. Currently, the largest vaccination campaign in Vietnam's history is carrying on since the morning of March 8 in Hanoi, Hai Duong, and Ho Chi Minh City, with priority given to the first-line medical staff, who have often contact with COVID-19 patients.
According to a quick report from the vaccination sites, on March 14, NEIP recorded two cases of severe reactions, of which one case showed signs of dizziness, restlessness, irritability within 30 minutes after injection. The second case was diagnosed with level III anaphylaxis with initial signs of malaria, tremors accompanied by cramps, hand numbness appeared eight hours after injection. Both these cases were timely detected and treated promptly according to regulations. Their health situation is now back to a stable state.
According to the World Health Organization (WHO), while the supply of vaccines is still limited, priority should be given to health workers who are at high risk of exposure to the disease and those at high age, including people over 65. In addition, the COVID-19 vaccine is recommended for people with underlying medical conditions because they are at greater risk for the disease.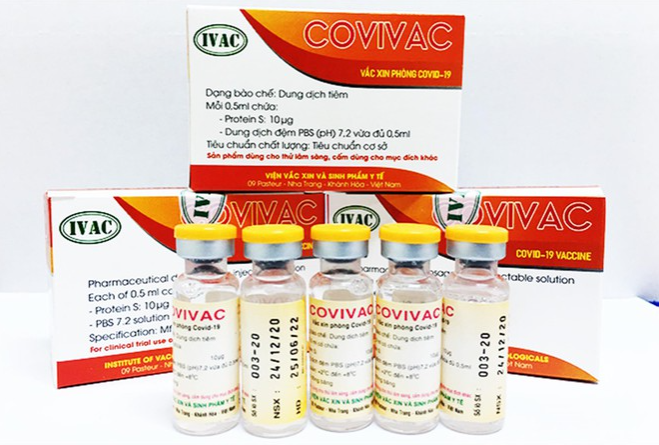 Photo: Tien Phong
Vietnam starts trial of the second homegrown COVID-19 vaccine
On the morning of March 15, Covivac, a COVID-19 vaccine developed by the Institute of Vaccines and Medical Biologicals (IVAC), was tested phrase 1 in human clinical at Hanoi Medical University. Covivac is the 2nd "Made in Vietnam" COVID-19 vaccine that has been licensed for clinical trials by the Ministry of Health (after Nanogen's Nano Covax, which is being tested in phase 2).
The study involves 120 volunteers, aged 18-59, given 2 injections/0.5ml 28 days apart. The first group of 6 people will participate in the vaccine trial this morning (March 15), including groups from 18-39 years old and 40-59 years old, the ratio of men and women is equal.
The research team has now recruited 120 people to participate in the Covivac clinical trial for the first phase. It is expected that when the first group is completed, the team will give the second group an injection 9 days later (scheduled for March 24). The vaccination trial was carried out at the Center for Clinical Pharmacology, Hanoi Medical University, and the Central Institute of Hygiene and Epidemiology.
Covivac is produced using egg with embryo technology, which is also used to produce Vietnam's seasonal flu vaccines. Covivac has been studied by IVAC since May 2020, has gone through pre-clinical research in India, the USA, and Vietnam.
Of the total number, 1,594 are domestically-transmitted cases, including 901 infections since the third outbreak hit the country on January 27.
According to the Treatment Subcommittee under the National Steering Committee for COVID-19 Prevention and Control, a total of 2,086 patients have recovered from the disease, while the death toll was kept at 35. Among active patients undergoing treatment at medical establishments nationwide, 48 tested negative to coronavirus SARS-CoV-2 once, 48 twice, and 91 thrice.
As many as 39,613 people who had close contact with confirmed COVID-19 patients or entered Vietnam from pandemic-hit regions are being quarantined across the country, including 503 in hospitals, 16,056 in state-designated establishments, and 23,054 at their residences.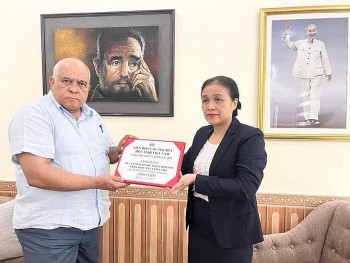 Focus
According to Cuba's News Agency Prensa Latina, on August 16, President of Vietnam Union of Friendship Organizations Nguyen Phuong Nga said that Vietnamese people will always stand by and support Cuba no matter what difficulties our friend is facing.