Vietnam COVID-19 Updates (March 13): Indian expert: Vietnam has "remarkable ability to contain the spread of contagious diseases"
Van Don International Airport in the northern province of Quang Ninh welcomed its first international flight on March 12 after being closed for more than a month due to COVID-19.
Photo: VN Express
15 new cases in the last 24 hours
Vietnam recorded 15 new COVID-19 infections on March 12 evening, including two cases in northern Hai Duong province and 13 imported, the Ministry of Health has said.
The two cases in Hai Duong province are workers of the Vietnam Poyun Electronics Co. Ltd. in Chi Linh city. Both of them had been previously put under quarantine and are now treated at a COVID-19 treatment hospital in Hai Duong. Meanwhile, the 13 imported cases have been quarantined upon their arrival in northern Quang Ninh province and the southern provinces of Binh Duong and Dong Thap.
On the morning of March 13, however, no new case was reported. Meanwhile, 3,663 more people were safely injected with the COVID-19 vaccine on the fifth day of vaccination.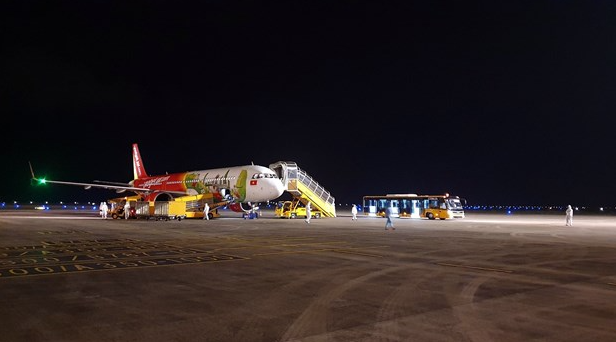 Photo: VNA
Van Don Airport welcomes first int'l flight after one-month shutdown
Van Don International Airport in the northern province of Quang Ninh welcomed its first international flight on March 11 after being closed for more than a month due to COVID-19.
Departing from Japan, the Vietjet Air Airbus A321 landed at the airport with 193 Vietnamese citizens aboard. The airport welcomed another flight from Japan carrying more than 160 Vietnamese citizens in the evening of the same day. Passengers are primarily students and workers who have expired visas or met with difficulties in accommodation, as well as other people at a disadvantage. They had their body temperatures checked before departure and wore masks during the flight.
Van Don welcomed more than 180 flights from pandemic-hit areas last year carrying over 40,000 Vietnamese citizens and foreign experts. In January, before the temporary shutdown, it welcomed one flight from Japan and four from the Republic of Korea bringing RoK experts to Vietnam to work. The airport had to close on January 29 after an airport security staff was confirmed positive for the coronavirus SARS-CoV-2 that causes the COVID-19 pandemic. Airlines have also offered discounts to mark the resumption of HCM City - Van Don flights.
Photo: Vietnam Plus
Vietnam proposes solutions to COVID-19 impact on migrants
Vietnam has called on countries and international organizations to set forth roadmaps or frameworks and mechanisms for result-oriented cooperation in order to implement the Global Compact for Safe, Orderly, and Regular Migration (GCM) more effectively.
Vietnamese Ambassador to Thailand and Permanent Representative of Vietnam to ESCAP Phan Chi Thanh made the call at the Asia-Pacific regional review of the implementation of the GCM, held virtually by the Economic and Social Commission for Asia and the Pacific of the United Nations (UNESCAP) and the Regional United Nations Network on Migration for Asia and the Pacific in Bangkok, Thailand on March 12-13. The move aims to deal with the adverse impact of the COVID-19 pandemic on migrants, thus ensuring legal safe, and orderly migration in the region and the world at large, he said.
The event brought together more than 400 delegates from regional countries, UN agencies, and inter-governmental and non-governmental organizations. Prior to the event, Thanh met with the Regional Director for the International Organisation for Migration (IOM) in Asia and the Pacific, and the IOM Thailand's Chief of Mission. The IOM pledged to further cooperate with and support Vietnam in the realization of the GCM, and closely coordinate with the Vietnamese Embassy in Thailand to assist Vietnamese laborers in the country in the spirit of the compact.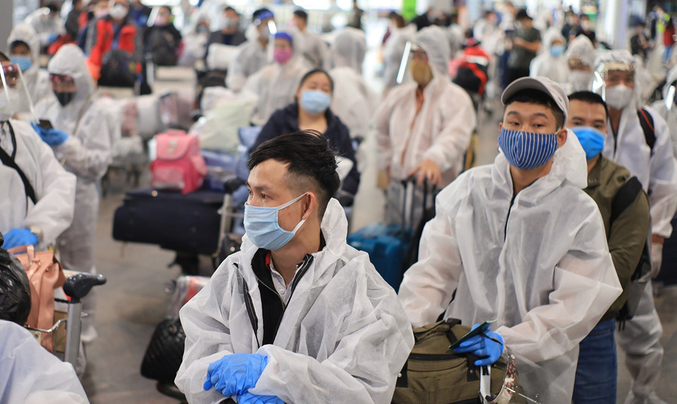 Photo: VN Express
Indian expert: Vietnam has "remarkable ability to contain the spread of contagious diseases"
On March 10, Indian expert SD Pradhan published an article on Times of India, indicating Vietnam's successful handle over multiple times of COVID-19 outbreak. "The Lowy Institute, a think tank, published an index on 28th January 2021 ranking 98 countries and their success in handling the coronavirus pandemic. Vietnam ranked No. 2 behind New Zealand. This is all the more glaring as Vietnam is geographically connected with China through the land border and has adjoining coastal boundaries and at the time of the outbreak of coronavirus in China a number of Vietnamese were there, who returned to Vietnam to celebrate the lunar new year", he wrote.
"As can be seen, the number of affected persons and the death toll remained very low. The credit for this goes to take timely action. One factor that helped Vietnam significantly was that it had the experience of dealing with similar epidemics as mentioned earlier. Consequently, it also has an appropriate infrastructure to deal with the pandemic."
According to SD Prahan, Vietnam's success in handling the virus depended on three factors: contact tracing at four levels, strategic testing, and clear messaging for social distancing, use of masks, isolation when necessary, which were followed by citizens. Vietnam acted very quickly and firmly imposing lockdowns when necessary coupled with strategic testing. These steps helped in containing the pandemic in the country in all the waves with a minuscule number of deaths despite its about 97 million population. Finally, he stressed that Vietnam had emerged as a model for dealing with this virus.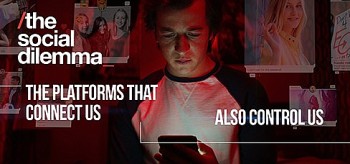 World
Ex-Big tech owners are taking advantage of this social media transition time as a unique opportunity by spreading the word, unveiling a message of the true hidden terror of social media for someone who needs to see it. Along with a documentary investigation and narrative drama to disrupt the disrupters, unveiling the hidden machinations behind everyone's favorite social media and search platforms.