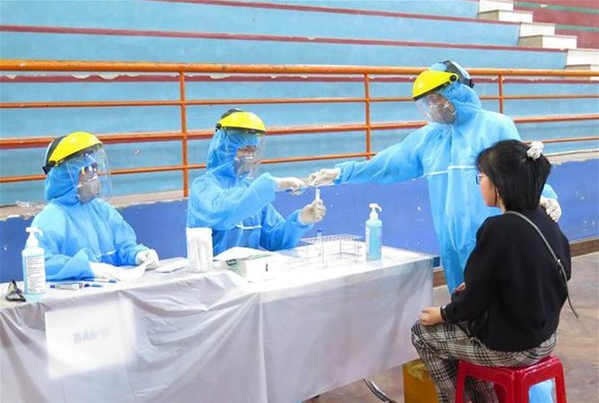 Photo: Vietnam Plus
No new cases in the morning
One case of COVID-19 was detected in the past 12 hours to 6 pm March 16, raising the national tally to 2,560, according to the Health Ministry. The new case was reported by the northern province of Hai Duong, which is home to the largest hotspot of the latest wave of COVID-19 in the country since January 27.
On the morning of March 17, no new case was recorded. The National Expanded Immunization Program states that an additional 4,260 people were vaccinated against COVID-19 on March 16. Thus, by the end of March 16 afternoon, a total of 20,695 people were vaccinated against COVID-19, mostly medical staff directly treating COVID-19 patients.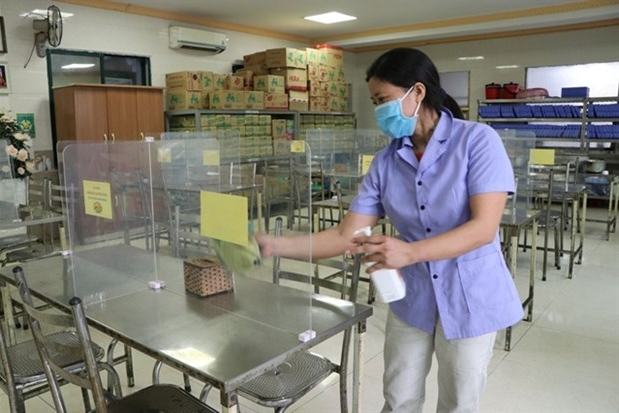 Photo: Vietnam Plus
Hai Duong province to lift social distancing restrictions on March 18
Students in some districts of the northern province of Hai Duong, Vietnam's biggest COVID-19 pandemic cluster to date, will return to school on March 18 as local authorities have decided to lift a number of social distancing restrictions. Four localities - Hai Duong city, Kinh Mon township, and Cam Giang and Kim Thanh districts, which recorded a high number of new cases, continued to apply some restrictions. The whole province began social distancing on February 16 after a surge in domestically-transmitted cases. The majority of those measures ended on March 3.
Starting from March 18, local authorities will allow transport operations, businesses, services, and the reopening of sports facilities and relic sites but still under strict public health safety conditions. Festivals, religious activities, and crowd gatherings will continue to be suspended. The authorities ordered non-essential services like entertainment venues, beauty and spa, karaoke parlors, and pubs to remain closed. Some areas under lockdown will continue to be isolated until further decisions are made.
Primary, secondary and high schools in Binh Giang, Gia Loc, Ninh Giang, Thanh Ha, Thanh Mien, Tu Ky, Nam Sach districts are scheduled to resume on March 18, except for schools and students in the quarantine areas. Students in grades nine and grade 12 in Cam Giang, Kim Thanh districts, Kinh Mon township, and Chi Linh city will go back to school on March 18. Other students will continue online learning until further notice. All kindergarten children will be off until the end of the month.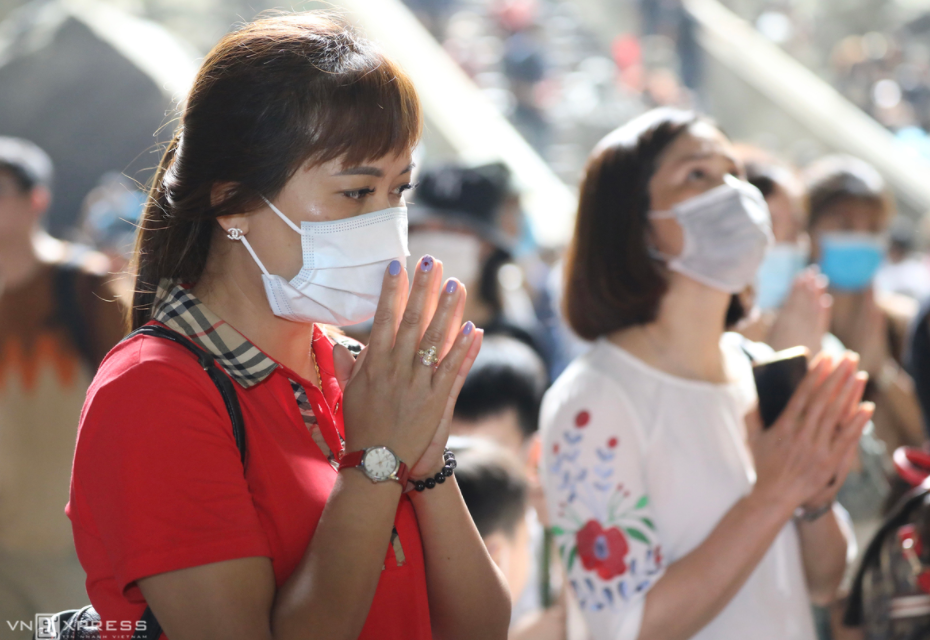 Photo: VN Express
COVID-19 prevention measures tightened at Buddhist places of worship
The Standing Board of the Vietnam Buddhist Sangha (VBS)'s Executive Council has ordered intensifying COVID-19 prevention and control measures at places of worship. The Ministry of Health's 5K message: khau trang (facemask), khu khuan (disinfection), khoang cach (distance), khong tu tap (no gathering) and khai bao y te (health declaration) must be seriously observed, the board said.
Heads of pagodas and other worship places should closely coordinate with local authorities to ensure the physical distance between pilgrims, it added.
According to Most Venerable Thich Duc Thien, Vice President and General Secretary of the VBS's Executive Council, most of the localities have allowed the reopening of Buddhist places of worship, with tens of thousands of people flocking to major pagodas during the first days of the second lunar month.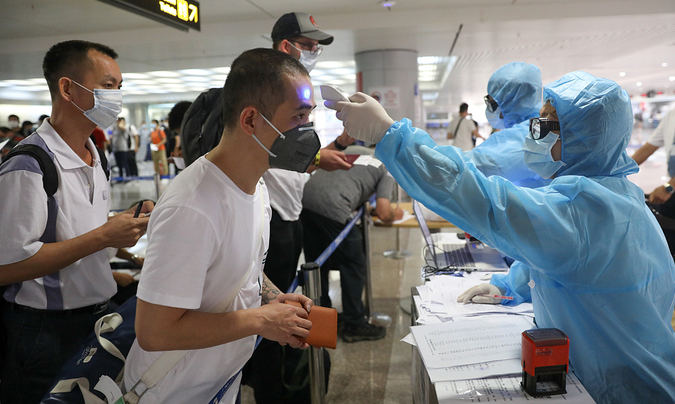 Photo: VN Express
Vietnam should test out 'vaccine passports' on certain groups: experts
Vietnam should first test out "vaccine passports" on certain groups of entrants before the policy could be officially applied. "It could first be applied to certain countries and regions with high vaccination rates and that already have policies regarding vaccine passports," said Nguyen Viet Nhung, director of the National Lung Hospital.
Recent research revealed those who have received two Covid-19 vaccine shots have a minimal chance of becoming an infection source, said Nhung. As such, vaccinated people could be considered "safe" from a scientific standpoint, meaning Vietnam could now design a framework to approve "vaccine passports." However, as no Covid-19 vaccine enjoys 100 percent efficacy, mostly ranging from 60 to 90 percent, new variants could be resistant to current inoculations and pose "a small risk," he said.
Tran Dac Phu, former head of the General Department of Preventive Medicine, said since countries around the world are preparing for their own vaccine passport frameworks, Vietnam should follow suit. In the meantime, Vietnam should build databases and the necessary infrastructure to keep track of and hand out vaccination certificates. Such a system would allow authorities to check an individual's medical and vaccination history. The government should also request relevant authorities to take note of existing vaccination certificates to sync domestic certification with the rest of the world. The simplest method would be to use QR codes, said Phu.
According to the Health Ministry, Vietnam's total COVID-19 tally reaches 2,560, in which 2,158 have been given all-clears. The death toll remains at 35. Among patients still under treatment, 40 have tested negative for SARS-CoV-2 once, 22 twice and 82 thrice.
A total of 36,923 people who had close contact with COVID-19 patients or arrived from pandemic-hit areas are being quarantined nationwide, with 496 at hospitals, 17,396 at concentrated quarantine facilities, and 19,031 at their home or accommodation.
Valerie Mai