Vietnam Covid-19 Updates (September 9): 12,680 New Infections, 335 Deaths
As of 6 pm on September 8, Vietnam has recorded 563,676 Covid cases since the start of the outbreak in January 2020, ranking 50 out of 222 counties and territories worldwide.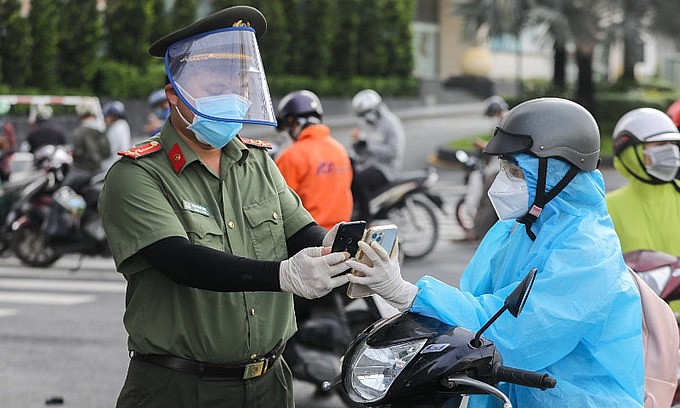 A police officer checks information of a motorbike driver in Ho Chi Minh City, August 30, 2021. (Photo: VnExpress)
Vietnam logs 12,680 Covid new infections, 335 deaths
Vietnam recorded 12,680 new Covid-19 infections, including 17 imported cases, from 5 pm on September 7 to 5 pm on September 8, the Ministry of Health announced.
A total of 12,663 were domestic infections, with 7,851 found in the community. The two southern hotspots of Ho Chi Minh City and Binh Duong province reported 7,308 and 3,172 new infections, respectively, accounting for the majority of the country's caseload.
A further 13,937 patients have been released from hospitals in the past 24 hours, bringing the total recoveries to 325,647. As many as 6,479 patients are in serious conditions, with 29 requiring life support (ECMO), according to the health ministry. Vietnam also reported 335 fatalities on September 8.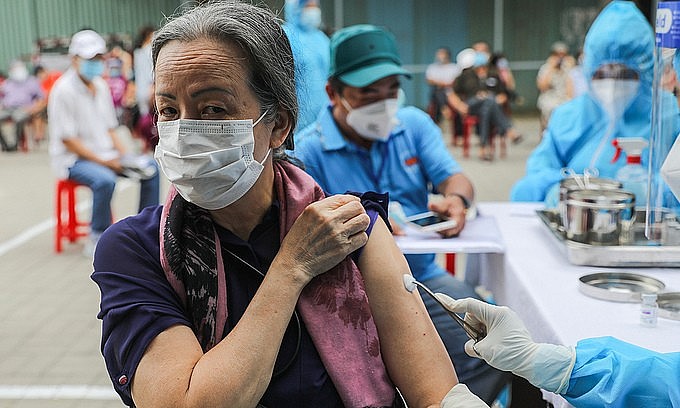 A woman receives a Covid-19 vaccine shot in HCMC's Go Vap District, August 14, 2021. (Photo: VnExpress)
Vietnam to cooperate with French firm to conduct clinical trials of XAV-19 Covid treatment drug
Deputy Minister of Health Tran Van Thuan held an online working session with France's Xenothera company on cooperation to conduct the third phase of a clinical trial of Xenothera-developed XAV-19 treatment drug and the transfer of XAV-19 production technology to Vietnam. The session drew leaders and experts of many departments of the Vietnamese Health Ministry, as well as Xenothera President Odile Duvaux and CEO Bernard Vanhove.
According to the Ministry of Health, XAV-19 is a treatment drug based on polyclonal antibodies that target patients with moderate conditions. The first and second phases of XAV-19 clinical trials' results showed that the drug is effective and safe in preventing the virus to develop, neutralizing the virus, and reducing inflammation in patients. The third phase of XAV-19 clinical trials is being conducted in some European countries.
In May this year, the Ministry of Health and Solidarity of France ordered 30,000 doses of XAV-19 from Xenothera. Following the working session, a Vietnamese firm discussed with Xenothera specific contents in preparation for the signing of a memorandum of understanding on cooperating in the third-phase clinical trials of XAV-19 and technology transfer from the French firm.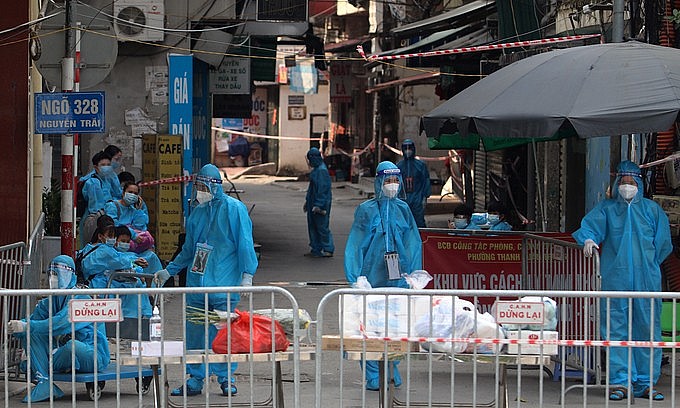 Residents of at alleys 328 and 330 of Nguyen Trai Road wait to be taken to an isolated area on September 1, 2021. (Photo: VnExpress)
Vietnam agrees on mixing & matching Pfizer-Moderna jabs
People can receive a booster shot of the Pfizer vaccine after they get the first Moderna jab several weeks earlier and vice versa, the Ministry of Health said on September 8. The decision was made after localities claimed they were running out of the Moderna vaccine for the second dose of the same vaccine. For the time being, several localities started to mix and match the Pfizer and Moderna vaccines in order to increase the vaccination coverage.
Due to the vaccine shortages, in order to boost the ongoing inoculation drive and increase the vaccination coverage, the MoH agreed that either the Pfizer or Moderna vaccine could be used as a second dose after an initial dose of AstraZeneca if the latter is not available. The Pfizer vaccine could be administered as a booster shot if the first dose of Moderna is given, and vice versa.
Several ongoing studies are investigating the effects of mixing coronavirus shots. Data has been released from mixed trials in Spain and the United Kingdom, which suggest that mixing vaccines leads to a strong immune response and sometimes outperforms two doses of the same vaccine.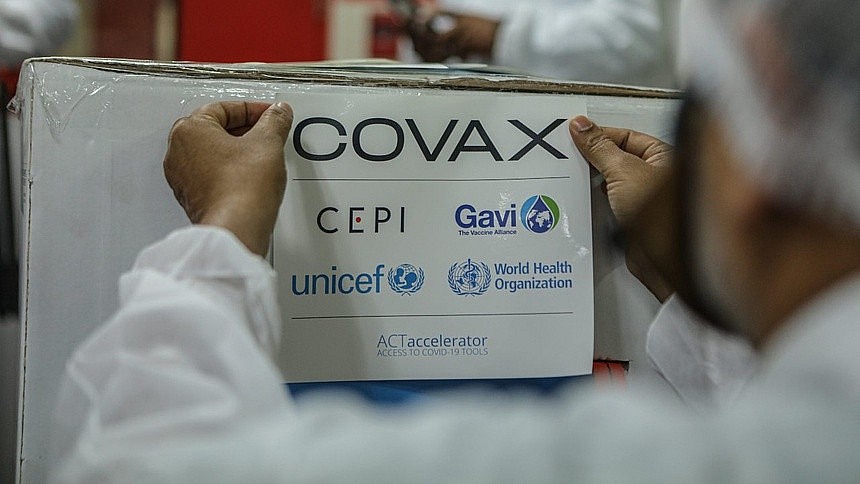 Vietnam to receive 30 million vaccine doses in coming months. (Photo: Zing News)
Vietnam to receive 30 million vaccine doses in coming months
Approximately 30 million vaccine doses are set to arrive in Vietnam from various sources in September and October this year, according to Deputy Foreign Minister Nguyen Minh Vu.
With the pandemic continuing to spread globally, Vietnam will continue to promote vaccine diplomacy to get more vaccines for domestic use, alongside seeking treatment drugs and medical supplies, said Vu. He revealed that Vietnam has so far received a huge quantity of medical equipment worth millions of US dollars donated by 17 countries and territories and Vietnamese expatriates overseas.
However, the diplomat pointed to the fact that there is an increasing demand for vaccines given the complex development of the pandemic. Indeed, the world needs roughly 11 billion vaccine doses to reach herd immunity but only 4.5 billion doses have so far been produced globally. This vaccine shortage is, therefore, a challenge to all countries, including Vietnam, he added.
According to Vu, the number of vaccine doses arriving in Vietnam has increased from 16.6 million in early August to 33 million in late August. Vietnam is expected to receive an additional 16 million to 17 million doses in September alone. As of the morning of September 8, over 24 million vaccine doses have been administered nationwide.
As of 6 pm on September 8, Vietnam has recorded 563,676 coronavirus cases since the start of the outbreak in January 2020, ranking 50 out of 222 counties and territories worldwide.
It has registered 559,346 locally acquired infections following the resurgence of the virus more than four months ago. Of the total, 322,873 patients have been discharged from the hospital after making a full recovery from the disease.
The September 6 figure has raised the total number of Covid-19 fatalities in Vietnam to 14,135, making up 2.5% of the total number of infections and 0.4% higher than the average death rate globally.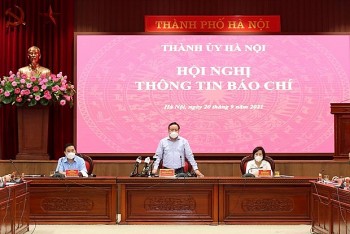 National
Vietnam News Today (September 21): Vietnam records lowest number of daily Covid-19 infections in a month; Hanoi removes zoning, travel permits from September 21; HCMC supermarkets welcome customers in low risk areas; Localities resume tourism services after Covid-19 hiatus.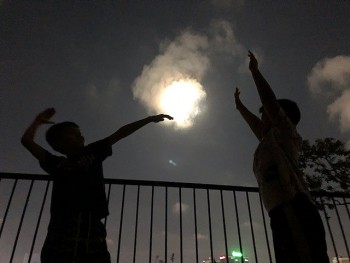 Expats in Vietnam
Vietnamese people have been worshiping the moon during the Mid-Autumn Festival for generations. In anticipation for the holiday, freshly vaccinated locals and expats have taken multiple photos of a stunning harvest moon in Hanoi's night sky.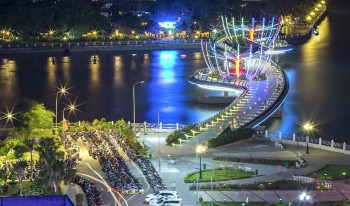 Multimedia
Can Tho is a lovely place to spend your holiday in, with clear crystal sky, fluffy clouds and wonderful spots to see and visit. Here is some of the best things to do in Can Tho.