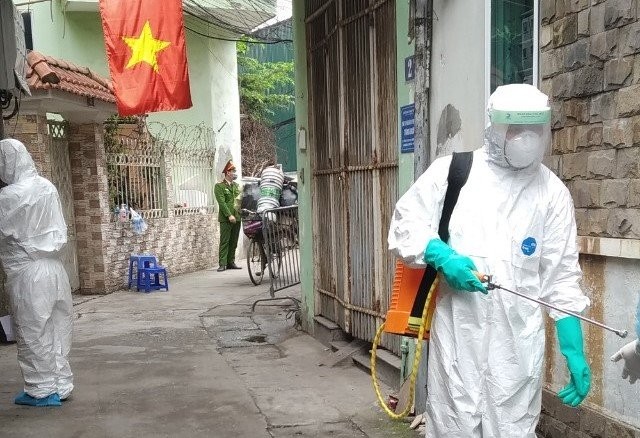 Disinfectant is sprayed at Hanoi's street. (Photo: VNA)
The total number of cases in Vietnam stood at 61. Among the latest cases were people returning to the country from France and Malaysia.
The 58th patient is a 26-year-old student in France who came back through Hanoi's Noi Bai International Airport on March 15 and her sample turned out to be positive for SARS-CoV-2 that causes COVID-19.
The 59th is a 30-year-old flight attendant of the flight from the UK to Vietnam on March 2 which has recorded several other COVID-19 cases. She had a fever and cough on March 14 and tested positive for the virus a day later.
The 60th patient is a 29-year-old French man who was on a flight from France to Hanoi's Noi Bai International Airport on March 9 which also saw a case who tested positive for the virus.
Meanwhile, the 61st patient is a 42-year-old resident of Ninh Thuan province, who visited Malaysia on February 27 and returned to Vietnam on March 4 on Flight VJ862 to Ho Chi Minh City.
After coming back to his hometown, the man on March 10 had a fever and felt a throat pain but did not take any medicine. He visited the Ninh Thuan General Hospital on March 15 for check-up and treatment.
On the same day, MoH announced seven flights with passengers on board contracting COVID-19.
They are SQ 176 from Singapore to Noi Bai on March 15, VJ 826 from Malaysia to Noi Bai on March 4, TK 162 from Istanbul to Ho Chi Minh City on March 8, QH 1521 from Ho Chi Minh City to Phu Quoc on March 9, QH 1524 from Phu Quoc to Ho Chi Minh City on March 13, SU 290 from Moscow to Hanoi on March 12, and QR 970 from Doha to Ho Chi Minh City on March 10.
The ministry asked all the passengers on those flights to contact the disease control centres of the provinces and cities for guidance on health monitoring.
And in a statement the Ministry of Foreign Affairs released a few days ago, Vietnam requires that from March 16, all Vietnamese and foreign nationals in Viet Nam shall wear face masks at crowded public places, including supermarkets, airport terminals, train stations, coach stations, and public transport vehicles.
All passengers on domestic and international flights to and from Viet Nam shall wear face masks throughout the flight and during their stay at the airport terminals.
There has been none death death from the virus in Vietnam, while 16 people have recovered and been released from hospital. The other cases are all in stable condition./.
SCMP: Honeysuckle flower can help treat flu virus

Coronavirus treatment: Recently, the Hong Kong-based SCMP newspaper published an article announcing Chinese scientists' work showing that traditional medicines, including Jin Yin Hua (honeysuckle flower), ...
Hannah Nguyen