Vietnam Festival in Kanagawa 2023 Kicks Off
From September 8-10, the Vietnamese Embassy in Japan coordinated with the government of Kanagawa Prefecture, Japan to organize the Vietnam Festival in Kanagawa 2023, which includes a series of economic and cultural events.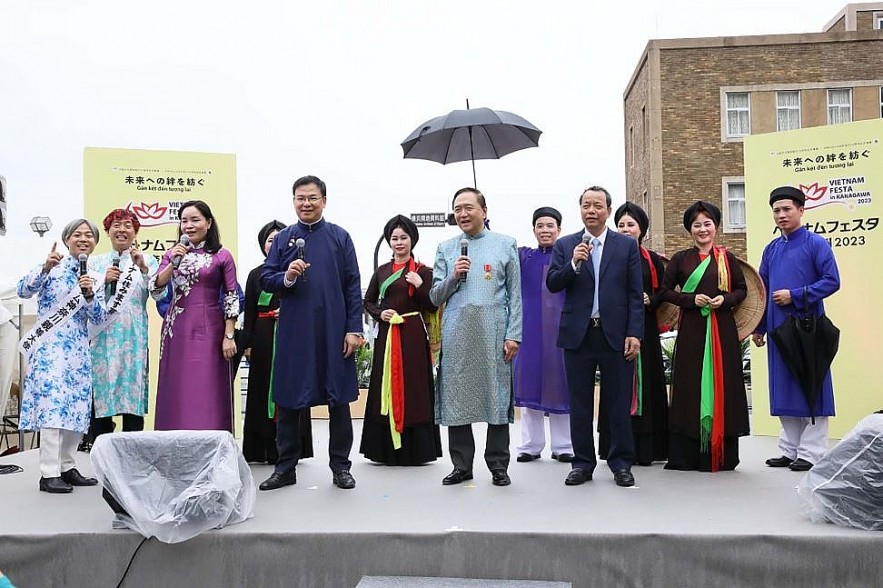 Vietnam Festival in Kanagawa 2023 kicks off on September 8 in Kanagawa, Japan. In the opening ceremony, audiences enjoy performances of Vietnamese folk singing.
This year's festival has the participation of a delegation from the Ministry of Culture, Sports, and Tourism led by Deputy Minister Trinh Thi Thuy. Delegations from Bac Ninh and Ha Nam also attended the event.
The festival takes place at Zounohana Park, Yokohama Port with nearly 100 exhibition booths, promoting the rich and diverse culture, tourism, and cuisine of Vietnam, together with introducing the country's tourist destinations.
Attendees will enjoy water puppet shows and land puppet shows; Bac Ninh Quan Ho folk songs performed by the "lien anh" (brothers) and "lien chi" (sisters); and pop music from singer Chi Dan. In addition, artisan crafts of Vietnam, such as Dong Ho painting and to he will be introduced to the Japanese guests.
Within the framework of the Festival, Kanagawa Prefecture and the Ministry of Culture, Sports and Tourism of Vietnam will sign a Cooperation Agreement in the fields of culture, sports, and tourism. This is the basis for the two sides to further strengthen cooperation in all three areas.
With the theme "Connecting to the Future", the Organizing Committee looks to convey the message of hope that the people of the two countries will tighten their solidarity for the development of the two countries, representing the spirit of Vietnam-Japan relations: "towards the future, reaching out to the world," as mentioned by Prime Minister Pham Minh Chinh.