Vietnam has 4 representatives in Forbes' top 2,000 largest companies in 2020
Vietcombank, BIDV, Vingroup and VietinBank are the four representatives from Vietnam contributing to Forbes' list of the world's 2,000 largest public companies this year, with their rankings all elevating sharply.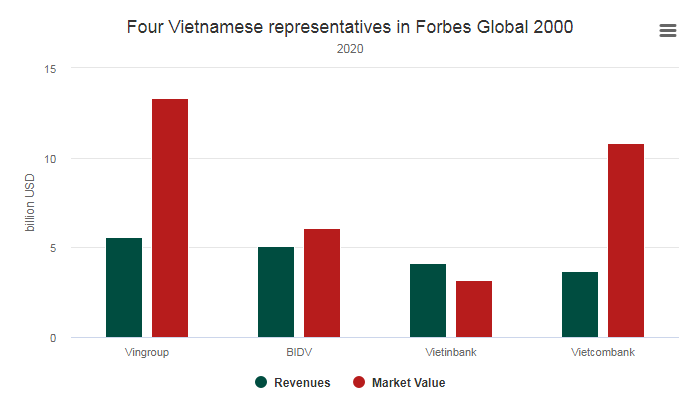 4 Vietnamese representatives in the Forbes Global list (Photo: VnExpress)
Forbes 18-year Global 2000 companies have a total of more than $ 42.3 trillion in annual revenue and $ 201.4 trillion in assets.
Most of the market value of companies on this year's Forbes Global 2000 list has dropped significantly compared to last year. Airlines have been hardest hit in the past few months. American Airlines, for example, dropped from 372 on the list to 967 after losing $ 2.2 billion in market value in the first quarter.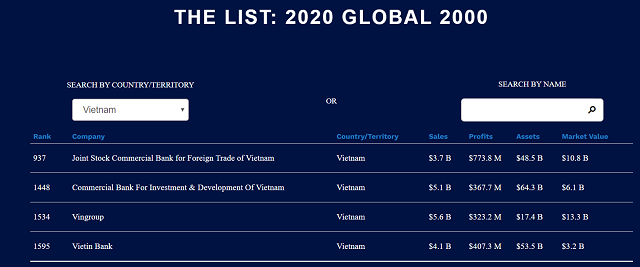 4 Vietnamese companies in the Forbes Global list (Photo: Nguoi dong hanh)
However, not all companies are negatively affected by this pandemic. The biggest players in the e-commerce market, including Amazon, Alibaba and Walmart, have all witnessed growth thanks to growing online shopping demand. All three companies were promoted in this year's rankings.
For financial companies, Industrial and Commercial Bank of China remained at the top of the table for the 8th consecutive year with over 4.3 trillion USD of assets. All state-owned banks of China and four major Japanese banks are present this year. The largest JPMorgan Chase Bank of the United States is in 3rd place, according to Vietnam Finance..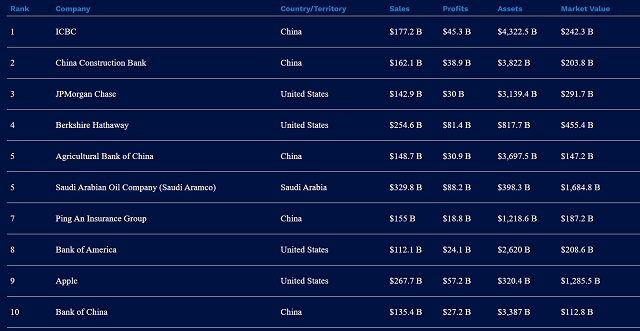 Top 10 in the Forbes Global list (Photo: Nguoi dong hanh)
Another bright spot on this year's list is that the Saudi oil empire Saudi Aramco with the biggest IPO in 2019 appeared at No. 5 on the list, while tech companies Zoom and Slack (both IPOs last year) also benefited immediately. Both companies made their first appearance on Forbes Global 2000 overnight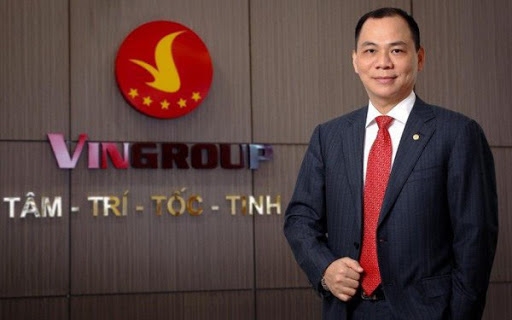 Vingroup ascend 213 spots in the Forbes Global list (Photo: TEC FTU)
In the list of the world's 2000 largest public companies by Forbes, Vietnam has 4 representatives, including: Vietcombank increased 159 levels to 937 with turnover of USD 3.7 billion and a market value of 10.8 billion USD.
BIDV rose 268 places to 1,448 with corresponding figures of $5.1 billion and $6.1 billion.
VietinBank increased 174 steps to 1,595 with a turnover of 4.1 billion USD and a market value of 3.2 billion USD.
Vingroup ascended 213 spots to 1,534 with revenues of $5.6 billion and a market value of $13.3 billion, the latter value being the highest in the Vietnamese stock market. It has been expanding rapidly after starting as a property company, entering retail, logistics, agriculture, education, healthcare, auto, and electronics, according to VnExpress.
The companies that made it into the 18th annual Global 2000 are based in 64 economies in the world.
U.S. companies dominated the list with 588 entries, followed by China with 324. Rounding off the top five are Japan, the U.K. and Canada.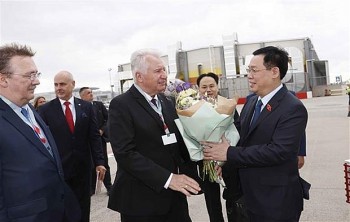 National
Chairman of the Vietnamese National Assembly (NA) Vuong Dinh Hue's official visit to Hungary from June 26-28 will surely open up many cooperation opportunities for the two countries and their parliaments, Hungarian Ambassador to Vietnam Ory Csaba has affirmed.