COVID-19 combat: Anti-droplet shield in some Vietnamese classes embroiled in controversies
The initiative of encouraging students to wear anti-droplet face shield in class when back to school after an around three-month break due to COVID-19 has sparks some controversies among parenthood with both advocates and critics.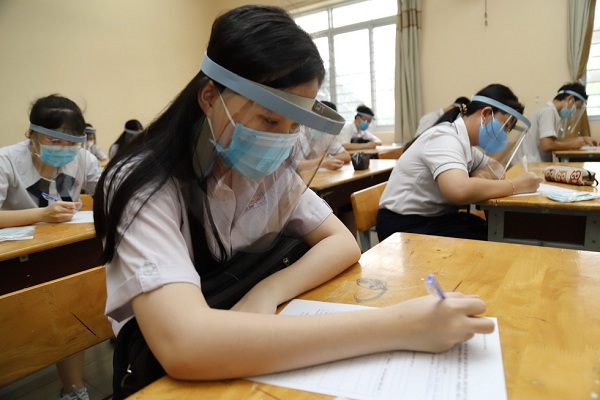 Illustrative photo.
As of May 4, schools across 63 provinces and cities have resumed its operation after Vietnam has curbed theCOVID-19 pandemic in basic. All levels of graders return schools with some preventive measures needed such as wearing masks, washing hands regularly and avoiding sharing personal items according to the instruction of the Ministry of Education and Training.
The anti-droplet face shield is not included in the list, however, has become popular as some schools encourage their offspring to put on the additional "tool" when they join the class. The move is considered to shield the student from possible risks and calm the parenthood's concerns over public sanitization as well.
Upgrading the safety level as the COVID-19 is not totally under control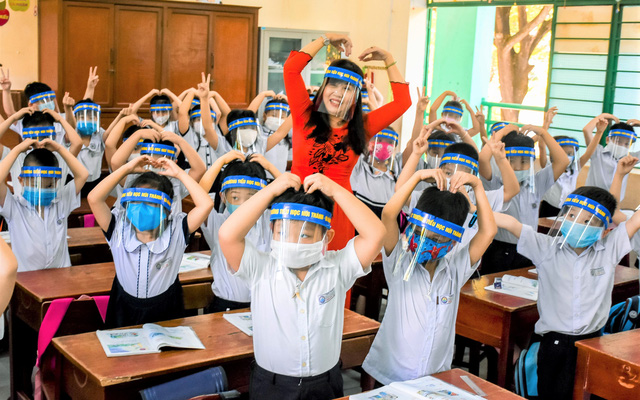 A class in Binh Duong province's school seem excited with the first day back to school. Photo by Laodong.
The bucket hat is hailed as a fresh initiative which is believed to protect the children from the droplets when talking or interacting with their classmates and teachers in public spaces.
Some parents even made the full-cover facemask themselves for their loved ones, decorating with some tiny details for a cute look or just a simple super-thin mica filter attaching in the hat.
"The more careful, the better. The shielding hat can keep my son out of the risk in public interaction. I feel something more assured to know that he is safer with the protective hat," Lien, a mother of six grader, told.
Vnexpress cited a dean of Tran Quang Khai High School in Ho Chi Minh City as saying that the educational facility had received donations from the students' parents to purchase around 2,400 anti-saliva hats for every single classmates, who were distributed in the very first day back to school. According to the high school's dean, the students appeared to like the new presents, they even take selfies picture wearing hats. The dean also affirmed that this is just encouragement but not the enforcement, thereby, wearing the hats in class is "non-essential."
Wasting and unnecessary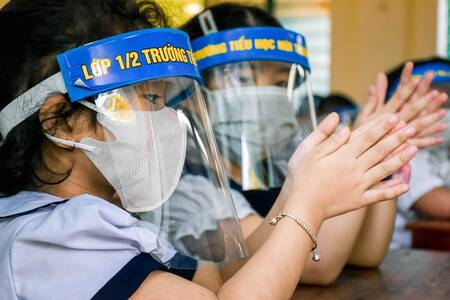 Illustrative photo.
Contrary to the supportive idea, some parents doubt and reject the additional so-called protective tools. Nguyen Minh Thu, 36, told Laodong that the add-on is non-sense and unnecessary.
"I think that wearing face masks and washing hands are more important than putting on the anti-droplet hat due to the latter's inconvenience. The student must feel stuffy when putting on two layers of masks and mica shield, which cause difficulties in following the class," Thu elaborated.
The same opinion, other parents said that it is better when educational establishments conduct proper solutions on distancing between class fellows including limit the number of students attending, provide hand sanitizers and medical masks.
Health experts and doctors also affirmed that some aforementioned preventive measures should be prioritized when students attend schools. They also warned that pupils may face challenges and inconvenience when wearing shield hats in class.
While senior advisor for Ministry of Health Tran Dac Phu told Laodong that the hat is particularly used for those who have close interaction with Covid-19 patients or suspected patients people have regular exposure to the pathogen in the hospitals as well as sellers among others.
It is not good for students to wear a mica shield, which can affect their eyesight during an amount of in-class learning time while children 's eyes had been under so much pressure from online learning for 2-3 hours a day during the social distancing previously.
In addition, the use of these protective goggles has not been recommended by health authorities because it just provides an unreal sense of protectiveness and goes beyond the basic preventive steps under the instruction of the Ministry of Health.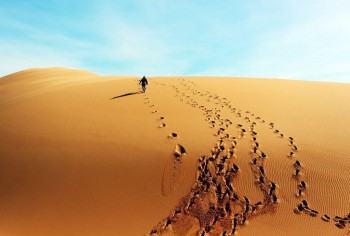 Multimedia
Hoa Thang is a famous tourist destination in Binh Thuan, consisting of many beautiful sand dunes. It is considered to be Vietnam's largest desert.