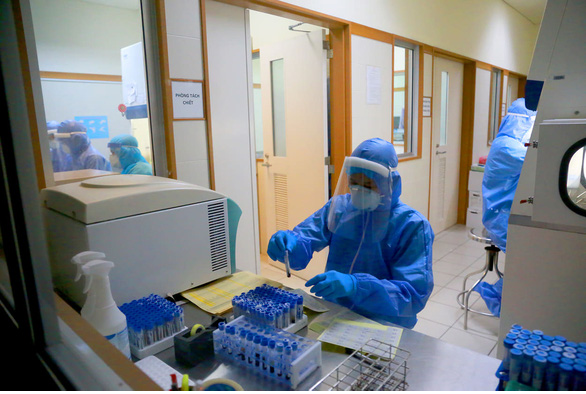 COVID-19 test in Hue national hospital (Photo: tuoitre)
On this Monday morning, Vietnam recorded no new Covid-19 cases, marking the fourth day in a row that the country keeps its infection tally unchanged. The total number of infections in Vietnam has still remains 268 so far, the number of active patients have been brought down to 66 after 202 have been discharged from hospitals. The active cases went up from 65 on Sunday as a woman in Hanoi tested positive again three days after she was discharged from hospital.
She is "Patient 188," 44, from the capital city's Chuong My District and an employee of the Truong Sinh Company, which provides food and logistic services for several hospitals in Hanoi, including the Bach Mai Hospital, a major Covid-19 hotspot.
So far, 206,253 novel coronavirus tests have been conducted nationwide.
Tran Dac Phu, senior advisor at the Public Health Emergency Operations Center under the Health Ministry, said Sunday: "So far there has been no new hotspot of new coronavirus transmission in the community, which is a positive sign. However, I insist that we are not allowed to let our guard down."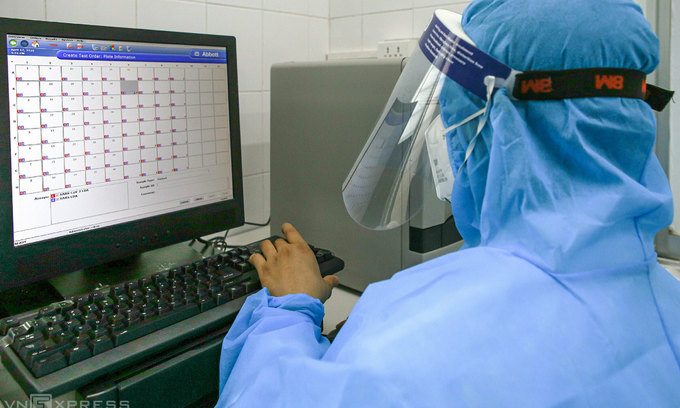 A doctor imports data on Covid-19 test samples inside a laboratory at the Preventive Health Center of Nghe An Province in central Vietnam, April 17, 2020. Photo by VnExpress
Previously, from 19:00 to 23:00pm on April 19 (Vietnam time), G20 Ministers of Health made an online discussion meeting on Covid-19's impact to the global health.
Paticipants in the meeting include WHO general director Tedros Adhanom Ghebreyesus and G20 countries' Ministers of Health, international and regional organizations such as: WHO, WHO, WB, OECD, The Global Fund, The UN Fund, GAVI, The Vaccination Allian. Vietnam's MoH representative presented by Vice Minister of Health Truong Quoc Cuong taking part in the meeting to share Vietnam and ASEAN's experience ( as the ASEAN chair in 2020) in the response to Covid-19 pandemic.
According to worldometers at 6:00am on April 20, there are more than 2,4 million people recorded Covid-19 infectious, only 624,000 recovered with over 164,000 deaths.

In the south east of Asia, it was reported more than 28,200 infections and over 1,100 deaths. Top 5 countries of infections are: Singapore, Indonesia, the Philippines, Malaysia and Thailand.

Besides, in Europe, several countries began to loosen their lockdowns such as: Germany, Norway, Czech Republic, Poland...
Tarah Nguyen