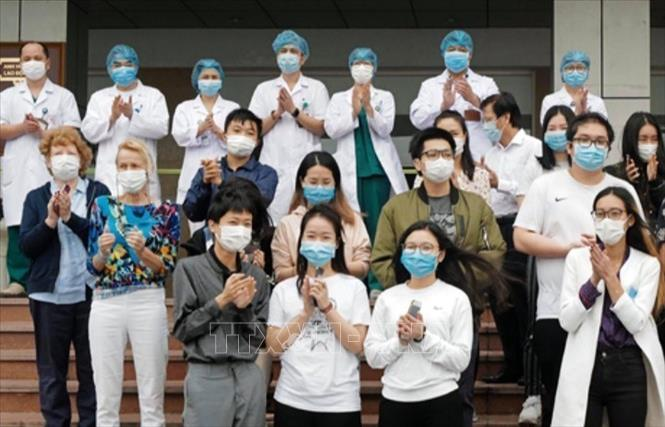 Twenty-seven more COVID-19 patients have successfully recovered, the National Hospital of Tropical Diseases said on March 30. Photo by VNS.
All of them are in good health conditions and have been tested negative for the virus for two or three times, according to Doctor Tran Van Giang from the Central Hospital for Tropical Diseases.
Specifically, the Central Hospital for Tropical Diseases in Ha Noi's Dong Anh District said its 27 patients numbered 17, 29, 27, 25, 39, 46, 47, 51, 55, 56, 58, 59, 60, 62, 69, 70, 71, 77, 85, 88, 93, 110, 112, 113, 130, 140, and 187 can be discharged from the hospital.
Meanwhile, Cu Chi field hospital in Ho Chi Minh City said three COVID-19 patients numbered 53, 75, and 89 have recovered.
All of the above cases will continue to isolate themselves at home for the 14 days under medical surveillance of local authorities when they return home.
The Ministry of Health said that 711 people have been quarantined at hospitals while 32,752 others have been kept at centralized quarantine facilities. Vietnam has recorded 204 Covid-19 cases on March 31 with the latest patients is a boy, 10, returning to Vietnam from Turkey.
The Vietnamese government has ordered a halt on inbound flights, cut domestic flights, stopped public gatherings and temporarily shut down non-essential services until Apr 15 at the earliest.
It has also launched an aggressive quarantine and contact-tracing programme to curb the spread of the virus after an influx of infections brought in by Vietnamese citizens escaping outbreaks elsewhere and by foreign visitors.
VGP/VNS
news.chinhphu.vn