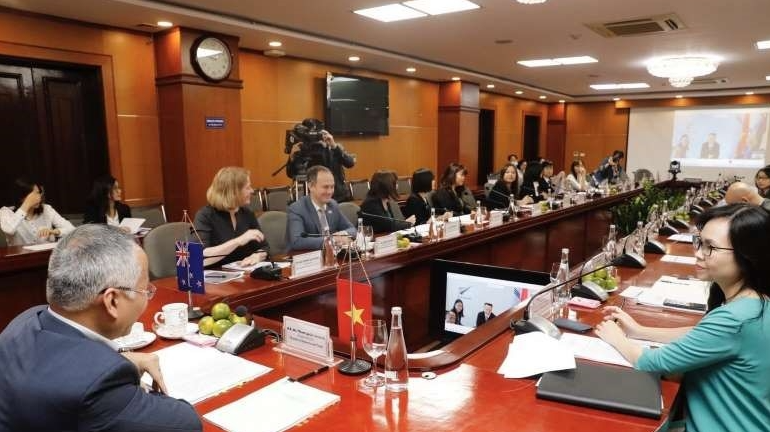 The seventh meeting of the Joint Trade and Economic Commission (JTEC) between Vietnam and New Zealand. (Photo: Nhan Dan)
The seventh meeting of the Joint Trade and Economic Commission (JTEC) between Vietnam and New Zealand was held online on October 23, co-chaired by Deputy Minister of Industry and Trade Tran Quoc Khanh and New Zealand's Deputy Secretary Trade and Economic Vangelis Vitalis.
According to Nhan Dan, the meeting is part of the important cooperation mechanisms to discuss and bolster the two countries' trade and economic cooperation.
In his speech, Deputy Minister of Industry and Trade Tran Quoc Khanh highlighted both Vietnam and New Zealand as dynamic economies and they have carried out reform measures to utilize their advantages and potential for further integration into the global economy. Both nations boast great potential for broader cooperation in trade, industry, and investment, and need to redouble efforts to bring bilateral ties on a par with the strategic partnership, Khanh said.
Attendees reviewed the recent cooperation in trade, investment, agriculture, education and training, tourism, aviation, and employment while hailing the efforts and close collaboration in the implementation of agreements in economy and trade reached between the two countries' senior leaders, VOV cited.
Regarding the impact of COVID-19, delegates agreed to foster bilateral and regional cooperation for economic recovery. They also pledged to ensure that economic and trade cooperation frameworks to which Vietnam and New Zealand are signatories aim at the further expansion of two-way trade.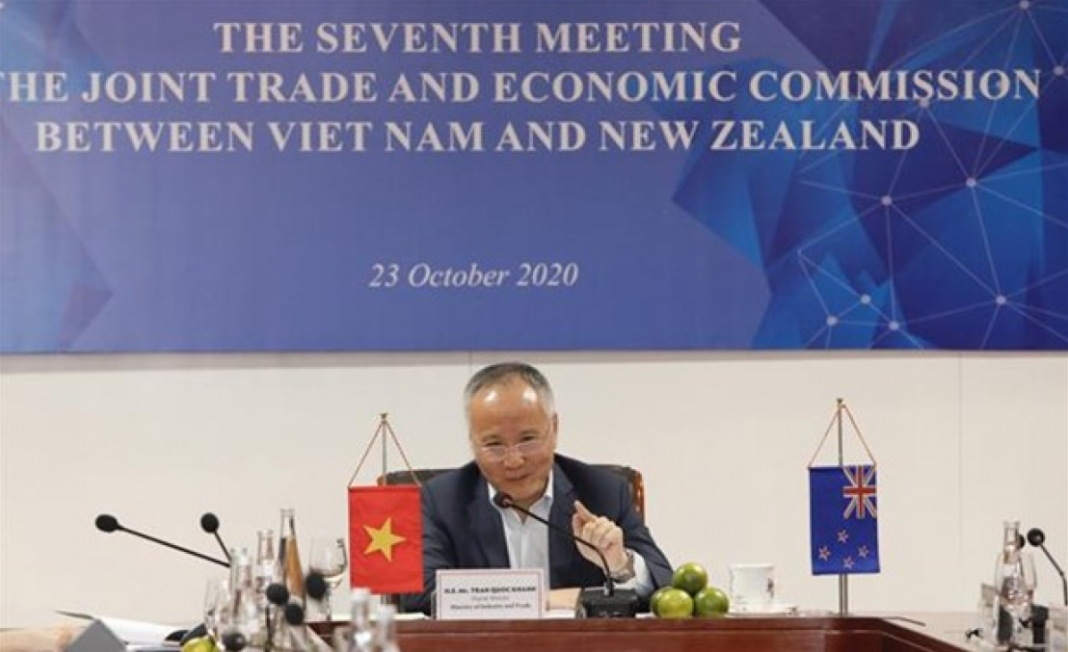 Deputy Minister of Industry and Trade Tran Quoc Khanh speaks at the event (Photo: VNA)
In addition, they discussed prioritized products of each side, particularly lime and pomelo from Vietnam and strawberries and pumpkin from New Zealand, to facilitate bilateral trade, as reported by Public Security News.
The countries will regularly update regulations and standards on quality, hygiene, and food safety for agro-forestry-fishery exports and share experience in trade promotions, brand building, post-harvest technologies, and agro-fishery processing. The two sides also agreed to continue fostering cooperation in multilateral trade talks, farm produce trade, clean industry, and farm produce supply chain development.
They also agreed to continue to join hands and support each other at cooperation mechanisms and frameworks, notably the Comprehensive and Progressive Agreement for Trans-Pacific Partnership, the Regional Comprehensive Economic Partnership, the ASEAN-Australia-New Zealand Free Trade Agreement, and Asia-Pacific Economic Cooperation.
Of particular note, delegates affirmed that the sustainable development of the Mekong sub-region plays an essential role in the realization of the ASEAN Community Vision. Vietnam called on New Zealand to partner with countries in the Mekong sub-region in disaster management, water-food-energy security, climate-smart agriculture, public health, and human resources.
Data from the Asia-Africa Market Department at the Ministry of Industry and Trade show that Vietnam is the 14th largest trade partner and 15th largest importer of New Zealand, ranking fifth in ASEAN. Vietnam - New Zealand trade has enjoyed average growth of 14.2% annually since their comprehensive partnership was set up in 2009, with a figure of US$1.1 billion recorded last year. The first half of this year saw two-way trade hit US$1.4 billion, up 15% over the 2016 level.
Valerie Mai